Hillocks Hotel & Spa, Siem Reap
A lovely base for exploring the City & Temples
For my trip to Siem Reap I was looking for a pleasant and good value hotel that I could use as a base for exploring the city and the temples. So I was pleasantly surprised when looking on Hotels.com by the range and quality of accommodation available. There was a far greater choice of options than when I last visited Siem Reap in 2002. Hillocks Hotel & Spa… a "Luxury hotel with Spa, near Old Market Area" stood out for me. It seemed to fit the bill in every way. Great value, good location and very modern and comfortable looking. In fact, at less than 50 GBP per night, it was surprisingly cheap compared with the standard it seemed to be offering from its website. I was keen to learn if it lived up to expectations.
Arriving at night, after an evening flight from Bangkok, it was already dark as I was transferred by the hotel's free airport pickup service to the hotel. On arrival, after a swift check-in process, I was then led through fairy-lit gardens, alive with the sounds of the tropics, to my room. It was an alluring introduction to the resort.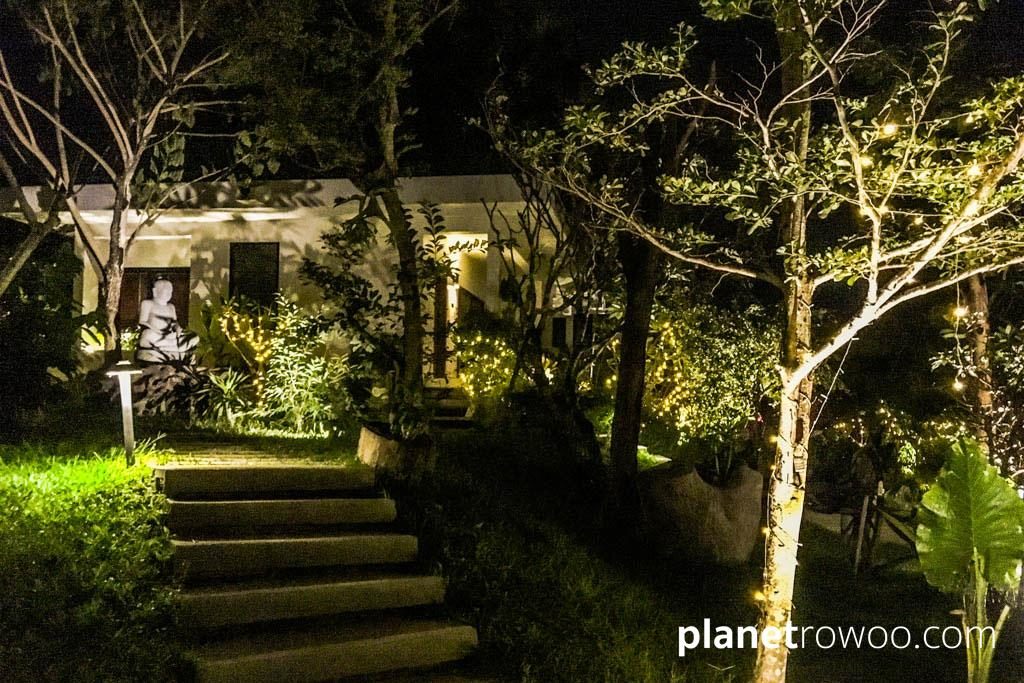 Hillocks Hotel Location
Hillocks Hotel is located on the eastern (Wat Damnak) side of the Siem Reap river. It's in a quiet spot on Sala Kamruek Road, away from the busy downtown area, with a Deli bar next door and a spattering of cafe/restaurants further up the road and in the surrounding area.
But it's not far from the action. It's just a short 15-minute walk to the Old Market bridge (the gateway to the dining, shopping and nightlife centre of town) or just a few minutes ride by tuk-tuk, costing around 2 USD.
The hotel is also around a 20-30 minute drive away from Angkor Wat.
Accommodation
Hillocks Hotel has 38 suites and villas each with Khmer-inspired interiors set within charming tropical gardens. Ranging from Deluxe Suites with 50 sq metres of space, up to the Presidential Suite with a huge 150 sq metres plus kitchen for longer stays. There are also 4-bedroom Private Villas which sleep up to 10 people.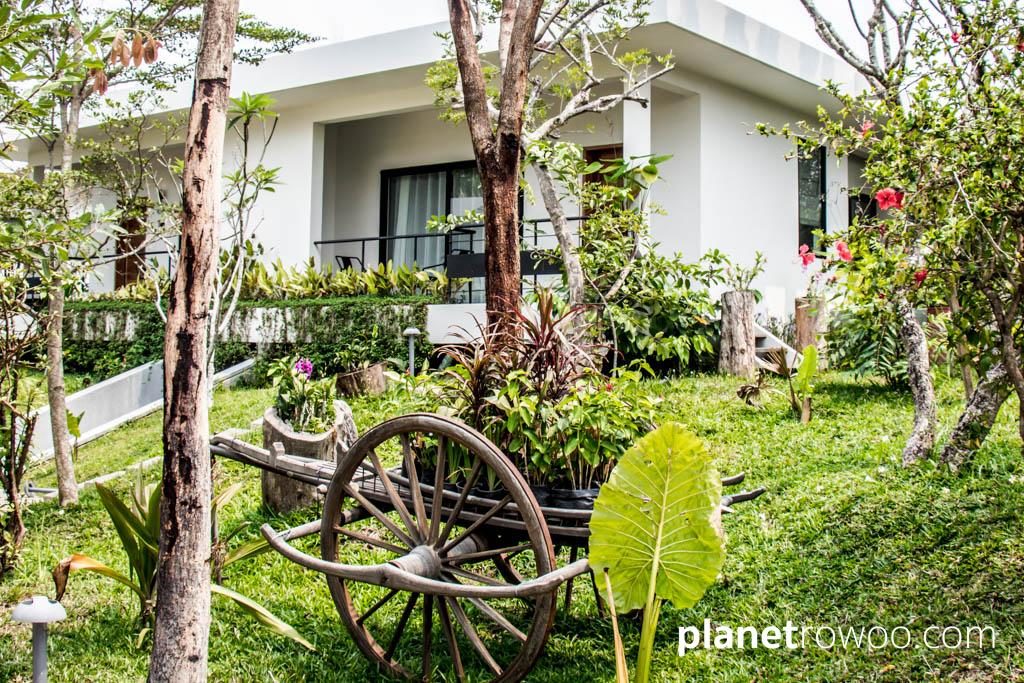 My room was a Deluxe Suite towards the back of the resort by the pool. A very contemporary yet minimal design with stone floors and real wooden furniture and fittings. The suites have a real expensive feel about them. Nicely laid out with a daybed under a large window, a writing desk, and patio doors to a pleasant outdoor terrace set in the gardens. The large windows give a great light to the room during the day. Then, through a stylish sliding wooden door, there's the bathroom. A spacious and elegant room with twin sinks set in a long stone counter with rain shower at one end. And finally, there's the bath… a uniquely designed hammock-shaped bathtub carved from stone. Absolutely beautiful.
The whole place has a luxurious feel and style well above its price bracket.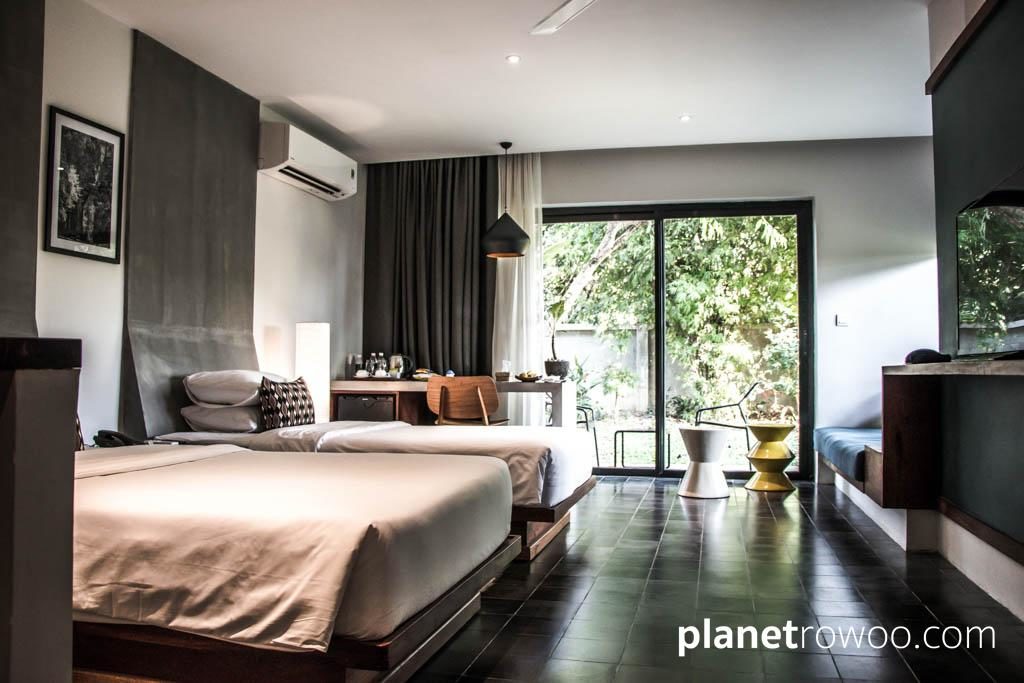 I wouldn't normally book a twin bed room, even as a solo traveller, but that was the only available Deluxe Suite room type available at the time I booked. The single beds are a good size though and very comfortable. I got to spend a whole day on mine when I was suffering from food poisoning (in between bathroom visits!)… it was a blessing to have a comfortable environment to recover in while I was sick.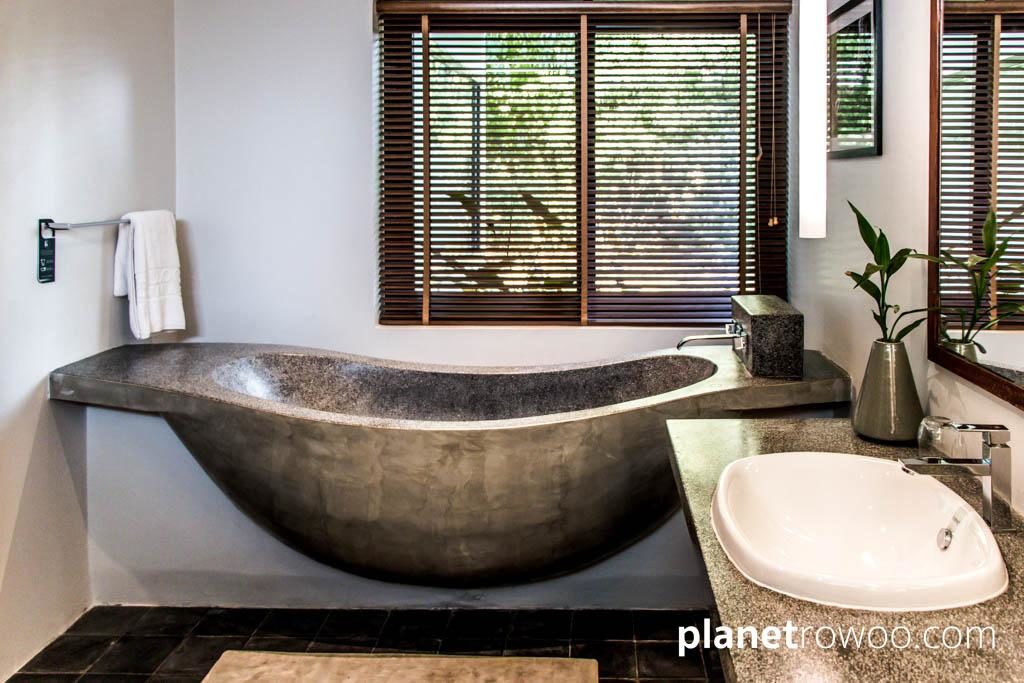 Dining at Hillocks Hotel
Breakfast is served in Hillock's Green Hill restaurant just beyond reception. It's an elegant glass-walled space where you can dine inside or out on decking overlooking the gardens. Breakfast is buffet style with a nice selection of the usual fruits, bakery items, juices etc and an egg station for all your egg delights. There's also a small menu for a la carte items. There was some nice attention to detail in their food plating. The presentation of my eggs benedict and bacon certainly put a smile on my face in the mornings.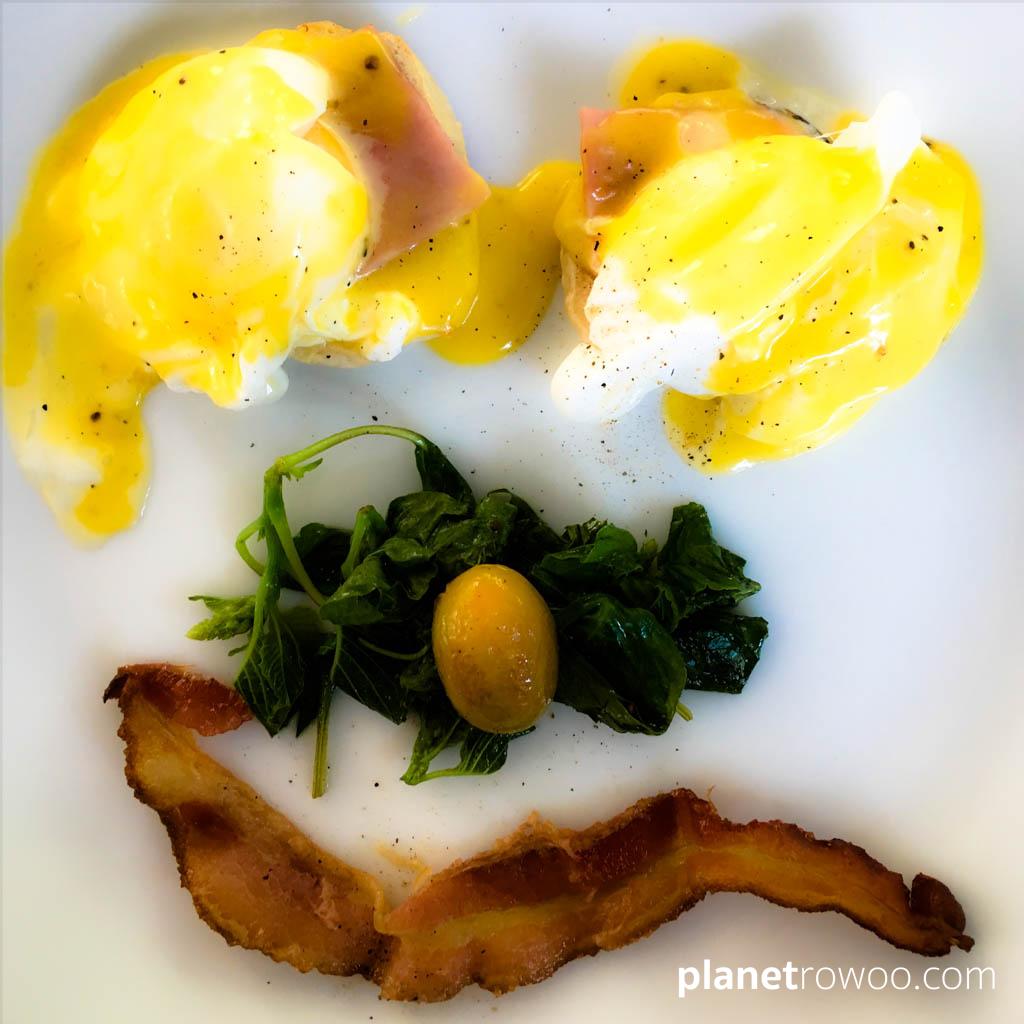 The restaurant is also open for lunch and dinner. I didn't dine here at night as it always appeared a little empty and I like some life and people around me when I dine. But I think it would make for a romantic spot for a couple.
You can also get light meals and drinks at the Pavillion Bar and The Lounge. The Pavillion Bar is located in the gardens right by the pool. The semi-circular bar is set beneath an open-sided thatched roof and has a bit of a tropical beach vibe about it. Perfect for a lazy afternoon drink or late night tipple.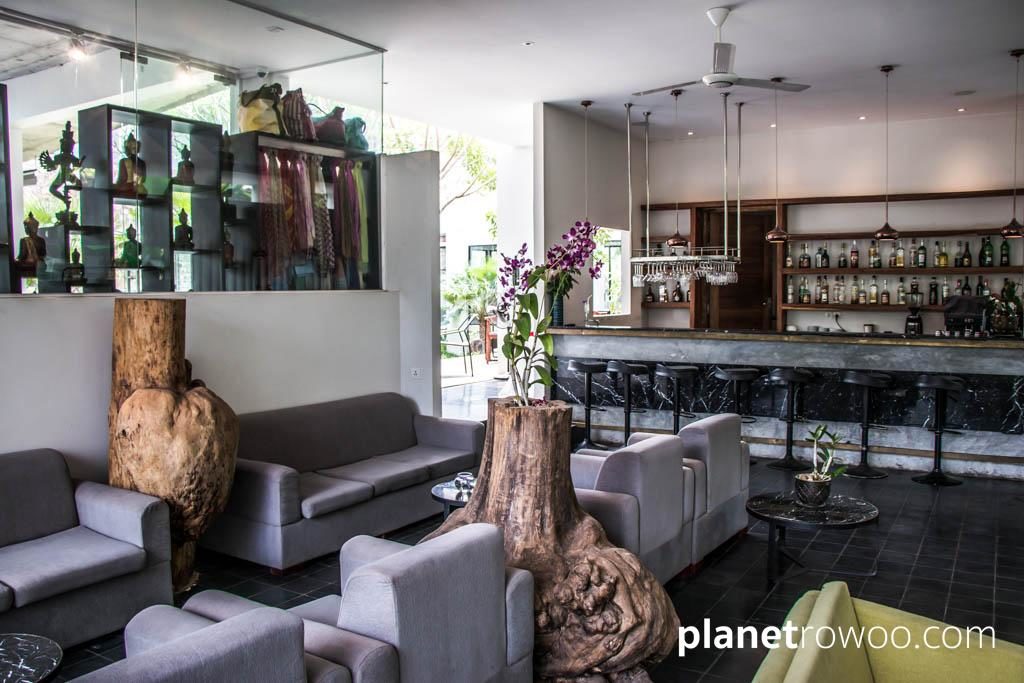 The Lounge bar is located right by reception. It's a very chic and contemporary space and a comfortable spot for a beer or cocktail.
For eating and drinking options outside the hotel, take a look at my Siem Reap blog.
Facilities
At the back of the resort beyond the Pavillion Bar is the hotel's Infinity Pool. The pool is in a lovely serene setting surrounded by the hotel's gardens and overlooking rice fields. There are ample sun loungers here spaced around the pool, although during my visit it was never busy. You can order food and drink here also and enjoy in the shade of your lounger in between dips in the pool. It's a lovely spot to spend a morning or afternoon away from the temples.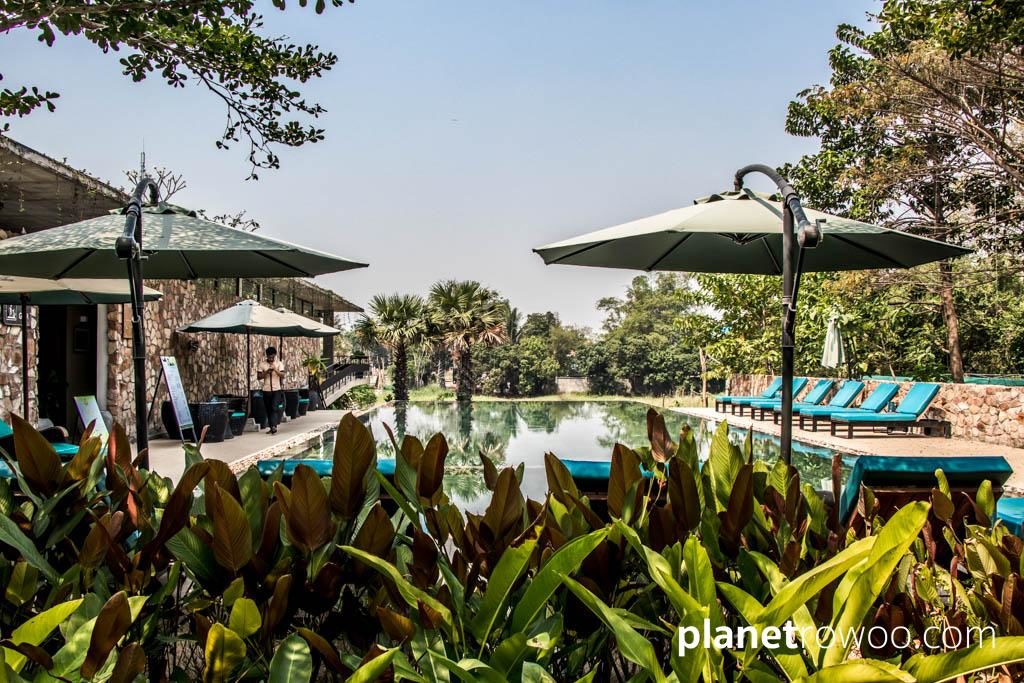 The hotel also has a well-equipped gym by the pool, and the Kravan Spa where you can enjoy "unique treatments that blend ancient healing techniques and age-old beauty secrets with the curative benefits of natural, quality products". I didn't try the spa myself but I notice there are mixed reviews online.
Activities
Of course, the main activity for any stay in Siem Reap is a visit to the temples of Angkor and the hotel is happy to arrange a private excursion for you by car or tuk-tuk. I preferred to do this independently, but the hotel staff were very helpful to me in showing me on the map which temples are best visited together and in which order. They also offered me complimentary water for my trips and organised a tuk-tuk, although there was always one ready and waiting outside the hotel. Payment was always direct to the tuk-tuk driver.
The hotel also offers a 'team building' cooking class and Yoga sessions.
Galleries
[envira-album id="7689″]
Travel Details
I stayed for 8 nights during February 2018. The cost was 44 GBP per night with Hotels.com
The hotel transferred me from/to the airport (with free pickup on arrival)
I flew Air Asia from Chiang Mai to Siem Reap via Bangkok (two short 1-hr flights)
My View of Hillocks Hotel & Spa
Completed in 2016, Hillocks Hotels & Spa is relatively new to the Siem Reap hotel scene. But it has all the components of becoming a mainstay in the area. For me, I found it difficult to fault. It's a beautifully serene hotel that feels in touch with nature. And the standard and quality of my room was as good or better than that of some hotels I've stayed in that are way over twice the price. I think it's difficult to beat on price vs quality. And certainly, a perfect base for any stay in Siem Reap.
---
Top image: Reception area at Hillocks Hotel & Spa