My Chiang Mai Lockdown Food & Drink Favourites
Since March 2020 Chiang Mai has been in partial lockdown due to the Coronavirus COVID-19 worldwide pandemic. During the lockdown, as a government precaution, you can no longer eat or drink on the premises of your favourite restaurant or coffee shop. Thankfully though, as I write, many places remain open for takeaways and deliveries.
If you possibly can, it's important to try and support these establishments by continuing to order food and drink from them. Hopefully, that way, these businesses will survive the crisis and still be there when we come out the other side of this unprecedented time.
Delivery Services
Many of the businesses use food delivery services like FoodPanda or GrabFood. But these delivery services take a large chunk of the company's profits. So if you can, take a walk or drive (lockdown permitting) to pick up your takeaway. Or use the company's own online or telephone delivery service if they offer one (check their Facebook page for details, they often offer discounts too if you use their service).
The Thai government began easing restrictions related to COVID-19 on May 3rd by allowing various businesses to reopen. Restaurants can now open again and seat customers but under strict guidelines. For the time being though, alcohol cannot be served and the night-time curfew from 10pm to 4am remains in place.
Not all restaurants will open yet. Best to check the Facebook pages for those I've listed below for details. It's likely however most will continue their takeaway/food delivery services.
*Discounts/offers listed below are correct at the time of writing but may vary over time
NIMMAN AREA
Most of the favourites on my list are in the Nimman area of Chiang Mai as that's where I'm currently living and I can easily walk to most of them. But I've also listed a few places a little further away in the Old City (below) that I simply can't do without!
SS1254372 Cafe
---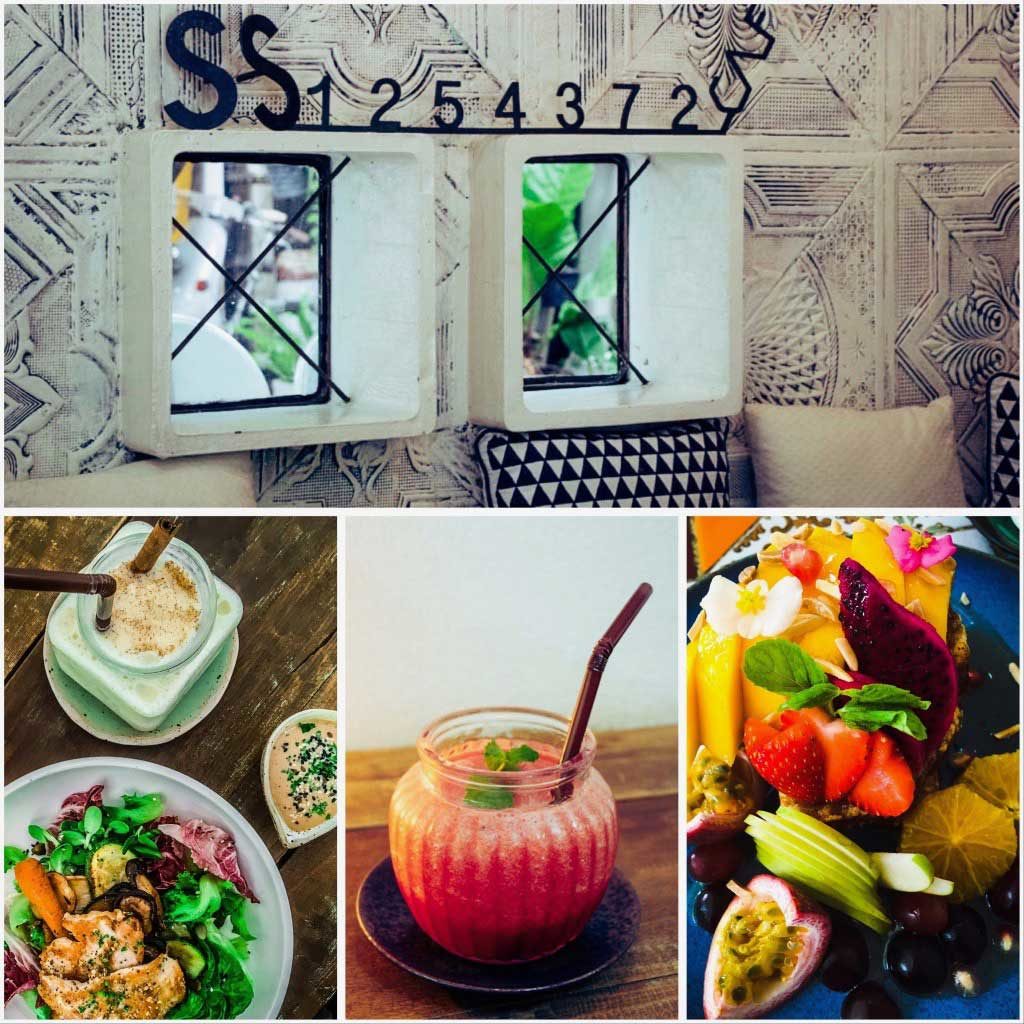 The curiously named SS1254372 Cafe is part of the Gallery Seescape art space on Nimman Soi 17. Serving delicious western-style brunch food. From cinnamon-infused fruity french toast, to eggs benedict on whole-wheat bread and their Granny's recipe Mussamun Beef Sandwich. There's a marvellous menu of delights to choose from.
Meals from around 125 baht; >> click here for a menu
Discount/Offers*: Free cup of coffee with every takeaway or delivery
Google Maps: https://goo.gl/maps/qWhem63rFazjayAg7
Facebook: https://www.facebook.com/ss1254372cafe
Line ID: @SS1254372cafe
Tel: 085-802-9256
Zood Zood
---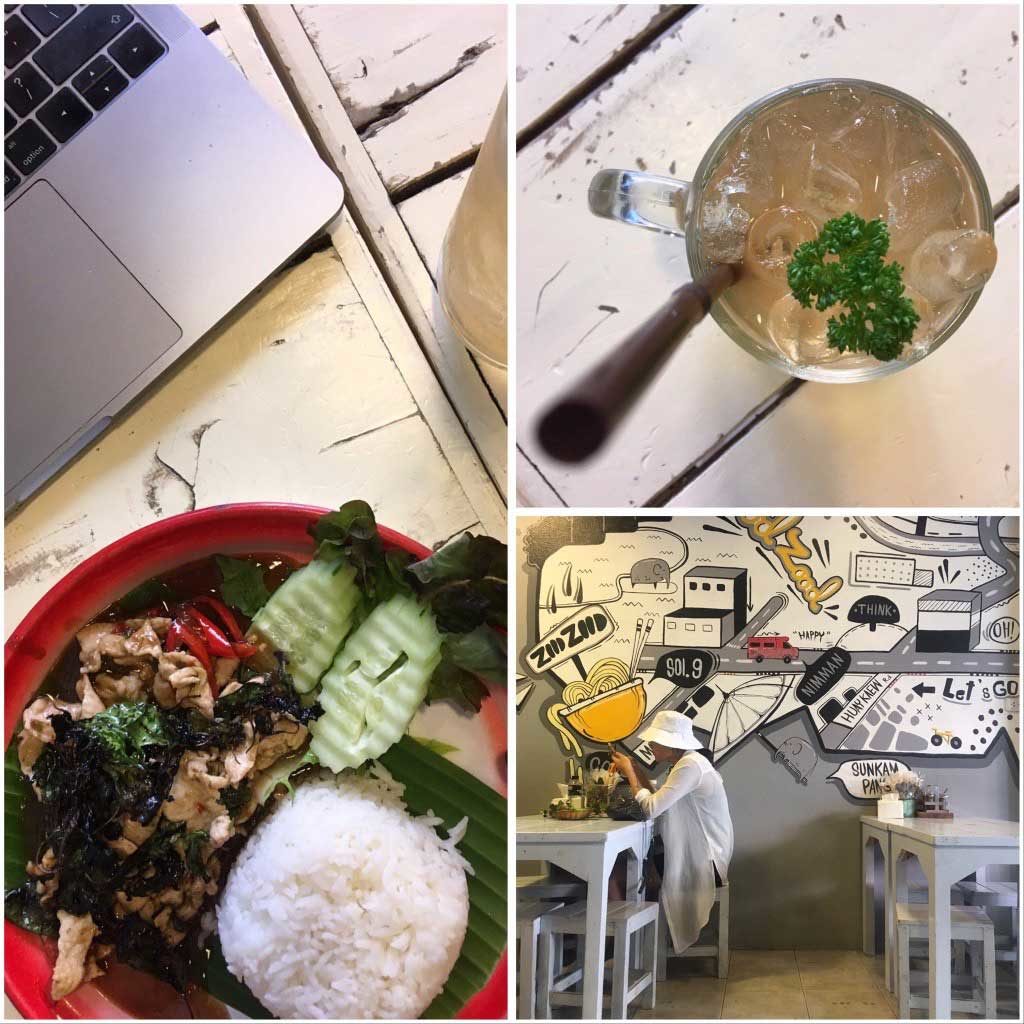 With an extensive menu of tasty Thai favourites and regional dishes as well as some Italian (spaghetti/macaroni) options too. Zood Zood offers some of the cheapest food available in Nimman. Located on Lane 9 just along from the Barisotel (below).
Google Maps: https://goo.gl/maps/p2rh7PBpz3uyhbYu6
Facebook: https://www.facebook.com/ZOOD-ZOOD-1488843498012205
Line ID: 0967891596
Tel: 096-7891596
Ginger Farm Kitchen
---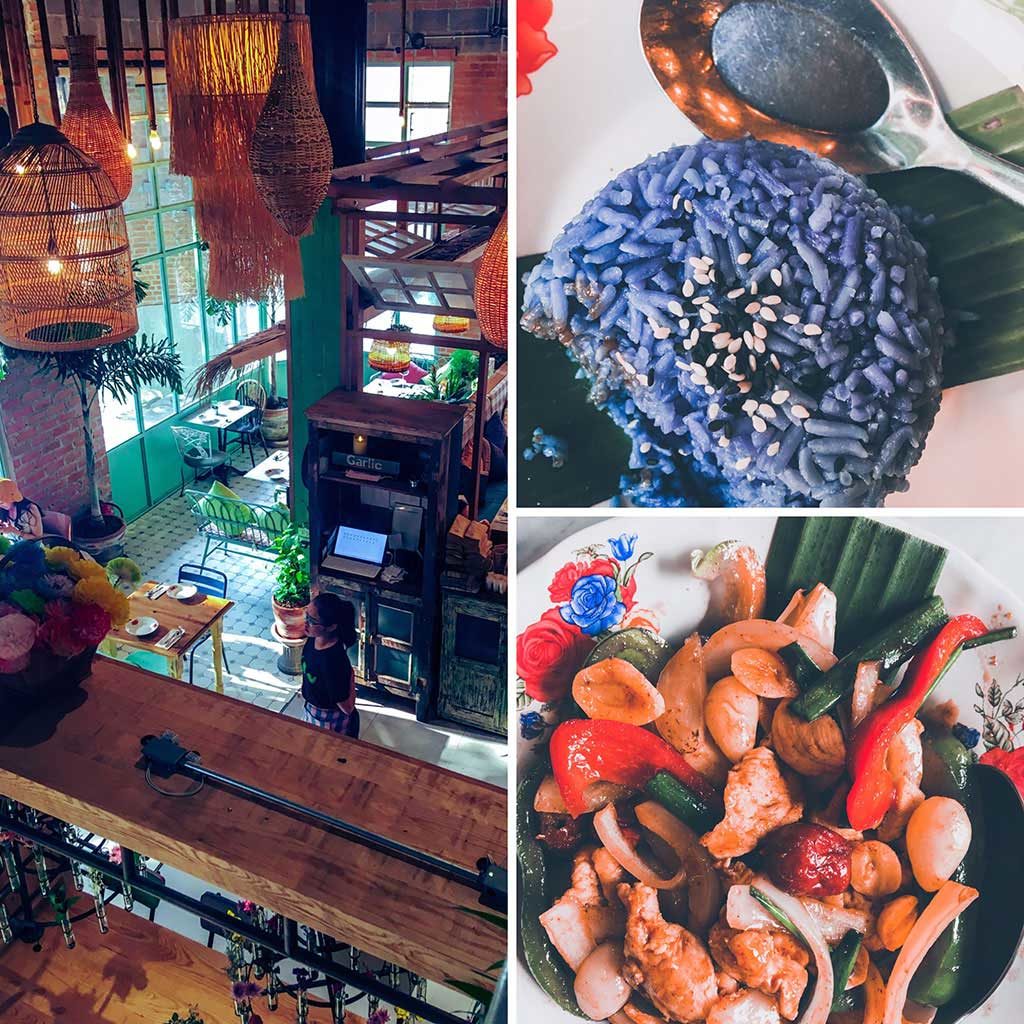 Sourcing all ingredients locally as well as from their own farm, the Ginger Farm Kitchen has a superb menu of freshly cooked Thai cuisine and some favourites with a twist. They use organic ingredients where possible and no MSG. They also favour local farmers and suppliers who produce their fare in an ethical and sustainable way. Located on the south-west corner of the One Nimman community mall.
Meals from around 95 baht; >> click here for a menu
Discount/Offers*: 20% off for takeaway and delivery if you order direct.
Google Maps: https://goo.gl/maps/LH4NLYPoNvq16ayk9
Facebook: https://www.facebook.com/gingerfarmkitchen
Line ID: @gingerfarmkitchen
Tel: 052-080928
The Salad Concept
---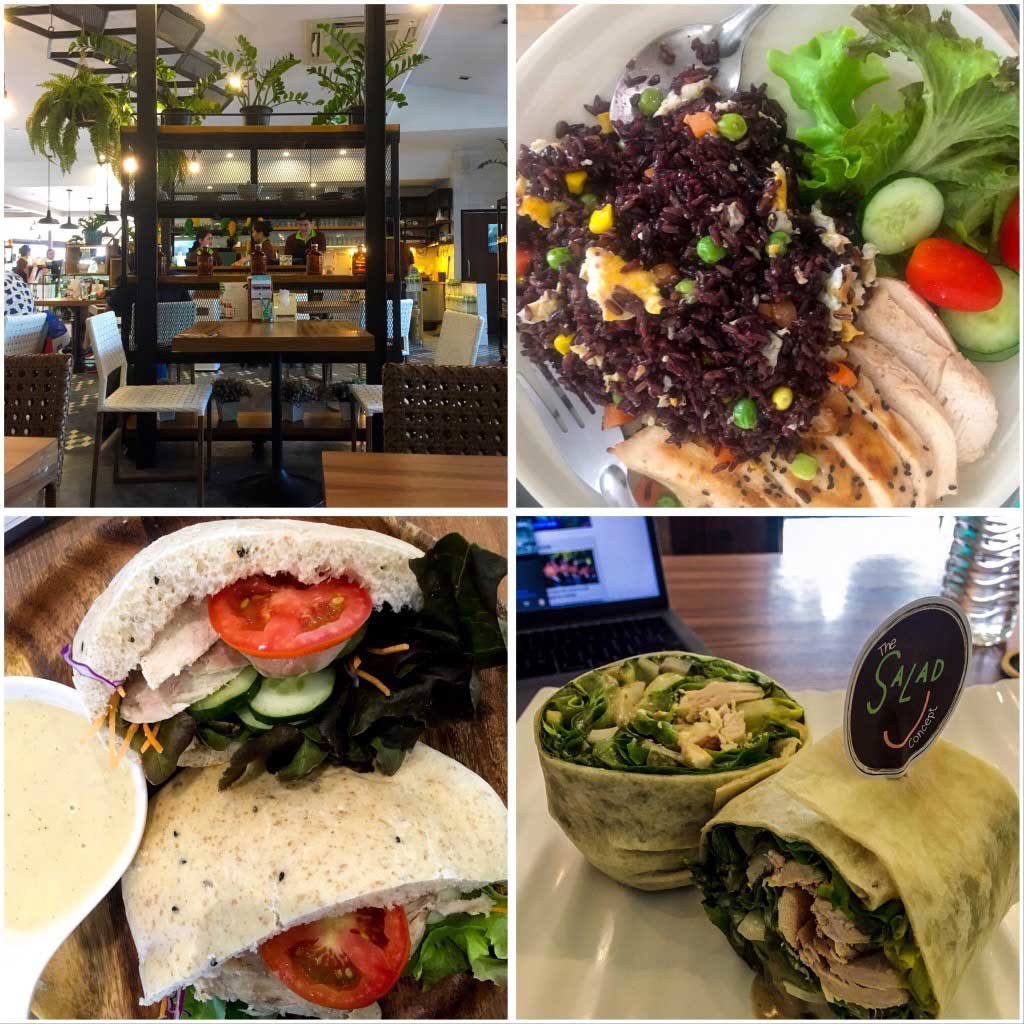 One of the healthiest places to eat in Nimman. Create your own salad from a huge selection of toppings or eat a la carte. Salad Concept's dressings are homemade daily from healthy ingredients with no preservatives, no colouring agents and no MSG. And they don't just do salad, they also have wholewheat burgers, wraps, omelettes, soups and pasta. All with a healthy twist. In fact, their menu is so varied I could easily order from here every day. Very reasonably priced too. On the corner of the main Nimmanhaemin Road and Lane 13.
Meals (soups) from 65 baht
Discount/Offers*: 10% discount on takeaways
Google Maps: https://goo.gl/maps/hrUwf4ithrXzGyfZA
Facebook: https://www.facebook.com/thesaladconcept
Line ID: thesaladconcept
Tel: 093-187-4023, 053-894-455
Smoothie Blues
---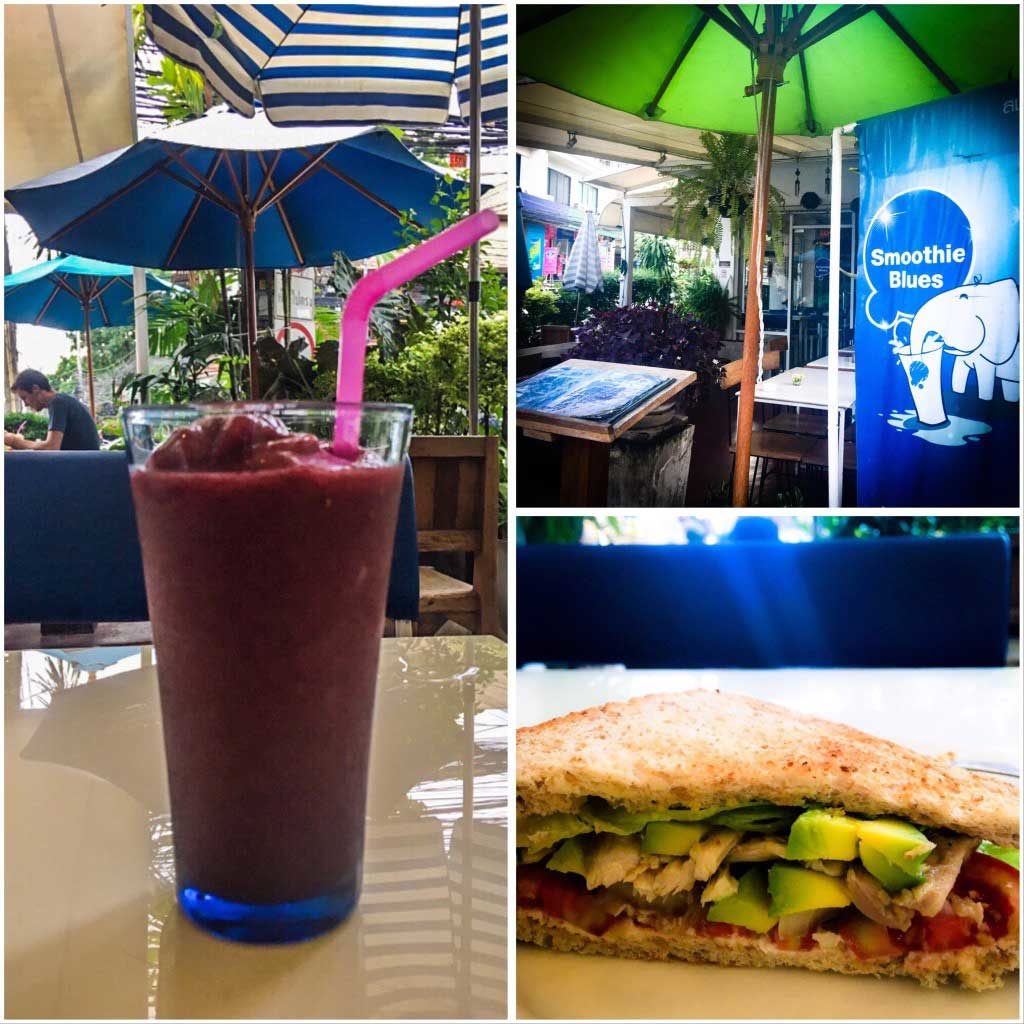 Smoothie Blues is a long-established eatery in Chiang Mai (there's one at Tha Phae too) with a comprehensive Western menu and particularly good breakfast/brunch options. One of the best places in Chiang Mai for a good old sandwich. They also serve Thai food. The smoothies are great of course too! On the corner of Soi 6 and the main Nimmanhaemin Road.
Meals from around 90 baht
Discount/Offers*: 15% discount on takeaways
Google Maps: https://goo.gl/maps/yV4SUuyzyGHE7CPX9
Facebook: https://www.facebook.com/Smoothie-Blues-279831533600
Tel: 053-227038
Food4Thought
---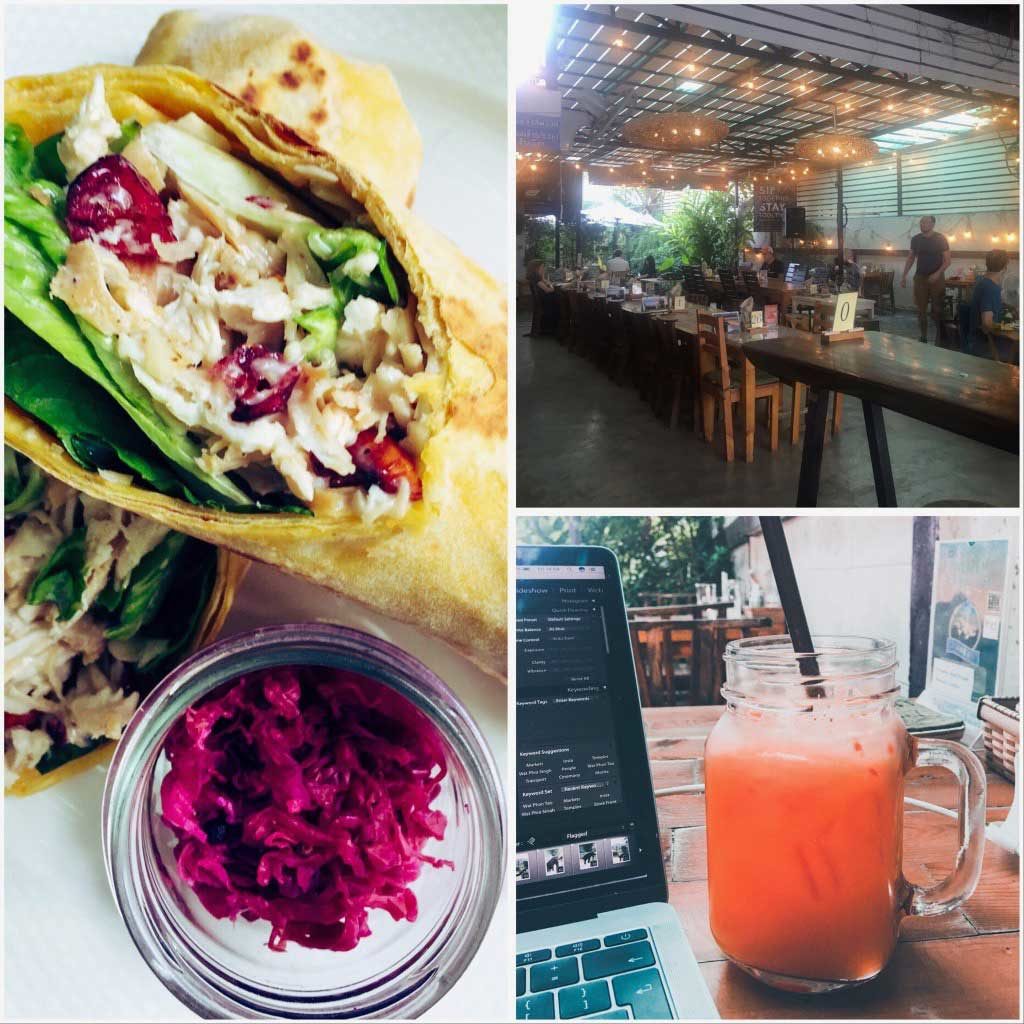 Ok, so technically not in Nimman, but on the other side of Huay Kaew Road in Chang Phueak. Food4Thought is a contemporary western food restaurant serving fusion style healthy foods. Their feel-good menu is homemade and free from artificial ingredients with plenty of options for vegans and vegetarians. Very popular with digital nomads, and the venue for the Nomad Coffee Club (pre-lockdown).
FREE FOOD FOR THE NEEDY: Working together with generous individuals and businesses in the community, Food4Thought have been spearheading a Free Food Program for the needy, no questions asked. Helping not only those affected by the Covid-19 crisis, but also volunteers and firefighters putting their lives on the line to tackle the recent Doi Suthep-Doi Pui National Park fires. In the last month they have provided an astonishing 10,000 free meals! Incredible. Kudos to them and all involved in this amazing effort. Certainly "food for thought" for us all.

>> Check their Facebook page (below) for ways that you can donate or help.
Google Maps: https://goo.gl/maps/3KhebFrkHYHhSCYz5
Facebook: https://www.facebook.com/Food4ThoughtCM
Tel: 053-217395
Mu's Donburi
---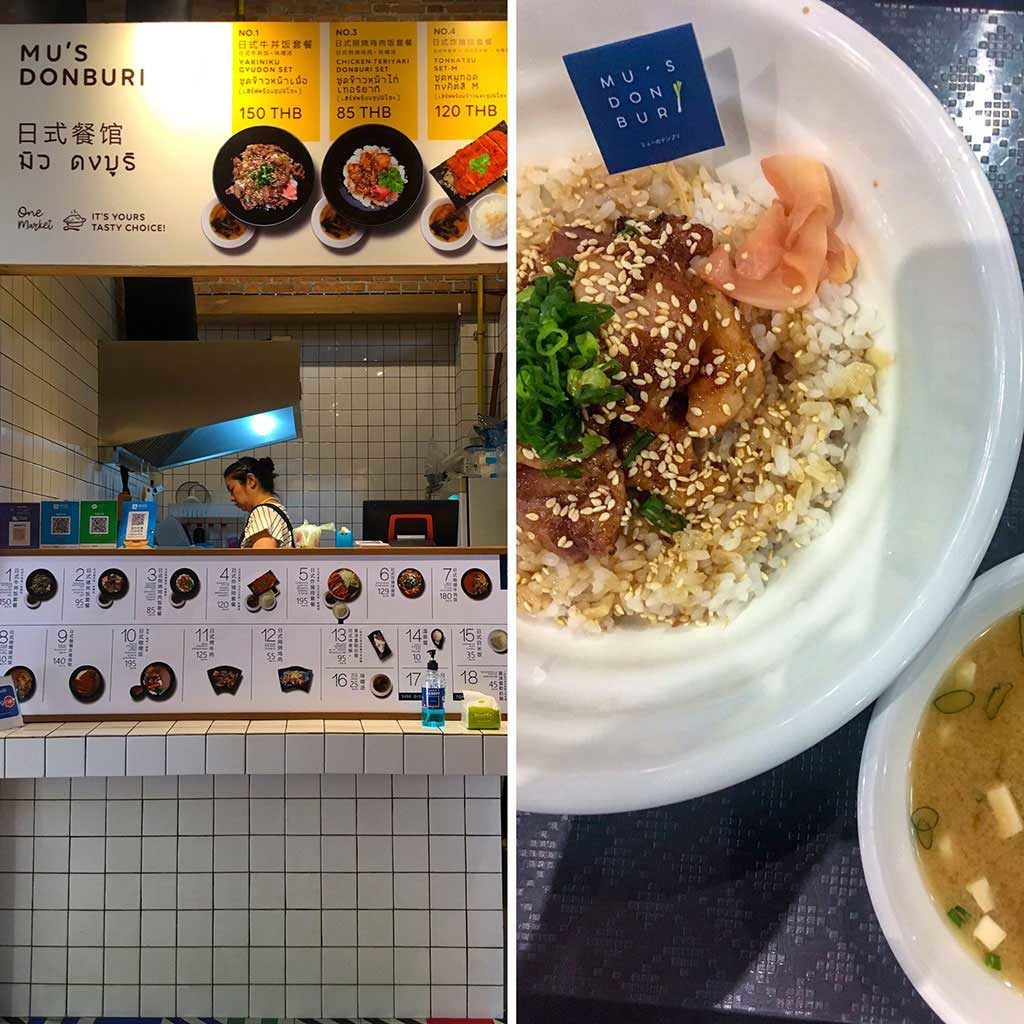 Located in the One Nimman Street Food Market, Mu's Donburi offers an excellent selection of Japanese dishes at great prices. I'm not a great lover of Japanese food, but the Chicken Teryaki is superb. And according to the reviews, it's one of the best places for Japanese in Chiang Mai. The owner Som, is a lovely lady.
Google Maps: https://goo.gl/maps/kn9CD93BstAAcuDJ9
Facebook: https://www.facebook.com/musdonburi
PadThai MaePloy
---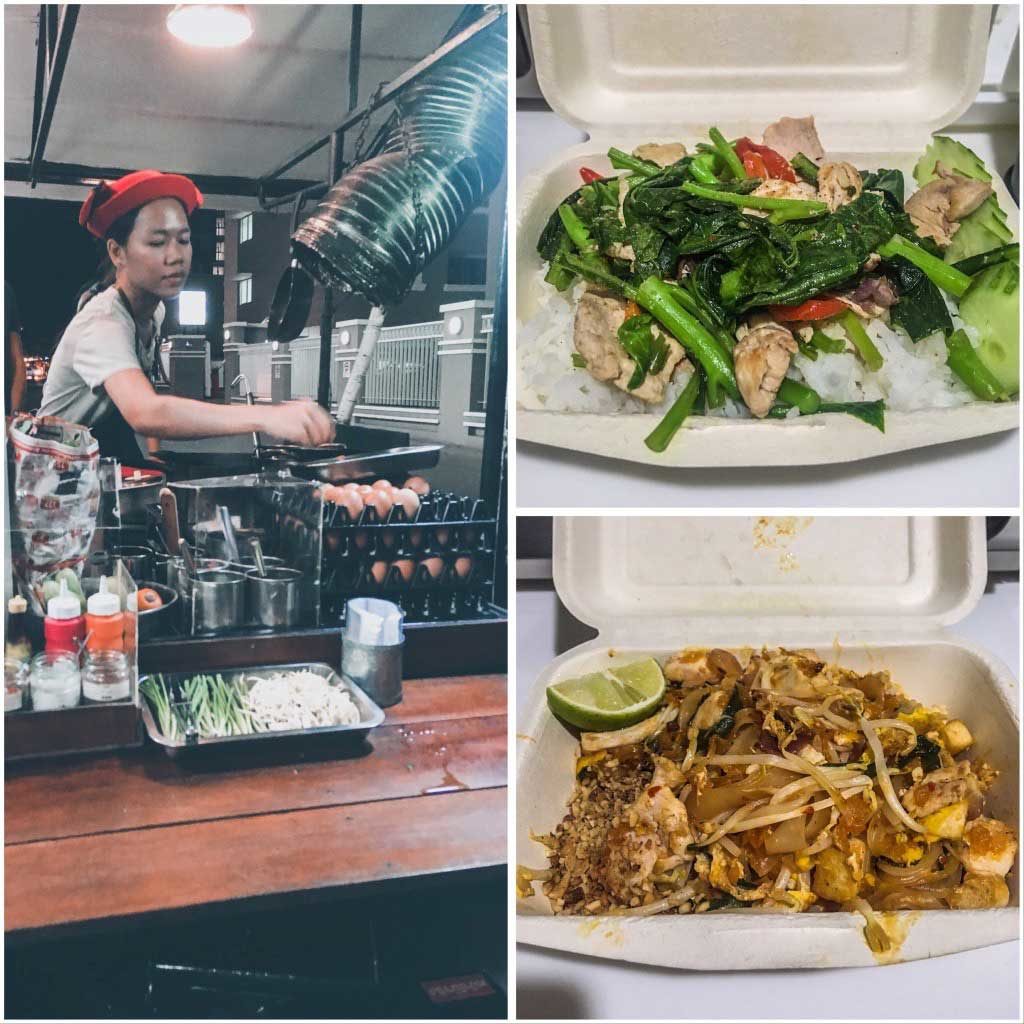 Essential street food from the lady with the novelty hats. Ploy serves some of the best Thai street food in Chiang Mai from her small food stall most evenings from around 6:00pm (but check her FB page first). She parks up on Soi 6 by Bangkok Bank. You can no longer eat at her stall on plastic stools, but the food tastes just as good!
Dishes start from just 40 baht
Google Maps: https://g.page/PadthaiMaeploy?share
Facebook: https://www.facebook.com/padthaimaeploy
Line ID: 0982636457
Tel: 098-2636457
Ristr8to
---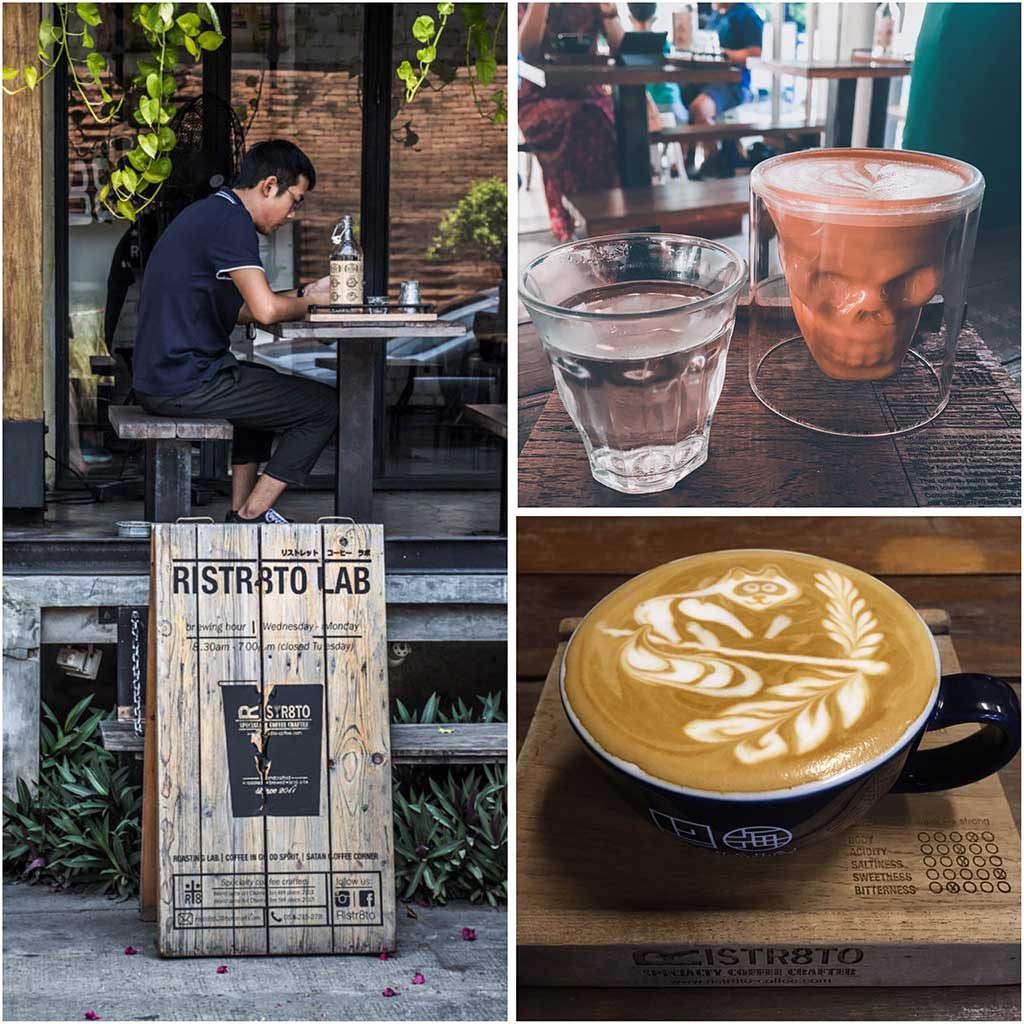 Inspired by the speciality coffee culture around the world, Ristr8to's flagship store on Nimmanhaemin Road has been serving perfectly roasted coffee since 2011. Their 'Roasting Lab' is located in the nearby Ristr8to Lab where their carefully selected beans are roasted every Tuesday. Serving signature coffee drinks from the world's largest coffee hubs such as Melbourne and San Francisco, they also have a range of enticing coffee-based alcoholic drinks like their 'Ethiopian Monkey' (hot mocha with navy rum and Creme de menthe!). All of their coffees are served as a "double shot ristretto" as standard.
Known also for their latte art, their Baristas have competed in the World Latte Art Championships accumulating numerous awards.
Cost of a hot latte; 98 baht for their signature Satan Latte featuring some impressive latte art!
Discount/Offers*: Check their FB page for offers
Google Maps: https://goo.gl/maps/9EasxrVEhKHqgsVCA
Facebook: https://www.facebook.com/ristr8to
Line ID: @ristr8to
The Barisotel by The Baristro
---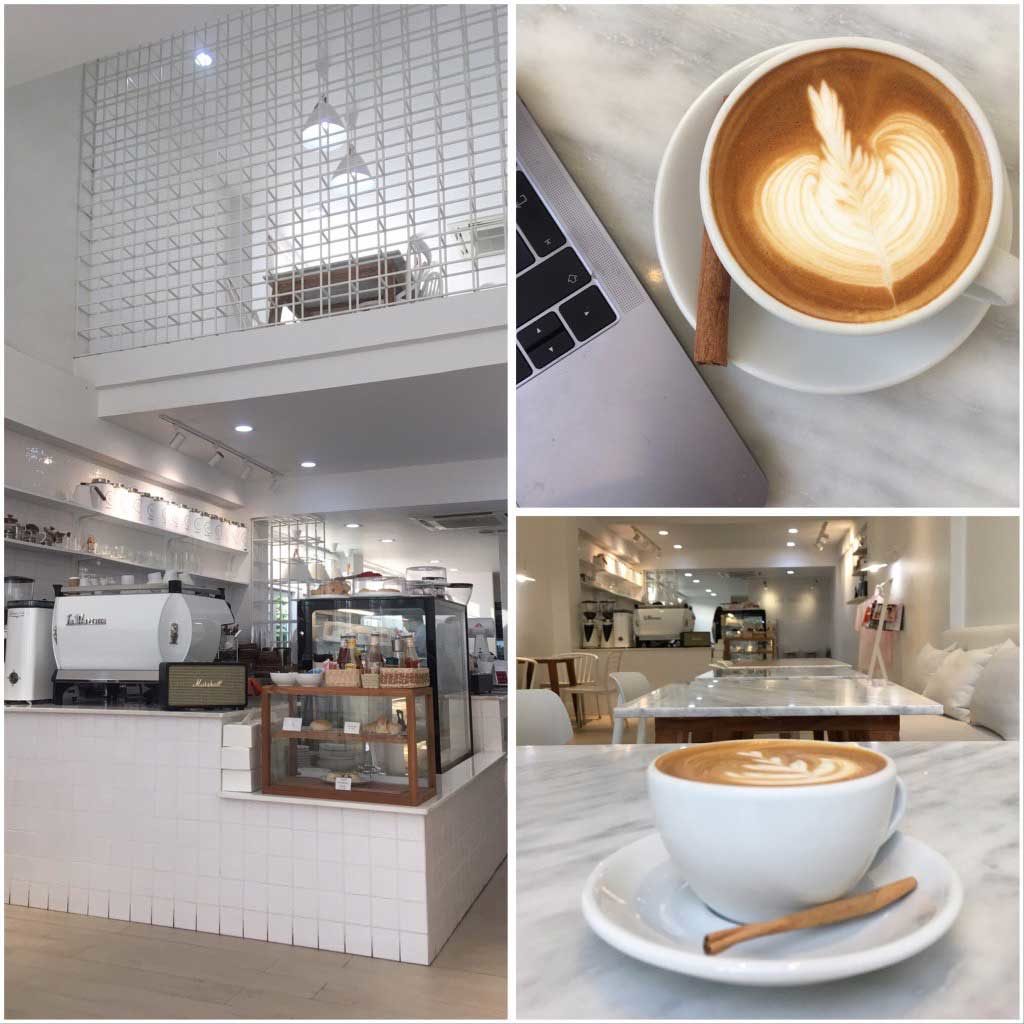 The Barisotel by the Baristro is a branch of Chiang Mai's popular Baristro coffee shop. The coffee shop, on the ground floor of the Barisotel hotel on Lane 9 is open to all. It's a chic, minimalist place with a cool white design theme (very Instagrammable). And as at all Baristro's the coffee is superb (their excellent menu includes iced, frappe and cold brew coffee). They also serve a tantalising selection of ice-cream and cakes.
Cost of a hot latte; 75 baht
Discount/Offers*: 15% takeaway discount
Google Maps: https://goo.gl/maps/bsuhmL1vMy8LXvmy6
Facebook: https://www.facebook.com/thebarisotelbythebaristro
Line ID: @162tyced
Tel: 081-8988998
Nine One Coffee
---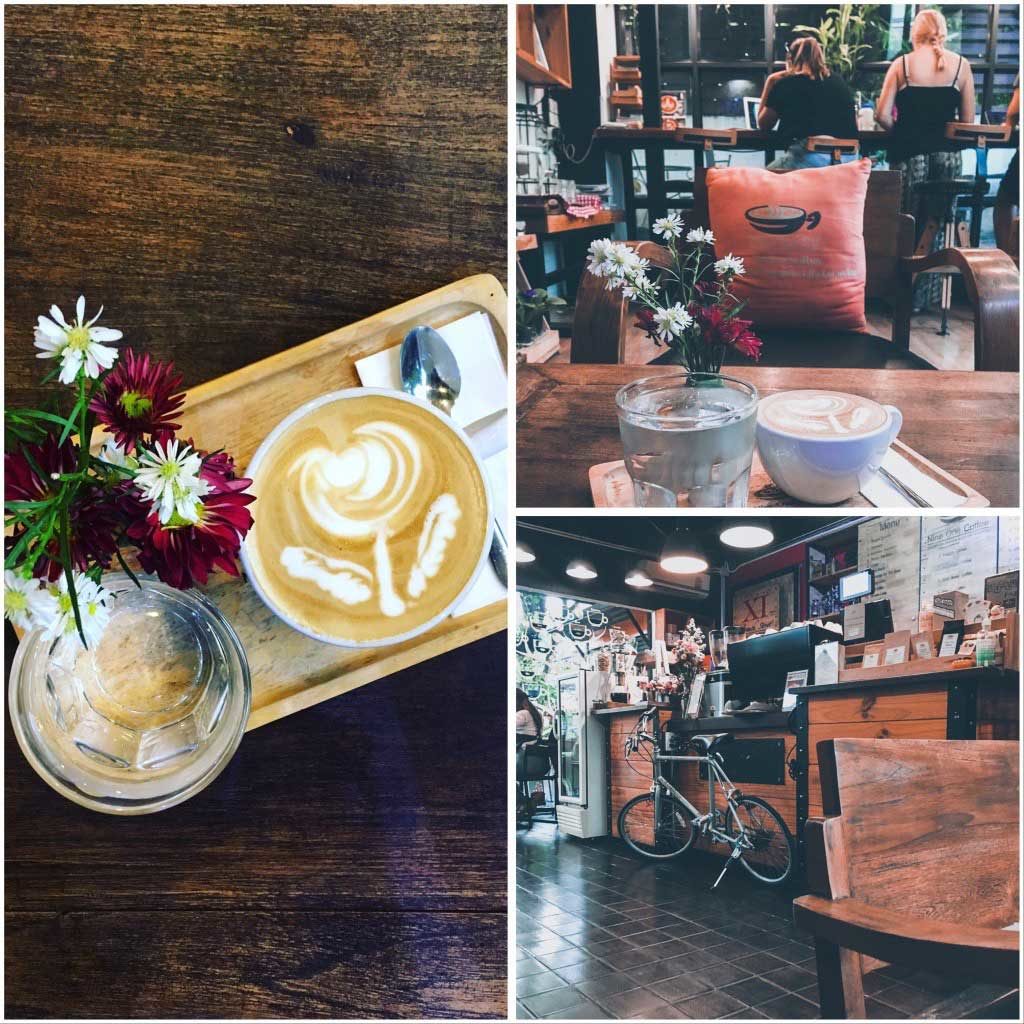 Nine One Coffee offers organic premium handcrafted coffee from their local organic estate in Doi Saket. The friendly baristas serve perfect coffee every time using a variety of methods; espresso, syphon, cold-brew, drip or french press. They also serve a selection of teas and other beverages for non-coffee lovers. Located on Soi 11, with a second branch at One Nimman.
Cost of a hot latte; 80 baht
Discount/Offers*: 10 baht discount on takeaways
Google Maps: https://goo.gl/maps/DmqFSiDMKgJzJ1xAA
Facebook: https://www.facebook.com/nineonecoffeesoi11
Line ID: stitch.mammos
CHIANG MAI OLD CITY
Fern Forest Cafe
---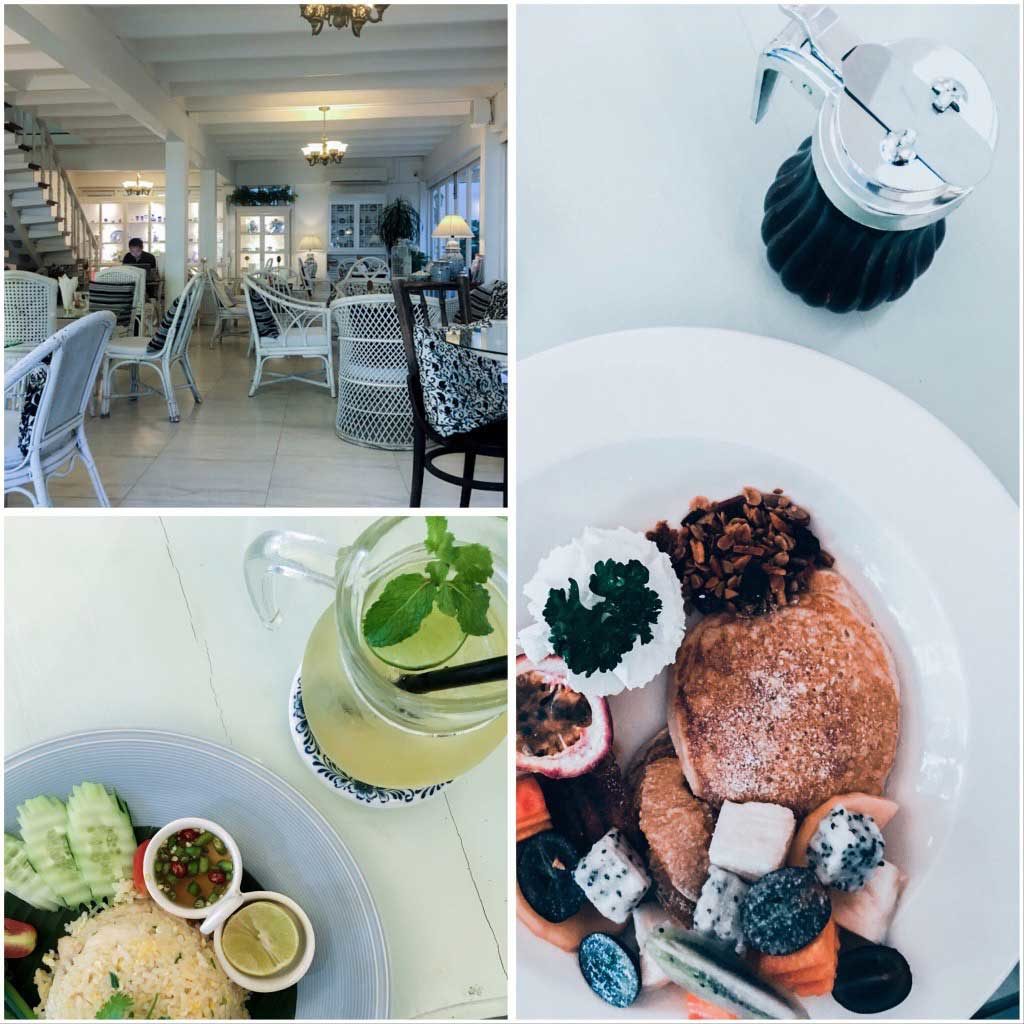 Although you can't currently enjoy the fairytale setting of its garden, or its tranquil cool white colonial interior, Fern Forest Cafe is thankfully still serving up its delightful menu for takeaway and delivery. Indulge in their wonderful pancake breakfast with seasonal fruit, whipped cream and maple syrup. Or choose something equally delicious from their extensive menu of all-day breakfasts, sandwiches, pasta and classic Thai cuisine. They also have a very tempting selection of homemade cakes and desserts. Located on Singharat Road in the north-west corner of the old city.
Meals from around 100 baht
Discount/Offers*: Check their FB page for offers
Google Maps: https://g.page/fernforestcafe?share
Facebook: https://www.facebook.com/fernforestcafe
Line ID: @Fernforestcafe
Tel: 084-616-1144
Spades Bistro & Bar
---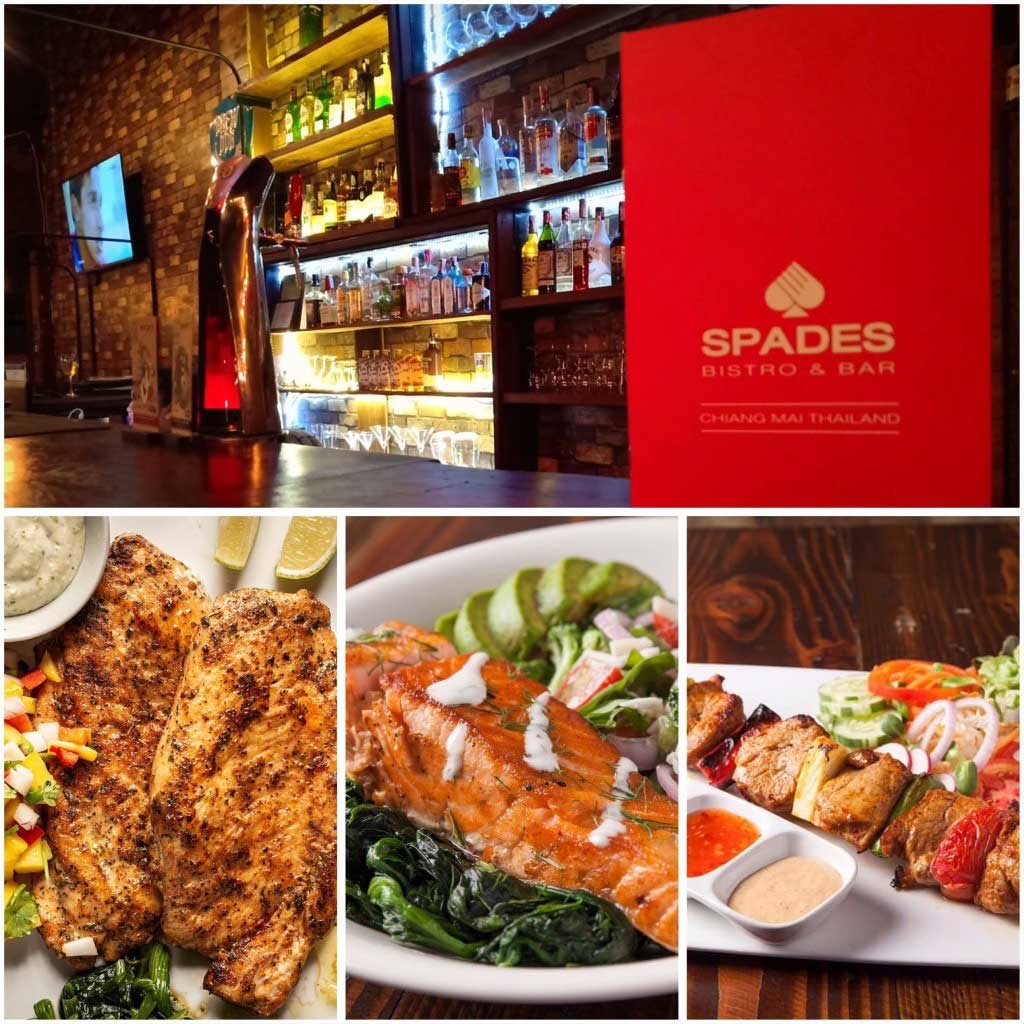 Situated by the Saen Pung Gate on the south wall of the old city moat, Spades Bistro & Bar is normally a great place for live music and people watching with a cold beer and great food. During lockdown, fortunately, at least the great food is still available! Spades offer a wide range of speciality and signature dishes, both Western and Thai. Their signature range includes an excellent Cajun Chicken (spicy grilled chicken breast served with a fresh mango salsa, with sautéed spinach and mashed potatoes). A particular favourite of mine. Craft and local beers are also available when alcohol sales are permitted.
Meals from around 100 baht
Google Maps: https://goo.gl/maps/koGHVvzNTptjk1cs9
Facebook: https://www.facebook.com/thespadeschiangmai
Tel: 052-011-229
UN Irish Pub
---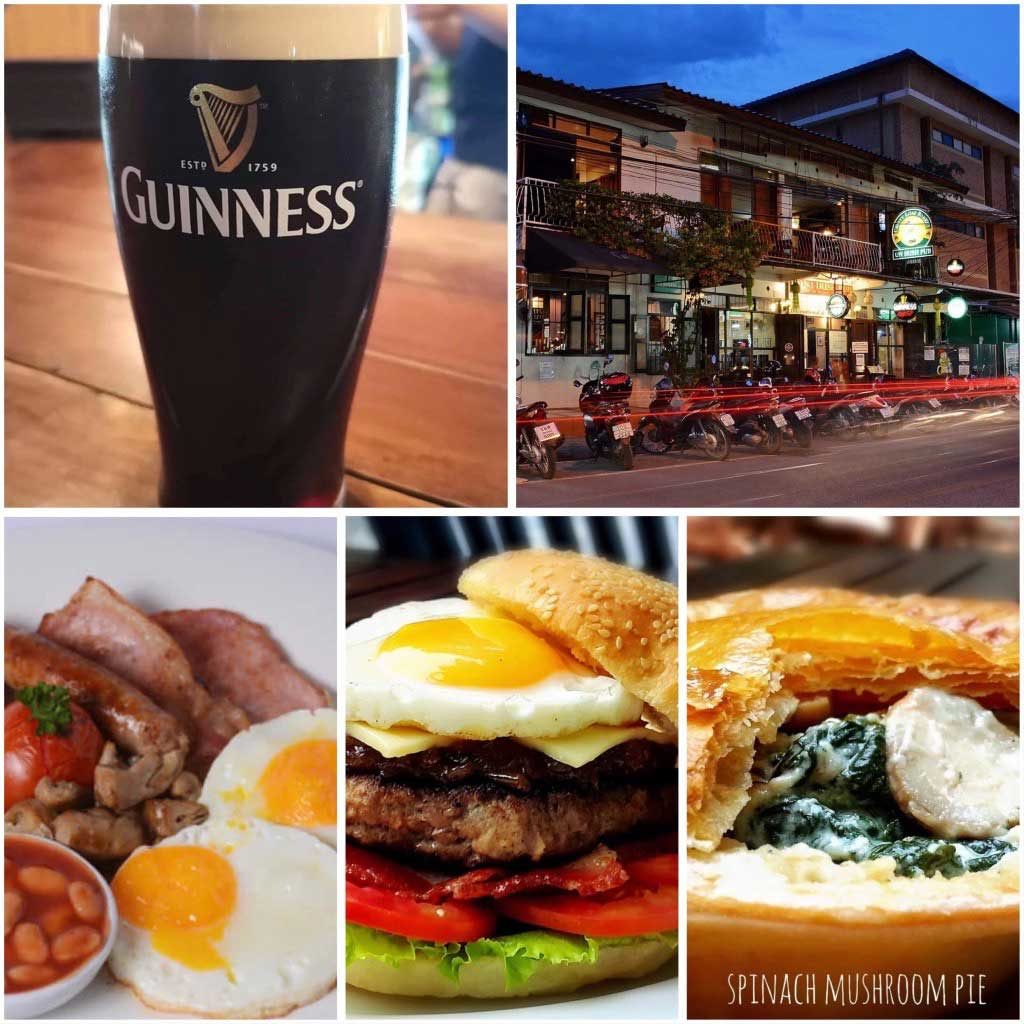 A favourite amongst expats for its live TV sports, pub quizzes, and good old English pub grub (not forgetting the Guinness on tap!), the UN Irish Pub is a Chiang Mai institution. Serving up a broad selection of pub food staples, like sausage and mash and homemade pies (they have their own bakery, The Crusty Loaf, next door) as well as some Asian favourites. Local and international beers are available to order when the Thai alcohol law permits. Located on Ratvithi Road on the east side of the old city.
Meals from around 100 baht; >> click here for a menu
Discount/Offers*: 20% discount on all hot food for collection and 10% for delivery
Google Maps: https://g.page/un-irish-pub-restaurant?share
Facebook: https://www.facebook.com/unirishpub
Tel: 053 214 554
Where Else?
There are of course many more great eateries and coffee shops around Chiang Mai still open for business and ready to deliver to your doorstep (including two of my favourites not mentioned above, Taste from Heaven and Arno's Burgers… who I've never actually visited, but I order from regularly!).
If you've a particular favourite why not comment below? It would be great to hear from you!
---