Siem Reap, Cambodia
Time for a trip
I'd been living in Thailand for more than 3 months already and had recently obtained my Thai one-year retirement visa (a major milestone for me!). I also had a multiple re-entry permit, so I was free to leave and re-enter Thailand as often as I pleased. It was time to start making the most of it and take a trip in the region.
When I last entered Thailand I entered on a 30-day visa exemption. One of the requirements of the visa exemption is to be able to provide proof of onward travel (you're rarely asked to show this but it's an immigration requirement none the less). So I booked a flexible ticket to Siem Reap in Cambodia with Air Asia. A little more expensive than a standard ticket but it allows you to change your flight date a couple of times.
Now with my one-year visa under my belt, I was ready to take that trip.
I first visited Cambodia in 2002 during my 3-month travels around Asia. Back then I spent a couple of days in the capital Phnom Penh, and then a similarly short time in Siem Reap for the temples. But this time I was going to spend a week or so in Siem Reap only, to get to know the city a little better, as well as revisit the temples of Angkor.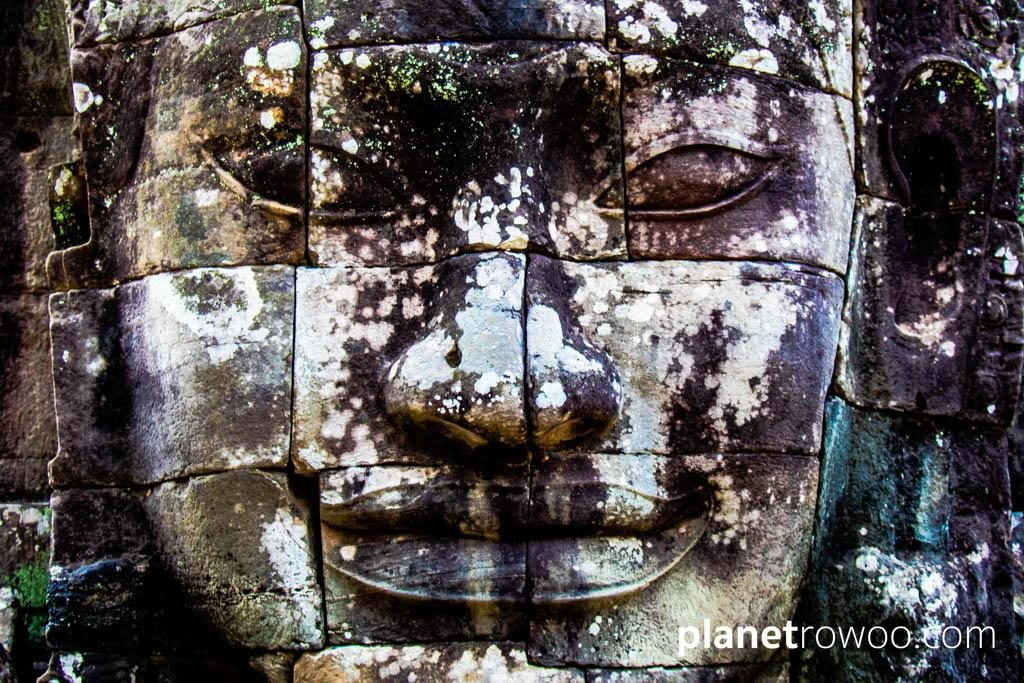 Cambodia
Modern-day Cambodia is all that's left of the mighty Khmer Empire, which once ruled much of what is now Thailand, Laos and Vietnam. Today, Cambodia's 180,000 square kilometres are bound by Thailand to the west and northwest, Laos to the north, Vietnam to the east and southeast, and the Gulf of Thailand ocean to the southwest.
From my first visit I remember Cambodians as being among the most friendly and welcoming people I'd come across in Asia. Some might find that a little surprising given the country's tragic recent past. In the late seventies, Pol Pot and the Khmer Rouge were responsible for the Cambodian genocide where almost a quarter of the population lost their lives. But somehow the people have prevailed with their smiles intact. And I was looking forward to experiencing their warm hospitality again.
Siem Reap
Siem Reap is in the northwest of Cambodia around 150km from the Thai border. It's best known for being the gateway city to the ancient temples of Angkor (the former capital of the great Khmer Empire). But today there's much more to Siem Reap. Since my first visit 16 years ago, it's become a thriving cosmopolitan city, with a great cafe and restaurant culture, and a pretty diverse nightlife. It has a charming blend of colonial and Chinese style architecture. And with a variety of museums and cultural shows, there's plenty to keep you busy for when you're templed out. It's also a stepping stone to the nearby Tonle Sap Lake, the largest freshwater lake in South East Asia, with its traditional floating villages.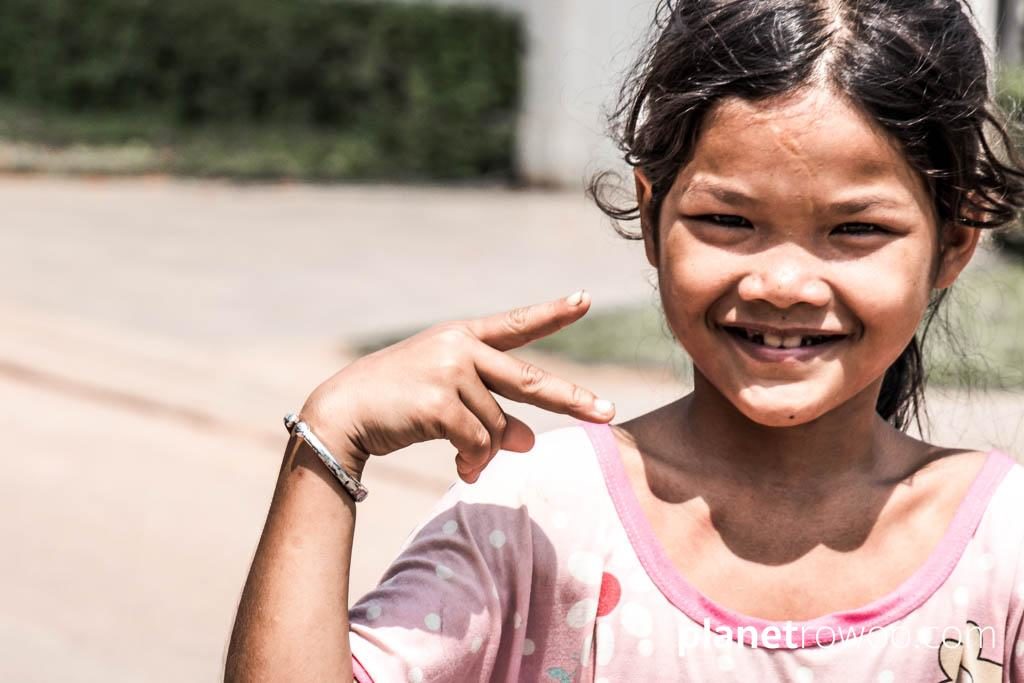 Exploring Siem Reap by foot
When I wasn't visiting the temples (and not being ill), I enjoyed exploring the city on foot. My hotel was around 10 minutes walk from the Siem Reap river, on the east side. It was a pleasant walk from the hotel to the river, along quiet roads, passing homes and sleepy cafes. Directly on the river banks on this side, there's a decidedly rural feel, with old shacks, and chickens running freely. There's also the familiar red soil roads which seem to be characteristic of this part of the country. Smearing the buildings and passing traffic with a layer of red dust… symbolic to me of the country's troubled history.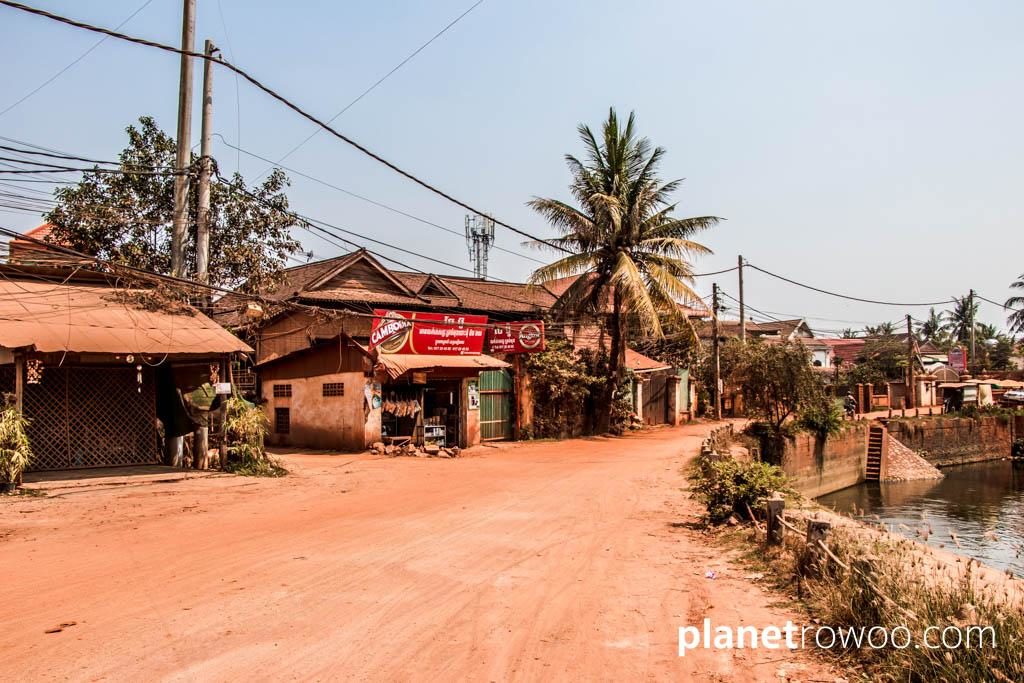 Siem Reap Markets
Further up the river towards the Vishnu Circle (or Hard Rock) roundabout you come to the Siem Reap Art Center. It's a night market but parts of it are open by day selling a range of handicrafts and souvenirs. It's still pretty subdued during the day on this side of the river, with not so many tourists, and remork-moto (tuk tuk) drivers napping and playing on their mobiles.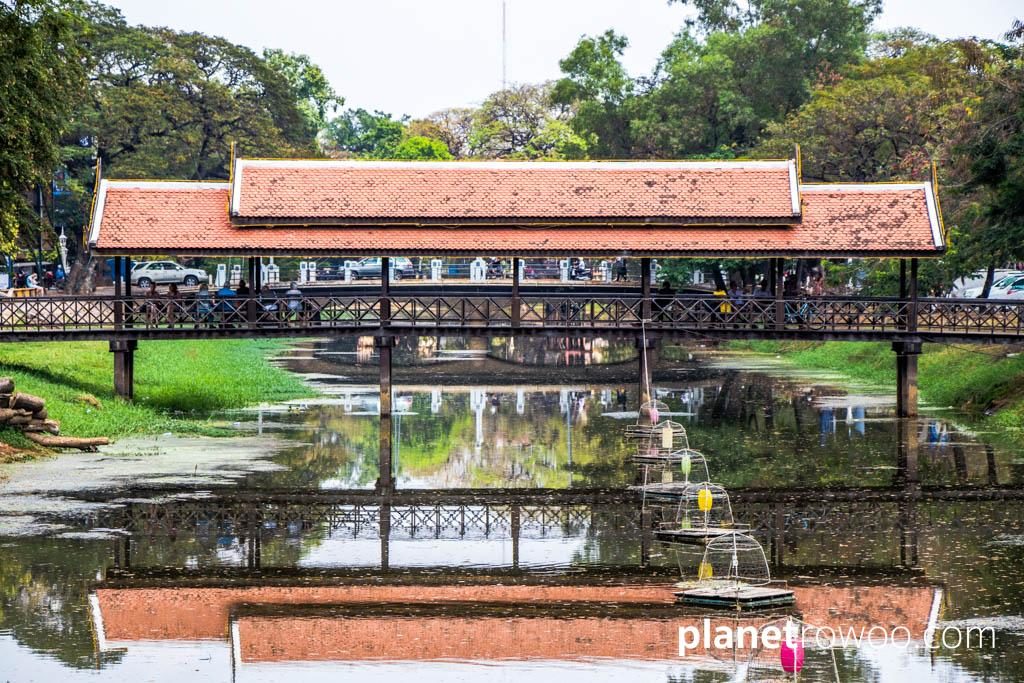 The Art Market is connected to the Psar Chaa, Old Market area via a traditional wooden bridge across the Siem Reap River. The bridge is a pleasant spot to shelter for a while from the heat of the Cambodian sun. You can sit here in the shade beneath the red-tiled roof and cool off for a bit, enjoying the breeze and river view.
Venturing across the river things start to get busier. Psar Chaa is a completely different experience. It's a bustling market selling anything you could ask for and one of the most popular shopping experiences for visitors. You can spend hours (and I did) getting lost here and observing the everyday hustle and bustle of Cambodian market life.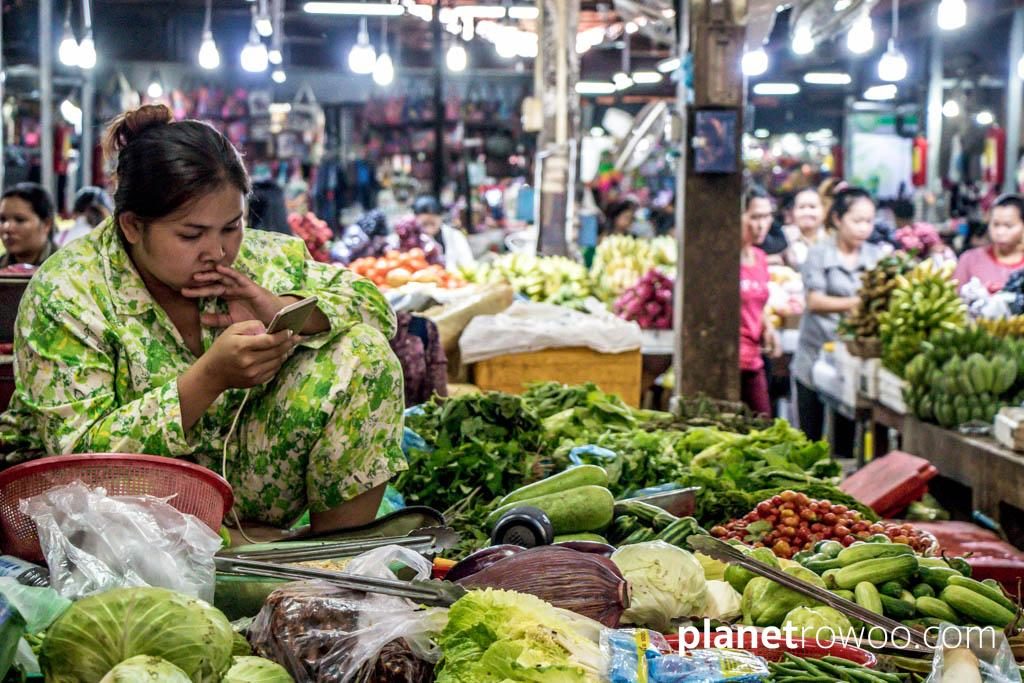 Stumble out of the market and you're in the tourist epicentre of Siem Reap, with its many cafes, bars, restaurants and shops. Here you'll notice a stark difference to the other side of the river, with busy roads full of bikes, buses, and lined with street vendors.
Siem Reap Nightlife
Just one street up from Psar Chaa is Pub Street, Siem Reap's equivalent to Bangkok's Khao San Road. A vibrant street filled with cheap bars, international restaurants, boutiques and massage parlours. It's busy by day, but really comes alive at night when it is the place to go for some Siem Reap nightlife. Some places stay open as late as 4am.
The Old French Quarter
Walk north up Sivatha Boulevard at one end of Pub Street and you'll come across the Old French Quarter in Siem Reap. I didn't venture up this far but here you'll find some charming vintage colonial buildings and luxury accommodation.
The Remork-Moto (Cambodian Tuk-Tuk)
Every Asian country it seems has its own version of the humble auto-rickshaw, or 'tuk-tuk' as it's fondly known throughout the continent. And none are more distinctive than the Cambodian 'remork-moto'. In its simplest form, it's just a large trailer hitched to a motorcycle, used throughout rural Cambodia to transport people and goods. In the cities, you'll find a slightly more elaborate version with a canopied trailer designed for two people in comfort (or in reality as many as can pile in!).
You'll see remork's everywhere in the city. This mode of transport is the most popular way of getting around in Siem Reap. And taking a ride in a remork is a fun way to explore the temples.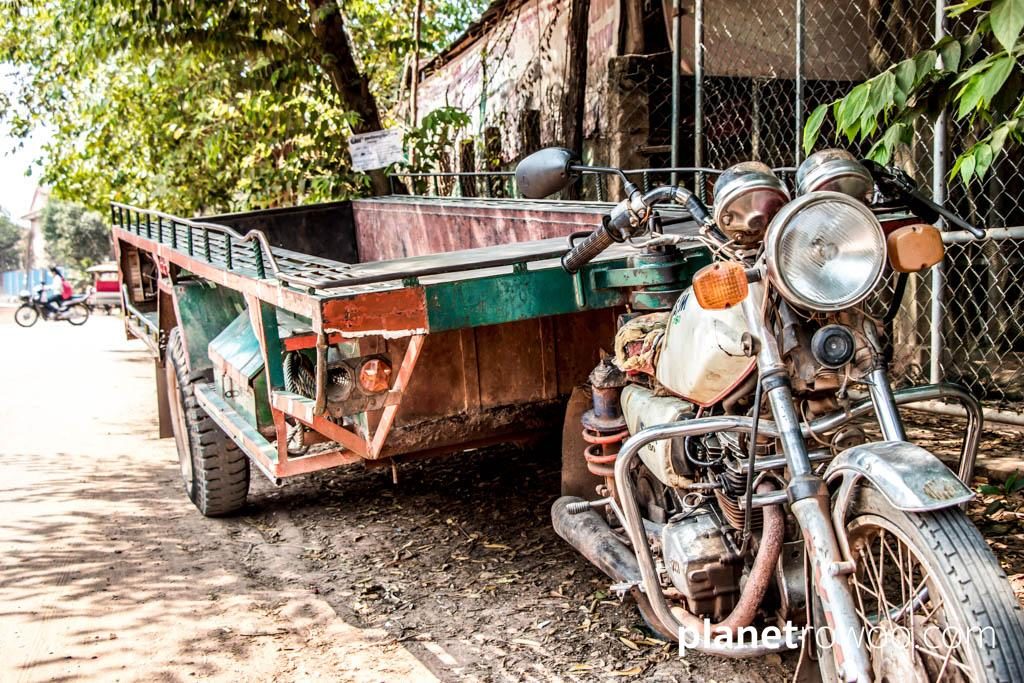 Eating & Sleeping in Siem Reap
Where to Eat & Drink
There are a huge variety of places to eat and drink in Siem Reap. With a range of cuisines from Asian and European to authentic Khmer. Here are just a few places I (mostly) enjoyed.
---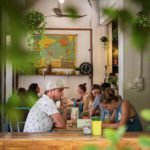 Sister Srey Cafe
Sister Srey Cafe is a lovely little riverside cafe in the old market area. It's also an environmentally conscious social enterprise. They employ young Khmer students, and help support them through university and higher education. A precentage of their profits also go towards APOPO to help support landmine clearance.

But beyond all that, it's a wonderfully friendly cafe, with freshly produced organic and chemical-free produce. They're also gluten free, vegan, vegetarian and food intolerant friendly! My avocado on toast with local bread and feta and beetroot humus was pretty special. The cafe's in a lovely little riverside spot perfect for watching the world go by.
---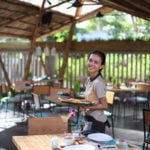 SPOONS
Spoons restaurant is on the eastern (Wat Damnak) side of the Siem Reap river. Set in a unique bamboo structure, the restaurant has a lovely vibe while serving beautifully presented authentic Khmer cuisine with a twist. The coconut chicken with grilled sweet potatoes was one of the best meals I had in Siem Reap.

Spoons is built on an interesting concept… EGBOK (Everything's Gonna Be OK). It serves as a training school for underserved young adults in Cambodia. 52% of Cambodians are 25 years old or younger and Spoons reaches out to the underprivileged among them, helping them to become self-supporting. It's an admirable social enterprise and a life changing opportunity for these young people. You can find out more on the EGBOK website.
---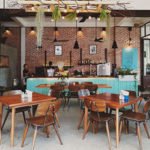 Fifty5 Kitchen-Bar
Situated in a great spot on a corner next to the old market and not far from Pub Street. Fifty5 Kitchen-Bar is a contemporary bar/restaurant serving a good range of western and Khmer dishes. And an extensive Gelato menu. It's a stylish place with a cool atmosphere and an eclectic furniture mix of wooden and metal chairs and Chesterfield sofas. The tables on the pavement outside provide a great setting for a chilled afternoon or evening of people watching.
---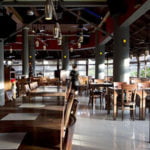 The Red Piano
Located on the crossroads at the western end of Pub Street, The Red Piano is a great little hangout to sit back in and soak up the atmosphere of Siem Reap's most popular night time street. It offers a good selection of international and Khmer dishes. And also has a wide selection of Belgian beers. Inside there's a funky red interior, with some cool but slightly creepy red floor-standing lamps, while the outdoor canopied area with its wicker chairs has more of a colonial feel.

Apparently the Red Piano was Angelina Jolie's favourite night spot while she was filming Tomb Raider back in 2000… hence the 'Tomb Raider' cocktail was born! (every 10th cocktail sold is free, and whoever orders the 500th one wins a T-Shirt and $100 in cash!).
---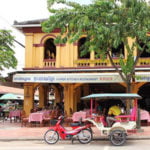 Khmer Kitchen
The Khmer Kitchen; Not exactly a recommendation this one. I had the worst case of food poisoning I've ever had from here… it knocked me out for a whole day! I had the Chicken Amok curry and it tasted a bit 'odd'… so my own fault for eating it I guess. But it's a busy place, in a good spot on the corner opposite the old market, great for people watching. Plenty of people seem to like it (it has many good reviews). But dine here at your peril!
---
Where to Sleep
Siem Reap offers a wide range of accommodation options, from charming guesthouses and boutique hotels to large 5-star resorts. On this trip though, I stayed in just the one place.
---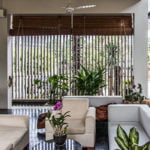 Hillocks Hotel & Spa
My home for 8 nights… Hillocks Hotel & Spa is a great value, beautifully designed, modern boutique hotel on the east side of the Siem Reap river. Set within graceful gardens, with an infinity pool overlooking neighbouring rice fields, it's a calming retreat from the heat of the temples. You can find more of what I thought in my next post.
---
Movies/Essential Viewing
For a greater understanding of what the Cambodian people went through during the dark years of Khmer Rouge rule, the following movies are essential viewing.
---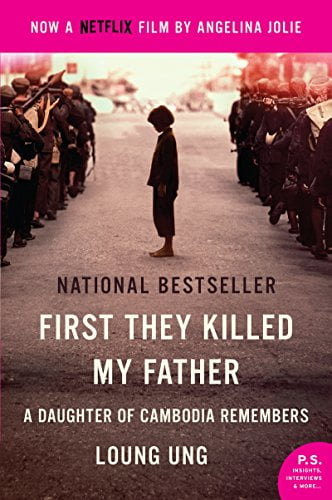 First They Killed My Father
First They Killed My Father is a biographical thriller directed by Angelina Jolie and based on Loung Ung's memoir of the same name. Ung was just 5-years-old when the Khmer Rouge assumed power over Cambodia in 1975. Forced from her family's home in Phnom Penh, Ung was trained as a child soldier while her six siblings were sent to labour camps.

The film is an artful and sensitive portrayal of the cruelty inflicted upon the Cambodian people by the Khmer Rouge, as seen only through the eyes of a 5-year-old girl. It's available to stream on Netflix.
---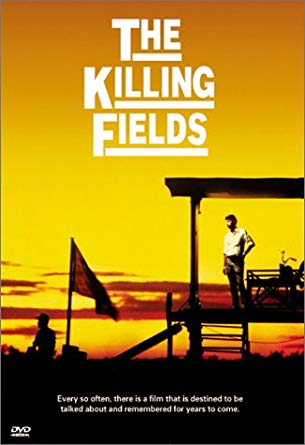 The Killing Fields
The Killing Fields is a British biographical drama about the Khmer Rouge regime in Cambodia, based on the experiences of two journalists: Cambodian Dith Pran and American Sydney Schanberg. Schanberg was a reporter for the New York Times whose coverage of the Cambodian War would win him a Pulitzer Prize for international reporting. But the friend who made it possible was half the world away with his life in great danger… This is the story of war and friendship, the anguish of a country and of one man's will to live. It won 3 Oscars at the 57th Academy Awards in 1985.

"Every so often, there is a film that is destined to be talked about and remembered for years to come"...

That tagline is so true. I first saw this movie when it came out in 1984, which was many years before I visited Cambodia for the first time. But the film has resonated with me ever since, and is one of the reasons that drew me to this remarkable country.
---
Galleries
[envira-album id="7427″]
Siem Reap & Cambodia Today
My Thoughts
Siem Reap has changed a bit since my last visit at the turn of the millennium. It's no longer the sleepy little town I remember. Today it's a bustling cosmopolitan city. There certainly wasn't the cafe and restaurant culture then that there is now. And no boutique hotels that I remember. My accommodation back then was pretty basic as I recall.
Before when I came, most Cambodians I met had a story to tell. It was rare to find someone who hadn't been affected by the Pol Pot genocide, someone who hadn't lost a brother, a sister, their father or mother, or worse their whole family. This time it seemed different. But perhaps that's because more than half the population are 25 or younger. It may not be talked about so much. But I think the effects of the genocide are still present today, as the country continues to rebuild its economy, schooling, and social institutions. Those who were targeted by the Khmer Rouge were the educated classes, leaving Cambodia's population today young and largely uneducated. Many are orphans. But enterprises like Spoons restaurant and Sister Srey Cafe are providing admirable ways of helping this young generation in life changing ways. And that can only be a good thing.
Sick Boy
Unfortunately, I suffered from a triple whammy of sickness on this trip… a bad cold, bad back… and a bad case of food poisoning…. which wiped a day off my itinerary and limited my activities on other days. So I didn't get to experience as much of Siem Reap as I was hoping to. The "ageing traveller" part of my slogan never felt more true.
I certainly intend to return to Cambodia again one day. Next time I'd like to revisit the capital Phom Penh to see how that has changed, and maybe take in a beach or two. But until then… "lee-hi Kampuchea".
---
Top image: Siem Reap Pub Street by day