Christmas in Bangkok
A Festive Season in the 'City of Angels'
It was that time of the year again, and my third Christmas in Thailand. The previous two had been spent on the beach at Haadson Resort and JW Marriott in the south of Thailand. Very nice indeed. But this year, partly because I'd left it a bit late to book a beach trip, I decided instead on a city break.
It had been a while since I'd spent any length of time in Thailand's capital and bustling metropolis, Bangkok. And it would be kind of fitting I thought, spending the festive period in the 'City of Angels'.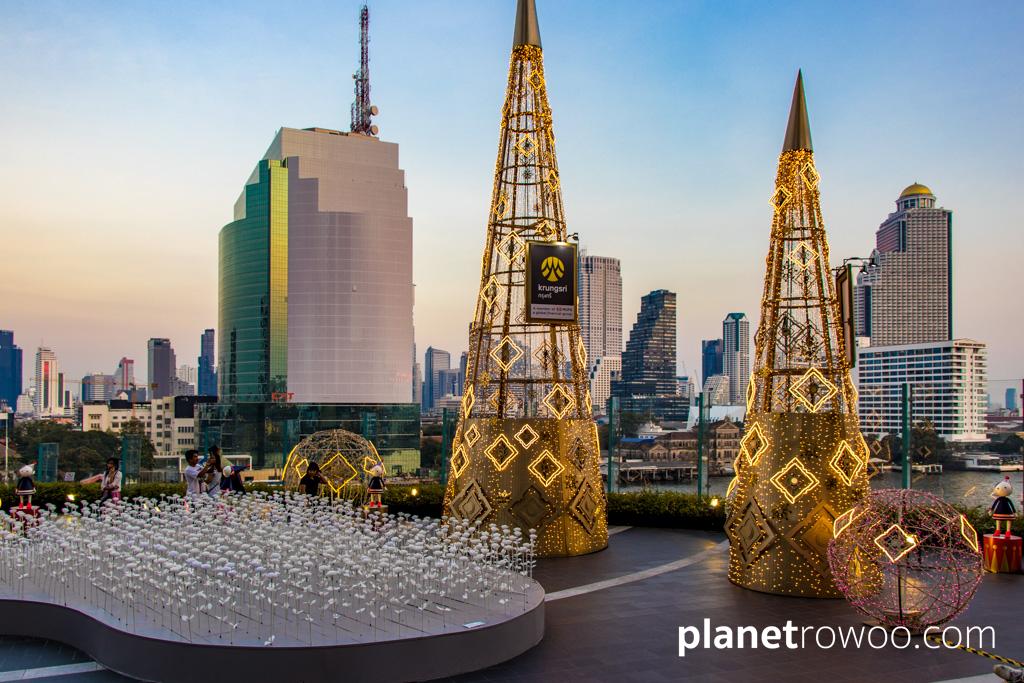 Bangkok: City of Angels – What's in a name?
What's the real name of Thailand's capital city? Click on the drop-down below to find out…
The name Bangkok, which we commonly use to refer to Thailand's capital city, translates roughly as 'village of olives'. It's derived from the original site for the capital city – the village or district (Bang) of olives (Makok) – located west of the Chao Phraya River (in modern-day Thonburi).
Krung Thep - City of Angels
But to the Thai their capital city is known as 'Krung Thep', an abbreviation of its lengthy official name…
"Krungthep mahanakhon amon rattanakosin mahintara ayuthaya mahadilok popnopparat ratchathani burirom udomratchaniwet mahasathan amonpiman avatansathit sakkathattiya visnukamprasit".
It's certified in the Guinness book of records as the longest place name in the world! It translates roughly as;
"The City of Devas, the Great City, the Residence of the Emerald Buddha, the impregnable Ayutthaya City of God Indra, the Grand Capital of the world endowed with nine precious gems, the Happy City, abounding in an enormous Royal Palace that resembles the heavenly abode where reigns the reincarnated god, a city given by Indra and built by Vishnukarn"…
So the abbreviation 'Krung Thep' translates to 'City of Devas' or more popularly as… the 'City of Angels'.
Things To Do In Bangkok
There's a reason why Bangkok is consistently ranked as the most visited city in the world, with over 20 million international visitors a year. Its culture, vibrant food scene, luxury yet affordable hotels, diverse nightlife and sheer in-your-face energy make it a must-visit destination for so many. That energy (or perhaps 'chaos' is a better word!) is not for everyone though. But whatever your tastes, there's certainly no shortage of things to do.
1. Buddhist Temples (Wats)
You cannot come to Thailand without visiting a Buddhist temple (or twenty!). Temples (or wats) play an important cultural role in Thai everyday life. And nowhere more so than in Bangkok, a city that is home to over 400 of them, including some of the oldest and most important temples in the country. It's easy to get 'templed-out'! But on this trip I limited myself to just two of the most important.
Wat Arun (Temple of the Dawn)
Wat Arun is possibly the most iconic temple in Bangkok, and one of the most impressive religious structures in the world. In the 1760's King Taksin was so impressed by its spectacle as he passed by with his fleet one morning at sunrise, he decided to name it after the Hindu god 'Aruna' (the charioteer of the Sun-god Surya). It has since become known as the 'Temple of the Dawn'.
I wouldn't be visiting quite so early! (and besides, it doesn't open until 8am!). Instead, I took a trip to see it late on Christmas morning, after a leisurely breakfast at my hotel.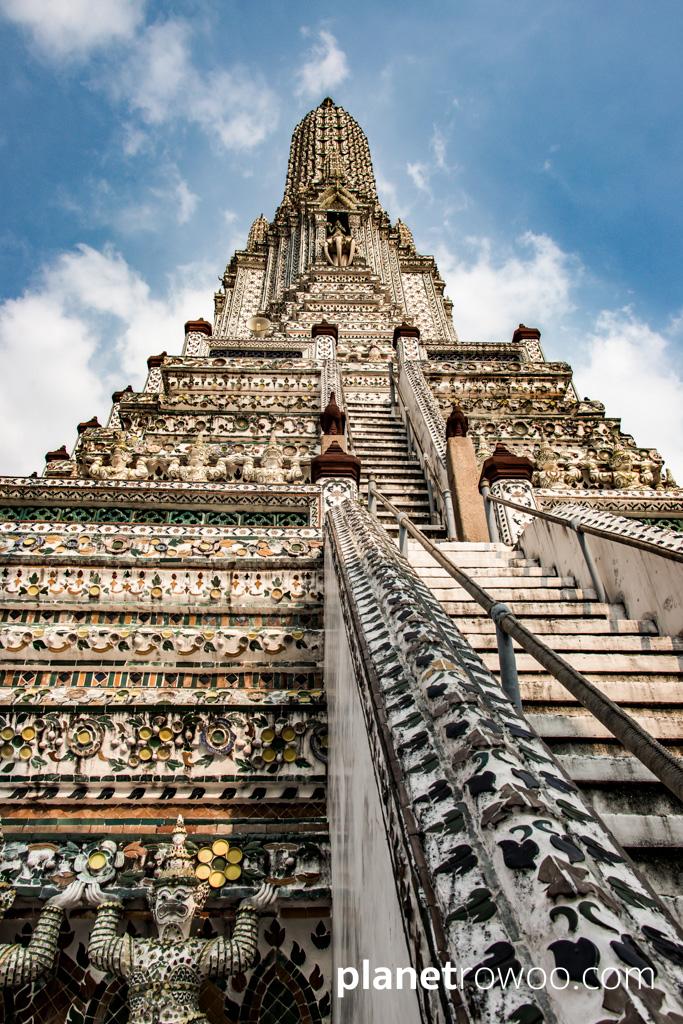 Wat Arun is located on the west bank of the Chao Phraya River, opposite Wat Pho and the Grand Palace. I took a Grab taxi from my hotel in Sathorn which was about a 20-minute drive. You can also reach it via the Wat Arun tourist boat from the Tha Tien (N8) Pier across the river. It's also about a 10-minute walk from the Itsaraphap MRT Subway station.
Unique Amongst Thai Temples
This was my first visit to Wat Arun, and I was quite taken by how different it was to the vast majority of Thai temples I'd visited before.
Dating from the 17th century in the Ayutthaya period, the temple has taken on different forms during its lifetime. Today, a spectacular 80-metre tall prang, or tower, sits at the temple's centre, surrounded by four smaller towers. Although built in Thai Rattanakosin style, the prang have a great similarity to Khmer architecture. Much of the temple also reflects Chinese architecture. It's these different influences that make Wat Arun so unique amongst Thai temples.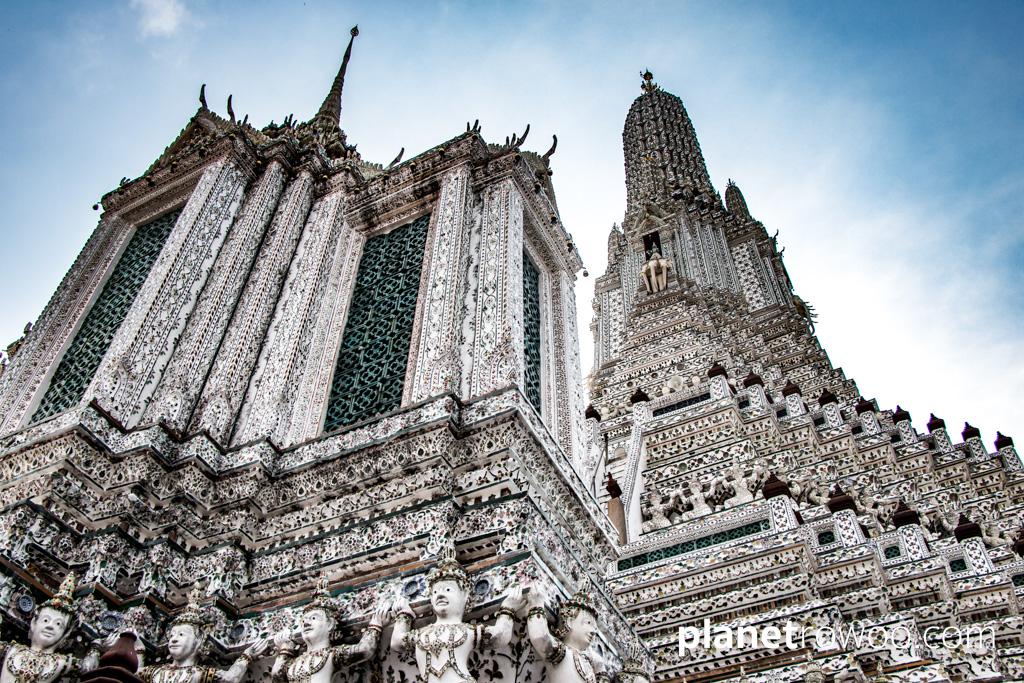 But also, what makes Wat Arun so striking are the colourful glazed ceramic tiles and porcelain pieces that are embedded into the prang. Apparently, over one million tiles were used, crafted from broken bits of Chinese dishes that were salvaged from a British shipwreck. The intricate decoration is fascinating to view close up, but when seen from a distance at sunrise or sunset, when the tiles sparkle and glitter in the sunlight, it becomes something more magical.
A stroll around Wat Arun was certainly a pleasant way to spend my Christmas morning. The clear blue sky was reminiscent of a December morning back home (but with +30 degrees temperature!), and the central spire of the temple twinkling in the late morning sun like some massive porcelain Christmas tree!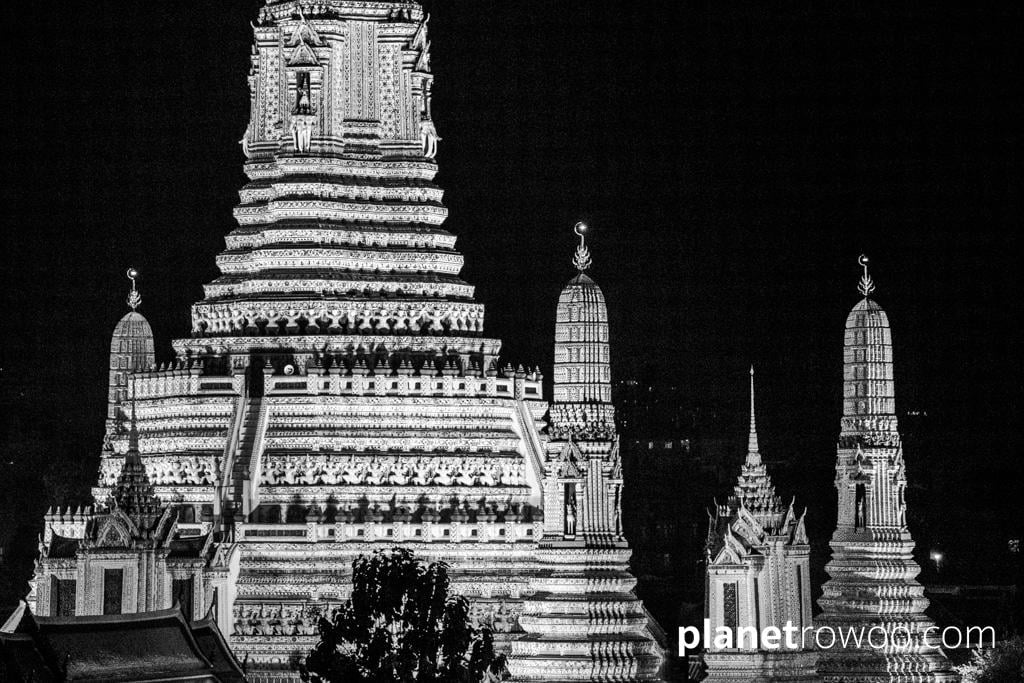 The entrance fee to the temple was 50 baht for foreigners (free for Thai).
[envira-album id="18201″]
Google Maps: https://goo.gl/maps/9s6Z5QsaN3ntiznu5
Wat Pho (Temple of the Reclining Buddha)
Across the river from Wat Arun lies Wat Pho, the Temple of the Reclining Buddha. I took the shuttle ferry across for just 3 baht and stopped for lunch on the way at Ama Art and Eatery in Thai Wang Alley. A great little spot for a pit stop which I'd highly recommend if you're sightseeing in the area.
Unlike Wat Arun, Wat Pho is set back from the river, but it's easily found. From the pier, you walk through Tha Tien market and up to a road intersection. Wat Pho is then directly across the intersection on the right.
The temple complex is one of the oldest and largest in Bangkok, dating from the 17th century. But its main attraction and what makes it a must-see is the 46-metre long golden Buddha that lies within the chapel.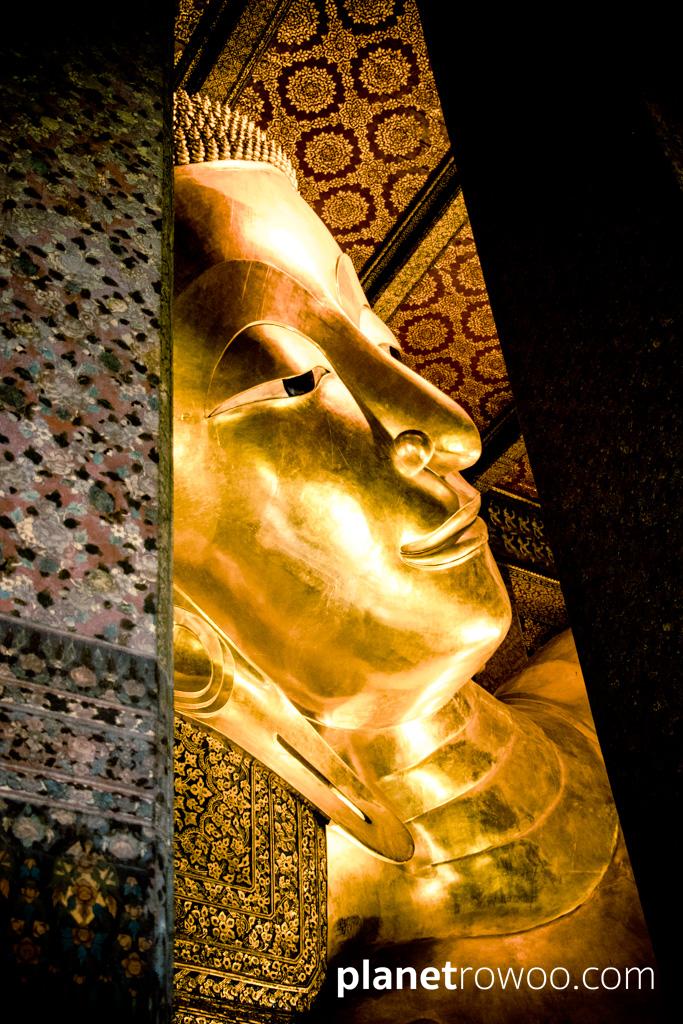 Covered in gold leaf and at 15 metres tall, the Reclining Buddha at Wat Pho really is an impressive sight. The Buddha image, lying on one side, stretches deep into the viharn… its head and body practically filling the structure. As you enter the corridor that runs around the perimeter of the giant Buddha you get your first glimpse, through intricately decorated columns, of its immense golden head elegantly resting on one hand. The walls and ceiling are also beautifully hand-painted and worth taking some time to admire. Walk further into the building and you'll get a better view of the Buddha's golden entirety.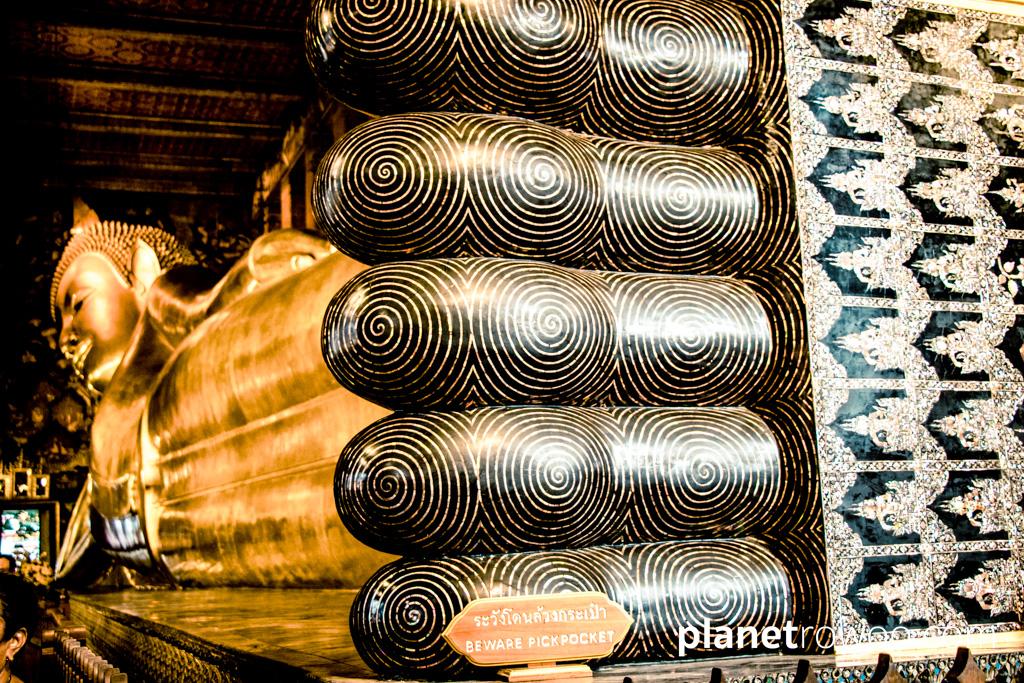 Mother Of Pearl
The feet of the Buddha are not only enormous too at 5 metres long and 3 metres high but they're also beautifully decorated. The elongated toes are adorned with concentric spirals and the soles inlaid with 108 mother of pearl segments representing the 108 lakshanas or auspicious characteristics of the Buddha (the positive actions and symbols that helped lead Buddha to perfection).
Talking of feet… you must take off your footwear before entering the chapel. This is common practice before entering temples in Thailand. Although rather unusually you'll be given a plastic bag to carry them in during your visit. Normally you just leave them outside!
The poses of Buddha images all have different meanings. This reclining pose represents Buddha in the last moments of life on earth, prior to dying one last time before entering Nirvana.
The Temple Complex
Outside of the Reclining Buddha chapel there's more to see. The 20 acre temple complex contains a large number of structures, including an ubosot (ordination hall), several viharns (assembly halls), a scripture hall and almost 100 chedis. It also houses the largest collection of Buddha images in Thailand (over one thousand) and, in a small garden, a Bodhi tree that is a descendant of the Bodhi tree from Bodhgaya in India under which the Buddha reached enlightenment.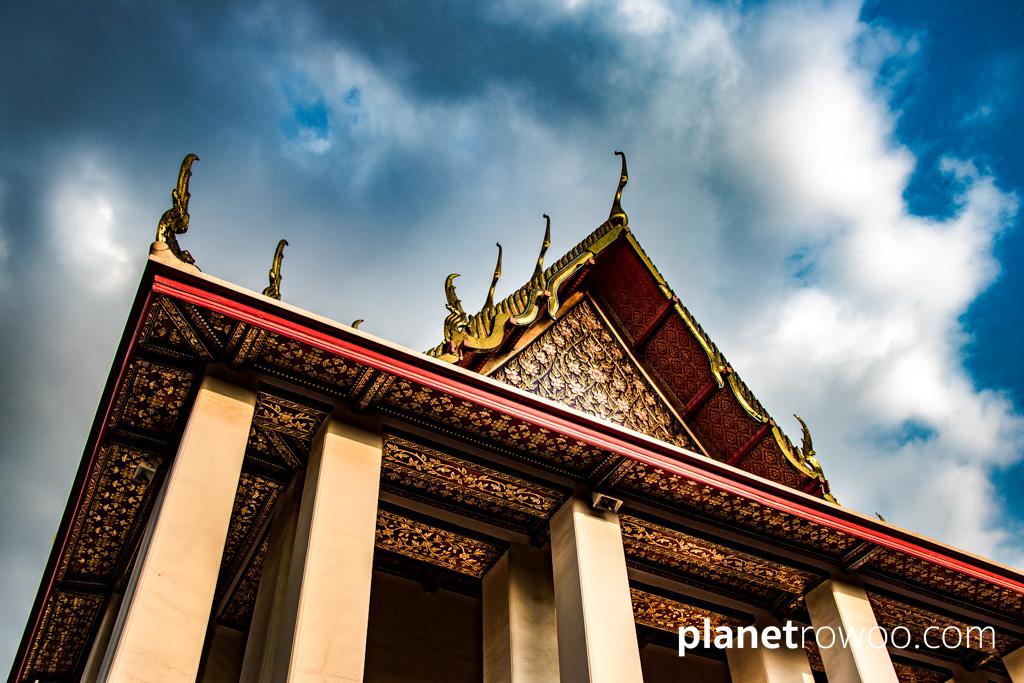 The Birthplace of Thai Massage
I also learned that Wat Pho is the birthplace of Thai massage! There are massage pavilions within the complex where you can get a traditional Thai massage and you can learn Thai massage here too.
The entrance fee to Wat Pho was 200 baht for foreigners (free for Thai).
[envira-album id="18204″]
Google Maps: https://goo.gl/maps/R4VxJqF5sghrQegb9
Other must-see temples in Bangkok;
Although today I visited only Wat Arun and Wat Pho, a visit to both is easily and often combined with two other Bangkok highlights; the nearby Grand Palace and Temple of the Emerald Buddha (see list below).
You'll find Wat Arun and Pho in the top three of any Bangkok temple list. Here are a few more recommended temples that you'll see listed in most top tens;
Two Price Thailand
You'll often see two prices for entrance fees in Thailand, one for foreigners and the other for Thai. But sometimes this is not made obvious and it's not clear that foreigners have to pay more. Richard Barrow, a long term expat and travel blogger in Thailand, has put together this site which makes clear the dual pricing policy for many attractions;

https://2pricethailand.com
---
2. Bangkok Shopping
Bangkok offers one of the best shopping experiences in the world. From sleek and modern shopping malls to colourful weekend, night-time and floating markets. There's something for the shopaholic in all of us.
Shopping Malls (ICONSIAM)
Bangkok shopping malls cater for all kinds of lifestyles and budgets. The high-end ones are spectacular and it's easy to lose yourself for an entire day in one. They also make for a very pleasant and ice-cool retreat from the chaos, heat and humidity of the city.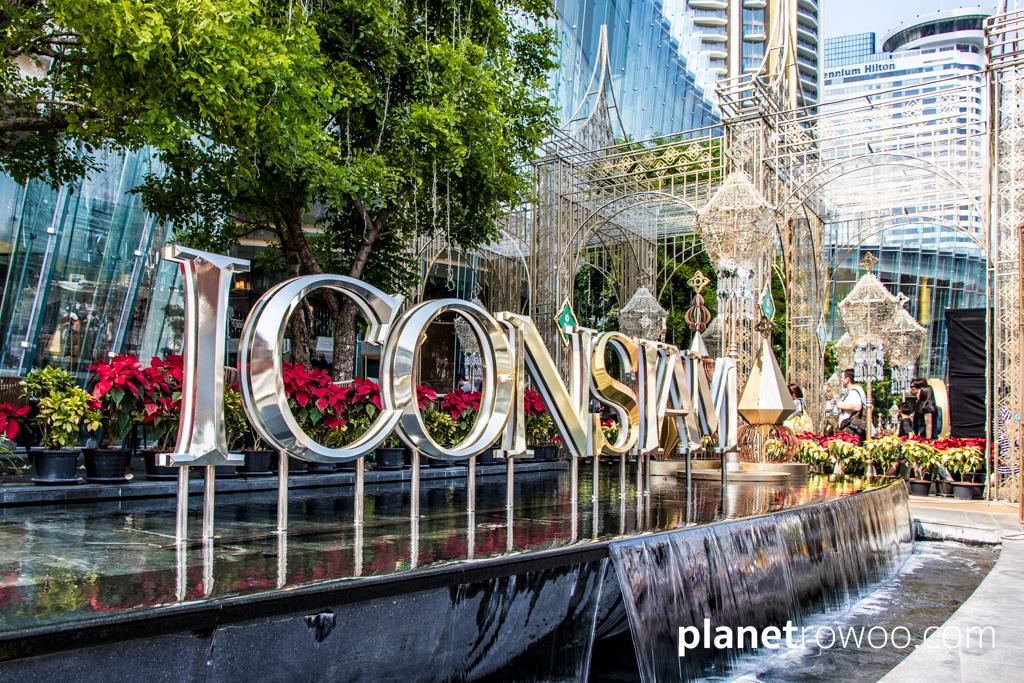 I'd visited most of Bangkok's malls before on previous visits to the city, but on my Christmas trip this year I was looking forward to visiting for the first time Bangkok's brand new mega-complex, ICONSIAM, which had opened just a year before in November 2018. Located on the Thonburi (west) side of the Chao Phraya River next to the Peninsula Hotel, it was just a short trip for me on the BTS Skytrain from my hotel to Saphan Taksin Station. And then a short ride across the river in ICONSIAM's free river shuttle. Their boat operates every day from the Saphan Taksin pier from around 9am to 10pm.
One reason I love Bangkok so much is that it's a place of contrasts. From ancient temples to ultra-modern shopping malls. One minute you can be staring in the face of a giant 200-year-old Buddha, and the next in a luxury mall amidst designer stores… and a Porsche showroom on the 1st floor!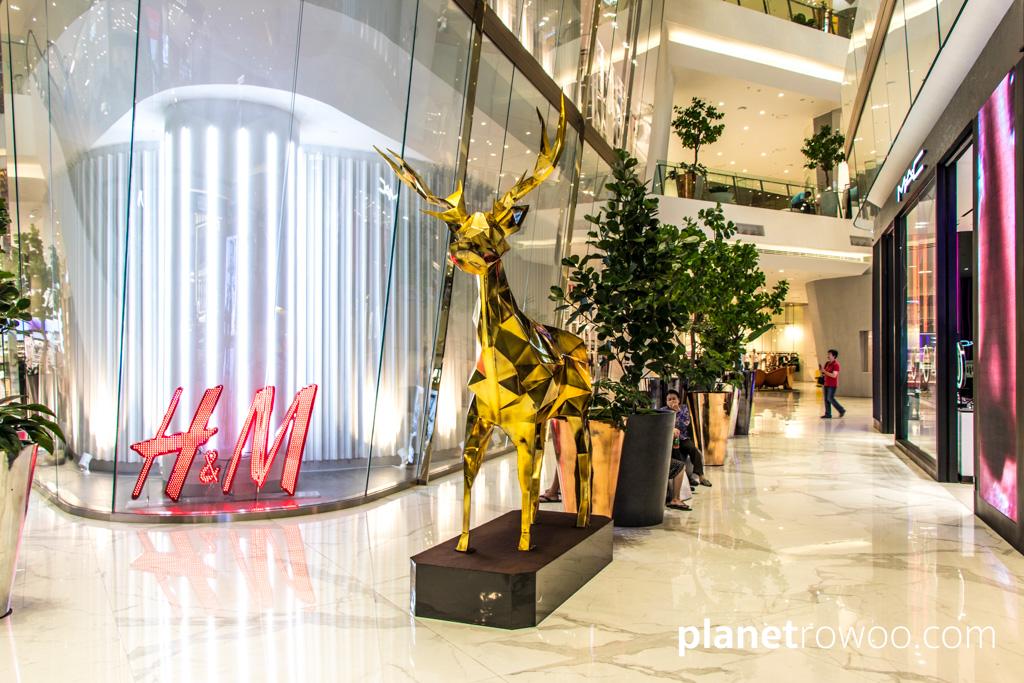 The Mother of All Malls
ICONSIAM is known as the 'Mother of all Malls' and you can see why. It truly is an impressive structure both inside and outside. Stretching across 750,000 square metres housing hundreds of shops and restaurants from around the world. And featuring over 7,000 leading global and Thai brands.
The exterior architectural design draws from Thai cultural values, inspired by the shape and folding design of the Bai Sri banana leaf vessel (Krathong) and the SaBai traditional Thai shawl. It has the longest pleated glass facade in the world. Inside you're struck by the sense of space with vast marble floors and luxurious tall glass-fronted stores.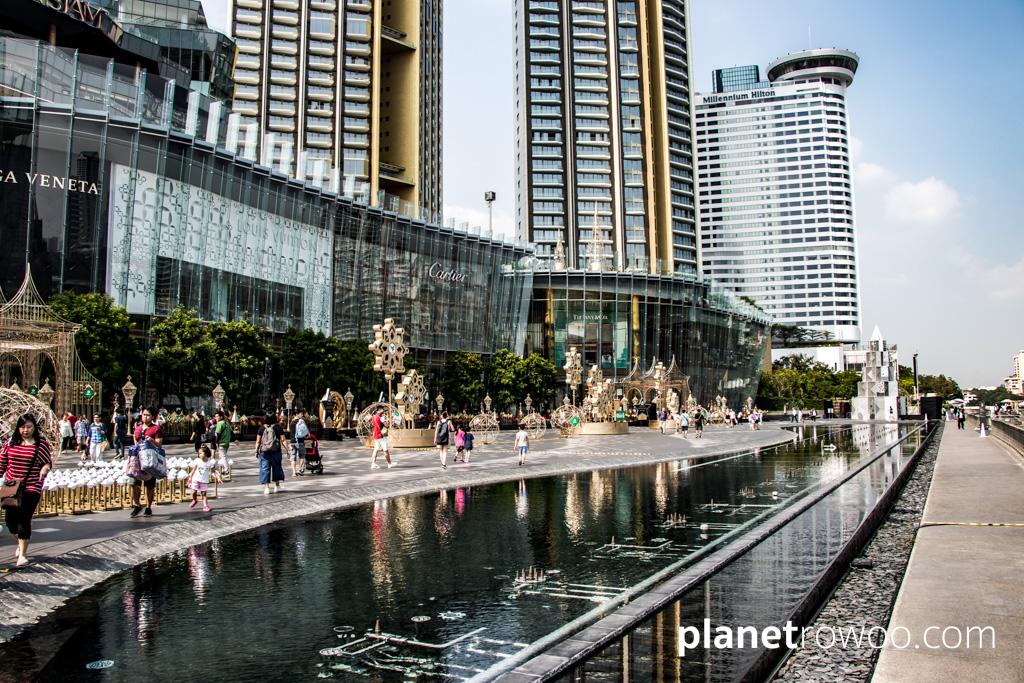 The mall extends over 6 floors via a network of stylish escalators that allow you time to admire the stunning interior as you travel between levels. There are of course an abundance of elevators too. On the 2nd floor is the first and (currently) only official Apple Store in Thailand! The store opens onto a huge outdoor terrace overlooking the river and is typically impressive in its design and scale.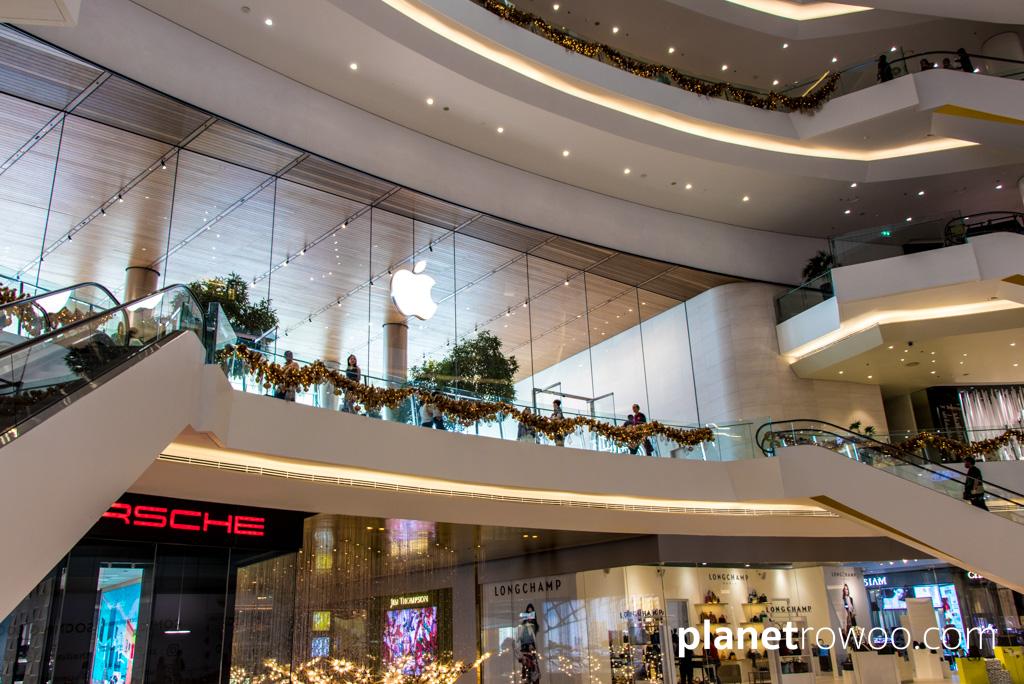 7 Wondrous Dining Zones
Eateries are spread across several floors in what are known as the '7 Wondrous Dining Zones'. On the ground floor is SOOKSIAM, an indoor floating market. It's like a miniature village, with Thai style houses, Thai handicrafts and traders selling food from longtail boats. They also have Thai cultural performances here. It's the perfect place to experience Thai food with authentic dishes from every region.
Up on the 6th floor is a unique dining space known as the Alangkarn zone. The restaurants here are set around a stunning 15-metre high waterfall that falls from the ceiling with coloured images cleverly projected in the falling water. The Tesana Nakorn rooftop terrace on this level offers fantastic panoramic views across the city and is a great spot for an evening drink.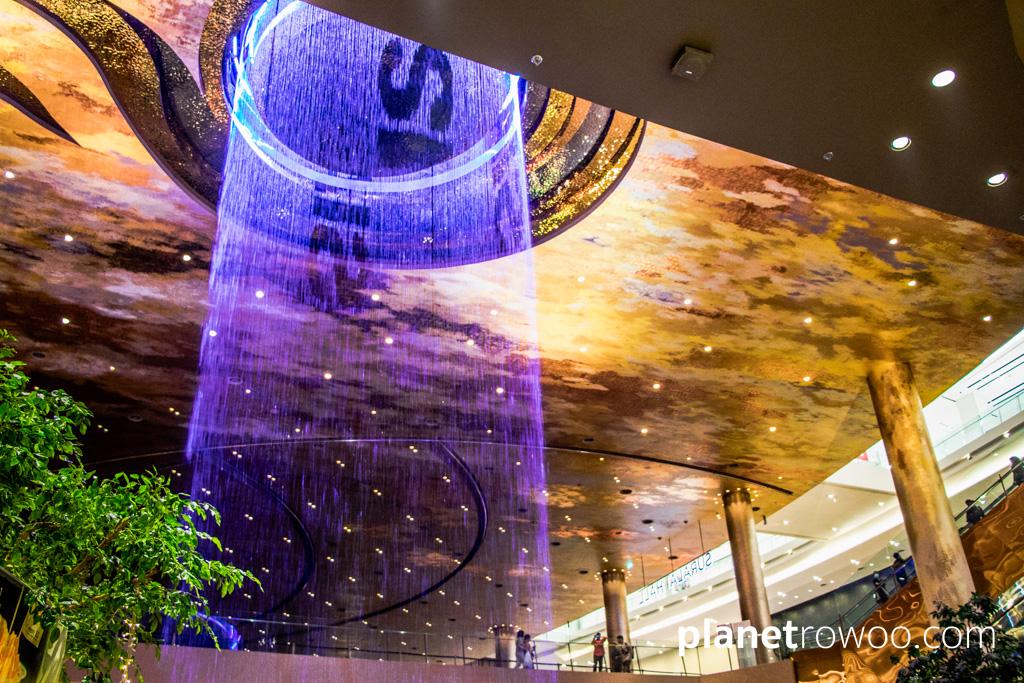 On the 6th floor, you'll also find 'ICON Cineconic' a high-tech Major Cineplex cinema and Icon Fitness centre too.
Outside, back on ground level between the mall and the Chao Phraya River, is the 'River Park' riverside community space. A vast open space that is the stage for one of the highlights of any trip to ICONSIAM – the huge 'ICONIC Multimedia Water Feature'. The 400-metre long fountain is the longest in Southeast Asia. A spectacular light and sound show is staged every evening for free and it really is worth a watch.
A free light and sound show is staged every evening at ICONSIAM
The outdoor areas feature seasonal exhibition themes which make for perfect photo opportunities. The Christmas theme when I visited was rather lovely.
[envira-album id="18277″]
Google Maps: https://goo.gl/maps/sCaLDLcp2LFdAC4V8
Other recommended Bangkok shopping malls;
Chatuchak Weekend Market
If ICONSIAM is the 'Mother of all Malls' then Chatuchak Weekend Market is, without a doubt, the 'Mother of all Markets'. With more than 15,000 stalls and 11,00 vendors, it is Thailand's largest market, and the largest weekend market in the world. It is immense. With over 200,000 visitors every weekend.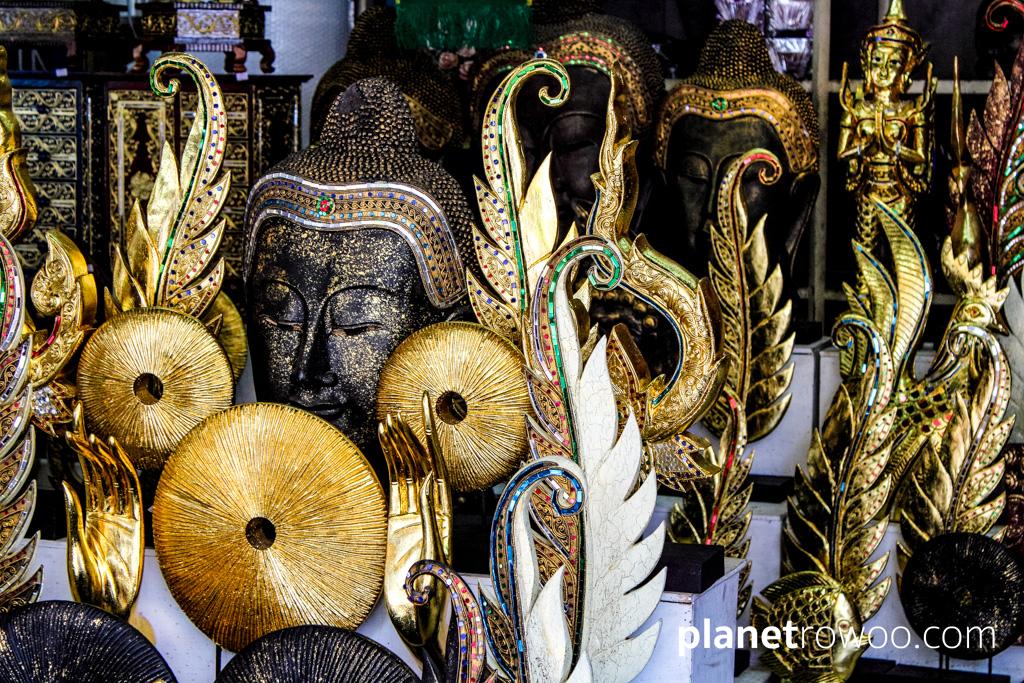 Chatuchak Market sells everything you can possibly think of. From art & antiques to furniture, clothing, plants, electronic goods and, quite controversially, live animals.
The market is divided into 27 sections and spread over more than 35 acres. It's vast, and easy to get lost so grab a free colour-coded map from one of the information points when you arrive. And if you're visiting with others arrange a place to meet in case you get split up. The clock tower at the centre of the market is a popular landmark as it stands high above the market stalls.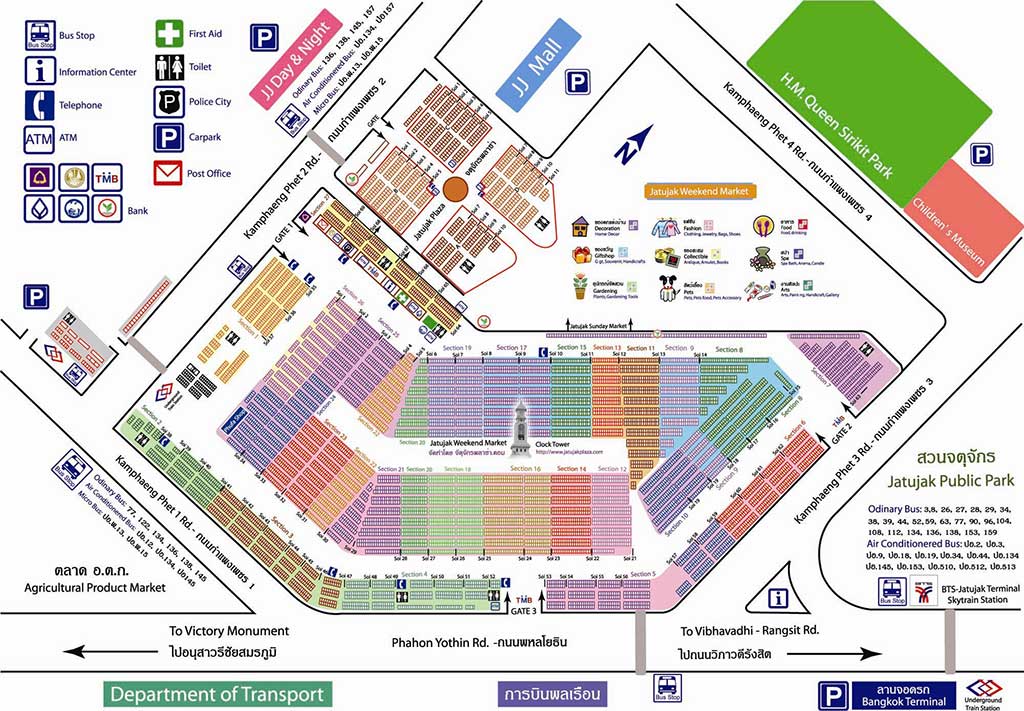 View larger map on chatuchak.org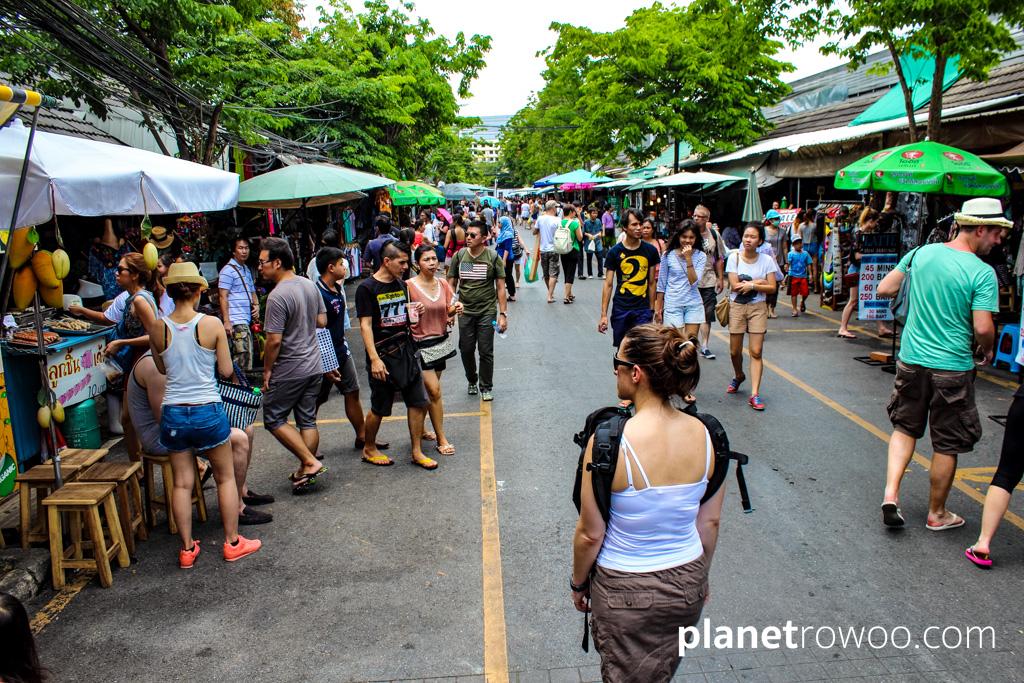 Tiring, but worth it!
I didn't get to visit the market this time around on my Christmas trip as my travel dates didn't coincide with the weekend (I've been several times before). But if you're ever in Bangkok at the weekend, Chatuchak Weekend market should be high on your list of things to do. It opens from 6pm to midnight on Friday and then from 9am to 6pm on Saturday and Sunday.
The best time to visit is in the morning (or evening on Friday) to avoid the heat of the day and larger crowds. Because of its sheer size, you'll need at least half a day to get around. It can be pretty tiring, so wear some sensible clothing and comfortable footwear. But the hustle and bustle of Chatuchak is a great experience, with street performers and great Thai street food to add to the shopping experience.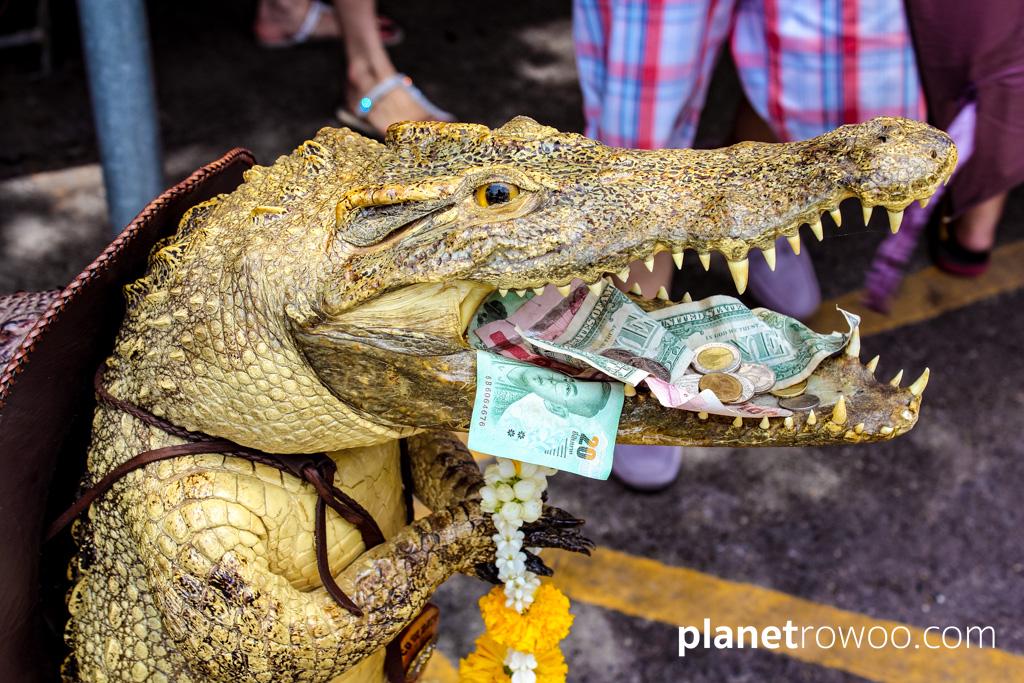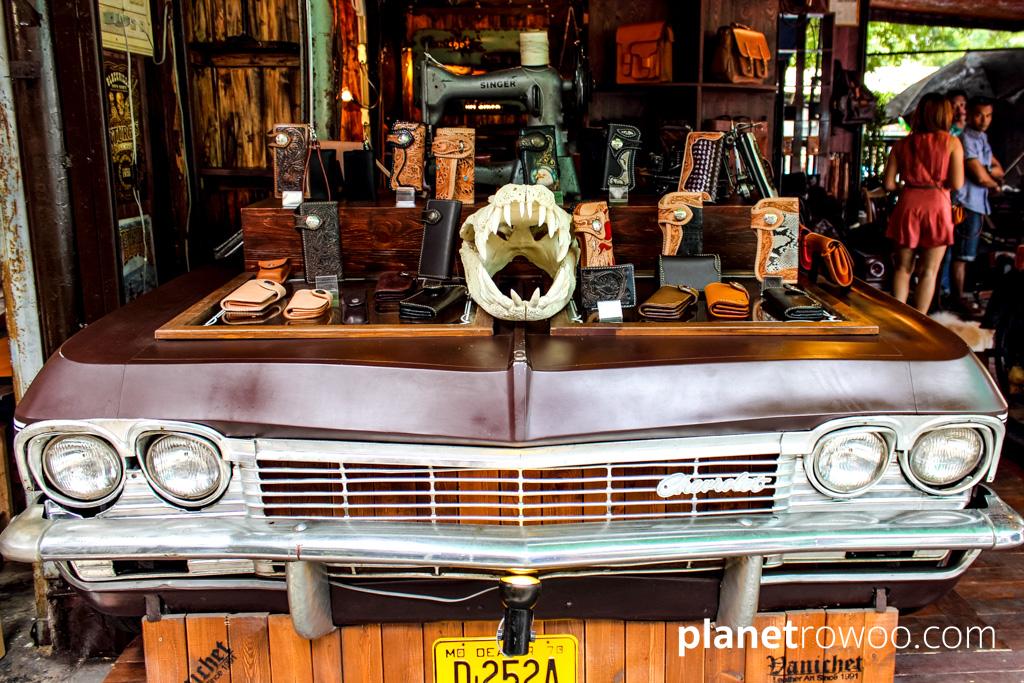 Chatuchak Weekend Market is on Kamphaeng Phet 2 Road in Chatuchak Subdistrict and is easy to get to. Any taxi or tuk-tuk driver will know how to find it. Or just take the BTS Skytrain to Mochit and follow the signs… or the crowd. You can also reach it via the MRT Subway to Chatuchak Park.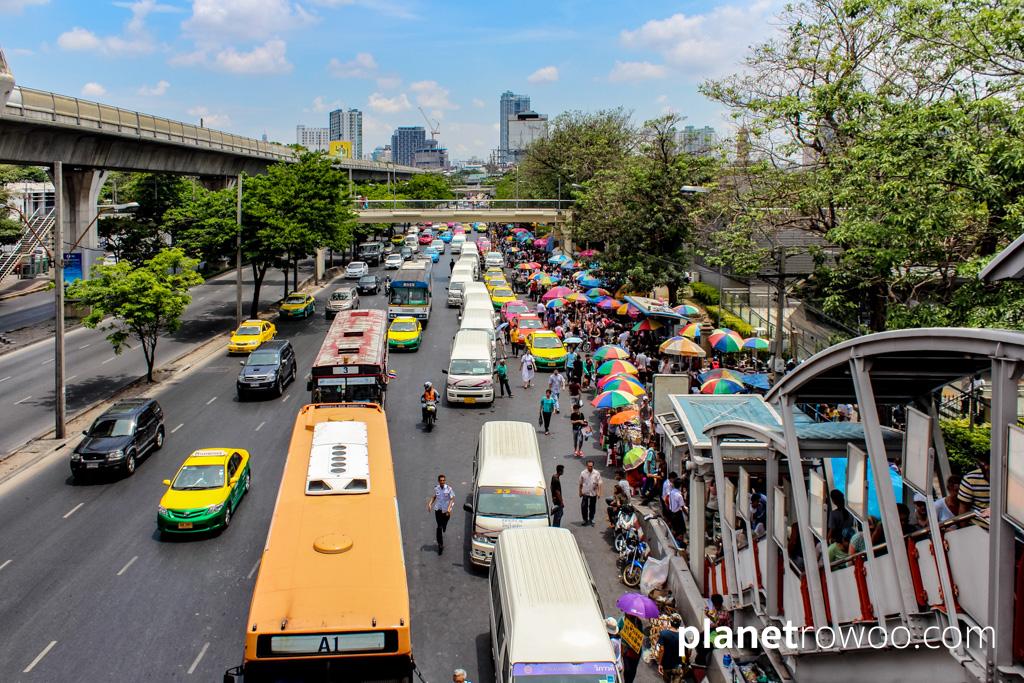 Chatuchak is often spelt as "Jatujak" and is known locally as JJ Market.
[envira-album id="18406″]
Google Maps: https://goo.gl/maps/ZJKFRSoJ1XnqvWga8
---
3. The Chao Phraya River & Khlongs of Thonburi
The Chao Phraya River flows south from Nakhon Sawan in lower northern Thailand, through Bangkok, and then out into the Gulf of Thailand. Known as the 'River of Kings' due to its historical significance as a means of transport for monarchs, it has been the lifeblood of the capital for centuries. Today it remains a valuable waterway for the transport of traditional commodities such as teak and rice.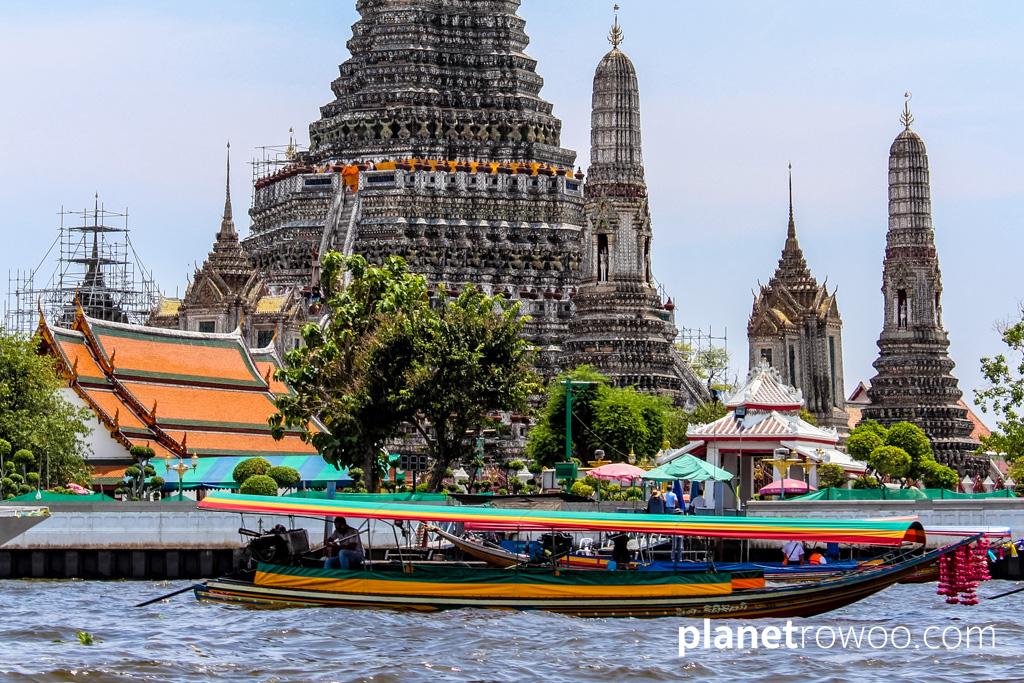 The river is also a means of transport for thousands of commuters and tourists every day and spending some time on the river is definitely recommended in any Bangkok itinerary. It's not only fun, but seeing the capital's sights and landmarks from the river gives you a different perspective of the city. It's cheap too!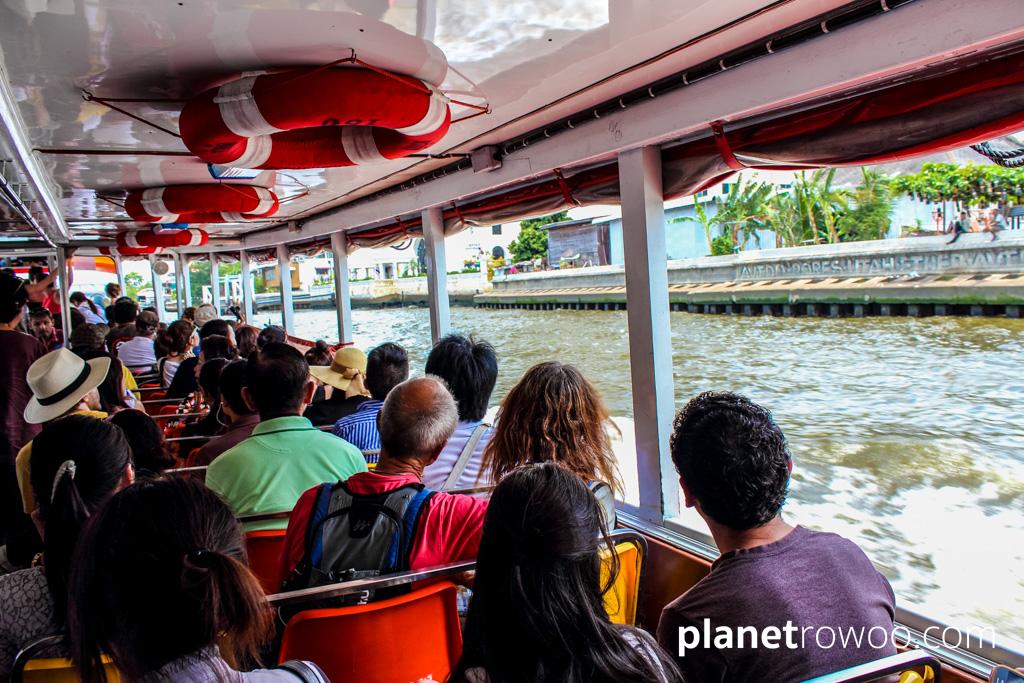 Express & Tourist River Boats
The Chao Phraya Express Boat company operates four different lines, recognisable by the different coloured flags flying on the boats; orange, yellow, green, or no flag. Each line will stop at a different range of piers. Only the 'no flag' line stops at all piers. Prices range from around 10-30 baht for a trip. All lines operate Monday to Friday, with only the Orange line running at weekends.
In addition, the Chao Phraya Tourist Boat company (blue flag) provides a hop-on-hop-off service across eight piers every day including weekends. These boats have English speaking staff who announce every stop clearly making it an easier option than the Express Boats for non-Thai speakers (from experience, working out which stop is which on the other lines is not as easy as it may sound!). Prices range from around 40 baht per trip to 150 baht for an all-day pass with unlimited stops.
[2020 Update: a new red line was introduced in March 2020; known as RIVA EXPRESS it's a premium, air-conditioned service with catamaran style boats.]
Ferries & Shuttles
Criss-crossing the river at regular intervals are also Bangkok's river-crossing ferries simply transporting passengers from one side to the other for around 3 baht a trip. The most popular one for tourists is the ferry I used to cross between Wat Arun and Wat Pho.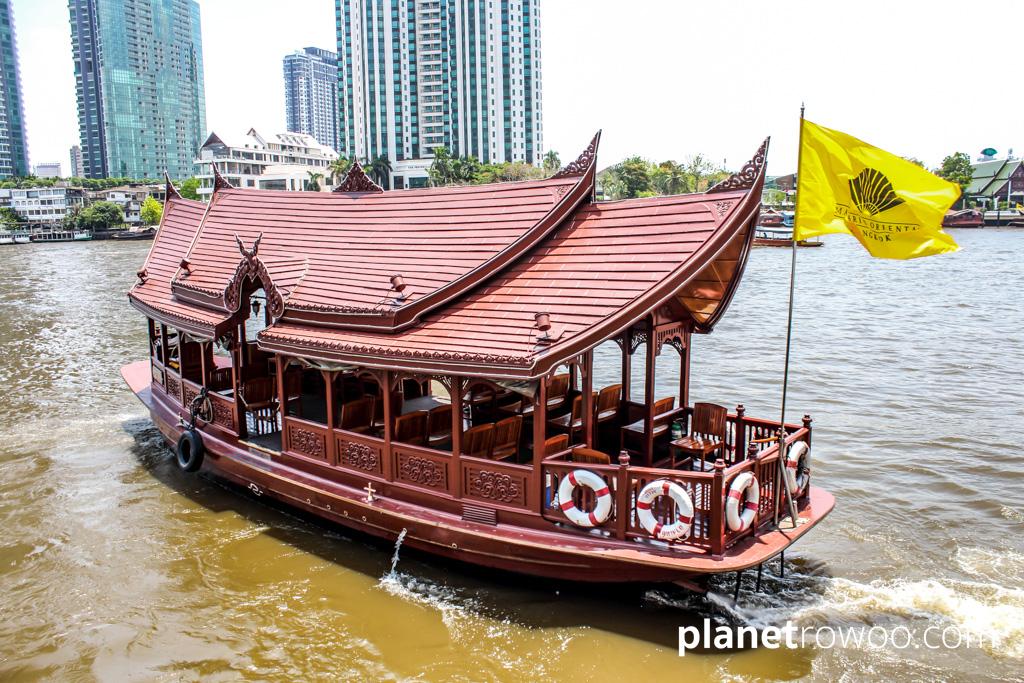 If you're lucky enough to be staying at one of the 5-star hotels along the riverside you'll be able to make use of the hotel's dedicated free shuttle barges that ferry guests to a designated point across the river. In fact, even if you're not a guest you can still use the service for free if you're dining at the hotel. These are usually quaint little converted rice barges which make for a short but romantic journey in a somewhat colonial style.
For a lengthier romantic trip, you could choose an evening dinner cruise on a fancy cruise boat sailing leisurely upriver each night passing some of Bangkok's most iconic sights.
Venice of the East (by Long-tail Boat)
Off the main river, on the Thonburi side of the city, run an extensive network of canals, or 'khlong'. These sprawling waterways earned Bangkok its nickname 'Venice of the East' during the 19th Century. It's a fascinating area to explore by boat. You'll get to see an older more ramshackle part of Bangkok, with its old weathered townhouses and stilted wooden shacks and locals living their daily lives over the water. You'll also float through large patches of water hyacinth. This fast-growing weed is today harvested and transformed by designers into beautiful modern products and furniture.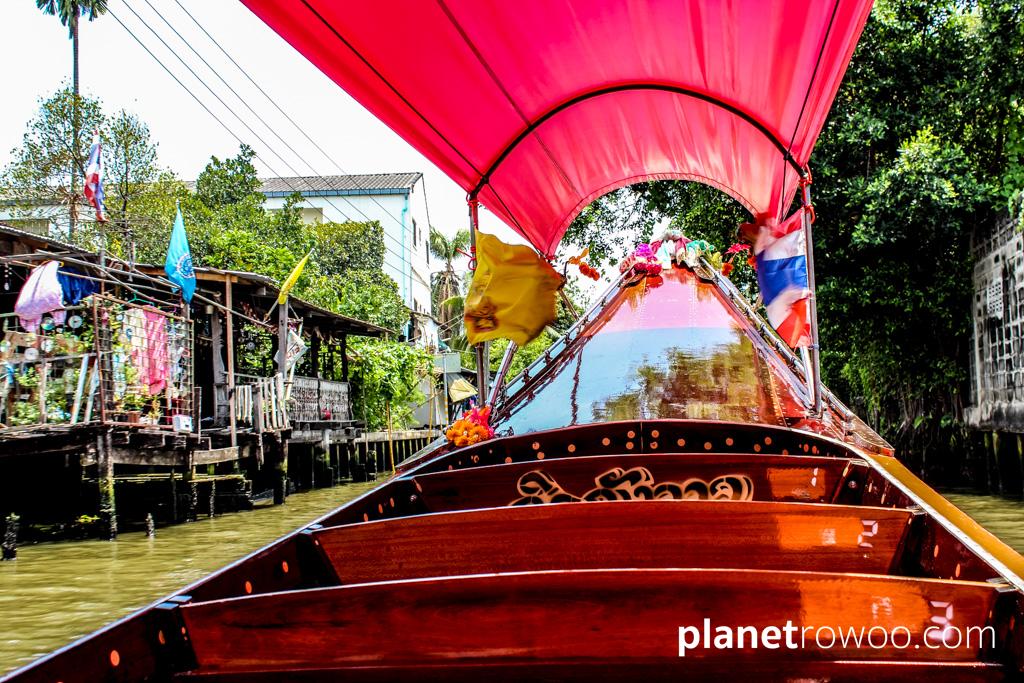 The best way to explore the narrow khlongs of Thonburi is by long-tail boat. These colourful traditional boats are available for private hire from the main Chao Phraya tourist piers. Expect to pay upwards of 400 baht for a tour (around 10 GBP). But make sure you negotiate the price first. It's also a nice gesture to buy your driver a beer or something from one of the floating vendors on the khlong.
From the pier it's a noisy yet exhilarating ride as you speed along the Chao Phraya amongst the busy river traffic. But you'll very soon turn off into the canals where the pace is a lot slower.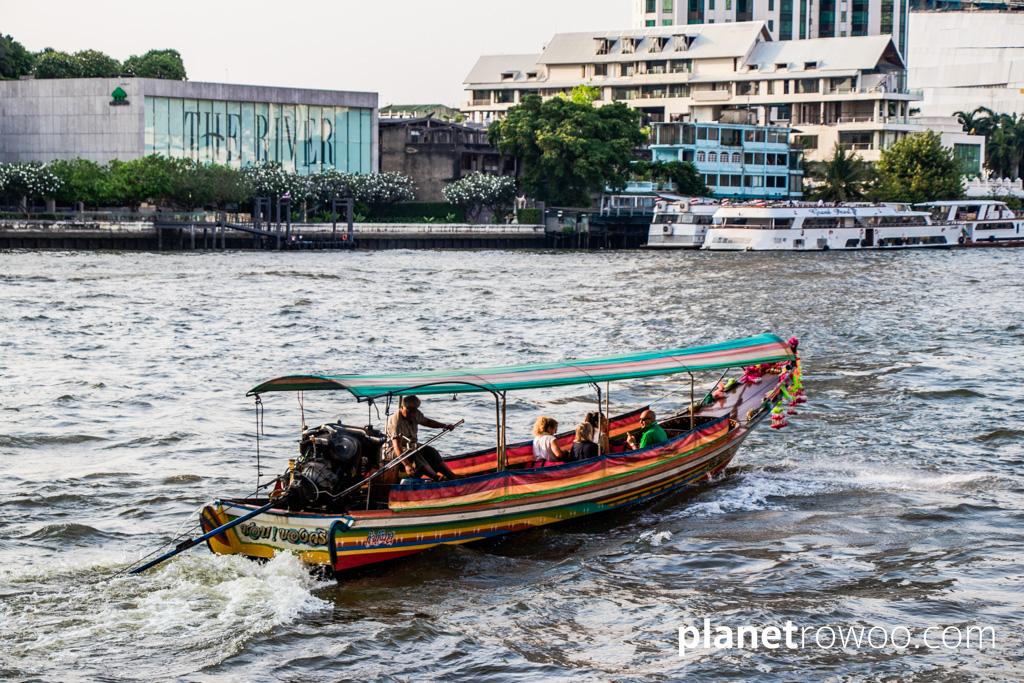 [envira-album id="18288″]
---
4. Rooftop Bars
After a long hot day exploring the temples, malls and markets of Bangkok, there are few better ways to end your day than to relax and unwind in a rooftop bar with fantastic views over the Bangkok skyline. With an ice-cold beer or refreshing cocktail in your hand, it's a chilled experience difficult to beat.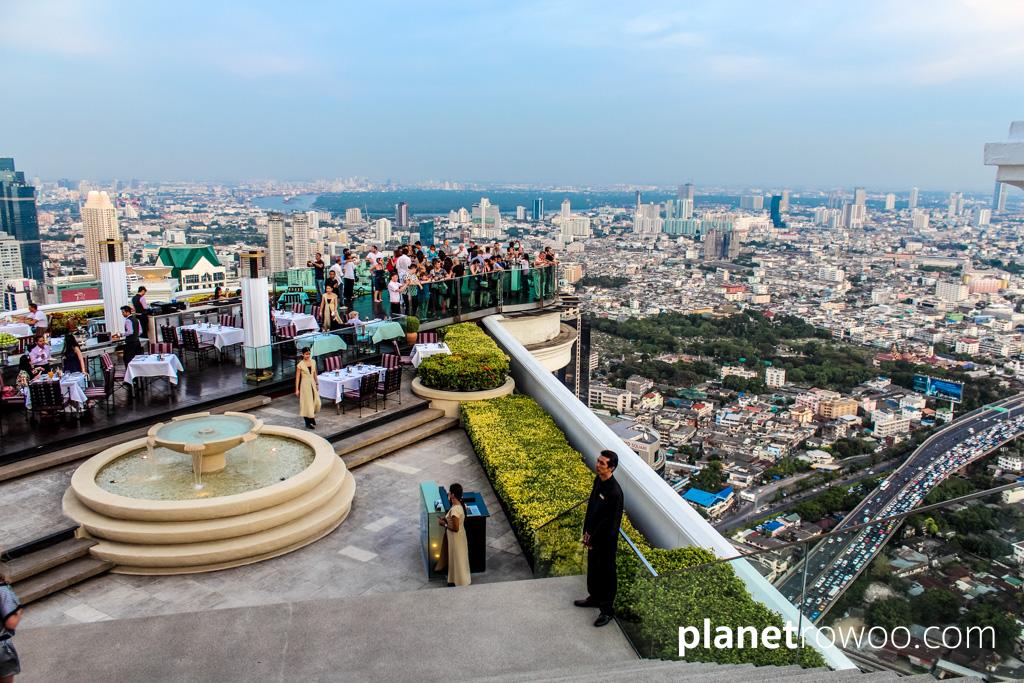 And there's no shortage of rooftop bars to chose between. There are probably few cities in the world with a greater number of genuine rooftop bars than Bangkok. There are over 30 of them. And by genuine I mean located at the very top of a building and completely open to the skies. Not just a terrace bar with a view!
Some have restaurants, others just a bar (or three), and some have DJs so you can party into the night. So you can choose the kind of evening you'd like. Whether it be a romantic dinner at sunset, or drinks at midnight overlooking a twinkling skyline. But what they all come with is an uninterrupted view of the sprawling metropolis of Bangkok.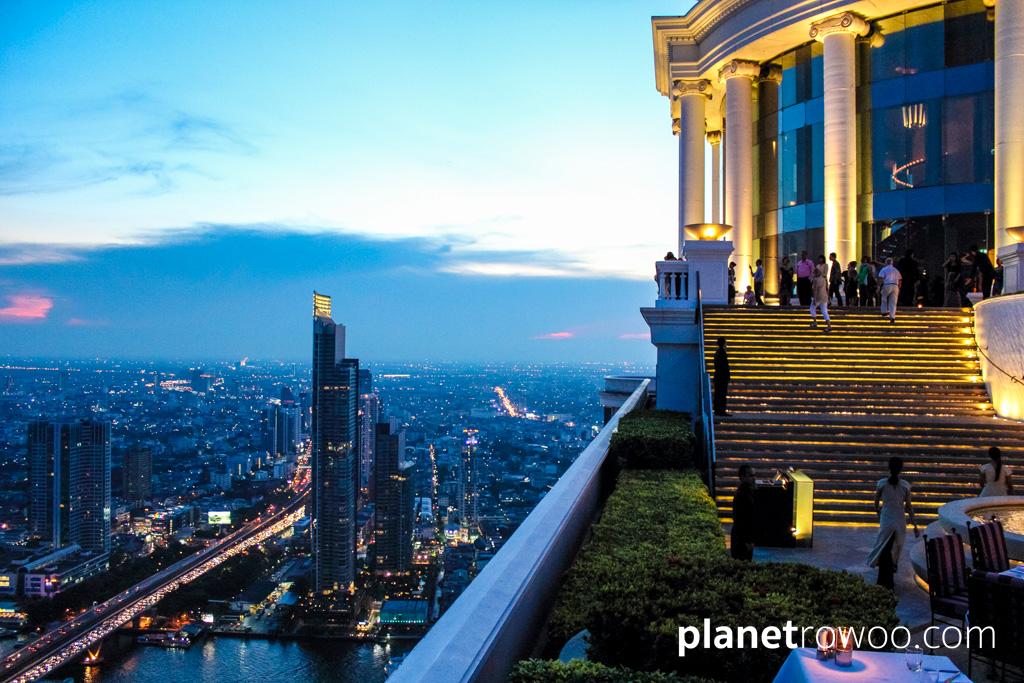 Be aware though that most rooftop bars have a dress code. So no sports wear, flip-flops or sleeveless attire for men. "Smart casual" should be your go to look for these places.
Sky High Prices
You'll also find that the prices are often significantly higher than your average bar. Many rooftop bars are part of hotels so you'll also be expected to pay 7% tax and 10% service charge on top of the already inflated prices. Expect to pay 300 baht (around 7.50 GBP) plus for a small beer that you could get for 80 baht elsewhere! You're definitely paying for the view!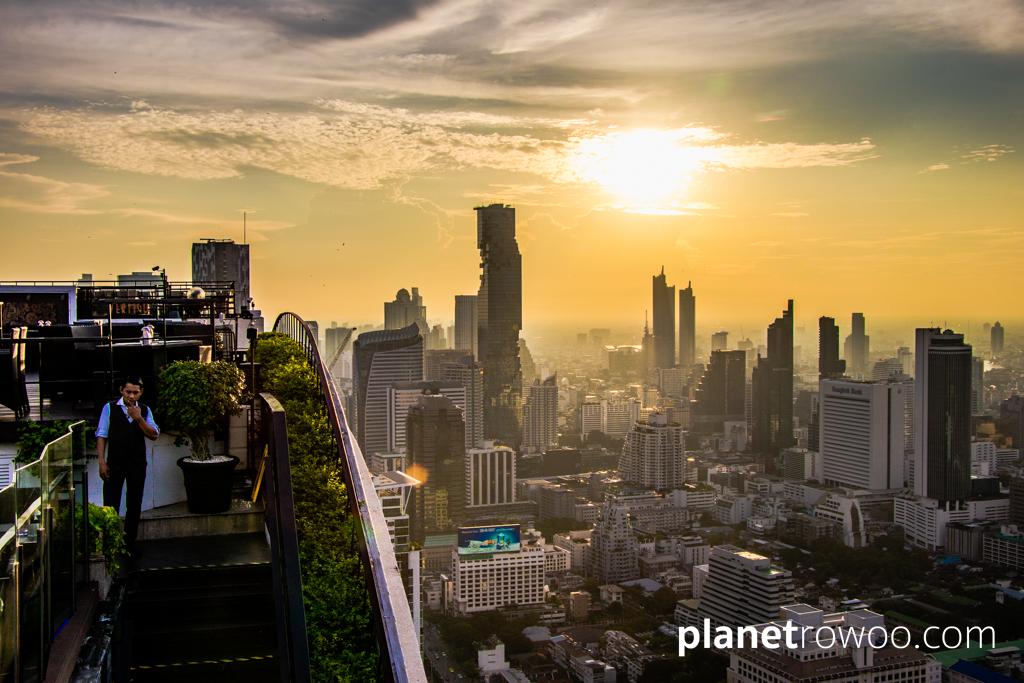 Octave Rooftop Bar
This Christmas I headed over to Octave Rooftop Bar at the Marriott Hotel in Sukhumvit. I'd been to Sky Bar and Vertigo on previous visits, two of the most well known and popular rooftop bars in Bangkok (Sky Bar in particular, now world-famous for its appearance in the Hangover II movie!). So I had high expectations (pardon the pun).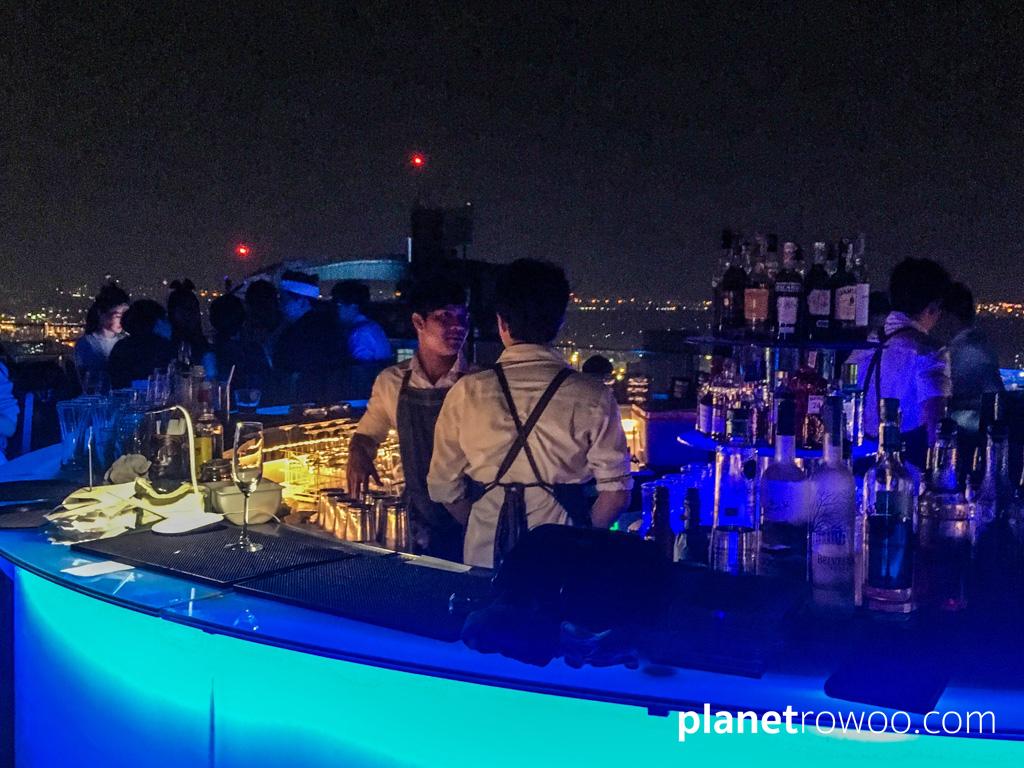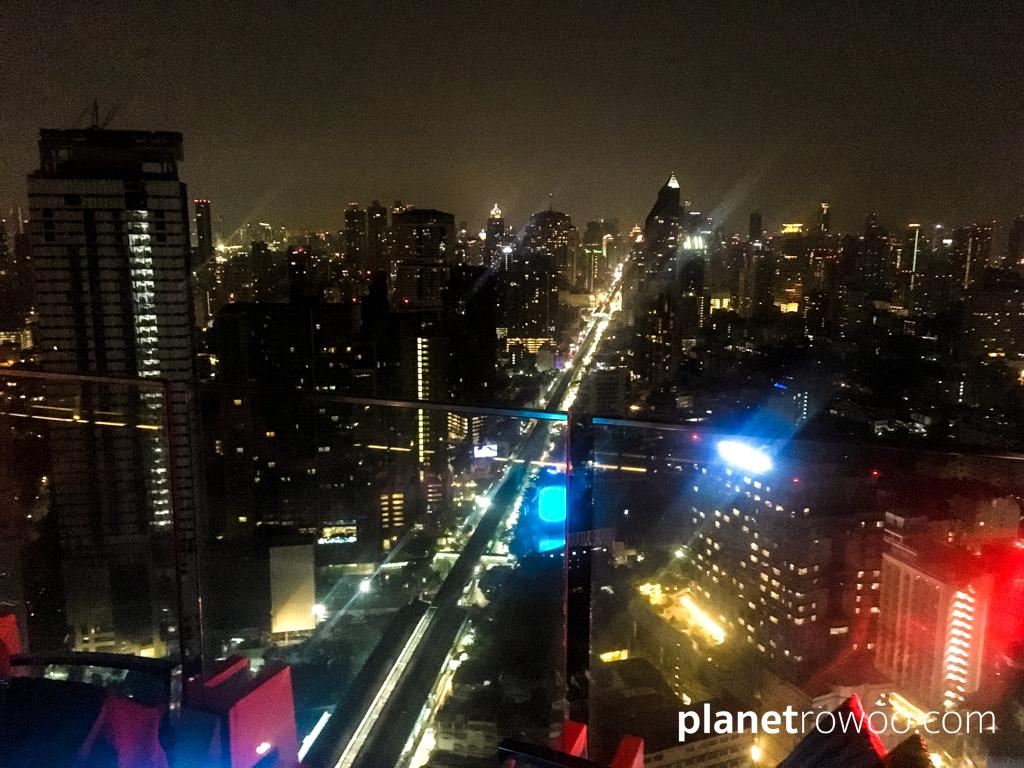 Beginning on the 45th floor, Octave Rooftop Bar is spread over 3 levels with the most impressive being the panoramic viewpoint bar right at the top. Not as high as either Sky Bar or Vertigo but said to be Bangkok's best 360-degree view. I visited late evening after the sun had gone down so didn't get to experience the daytime view. Perhaps that's why it didn't impress me quite as much as the aforementioned rooftops. But the view over the twinkling lights of the metropolis at night is nonetheless beautiful. It makes for a lovely romantic setting for two. And with the resident DJ creating a nice lounge vibe it's equally chilled with friends or if you're visiting solo.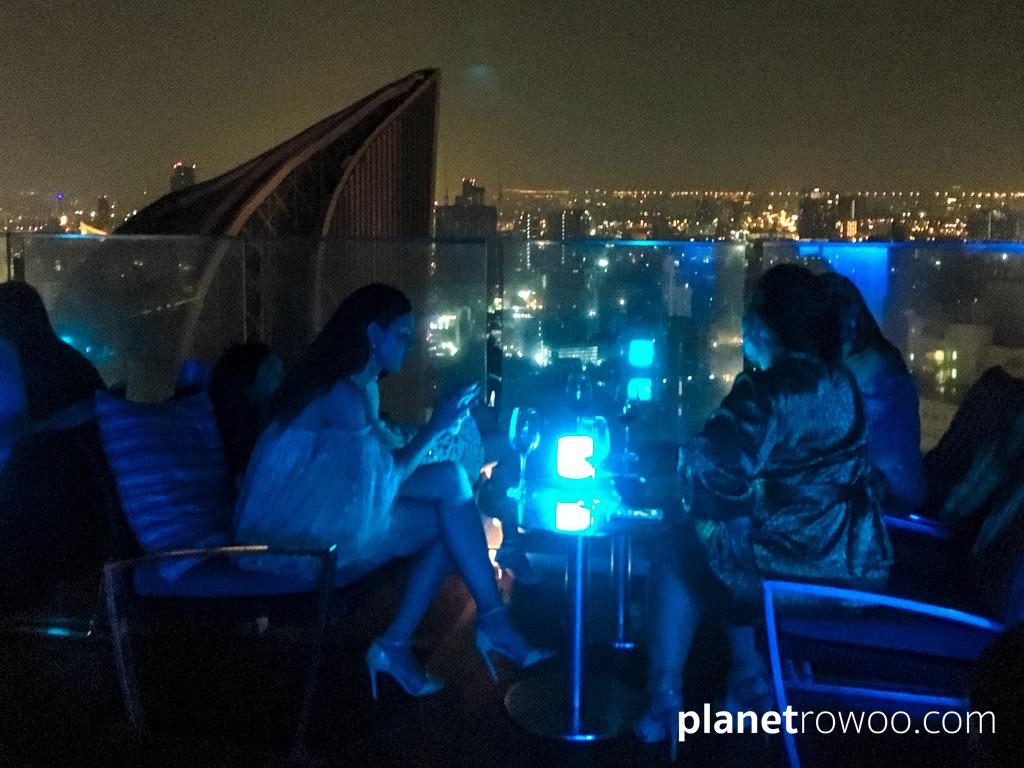 Octave Rooftop is just a two-minute walk from the Thonglor BTS Skytrain station.
[envira-album id="18408″]
Google Maps: https://goo.gl/maps/AkhWizXDDoWiAcfWA
Other Recommended Bangkok Rooftop Bars;
And a handy Google Map of rooftop bars in Bangkok;
---
5. Relax in a nice Hotel
In my view, it's essential to have a pleasant hotel to retreat to at the end of the day in Bangkok. Thailand's capital is a busy city and can be hard work, so having a calm and peaceful bubble to escape to is a must for me. And of course, having a great place to stay will enhance your Bangkok experience. I've stayed in a few nice places in the past but on this trip I wanted to try somewhere new.
The Eastin Grand Hotel Sathorn
The Eastin Grand Hotel is a very reasonably priced deluxe hotel located in Bangkok's Sathorn business area. It has its own sky bridge linked to Surasak BTS station which makes it exceptionally easy to get around. It's just one stop for example (16 baht) from Surasak to Saphan Taksin pier where you can jump on a riverboat to explore the Chao Phraya or grab the free river shuttle to ICONSIAM. It also makes it incredibly easy to reach from Suvarnabhumi airport via the Airport City Link and BTS. That journey cost me just 85 baht (approx 2GBP).
I'd booked an Executive Deluxe room with Lounge Access which meant when I arrived I was whisked up to the 32nd floor for a very comfortable check-in in the executive lounge. A nice first impression of the hotel.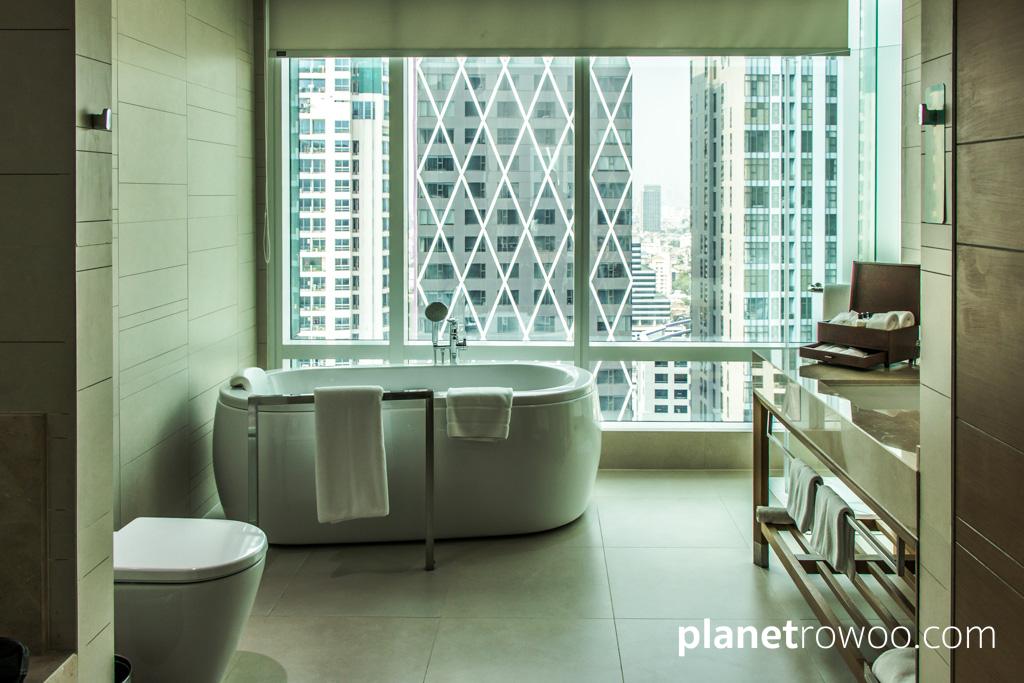 My room was pretty impressive too. All Executive Deluxe rooms are located in the corners of the building with floor to ceiling windows allowing great vistas over the city. A highlight though is definitely the light and airy bathroom where you can enjoy the cityscape as you relax beneath a layer of bubbles in your luxurious bathtub.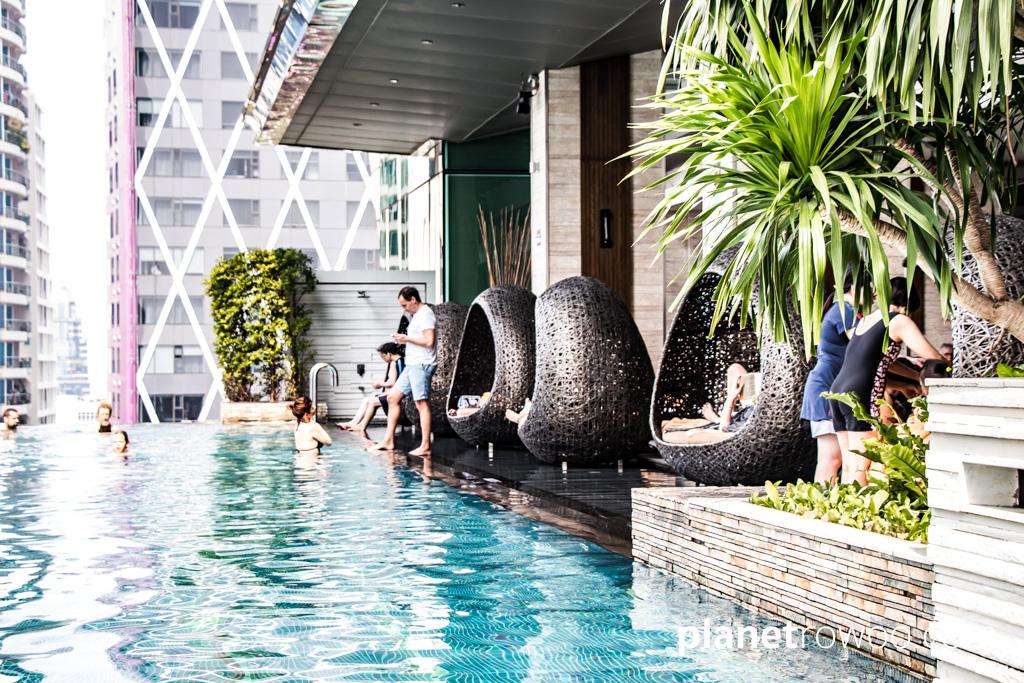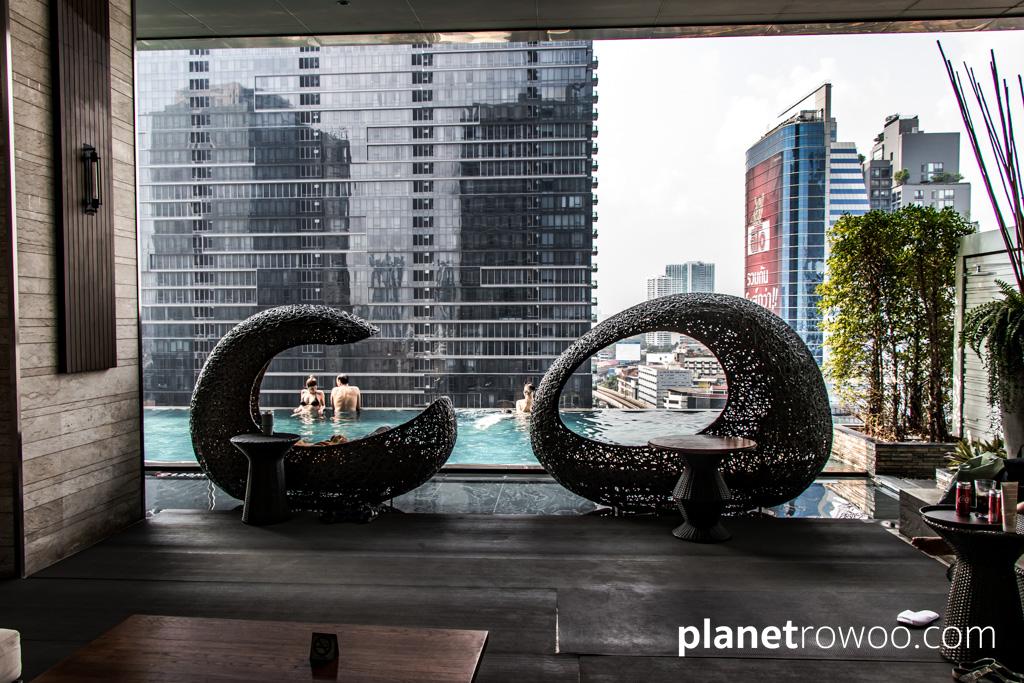 Infinity Pool
On the 14th floor is the hotel's gorgeous infinity pool with sun loungers at one end and funky wicker pods along one side. Poolside is also Blunos restaurant. Owned by UK celebrity Michelin chef Martin Blunos it offers "value for money hearty fare and classic comfort food devoid of any pretentiousness, yet made with the most delectable and desirable of ingredients". The pizza I had was certainly very good! The whole place had a lovely bistro vibe and is perfect for a snack or meal at lunchtime or dinner or to just chill with a cold beer.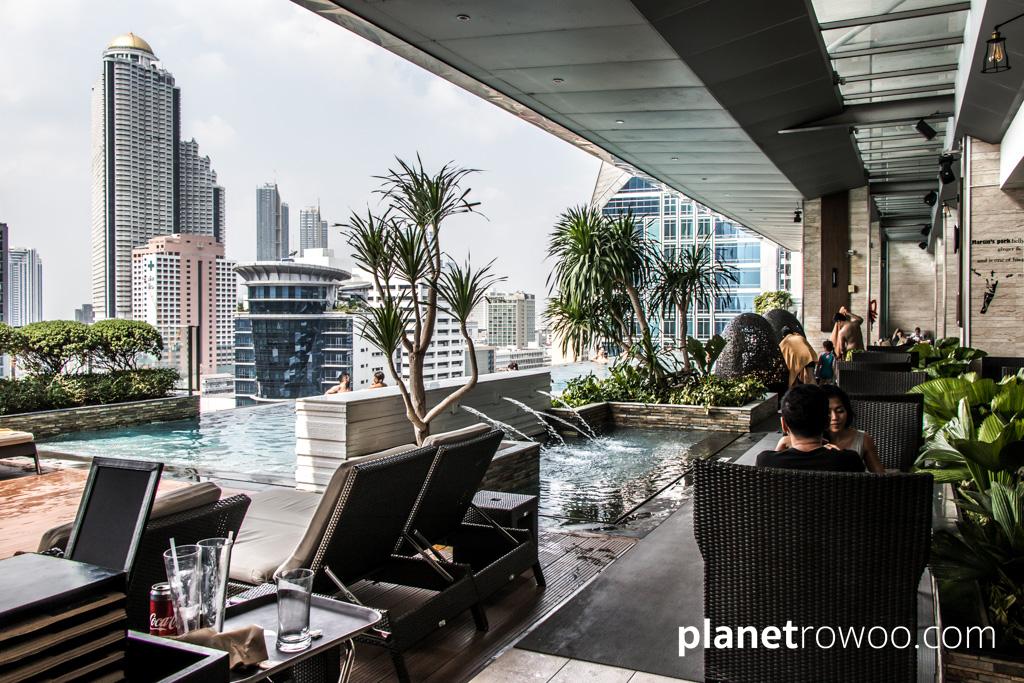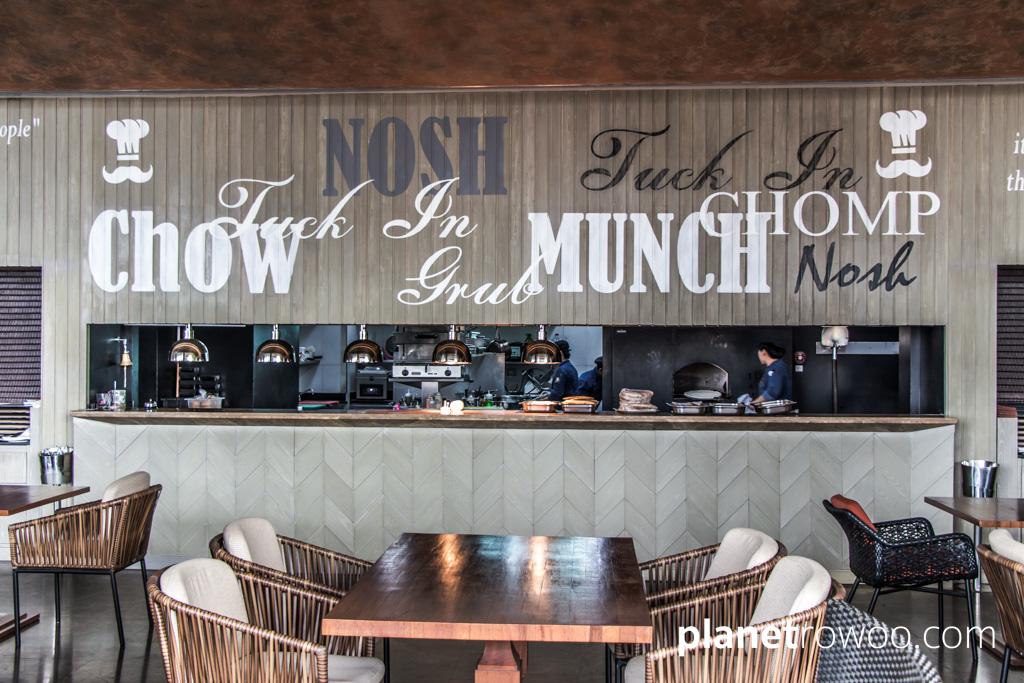 Executive Lounge
A real bonus of booking an Executive Deluxe room are the Executive Lounge privileges. There's effectively an open bar in the Lounge from 5:30 to 7:30pm each day with complimentary beer, wine, spirits, cocktails and nibbles. I'm sure there must a limit on the total number of drinks you can have, but I was being polite with just a couple of beers on each of my visits. Complimentary tea, coffee, soft drinks and snacks are also available throughout the day. You can also choose to have your breakfast here as an alternative to the hotel's main restaurant, The Glass House. I had my Christmas Day breakfast in the Lounge, a delicious eggs benedict and typical hotel spread of Danish, pastries and fruits.
Excellent Service
This was my first stay at an Eastin hotel and I certainly enjoyed my few days there. Service was excellent throughout, from check-in to check-out. The staff at Blunos were a lot of fun too. The Eastin Grand Hotel's sky bridge access to the BTS is a real bonus making it so easy to get around. And the Executive Lounge certainly made my stay feel that much more exclusive. It was definitely worth paying that bit extra for an Executive Deluxe room. I really enjoyed chilling around the infinity pool and restaurant area too. Had I not been so busy running around Bangkok I would certainly have enjoyed spending more time at the hotel.
[envira-album id="18310″]
Google Maps: https://goo.gl/maps/G6kfJPy62khFNTzCA
Other Highly Recommended Hotels in Bangkok;
I've been lucky enough to stay at some lovely hotels in Bangkok on my numerous visits. Here are a few of my favourites. Admittedly, the Oriental and Peninsula are a bit pricey, but well worth the stay if you can afford them! The Banyan Tree is currently my go-to hotel for affordability, service and comfort, but the Eastin Grand Hotel now comes a close second.
---
My Travel/Stay Details
Here are some details of my Christmas trip to Bangkok;
Transport / Accommodation
Approx Cost
Return flight Chiang Mai to Bangkok (Thai Vietjet Air)
Around 80 min flight time
115 GBP (Vietjet.com)
Suvarnabhumi Airport to Hotel (Airport City Link and BTS Skytrain)
Around 45 min journey time
85 baht (approx 2 GBP)
Eastin Grand Hotel Sathorn, Executive Deluxe room with Lounge Access (3 nights)
160 GBP per night (Hotels.com)
Taxi to Suvarnabhumi Airport
Around 50 min drive
460 baht (approx 12 GBP)
---
My View of Bangkok
I don't think I'll ever get tired of Bangkok. In the same way I'll never tire of my home country's capital, London. Samual Johnson famously said "when a man is tired of London, he is tired of life" and for me, that applies to Bangkok too.
It's a place of contrasts. From the calm oasis of luxury hotels to the chaotic streets, where East meets West, and the past meets the present.
But it's not for everyone, and I understand why. It can be very hard work. The English novelist Somerset Maugham's initial verdict wasn't a good one – he complained about the "dense traffic", its "ceaseless din", its "insipid" food and "sordid" houses. Yet on a later visit he conceded that Bangkok's gilded and glittering temples made him "laugh with delight to think that anything so fantastic could exist on this sombre earth".
Give it time.
---
Top image: The Reclining Buddha at Wat Pho, Bangkok