Phangan Rainbow Bungalows
After a couple of days of getting to know Koh Samui, it was time to move on and exchange sightseeing for the beach. Seven nights at Phangan Rainbow Bungalows on Ko Phangan. My first time on the island, as well as my intrepid fellow travellers.
Ko Phangan
Ko Phangan (or Ko Pha-Ngan) lies in the Gulf of Thailand around 12 kilometres north of Koh Samui. It's smaller than Samui (a little over half the size) and the fifth-biggest island in Thailand. To the north of Phangan lies the smaller, popular diving destination of Ko Tao.
The island is best known for its now legendary Full Moon Parties which started life back in the eighties. Each month around full moon time, thousands of revellers head to Haad Rin Beach in the southeast corner of the island for a night of hedonistic, unabashed fun. It's one of the main reasons people come to Thailand in the first place. Some see it as a once in a lifetime experience.
But outside of full moon week, Ko Phangan slows down and the main focus for visitors returns to enjoying the beauty of the island with its lush and hilly tropical jungle interior and idyllic long white sandy beaches. It has a quieter laid-back feel than Samui, with its secluded beaches and hammock strung bungalows. And when you're tired of lying around there's still plenty to do, exploring the island's mountains and waterfalls… and of course, visiting temples, and local markets.
If you missed the full moon but still want to party don't despair; there are Black Moon Parties, Half Moon Parties and Moon-Set Parties to name just a few, held throughout the month. Nothing like on the scale of the Full Moon Party… but a fix for in withdrawal party-goers nonetheless.
Phangan Rainbow Bungalows
Phangan Rainbow Bungalows sits right on Bankai beach on the southwest coast of Ko Phangan around 7 km from Thong Sala pier and 4 km from Haad Rin. It's a small resort with around ten or so traditional wooden Thai style bungalows scattered through tropical gardens and on the beachfront.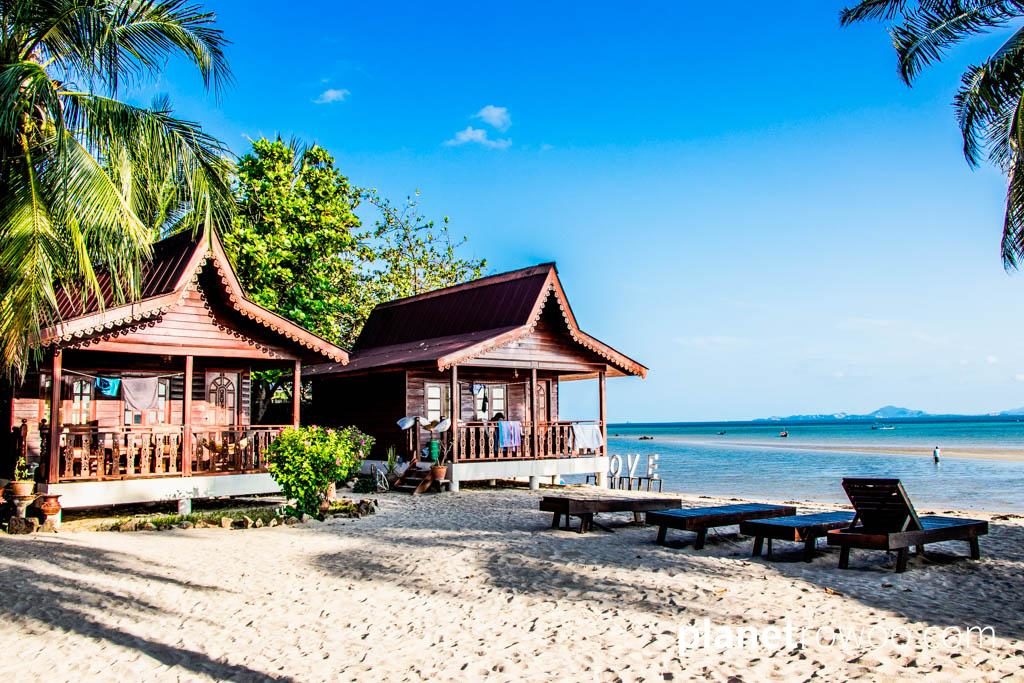 The bungalows are clean and simply finished with ensuite bathrooms with bathtub and/or shower. The cheapest have cold water only. Some have A/C others just a fan. But if you want to fall asleep to the sound of the ocean… stick to just a fan as the aircon can be quite noisy! Each bungalow has a full-width balcony and a hammock. A perfect spot for chilling and soaking up those tropical vibes.
The rooms are basic, but with prices from around 450 baht (about 10.50 GBP) you get what you pay for. The simple accommodation is all part of the tropical paradise adventure!
Beach Restaurant
The resort has its own restaurant. It has a beautiful outlook, set in a prime location on the beach, framed by swinging palms. It's a calm and relaxed space surrounded by the white sands of Bankai beach. Across the ocean, you can see Koh Samui. It's an idyllic spot to sit and pass the time as the sea breeze wafts through.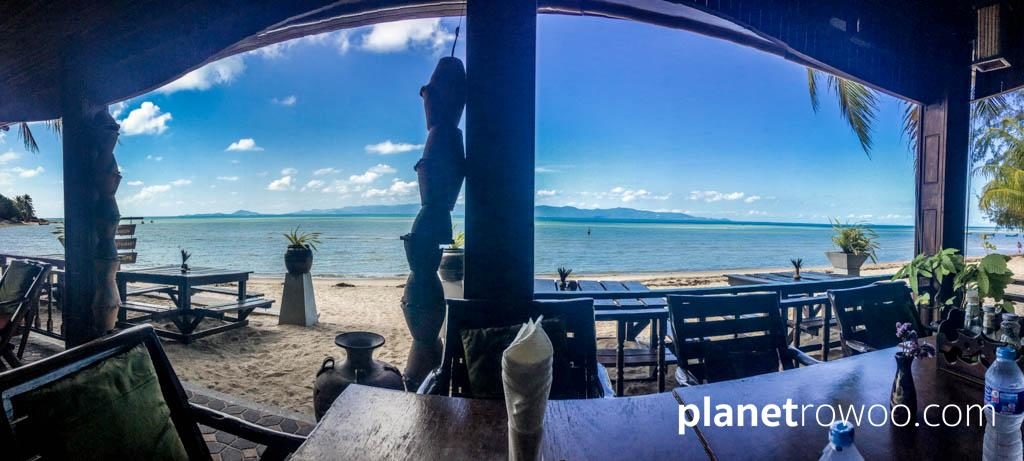 And the food's great too. Breakfast has some good western staples and for lunch and dinner, all the Thai favourites are there. All freshly cooked and at reasonable prices too. The restaurant is open from around 8am to 8pm. That's a bit of an early finish for some, but there are plenty of other options along the beach or further afield for dinner if you like to eat a bit later.
Everything about Rainbow Bungalows is laid back and casual. It's worth pointing out there's no room service. Just help yourselves to drinks from the fridge in reception (just tell staff when you do). Pay your bill every day or so (or whenever the owner remembers!). And don't forget to ask for toilet rolls when you're getting low!
The laid back nature is down to the owners. Martin (an Aussie guy) and his wife Noy run the show together with their family. Noy is often in the kitchen… Martin's front of house (usually with a dog in tow)… and Papa's the driver! They're there for a friendly chat, or advice on trips, bike hire etc, but never intrude on your space.
Bankai Beach
The bungalows occupy a small but perfect piece of Bankai beach (also known as Baan Kai or Baan Khai). The beach begins at the eastern end of neighbouring Ban Tai and stretches down towards the headland separating Haad Rin from the rest of Ko Phangan. It's a wide white sandy beach with shallow water that makes it more suited for sunbathing and relaxing than for swimming. When the tide's out it's a long walk just to get your knees wet!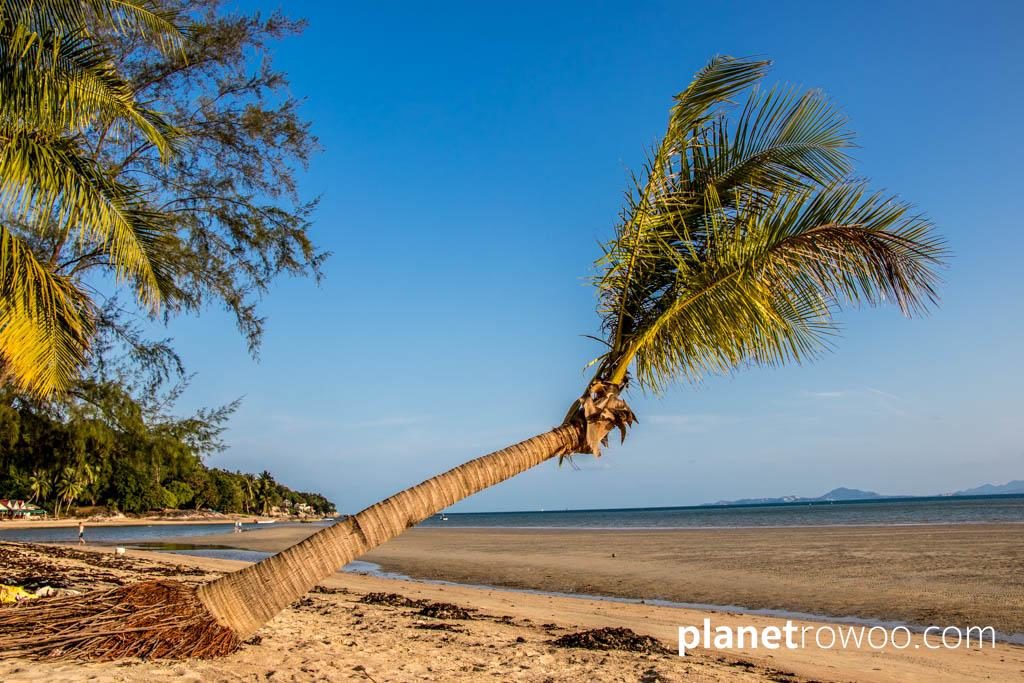 On the small patch of private beach between the restaurant and bungalows there are a few sun loungers and a hammock strung between two palms. These are for guests only. There are also plenty of picture-postcard spots directly on the beach to relax and soak up the sun or chill in the shade of a palm tree.
In the evening, Bankai is one of the island's best beaches for watching the sunset, with a stunning view over the sea to Koh Samui.
What's Around? / Things to do
Phangan Rainbow Bungalows is in a great location on the sunset side of the island and just 20 minutes drive from Thong Sala. There are a few bars and restaurants within walking distance and a grocery store just 15 minutes walk away. To go further afield, if you haven't hired your own transport, you can easily hail a "songthaew" taxi (a converted pickup truck with two rows of seats) on the road outside the bungalows.
Bankai Beach Area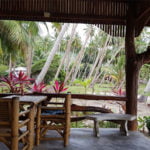 Yam's Kitchen
Yam's Kitchen is right next door to Rainbow Bungalows. It's a cosy little place with bamboo tables and chairs, set back from the beach in the shade of the trees. There's a good range of Thai options for lunch and dinner and some good old western favourites like egg on toast and porridge for breakfast. All at very reasonable prices. The owner Yam does all the cooking and is a really sweet lady. It's open a little later than Rainbow's restaurant. The only downside… they don't serve alcohol!
---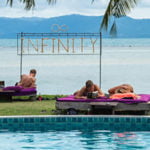 INFINITY Beach Club Restaurant
INIFINITY Beach Club is a stylish beachfront hostel on Ban Tai beach. The restaurant and pool area (if you eat or drink there) are open to outside guests throughout the day and evening. It's just a 10 or 15 minute stroll along the beach from Phangan Rainbow Bungalows.

The restaurant has a good menu with all the Thai favourites and a nice selection of Western options. The quality of the food is good, although prices are on the high side. Same with drinks. The best time to go is during 'Happy hour' from 6-9pm.

But it's great setting for dinner and an excellent place to watch the sunset with some cool DJ vibes, friendly staff and chilled atmosphere.
---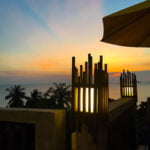 Cafe 2401
Cafe 2401 is a lovely bar/restaurant and guesthouse in a beautiful hillside setting overlooking the ocean. It's around 1 kilometre from Phangan Rainbow Bungalows. You can reach it by road or beach but beware it's a bit of a climb at the end! But well worth it.

The friendly owners, Srini & Nok, serve authentic Thai and Indian cuisine in a relaxed and warm environment. They serve great English and American breakfasts too. And they cater well for vegetarians and vegans as well, with a separate section in the kitchen where they prepare vegetarian and vegan dishes. The food is exceptional.

Beside the food, the restaurant's main attraction is its hillside setting and gorgeous sea view. By day or by night you can enjoy sweeping views towards Koh Samui, Ang Thong Marine Park and the neighbouring islands. But perhaps the most magical time is as the sun goes down. Pick your spot on the open deck or cosy seating at the back, order a cocktail or beer, and witness an unforgettable sunset. We visited twice during our stay. It was one of the nicest places we ate at in Ko Phangan.
UPDATE [March 2019]: Sadly it seems the owners have moved on and Cafe 2401 is now closed.
---
Thong Sala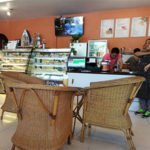 Nira's Home Bakery
Nira's Home Bakery in Thong Sala is a bit of a Ko Phangan institution. This European style bakery has been run by Nira and her family on the island since 1985. It features regularly in traveller's guide books and on review sites.

Nira's has a really chilled atmosphere (don't forget to take off your shoes before entering!) and serves a great selection of bread, pastries, cakes, sandwiches, drinks and homemade foods. It's a great place to drop by for breakfast, while waiting for a ferry, or just to escape the heat of the Thong Sala streets.

It's just a 5 minute walk away from Thong Sala pier.
---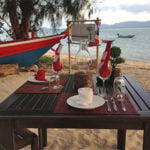 Beachlounge, Thong Sala
Beachlounge is set in an old wooden house right on Thong Sala beach. Serving traditional Thai and fusion food, you can choose to dine inside under a thatched roof, or at a table right on the beach with your toes in the sand. Alternatively lay back and sip a drink on one of their beach mats with foldout triangle cushion.

The food is excellent and they have a good selection of wine too. All served in a laid-back lounge atmosphere, with chilled music and great ocean views. We stopped here twice in one day on our trip to Thong Sala!
---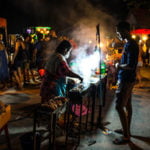 Saturday Walking Street Market
Thong Sala's Saturday Walking Street Market is an essential experience for any trip to Ko Phangan. Each Saturday, the old high street is closed to traffic from 5-10pm and comes alive with a vibrant spectrum of art, crafts, music and food stalls. It's a great place to grab a cheap bite from one of the many street food vendors serving traditional Thai fair as well as a few delicacies for the more adventurous; like scorpions, worms and other bugs! There are also plenty of bars and restaurants lining the street where you can take a break from your souvenir shopping.

The Walking Street Market is a colourful and authentic Thai market experience and draws locals and tourists alike from all over the island. It's a great way to spend a few hours on your Saturday evening.
---
Thong Nai Pan (TNP)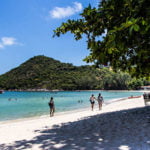 Thong Nai Pan Yai Beach
Ao Thong Nai Pan Yai (Big) and Ao Thong Nai Pan Noi (Little) are idyllic twin coves on Ko Phangan's northeast coast. Both are picture postcard beaches; softly curved white sand bays surrounded by mountains wrapped in rich tropical rainforest. Not surprising that they're the most popular beaches on the sunrise side of the island.

Thong Nai Pan is around 15 km from Phangan Rainbow Bungalows. We took a songthaew taxi one afternoon from outside the bungalows to TNP Yai. It's a pleasant scenic and hilly ride across the interior of the island which takes around 40 minutes. The return journey cost us 800 baht (around 18 GBP). And that included the driver waiting for us at the beach for a few hours!

Yai is the southernmost beach of the two. A beautiful stretch of silky white sand with clear blue waters, coconut palms and granite rocks. It's great for swimming, much better than Bankai beach.

Lining the beach are a good selection of restaurants and bars to chillout in while you admire the ocean views. There's also a supermarket. Behind the beach is a small village with local shops and more cafes, bars and restaurants. There's plenty of accommodation to choose from too. Mostly mid-range on this beach with more upmarket 4- and 5-star accommodation available around the smaller Noi beach further north.

It's less than a 10 minute drive between the two beaches. And a visit to either is definitely recommended on your Ko Phangan trip.
---
Galleries
[envira-album id="10136″]
Travel Details
You can reach Ko Phangan by ferry from Surat Thani (Donsak pier) on the mainland or from neighbouring island Koh Samui (Bangrak, Maenam, Nathon & Lipa Noi piers). There are numerous ferries every day.
We travelled by Seatran Discovery ferry from Bangrak Pier on Koh Samui to Thong Sala Pier on Ko Phangan. Journey time was 30 minutes. The cost was 678 baht each for a return ticket (~16 GBP).
From Thong Sala Pier we took a minibus to Phangan Rainbow Bungalows. There's no need to book as there are plenty available on arrival. You'll be sharing with a bus full of other travellers though who all have to be dropped off so journey time will vary. The cost was 450 baht (~10 GBP) for three of us.
On our return, 'Papa' from Phangan Rainbow Bungalows drove us back to the pier where we took our return Seatran ferry to Koh Samui.
Interesting fact: Ko Phangan has an unfinished airport. It was due to open in 2014 but work halted in 2015 when authorities claimed that the airport had infringed on an area of Than Sadet-Ko Pha-ngan National Park. Today it still remains incomplete.
My View of Phangan Rainbow Bungalows
Phangan Rainbow Bungalows is simple accommodation in a beach paradise setting. It's a peaceful sanctuary where the days seem to slow down. Chill on the beach, relax in the restaurant, or unwind on your bungalow's balcony – it's a great place to not do very much at all. I've some great memories of the three of us staying up late, chatting and sharing stories on our balcony, with a bottle of wine and the sound of the ocean in the background.
Martin, the owner, is a real character. He admits himself he can be a bit abrupt. He's like marmite. I liked him. Many may not. And that's reflected in some of the online reviews.
A sad end to a great week
We had a great week at Phangan Rainbow Bungalows. But our stay was marred by an incident on our last morning as we were waiting for our ride back to the pier.
There are a couple of the owner's dogs on site who help keep the property safe. They're actually really friendly. We're a dog family, we love dogs, so it was nice having them around. The owner also had another dog, a 1-year-old Bullmastiff called Dusty. He admitted Dusty was going through a biting phase. But he didn't feel the need to keep him on a leash.
On our last morning, as my sister was getting some water from the fridge in reception, Dusty jumped up and bit the back of her leg. My sister put on a brave face but we later found out the wound was quite deep.
The owner assured us Dusty had completed his rabies shots and so rabies wasn't a concern. However, at the hospital back on Koh Samui, they advised that my sister have the complete series of rabies vaccine. 5 shots over 14 days. Rabies is prevalent in Thailand and can be fatal, so we took the advice. It wasn't worth the risk.
As a result, the last few days of our trip were spoilt for my sister. The pain and discomfort of being bitten, the stress and inconvenience of finding a hospital, and then not being able to swim or drink alcohol was a sad end to an otherwise great holiday.
And it could so easily have been avoided. The owner knew his dog was going through a biting phase… not such a great stretch then to keep the dog on a leash for a while. Especially when you're in a position of responsibility and are accountable for your guests' safety.
---
Top image: The beach restaurant at Phangan Rainbow Bungalows