Eat, Sleep & Do in Koh Samui
A Little Background
I'm used to solo travel, or travel with a partner. Most of the destinations featured on this website I visited alone. So it was going to be a new experience for me after my sister, my cousin and I, decided to take a holiday together in Thailand!
It would be the first time I'd been on holiday with my sister in 30 years! And the first time that I'd spent more than a few hours at a time in the company of my cousin. It was also going to be their first trip to Thailand. So this coming together of our little family trio was going to be a new experience for us all and hopefully, a grand adventure too. Koh Samui and Ko Phangan in the Gulf of Siam were our chosen destinations.
I'd been to Koh Samui a few times before, on my own, as well as with a plus one. So I'd seen a lot of the island already. But now I was going to share the experience with my family.
So this is what three fifty-plus-year-olds get up to on 'Coconut Island'… NB: age was not a criteria in selecting our activities!…
What to Do on Koh Samui
If you can tear yourself away from the beach you'll find a vibrant and exotic island with a great variety of things to see and do. From natural wonders to man-made attractions, land-based and water activities and numerous monuments of Buddhist architecture and culture. There's something for everyone on Koh Samui.
It's easy to book a trip around the island or further afield through a local tour company or online. Most hotels can organise this for you too. Or you can hire a bike or car and explore at your own pace. It takes about an hour to drive around the ring road that encircles the island. But take some more time to make some detours and to get out and explore the interesting spots. On my first visit to Samui over 20 years ago, I hired a jeep with my girlfriend, and an impromptu drive around the island was one of the highlights of my trip. It's a great way to get to know the real Samui.
This time around with my two travel companions, we booked a half-day trip through our first hotel. It was a tailor-made itinerary of places we put together ourselves. So basically we were hiring a chauffeur and air-conditioned minibus for a few hours, at a cost of 2,700 baht (around 60 GBP). Not a bad price between three people. It's possible you could book this same tour for cheaper though through a local tour company (with a bit of bartering).
A half-day tour of Samui
Our half-day tour would take in Hua Thanon Fishing Village, the Mummified Monk at Wat Khunaram, the Na Mueang waterfalls, Buddha's Footprint at Khao Hua Jook Pagoda, the Big Buddha, and finish at the Jungle Club high in the hills overlooking the Samui coastline for lunch.
The sights on this tour are mostly cultural – if you're an adrenalin junkie, you should look elsewhere!
1. Hua Thanon Fishing Village
---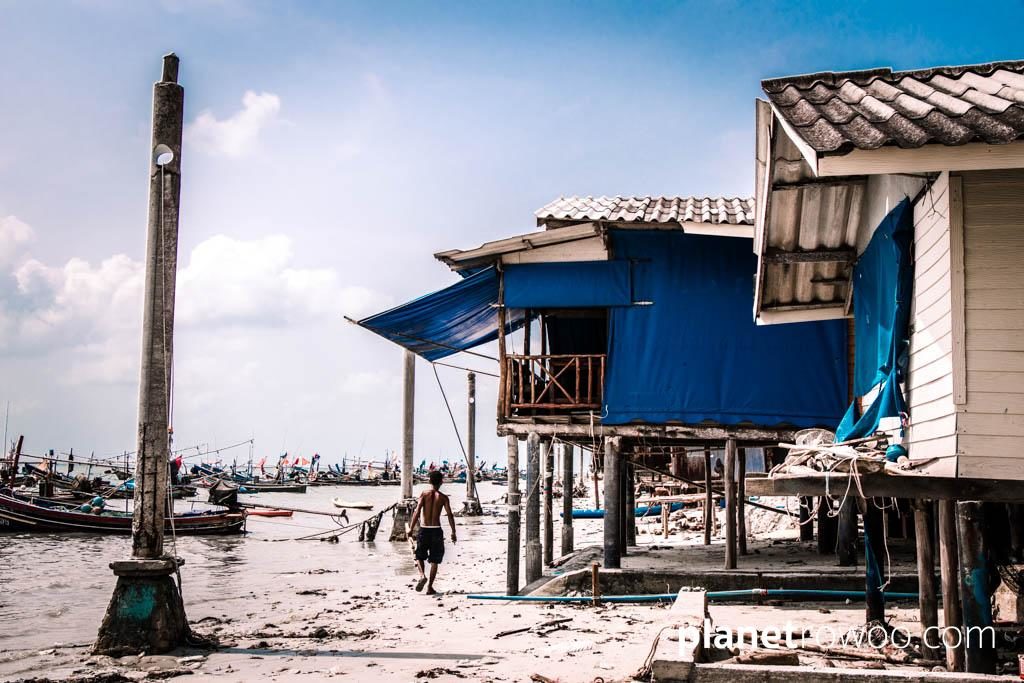 First stop, Hua Thanon Fishing Village. Located in the south-east corner of Koh Samui just south of Lamai, Hua Thanon is home to the island's last remaining traditional fishing fleet. It's one of the few places yet to be significantly changed by tourism. The area is also where most of Samui's Muslim community resides. Here you'll find the only Mosque on the island, located towards the rear of the village.
Hua Thanon Fishing Village is not to be confused with Fisherman's Village in the north of the island, which is no longer an active fishing community, but a bustling shopping and dining destination. Find out more below in More to do on Samui.
Stroll along the peaceful beach at Hua Thanon and catch a glimpse of life on the island before mass tourism took hold. Villagers going about their daily lives, women preparing food, men repairing boats, the daily catch drying in the sun. Scenes that have remained unchanged for centuries.
A Myriad of Fishing Boats
Lining the shoreline are a myriad of the traditional high prowed 'kolae' fishing boats of the Hua Thanon fishing fleet. Colourful boats weathered by the sea, some with awkward bamboo structures supporting lanterns for night time fishing. Others with 'Coca-Cola' umbrellas, or proudly flying the Thai flag. They make for a photogenic scene.
At the back of the beach are the villagers' homes, built on stilts to protect from the ocean. Simple wooden and corrugated iron structures that look as if they might collapse at any moment. The run-down homes and shocking amount of rubbish on the beach, sadly, highlight how poor their living conditions are.
Tucked in behind the houses is a local fish market, where locals gather to buy fresh produce and the catch of the day. A great spot to linger for a while if you can, to absorb some traditional Thai market life, before moving on to your next destination.
2. Mummified Monk at Wat Khunaram
---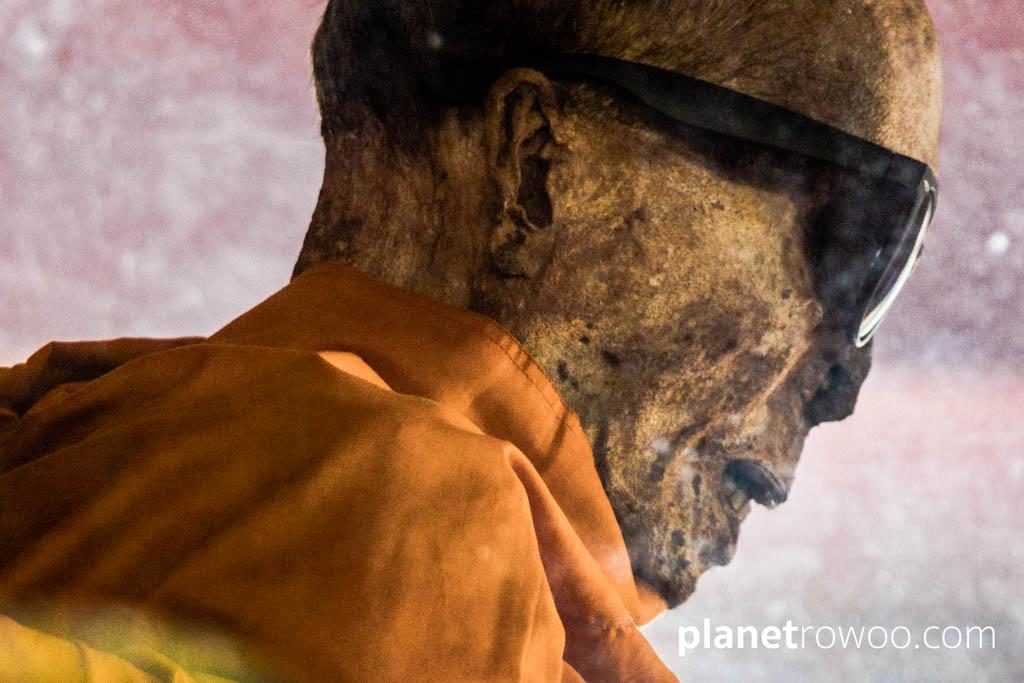 Heading inland now for the short 3-kilometre drive to Wat Khunaram, our second stop of the day. Wat Khunaram is a small Buddhist temple set in pleasant grounds. But it's most notable for being the shrine of the Mummified Monk. A little macabre perhaps, but a major tourist attraction nonetheless.
On display in an upright glass case, surrounded by flowers, candles, incense sticks and fruit offerings is the body of Koh Samui's most famous monk, Loung Pordaeng. Loung Pordaeng was a Buddhist monk who died while meditating in a seated position in 1973. He is said to have predicted his own death. He told his relatives and disciples that if his body were to decompose he should be cremated, but if not then he wanted to be put on display as a visual reminder of the Buddha's teachings and to serve as an inspiration for future generations.
A unique insight into Buddhist and Thai culture
A little disturbing for westerners maybe, but this curiosity offers a unique insight into Buddhist and Thai culture. For Thai people, the body of the monk is there to be worshipped and death is seen as an opportunity to be reborn into the next and better life.
After more than 40 years the mummified remains have been preserved surprisingly well, considering no chemicals were used in the process. Seen as a miracle by some. But others believe Loung Pordaeng's meditation technique might be the explanation for the body staying so well preserved.
Today, the mummy sports a pair of fetching Ray-Bans. They give the monk a slightly comical, but more welcoming appearance… added by the caretakers to hide the decomposed eye sockets to make the image less disturbing!
There are other "mummy monks" on Samui and throughout Thailand, but Loung Pordang is among the most highly revered. He may be the main attraction here, but Wat Khunaram is still an active temple where local Buddhist people come to make merit and pray. Something you can easily lose sight of while surrounded by busloads of tourists.
3. Na Muang Waterfalls
---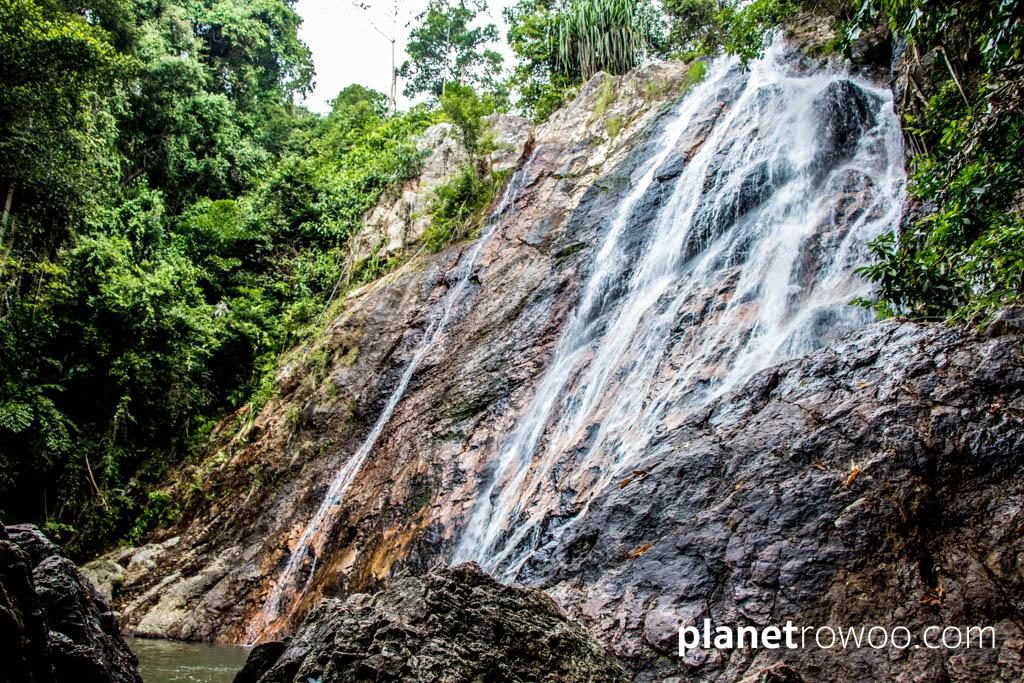 Drive a further 2-3 kilometres along the main ring road, route 4169, and you come to the Na Muang waterfalls. A refreshing change from mummified monks.
Na Muang 1
There are two waterfalls, simply named Na Muang 1 and Na Muang 2. They're the most popular falls on the island as they're considered among the most attractive. The first waterfall is easily accessible and just a few minutes walk from the car park. It's not a massively high waterfall. Water flows from about 18 metres above, down over purple-hued* rocks into a natural pool that provides a refreshing escape from the heat. Bring your swimwear for a dip, but beware the water can get a bit murky at times. The lush jungle surrounds make it a nice spot for a picnic too, popular with local families as well as tourists.
The full name of these majestic falls is 'Namtok Na Muang', which translates to 'Purple Waterfalls'… named because of the purple shade of their rock faces.
Na Muang 2
Getting to the second waterfall takes more of an effort. Na Muang 2 is a 20-30 minute walk uphill. The path up is a little steep and slippery in places so be sure to wear some sensible footwear. Flip-flops aren't the best option for this climb. The total height of the fall is around 80 metres and the waterfall cascades down the rocky slope over several stages. It's quite a climb. We didn't quite make the hike to the top because of a time restraint, but apparently the views from the natural pools at the peak are amazing and well worth the effort. Also, as its harder to reach you'll find the second waterfall less touristy.
Sadly, the falls are spoilt by the presence of an elephant trekking park on the path to Na Muang 2. The elephants here are poorly treated, chained by their feet, with huge metal seats strapped on their backs. Their mahouts repeatedly prod them with metal hooks. When they're not carrying tourists you'll see the elephants rocking from side to side in small pens. These poor animals aren't happy. Please DO NOT ride these elephants.

If you want to get up close with elephants then I'd highly recommend the Samui Elephant Sanctuary, where they rescue elephants from places like this. There you'll find happy elephants, free to roam of their own accord, who you can meet, feed, and spend time with. You can find out more below in More to do on Samui.
4. Buddha's Footprint at Khao Hua Jook Pagoda
---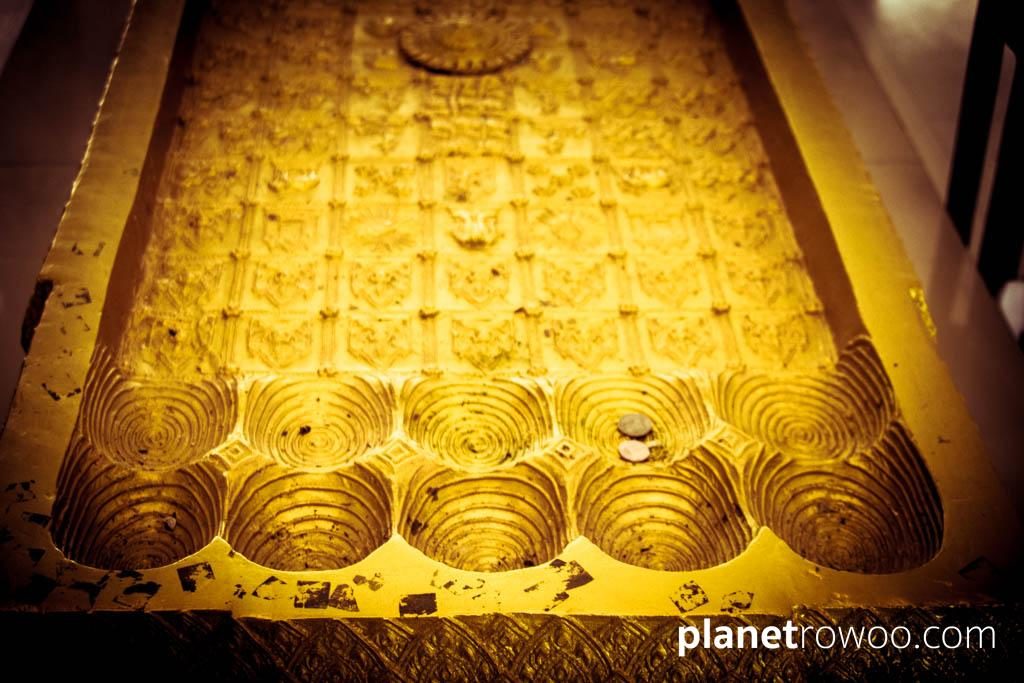 Heading back on route 4169 now for around 20 kilometres to the north-east of the island and the Khao Hua Jook Pagoda.
Khao Hua Jook is perched high on a hill overlooking Chaweng Lake and Koh Samui airport. 90 metres above sea level it commands stunning panoramic views across Chaweng, the Samui coastline and out to Ko Phangan. This ornately decorated gold pagoda can be seen from miles around.
The temple is known for its famous monument, a replica of Buddha's Footprint, displayed on a decorative base inside the temple. The footprint is painted gold with the toes all one length and adorned with various Buddhist symbology and a dharmachakra (wheel) in the centre. The footprint symbolises the Buddha's presence and reminds us he left a spiritual path to be followed.
It's a peaceful place with few visitors. A complete contrast to the busy tourist attractions of the Mummified Monk and the Na Muang waterfalls that we'd visited earlier. Perfect for those seeking a quiet moment of reflection, or a tranquil place for meditation.
The temple itself is a great showcase for traditional Thai architecture. Inside, the columns are richly decorated with paintings depicting the life of Buddha. It also houses some intricate artwork, various religious artefacts, and some fine golden images of Buddha. But it retains a light and airy feel, unlike many Buddhist temples.
Enjoy a Samui Sunset
It's worth a trip to the temple for the views alone. Some visit just for a bit of 'plane spotting' – watching flights taking off and landing at Samui airport. It's also a great spot to enjoy a Samui sunset.
Due to its elevated position, I'd recommend taking some form of transport to reach it. There's parking at the top and then a fair few steps to negotiate. But it's is a wide stairway with flat sections and plenty of benches where you can sit and rest. It's certainly worth the little climb.
5. Big Buddha Temple (Wat Phra Yai)
---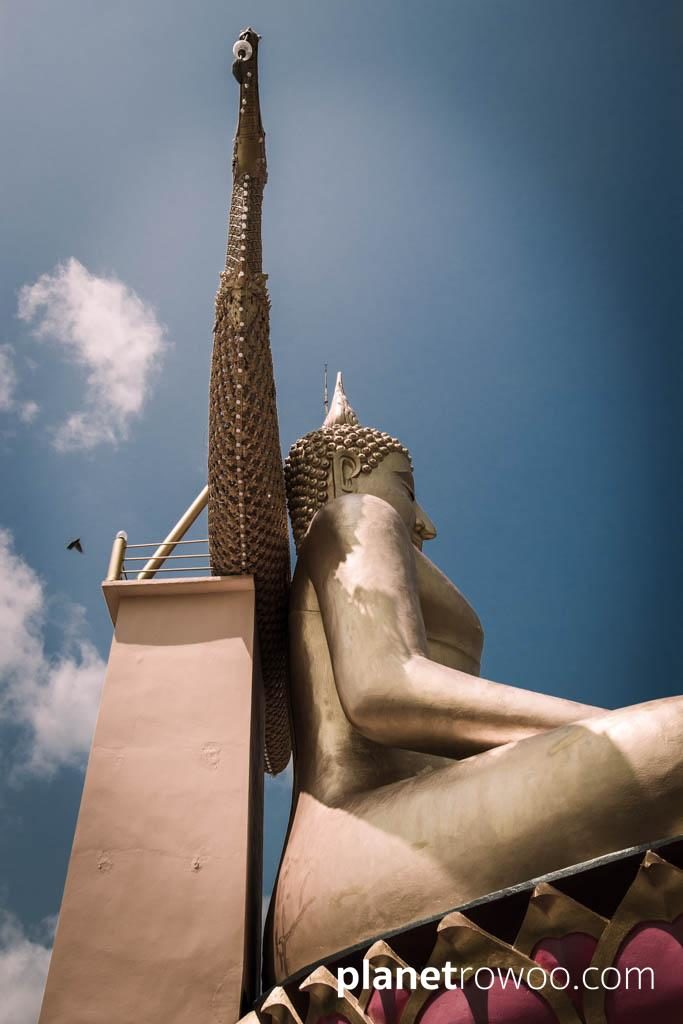 Around 6 kilometres north of Khao Hua Jook is the Big Buddha. One of the most popular and revered sights on Koh Samui.
The majestic golden Big Buddha proudly sits 12 metres high at the top of a vast stairway flanked by mythical serpent-like Naga statues. It's an imposing sight as you look up from the base of the stairs. This iconic Buddha image can be seen from miles around and is quite likely the first landmark you'll see on the island if you're arriving by air.
Wat Phra Yai (Big Buddha temple) is located on Ko Phan, a small island off the north-eastern corner of the island. Named thus because of its vast Buddha image, and naturally, the temple's main attraction. It's connected to the main island by a short causeway.
The Big Buddha sits in the 'subduing Mara' pose. 'Mara' in Buddhism, is the demon who tempted Buddha during his path to enlightenment by trying to seduce him with the vision of beautiful women. The left hand rests in the lap, palm upward. The right hand bends over the right knee, with fingers facing down and grazing the ground. The posture is a symbol of steadfastness, purity and enlightenment.
Around the base of the statue are several smaller Buddha images in a variety of standing, sitting and lying poses. To the rear, there are a collection of bells within red-roofed pavilions that afford excellent beach and sea views. The bells are there to be rung by Buddhists making merit (one at a time in a clockwise direction, the direction of life). Despite the number of tourists, this area around and behind the Buddha was surprisingly peaceful, and a pleasant spot to linger for a while with the sea breeze wafting through the pavilions.
Revered by many
The Big Buddha is revered by many, and Buddhist devotees visit each day to make offerings of fruit and flowers and light incense sticks at the base of the image. These traditional religious rituals continue today despite the hoards of tourists snapping away (myself included) around the devotees.
Temple Etiquette


There are certain rules you should follow when visiting any Buddhist temple in Thailand;

Dress appropriately (knees and shoulders should be covered)
Take off your footwear when entering a temple (you can keep socks on). Also remove hats and sunglasses.
Remain quiet (avoid loud chatter and keep your phone on silent)
Do not point (you should not point, either with fingers or feet, at a monk or Buddha statue)
Display no expressions of affection in or around the temple
In general, just be respectful. And watch how the locals behave to learn more of the etiquette.
Around the base of the Naga staircase is a courtyard and merchant area where traders sell charms, religious artefacts, clothing and souvenirs. There are also food stalls and small restaurants where you can stop for a bite to eat. It's a bit of a tourist trap. But can you visit Koh Samui without visiting the Big Buddha? I don't think so.
6. The Jungle Club
---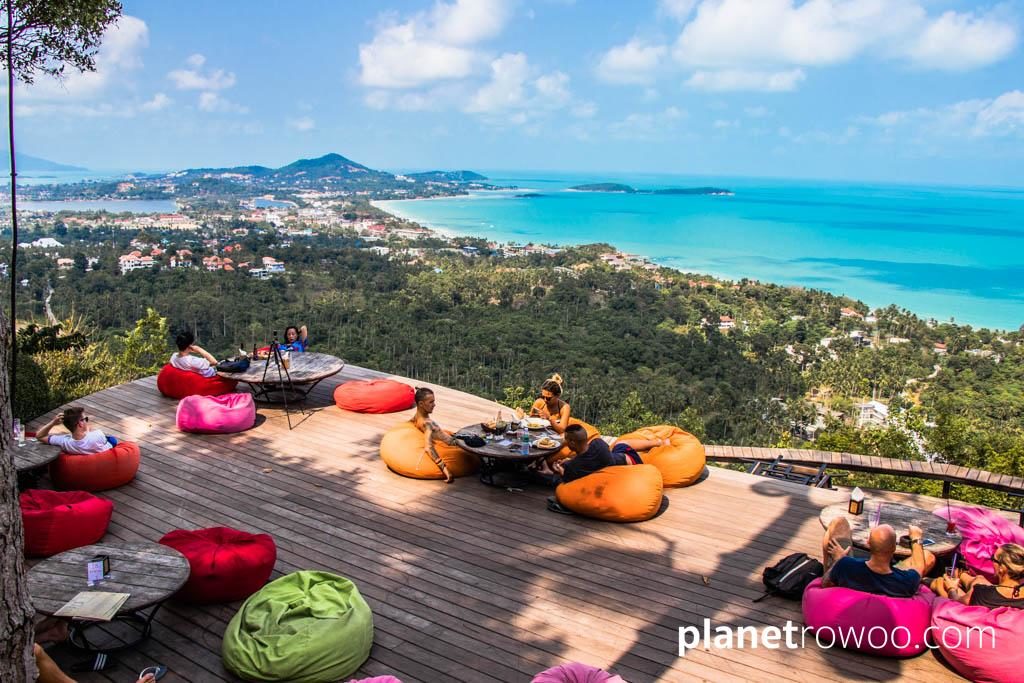 The last stop on our half-day tour and the perfect place to relax after a hard morning of sightseeing! The Jungle Club is a chilled bar, restaurant and resort set high up in the hills overlooking Chaweng. It's a popular spot at all times of the day due to its stunning panoramic view of the Samui coastline and beautiful jungle surroundings.
It's located around 10 kilometres south of Big Buddha up a steep road off route 4169 near Chaweng Noi beach. Not many taxis will take you to the top because of the steep drive up. And if you're not an experienced driver/rider it's best to use the phone box at the bottom of the hill to contact the resort so they can send a member of staff to pick you up in their jeep! (there might be a fee at certain times of the day).
The resort was built around the boulders and trees of the natural jungle environment using traditional materials. Inside the covered seating area of the multi-level bar/restaurant, there are bamboo sofas and a variety of natural wood seating options. Outside there are Gaudi-like steps linking a series of wooden decks littered with colourful comfy beanbags and dotted with individual bamboo/thatched salas.
It's a funky setting with an out of this world view, where you can enjoy a meal, or just come for a drink and experience the scene with some chilled ambient background music.
More to do on Koh Samui
The above sights are easy to fit into a half-day tour. Below are a few more recommendations for your stay on Koh Samui; and they each warrant spending a little longer at than 20-30 minutes!
Chaweng
---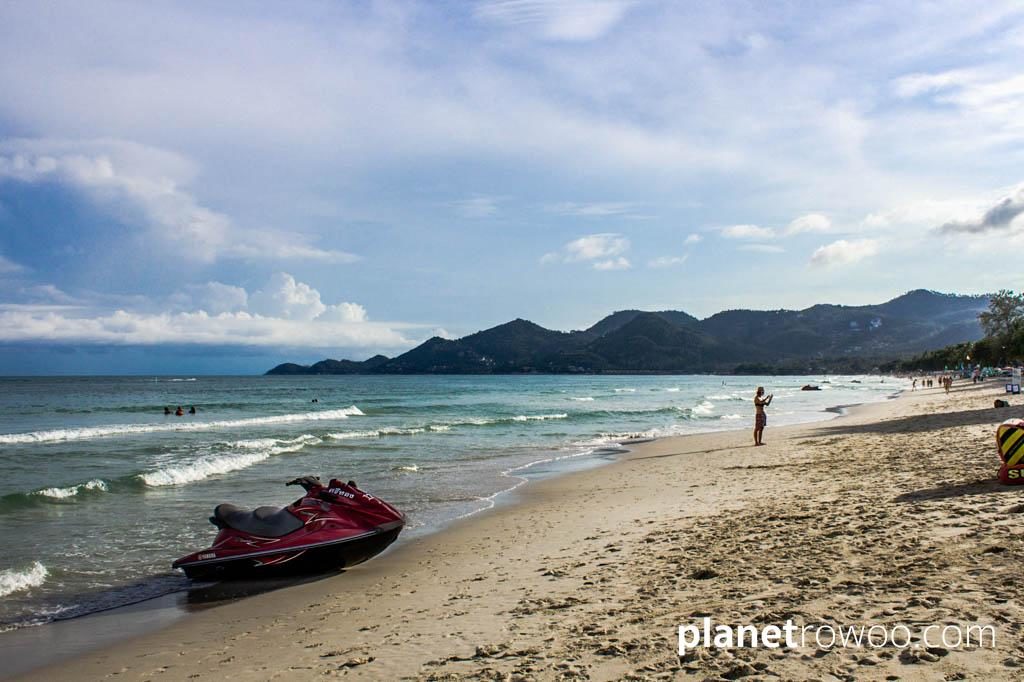 No trip to Koh Samui is complete without a visit to Chaweng. The most popular resort on the island, by day or by night it has something to offer everyone. It might be the busiest, but its 7 kilometre stretch of powdery white sand is still one of the best beaches on the island and one of the best for swimming too.
Chaweng's nightlife is legendary. From fine dining to pubs, dance bars and girly bars, to romantic spots to eat on the beach, it caters for all tastes.
This is where my love affair with Thailand began more than twenty years ago. It may not be the island paradise that it once was, but you can still find little stretches of paradise on the beach… just be prepared to share it with a fair few other people :).
Chaweng is on the eastern side of the island around 10 minutes drive from the airport.
Bophut / Fisherman's Village
---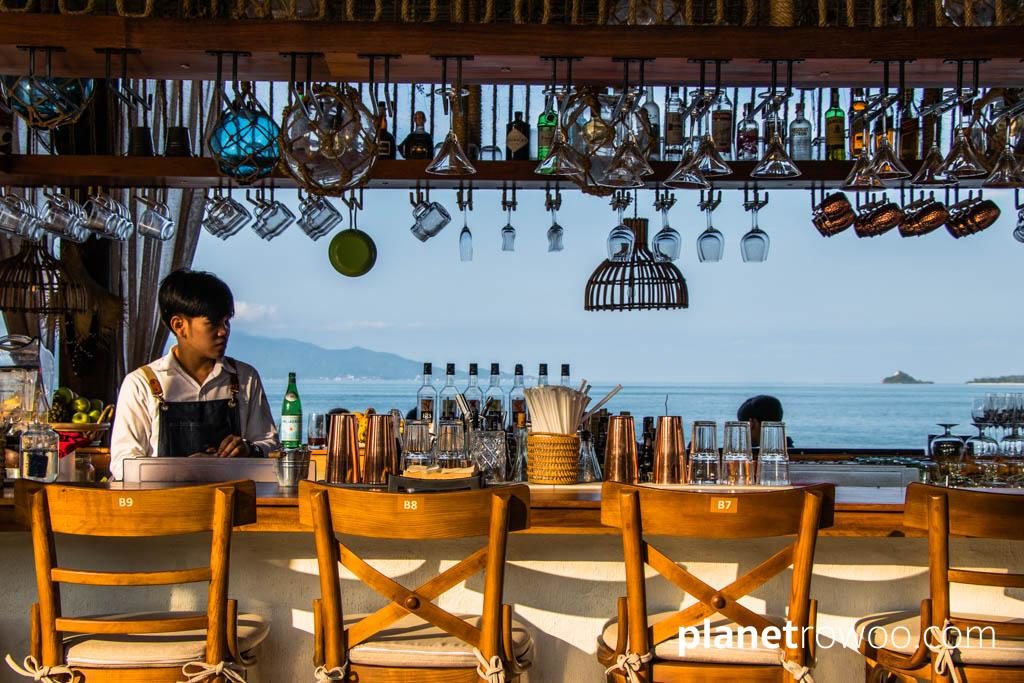 The white sandy shoreline of Bophut spans several kilometres on Samui's north coast between the iconic Big Buddha to the east and Mae Nam beach to the west. Quieter than Chaweng, it has a great beach and a comprehensive range of quality accommodation.
In the middle of town is Fisherman's Village. A charming village with a huge variety of restaurants and bars and one of the chief reasons for a visit. Don't miss its Friday walking street market.
You can find out more about my one week stay here back in December last year in my Bophut blog.
Samui Elephant Sanctuary
---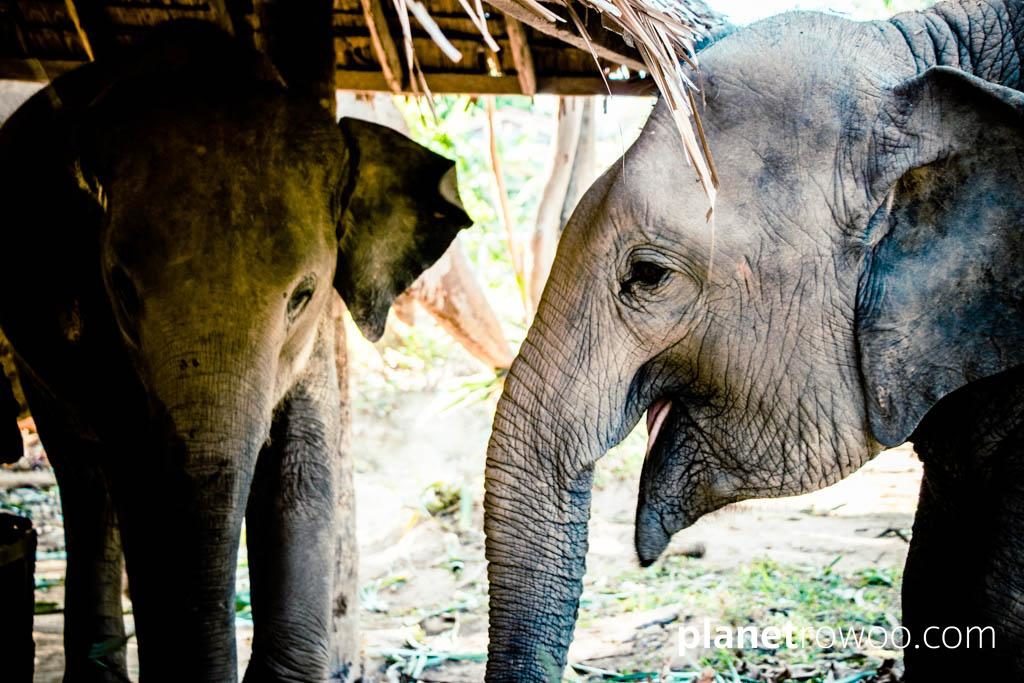 Riding elephants is a cruel practice which hurts the animals and is detrimental to their long term health. It also requires an inhumane process to break the elephant before they can be ridden. More and more elephants are now being rescued from this hardship and given better lives in ethical elephant sanctuaries.
The Samui Elephant Sanctuary is the first elephant sanctuary to be established on Koh Samui. They offer a safe retirement home for elephants who have worked exhausting hours in the logging and tourism industries. ​You get to feed and walk with the elephants, and observe these beautiful animals as they roam, socialise, bathe, and play in the mud.
I spent a very happy afternoon with these gentle giants. You can find out more in my Samui Elephant Sanctuary blog.
So much more to do…
If none of the above appeals, or you've more time, here are a few more recommendations from the many things to do on Koh Samui;
Take a trip to Angthong Marine Park
Go on a 4WD Jungle Safari Tour
Visit Mae Nam, Lamai and Silver beaches
---
Eating & Sleeping on Koh Samui
Where to Eat & Drink?
There's a massive variety of dining and drinking options on Koh Samui. Below are just a few recommendations close to where we stayed in Chaweng. For more options around Bophut, take a look at my earlier blog.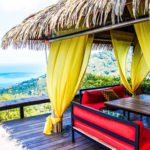 The Jungle Club
We visited this cool bar/restaurant high in the hills of Chaweng as part of our half-day tour above. You can stop here for a meal or just a drink while enjoying the magnificent view. Just beware of the steep drive up!

The restaurant has a varied menu of Thai and western/mediterranean dishes all prepared by "Wally" the chef. Or you can just enjoy one of Jungle Club's signature cocktails or a beer while absorbing those incredible scenes over the Gulf of Siam. It's one of the most unique places to eat or drink on the island.
---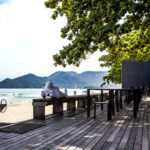 The Page
The Page is a chic and fashionable restaurant that sits proudly on Chaweng's beachfront overlooking the turquoise sea of the Gulf of Thailand. It continues the minimalist and unusual 'book' theme of The Library boutique hotel of which it's a part.

The Page specialises in Thai and international fusion food and offers a fine dining experience that's commensurate with the restaurant's prices. You can choose to eat outside on the expansive decking which offers a chilled vibe by day or romantic ambience by night. Or sit inside (as we were forced to do due to an energetic sea breeze on the night we visited!) in the minimal but comfortable white interior. Certainly one of the classiest dining experiences on Koh Samui.
---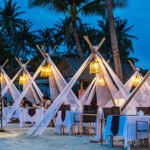 Dara Serene Restaurant
Chaweng has a great variety of places to eat on the beach. And the Dara Serene Restaurant, as its name suggests, probably offers the most elegant and serene atmosphere. The wigwam style structures over each table, wrapped in white linen with a single bamboo hanging lamp, make for a highly romantic setting. Great for a date night. But equally pleasant for three relatives on their Thailand adventure :).

Dara Serene is part of the Dara Samui hotel, located at the top end of Chaweng. If you're arriving by road you have to walk through the whole length of the hotel, which is quite a hike… it's a big hotel!

The restaurant offers a good selection of Asian and Western food in one of the nicest settings on Chaweng beach.
---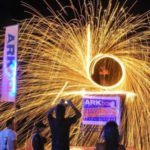 ARKbar
The ARKbar Beach Club on Chaweng Beach is a Koh Samui institution. With international DJ's playing club music from 2pm (around the pool) and then on the beach until 2am it's the island's best beachfront party venue. With two restaurants and a spectacular fire show each evening it's the place to go for your late night entertainment (at least once anyway!). But unless you like to party all day, the resort is probably not the best place to stay :).
---
Sleeping
There are so many places to stay on Koh Samui it's difficult to choose. The recommendations below were mostly from this trip (and mostly Chaweng) but I've also included a couple from an earlier stay in 2015. Room costs start from around 50 to 200 GBP per night.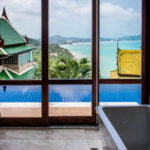 Sandalwood Luxury Villas
Sandalwood Villas occupies a spectacular hillside location at the southern end of Chaweng with panoramic views over the Gulf of Siam. There are just 14 Thai style pavilion villas (named after tropical flowers) scattered over the hillside with a choice of one to three bedrooms. We stayed for two nights at the beginning of our trip. The villas are amazing. We had a two bedroom villa with two large ensuite bathrooms, a spacious living/dining area with kitchen and large private l-shaped infinity pool with patio, all overlooking the Samui coastline. We paid 195 GBP per night which is fantastic value for luxury accommodation like this.

The villas are very private. We barely saw another guest during our stay apart from at the reception/pool area and at breakfast. The Blue Ginger Restaurant offers great breakfasts with a nice selection of Thai and western options. It's a small restaurant with a nice intimate feel. It's also open for lunch and dinner.

The service at Sandalwood is second to none. When I arrived the staff swiftly and calmly dealt with my taxi driver who was trying to charge me extra for "driving up the hill". They also arranged free transport for me to a local medical centre (not the closest I might add) when I needed an injection. The driver even helped me find the best place and waited while I was seen to. It's not often that you receive service like this. They were very helpful too in putting together our half-day tour.

Overall I couldn't fault Sandalwood. It's a great base for exploring the island if your budget allows.
---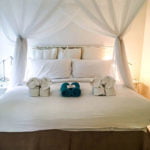 King's Garden Resort
King's Garden Resort is a charming little resort in the middle of Chaweng. I stayed here for one night only, the night before my sister and cousin arrived on the island. It's a lovely boutique resort with 32 cottage style bungalows spread through gardens with one signature bungalow right on the sea front. The resort occupies a lovely stretch of sand on the beach.

I stayed in a Deluxe Bungalow in the gardens paying 76 GBP for one night. A very pleasant, clean and comfortable room with a small terrace. It was just a short stroll to the beach and open air beachfront restaurant that serves a generous buffet breakfast of Western favourites and Thai cuisine. I'd certainly consider a longer stay next time.
---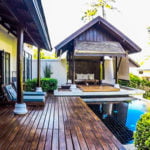 Anantara Lawana
The Anantara Lawana occupies a prime location at the top end of Chaweng beach. We stayed here for two nights at the tail end of our journey after our trip to Ko Phangan. The resort has 122 beautifully furnished contemporary Thai/Chinese-style rooms and villas rolling down a hillside to the sea. Most have garden views but the high-end villas come with pools and a sea view too. Named two years running (2013/2104) as 'Asia's Most Romantic Resort' at the World Travel Awards its Tree Tops restaurant offers one of the island's most romantic dining experiences. But the beach side Ocean Kiss restaurant offers a great culinary experience too in very pleasant surroundings. The breakfast buffet is generous with Thai food and international fare and features a cold room with meats, cheeses, and other dairy products.

The resort's 25-metre turquoise infinity pool overlooks the beach and is a great place to spend the day, with plenty of sun loungers, umbrellas and a bar that serves cocktails and snacks. The stretch of beach here has the typical Chaweng soft white sand and the sea here is great for swimming at high tide.

We booked two Deluxe Lawana Rooms and paid 7,600 baht per room per night (that's around 170 GBP). But due to a mix up with one of the rooms, we received a free upgrade to a Pool Villa (pictured). It was a beatiful villa, and very much appreciated… Thank you Anantara!
---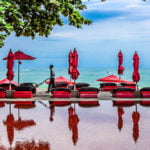 The Library
Certainly one of most stylish and very likely the most minimalist resort on Koh Samui, The Library stands proud at the heart of Chaweng Beach. Selected by Tripadvisor and Conde Nast as one the most spectacular hotel pools in the world, the Library's iconic Red Pool immediately tells you you're somewhere special.

Inspired by books and a simple lifestyle philosophy, the grounds around the resort's 46 pristine white studios, suites and villas are dotted with lifesize reading sculptures, and each room is a page number. The Page restaurant, sits right by the beach and is popular with locals and guests alike. A buffet of fruits, yogurts, pastries and the usual fair are served here each morning, but don't miss out on the chance to have breakfast on the beach. It's a unique breakfast experience… and was a highlight of my stay.

Drinks wise there's a sunken bar overlooking the beach, and a cool bean bag vibe on the beach each evening with DJ during happy hour. There's also the Drink Gallery a stylish and art-inspired upmarket bar and restaurant at the street side entrance to the resort on Chaweng beach road.

I stayed here for one week back in November 2015 and paid 180 GBP per night for a Studio room.

It may be in the centre of things but The Library is a calm retreat in the middle of busy Chaweng.
---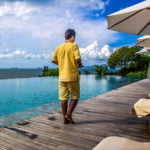 Six Senses Samui
Six Senses Samui is located in a remote setting on a headland on the northern tip of Koh Samui. It's set in 20 acres of beautiful forested hillside and offers stunning views of the Samui coastline and outlying islands. Admirably, sustainability has always been the forefront of the resort's thinking and they are continually developing new initiatives and procedures to minimise their impact on the environment.

There are 66 generously sized organically-designed villas, built from local wood and bamboo, scattered throughout the resort. All beautifully furnished with a large terrace and stunning views out to the ocean. Many have a private pool. You won't want to leave your villa. But when you do just call your GEM (Guest Experience Maker) and they'll send a buggy to pick you up. Your GEM is there to organise your every whim… from trips to the nearby Fisherman's Village, to a jungle adventure. Whatever you desire.

If you're not a fan of the rock-fringed Robinson Crusoe beach then the stunning infinity pool overlooking the turquoise seas of the Gulf of Thailand will certainly please. Breakfast is served at the Dining On The Hill restaurant, buffet-style with a range of cooked Asian and western options. At night you can dine at the award wining Dining on the Rocks. Located over several terraced decks of weathered teak and bamboo overlooking the sea, it's a truly romantic setting and attracts diners from across the island.

I stayed for five nights during November 2015 in a Hideaway Villa. The natural and peaceful environment was a complete contrast to the minimalist theme and bustling location of The Library where I stayed the week before. But I'd recommended both for a two centre holiday if you want to see two different sides of the island.
---
Things To Do Galleries
[envira-album id="9754″]
Getting to Koh Samui
The island has its own international airport and receives direct overseas flights from Kuala Lumpur, Singapore and Hong Kong. It also receives local flights from Bangkok (over 20 flights a day!), Phuket and Pattaya.
You can also reach Samui by ferry from Surat Thani or Don Sak on the Thai mainland.