Things to do in Hanoi Old Quarter
Trip Background
A slight complication with my Thai annual visa extension meant that I needed to leave Thailand briefly so I could re-enter the country and begin the application process again. Not a problem… a "visa-run" (or "border-run") is performed every day by travellers wishing to extend their time in Thailand. And for me, it was a great excuse to do some more travelling. Hanoi, in nearby Vietnam, had been on my list for a long time as somewhere I was keen to return to. So, as soon as I confirmed the need for a border-run, I excitedly booked a three-day trip. Just enough time to see how the Vietnamese capital had changed since my last visit, and to see what the 'Old Quarter' had to offer.
It would also be an opportunity to escape the Chiang Mai smog that befalls the city and Northern region of Thailand at this time every year… or so I thought.
Hanoi
Hanoi (or Ha Noi) is the capital of Vietnam and the country's second-largest city. It's located in the north of Vietnam on the banks of the Red River, around 140 kilometres inland from the South China Sea. It's around a 90-minute flight from Chiang Mai.
Hanoi is one of the most ancient capitals in the world (it celebrated its 1000th Birthday in 2010!). It's a city steeped in history. Having survived Chinese and French occupation, as well as the turmoil of the American War, it's come through it all with a rich culture and heritage. Today the city is a fascinating blend of East meets West.
Things to do in Hanoi Old Quarter
At the heart of Hanoi is the bustling Old Quarter, with its labyrinth of streets, swarms of motorcycles and sea of conical hats. It's a fascinating area to explore. Whether you have a few hours or a few days, below are just some of the many things you can do in Hanoi Old Quarter. All the locations on the list are easily walkable between each other.
1. Explore the "36 streets" of the Old Quarter
The maze of narrow streets and alleyways in the Old Quarter are roughly arranged by trade. It's where Hanoi's 36 guilds established themselves in the 13th century, each taking a different street. There are more than twice that number of streets in the area today, typically named Pho Hang ("Merchandise" or "Wares" St) followed by the name of the product sold there. So Pho Hang Tre is "Bamboo Wares Street" and Pho Hang Gai is a street lined with shops selling silk and textiles.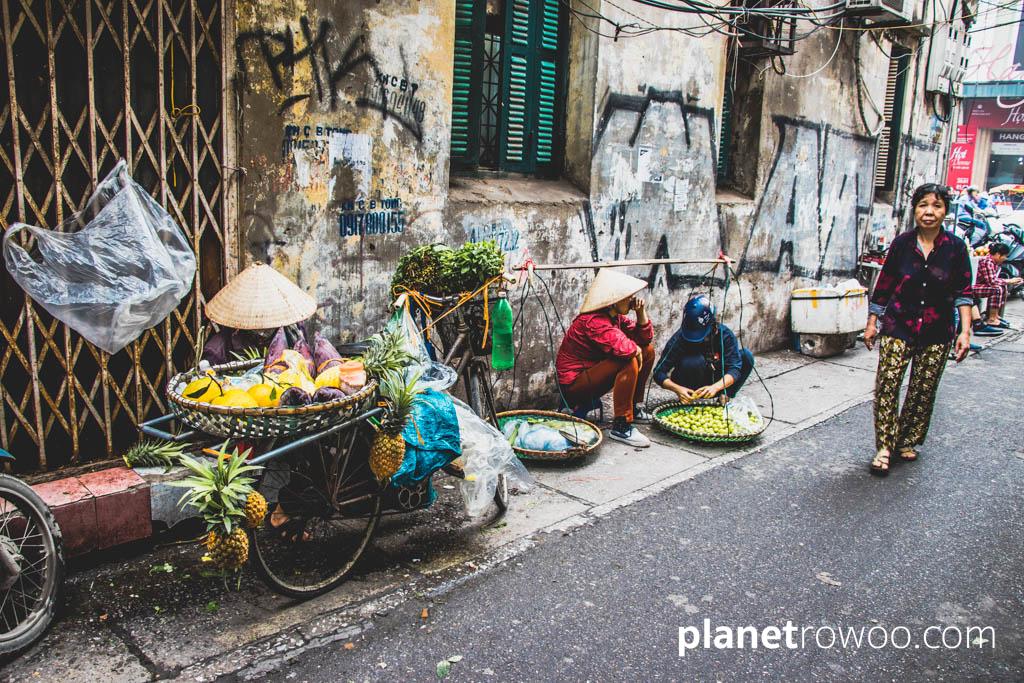 The best way to explore the Old Quarter and absorb the sights and sounds of this vibrant and chaotic area is on foot. You'll be competing with Hanoi's crazy traffic and busy locals, weaving past vendors selling fruit and drinks and dodging pushbikes and motorcycles amid the noise of blaring horns. But that's all part of the fun.
The streets are a contrast of colour and muted tones, lined with a patchwork of narrow-fronted tunnel (or tube) houses and shops, so-called because of their narrow frontages and long rooms over several floors. Developed to avoid taxes based on the width of their street frontage, some reach as high as 6 to 10 storeys.
Bikes, Mopeds & Conical Hats: 60 seconds in Hanoi Old Quarter;
Hanoi Old Quarter has a sense of timelessness. There are photo opportunities on every corner. I found the locals here though were not so keen to have their photos taken as other parts of Asia, and I completely understand that (I think I would feel the same if I had foreigners pointing cameras at me every day like some animal in a zoo). So as with anywhere, it's always best to ask first before photographing people.
2. Take a stroll around Hoan Kiem Lake
Hoan Kiem Lake is a freshwater lake at the southern end of Hanoi Old Quarter, just a short walk from the busy Dong Kinh Nghia Thuc Square. The lake is a calm and refreshing contrast to the noisy and frenzied streets of the Old Quarter.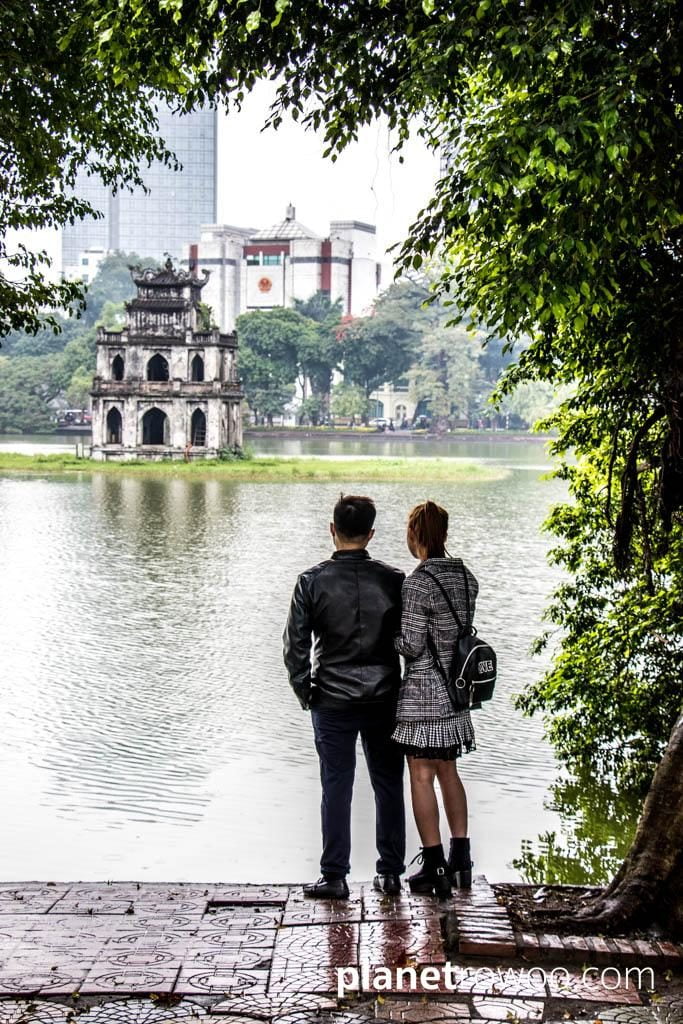 Locals take advantage of the lake's serenity, visiting at dawn to practice their yoga and Tai Chi. At dusk, the lake lights up and shimmers into life. But it's a pleasant spot at any time of the day. Offering a peaceful escape amid the trees and shade of the lake's shoreline.
Thap Rua Tower & Ngoc Son Temple
On an islet near the southern end is the crumbling Thap Rua Tower, also known as Turtle Tower. On special occasions it's topped with a red star and often seen as an emblem of Hanoi. The tower commemorates local folk hero, Le Loi, who saved the Vietnamese from the Chinese Ming army back in the 15th century. Legend has it he achieved his victory using a secretly gifted mystical sword. After the battle, a giant golden turtle grabbed the sword and disappeared into the depths of the lake to return the sword to its divine owner, the Dragon King. The tale inspired the name Hoan Kiem (Lake of the Restored Sword).
In the northern part of the lake on a small island is Ngoc Son Temple (also known as the Temple of the Jade Mountain). This 18th-century pagoda is Hanoi's most visited temple, accessible by the iconic Huc Bridge, an elegant red-painted wooden bridge constructed in classic Vietnamese style. Inside amongst the ancient artefacts and deities is the preserved specimen of a giant turtle found in the lake.
At the weekends, the roads around the lake are closed in the evenings and the area becomes alive with activity.
3. Visit the Sofitel Legend Metropole Hotel
Just beyond the south-east corner of Hoan Kiem Lake, you'll find the legendary Sofitel Legend Metropole Hotel. A hotel that has hosted world leaders, international politicians, actors and writers over the years. Just the month before I visited, it was the location for the two-day summit meeting between North Korean supreme leader Kim Jong-un and U.S. President Donald Trump.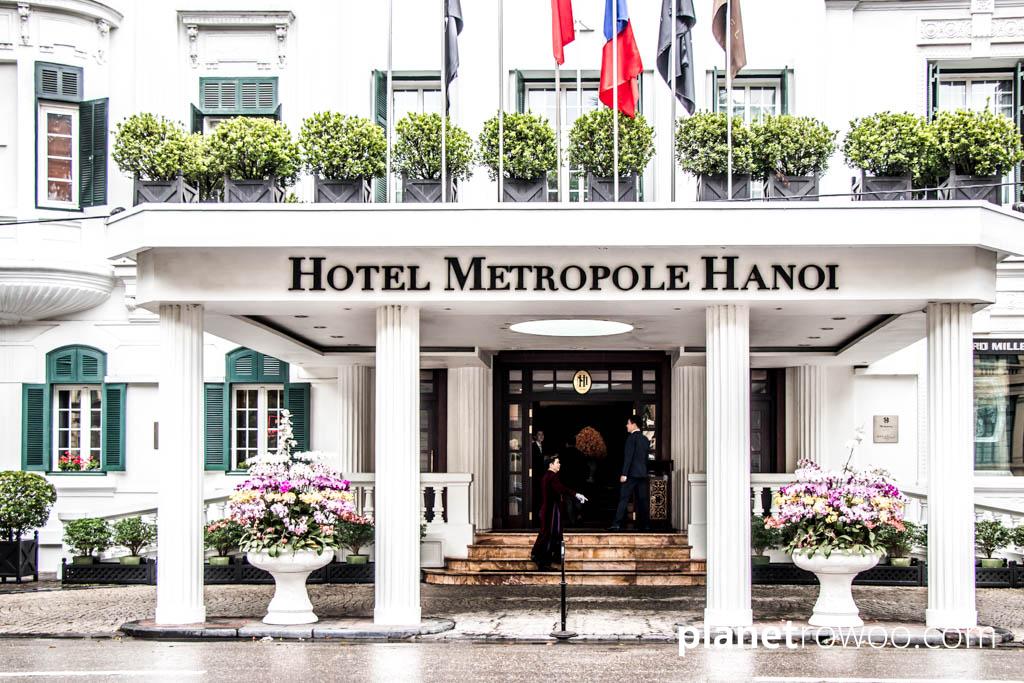 It has an equally glamorous past. Charlie Chaplin stayed here on his honeymoon, and Graham Greene worked on his classic novel "The Quiet American". During the Vietnam war, Joan Baez took refuge in the hotel's bunker and "Hanoi Jane" Fonda visited during her 1970s anti-war campaign.
A Legend of Hospitality
But you don't have to be famous or an overnight guest to experience some of what this legend of hospitality has to offer. Sample French and Vietnamese gastronomic delights or enjoy a drink in one of the hotel's half-dozen classy bar/restaurants. Enjoy a glimpse of France right in the heart of Vietnam at the Paris-inspired cafe La Terrasse with pavement seating right amid Hanoi's bustling urban life. Or if designer shopping is your thing, you can enjoy a high-class shopping experience in its La Boutique and Metropole Arcade.
Alternatively, simply marvel at the colonial architecture. The original colonial grandeur is preserved in the historical Metropole Wing, while the newer Opera Wing offers a stylish neo-classical elegance.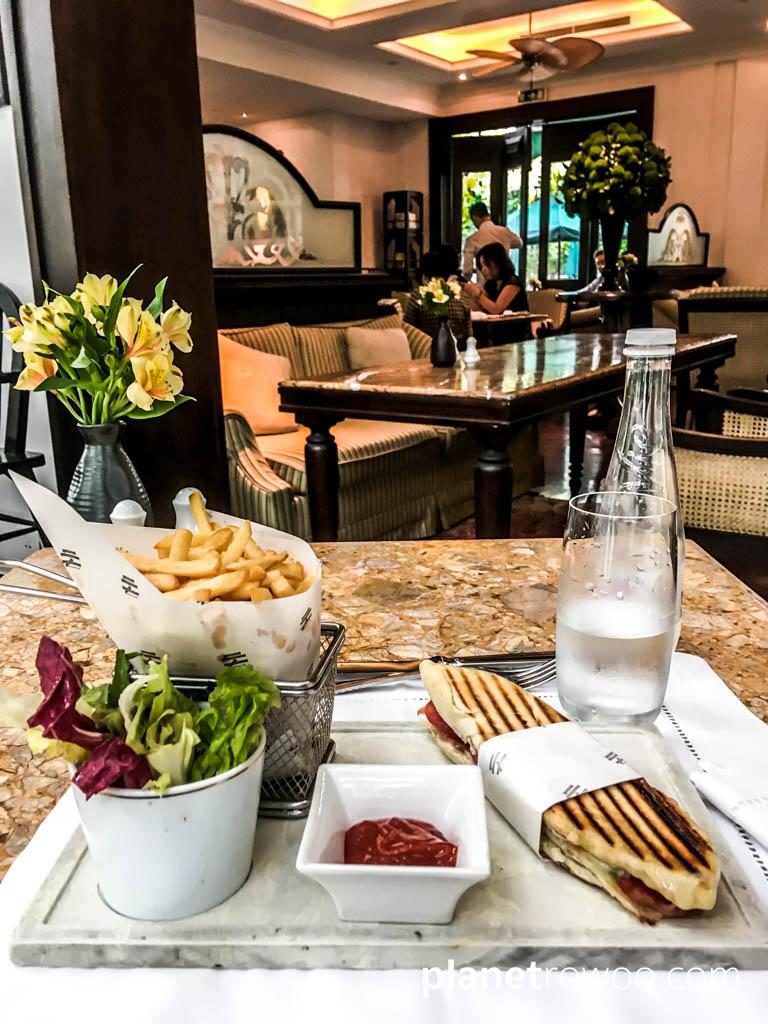 I stayed here at the Metropole for a few nights during my travels around Southeast Asia way back in 2002. It was a great experience. Unfortunately today, my budget will just about stretch to a panini in the restaurant :).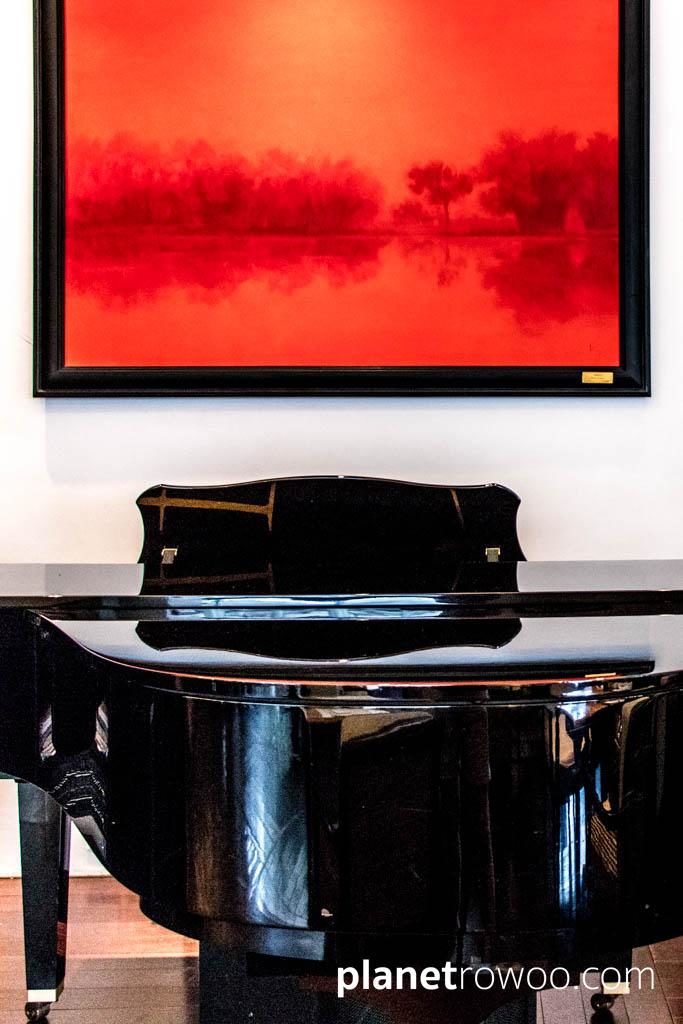 It was interesting to see the painting that hangs above the hotel's grand piano is the same artwork that was hanging there 17 years ago! It's by local Hanoi artist Hoang Duc Dzung, one of the Vietnamese artists whose nude works I sold in my East London gallery.
The hotel's Path of History is a hallway of information about the Metropole's life since 1901. It also includes a tour of the Metropole's bomb shelter. The shelter protected guests from air raids during the American War from 1964 to 1973. It was rediscovered in 2011 during hotel renovations and reopened in May 2012. Daily tours are available exclusively for guests staying at the hotel.
4. Walk the tracks at Train Street
A 20-minute walk north-west from the Metropole Hotel, on the other side of Hoan Kiem Lake, is Hanoi's Train Street.
Each day a large blue locomotive trundles through a narrow street in Hanoi Old Quarter where locals live and work. Once a rough part of town, this stretch of track has now been discovered by travellers eager to capture that perfect Instagrammable moment as the train passes inches from your nose and local's homes. This influx of tourists has boosted business along the tracks where you can sit and wait for a train over a coffee or refreshing drink at one of the numerous cafe's that have sprung up along the line. You can even take a seat on the tracks!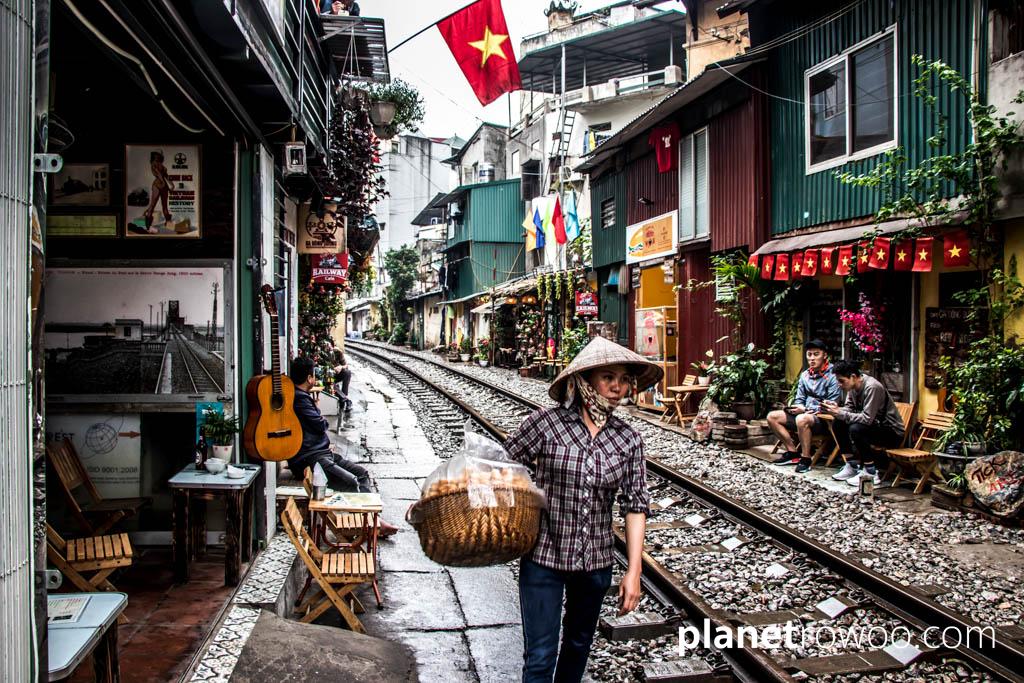 As the train approaches, locals clear the tracks moving tables and chairs (and sometimes young children) away from the train's path. They also advise tourists of the safest places to stand.
It's worth pointing out that THE TRAIN DOESN'T STOP FOR ANYTHING. It can't. It's too big and moving too fast to stop. So exercise some caution and don't try to be clever by getting that last-minute selfie on the tracks!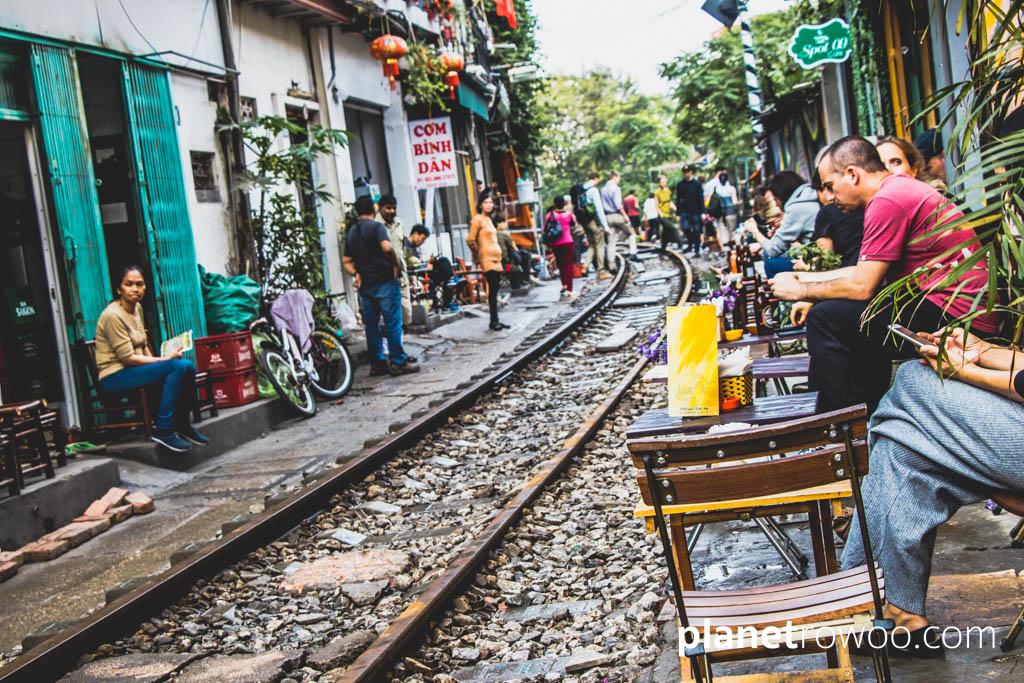 Train Times
There are a number of trains a day at times that depend on which stretch of the track you visit. I arrived on a weekday afternoon at the stretch above Tran Phu street and was told there were no trains in the afternoon. The first would be at 7:00pm in the evening. I've seen a huge number of conflicting timetables online. What I've gleaned is that there are no trains through the Old Quarter on weekday afternoons, but they pass throughout the day at weekends. Here's just one timetable I found;
| | |
| --- | --- |
| Weekdays | 7pm, 7.45pm, 8.30pm, 10pm |
| Weekends | 9.15am, 11.20am, 3.20pm, 5.30pm, 6pm, 7pm, 7.45pm, 8.30pm, 9pm, 11pm |
I believe there's another stretch south of the Old Quarter above Le Duan street where there are two trains a day each day at 3:30pm and 7:30pm.
But your best bet is to ask at your hotel or just turn up and search for a timetable in one of the cafes… or just ask a local!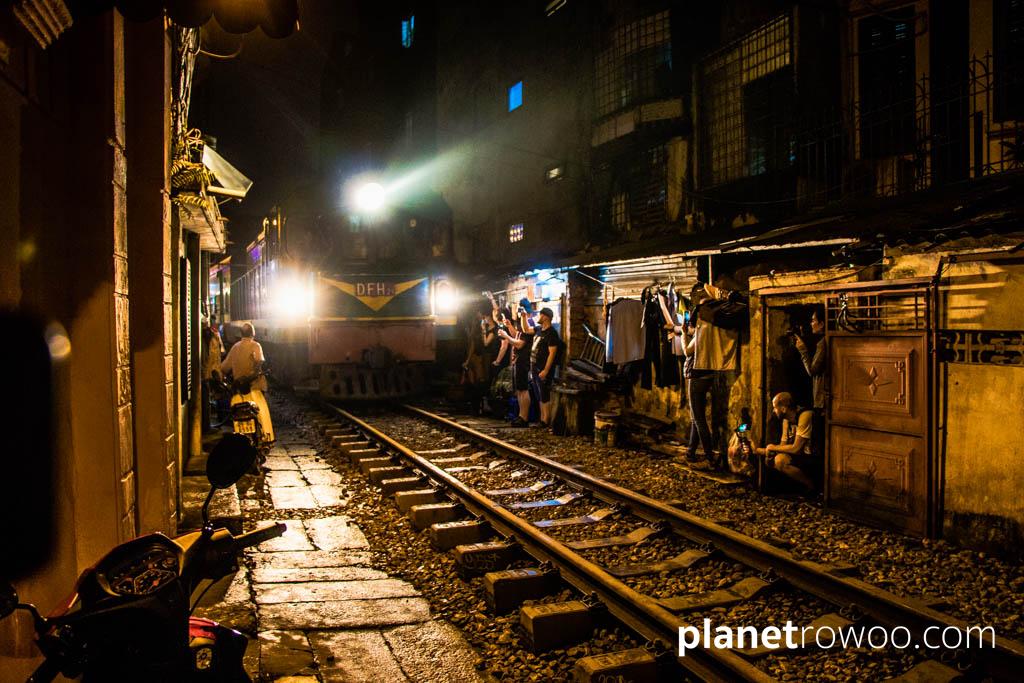 Egg coffee (ca phe trung)
Train Street is a great spot to sample a local Hanoi egg coffee (ca phe trung) while you're waiting for the passing locomotive. Somewhere between a beverage and a dessert, this concoction involves beaten egg yolks poured over robusta coffee and mixed with sugar and condensed milk. It results in a very sweet caffeinated mousse that's thoroughly delicious.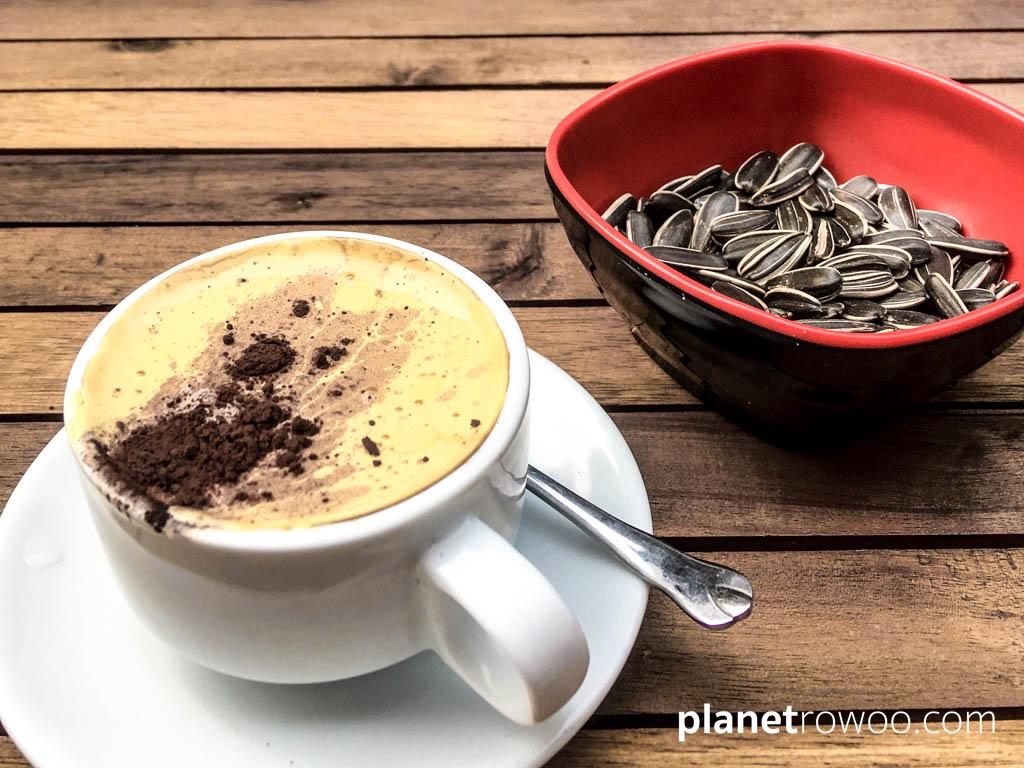 Update November 2019: It appears that the Hanoi authorities have now closed Train Street to tourists and ordered the shutdown of cafes along the line over safety concerns. You can read more in this Guardian report and on VNExpress.net.
5. Sample some Hanoi Street Food
One thing you cannot fail to notice as you wander the streets of Hanoi Old Quarter is the abundance of street food options. Tiny blue plastic stools fill pavements everywhere awaiting hungry diners. It seems eating on the street is a way of life in Hanoi. Even more so than in Thailand. It's a very sociable activity.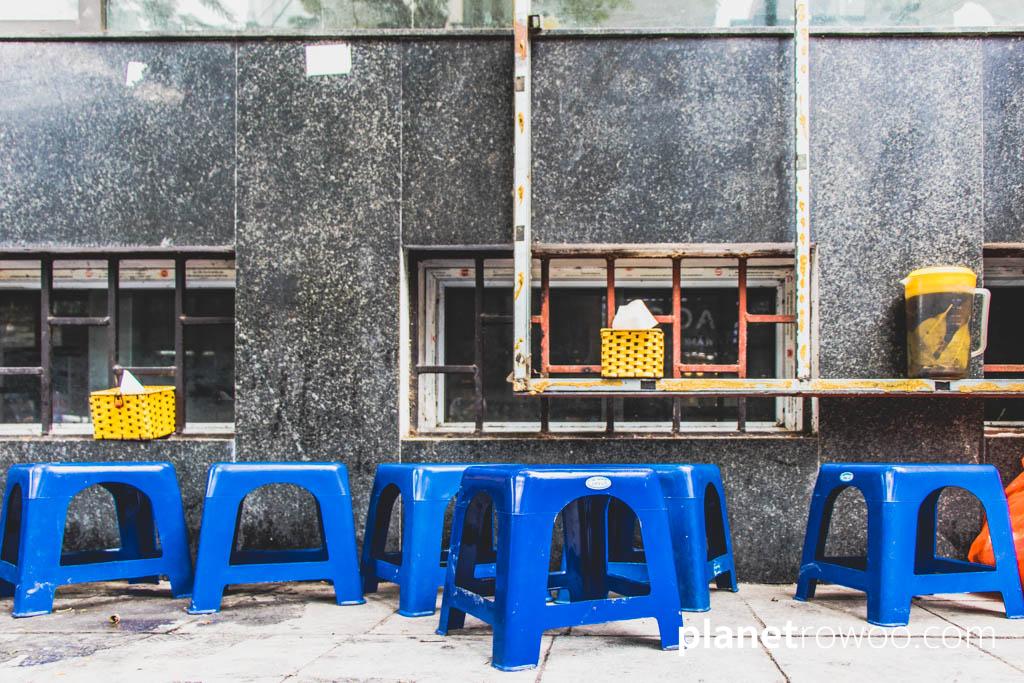 Some of the city's best food (and at the best prices) can be found on the streets. Many of the stalls have been operating for decades, and often they offer just one dish. So it's no wonder, after years of perfecting their recipes, the food can be exceptional.
So be sure to take a blue plastic seat and sample some of the best food Hanoi can offer. From pho (noodle soup) to fresh spring rolls, ban cuon (steamed rice rolls), bun cha (grilled pork & noodles), banh mi (savoury baguette) and bun bo nam bo (beef noodles) to name but a few delicious Vietnamese dishes.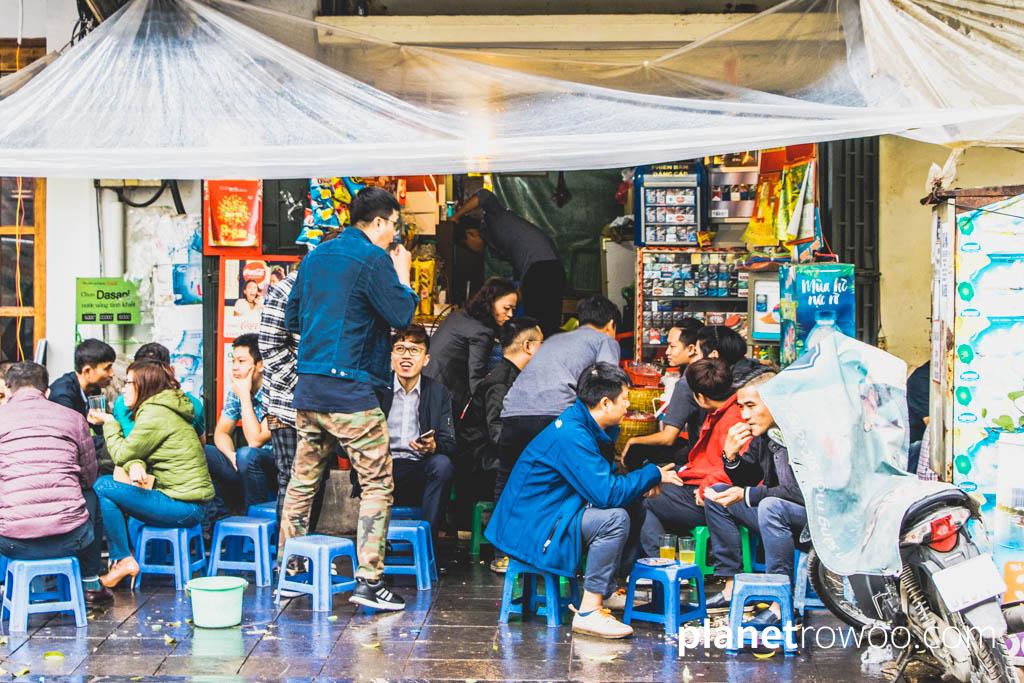 You can expect to pay from around 25,000 to 70,000 VND (0.80 to 2.30 GBP) for an average dish.
6. Enjoy the Old Quarter Nightlife
After a busy day exploring the lively streets of the Old Quarter, it's nice to kick back and unwind with a drink. It's no surprise though that Hanoi has a lively nightlife, and there's no shortage of fun places to go in Hanoi Old Quarter.
Bia Hoi Junction
Bia Hoi Junction is located at the corner of Ta Hien and Luong Ngoc Quyen streets. It's about 5 minutes walk north of Hoan Kiem Lake. A must-visit area for any first-time visitor to Hanoi and widely regarded as the quintessential nightlife spot in the city. It's a bustling area by day or by night where you'll find hoards of locals and expats spilling out of the numerous bars onto the pavements, and sitting back on the ubiquitous plastic stools. It's a great spot to enjoy the local bia hoi Vietnamese draft beer (when in Rome!). Walk north up lively Ta Hien street and you'll find even more bars, pubs and the odd club open to the early hours.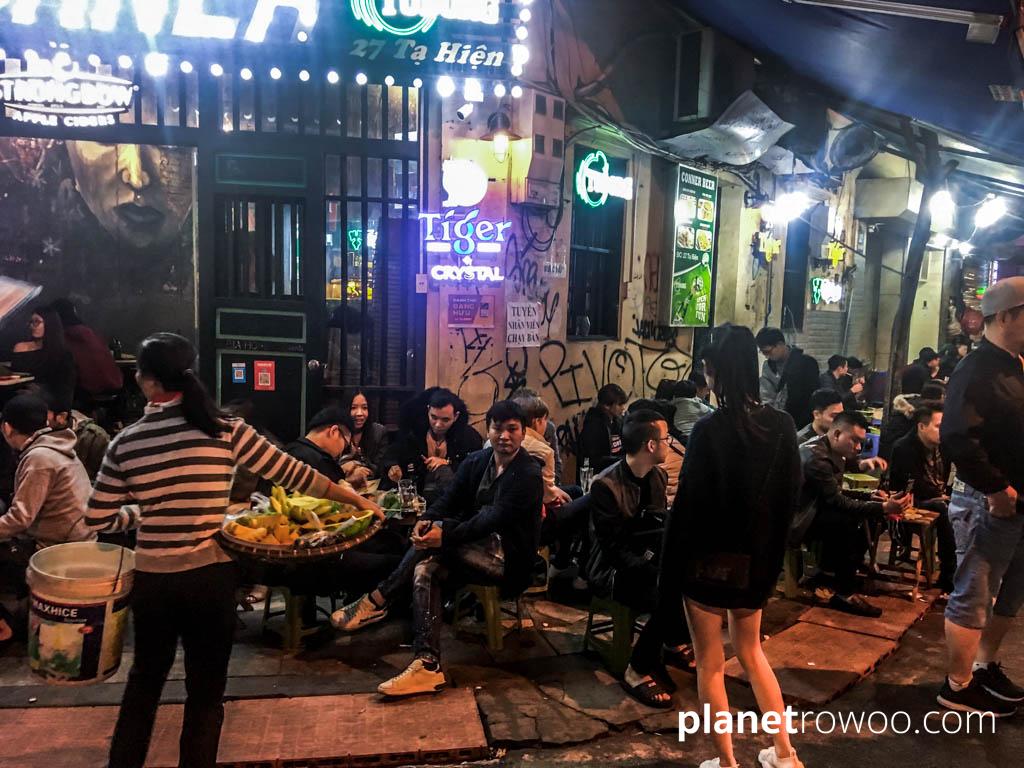 The slightly frenetic atmosphere of Bia Hoi Junction might not be for everyone. But it was certainly my favourite nighttime spot during my short stay in Hanoi and a memorable snapshot of Hanoi nightlife.
Rooftop Bars
Offering a whole new viewpoint of Hanoi Old Quarter and an escape from the commotion below, a rooftop bar is a great place to head to as the sun goes down and into the night. They also offer a more refined experience than you'll encounter at Bia Hoi Junction.
Twilight Sky Bar (La Siesta Central Hotel)
Situated just beyond the north-east corner of Hoan Kiem Lake, Twilight Sky Bar is a chic and sophisticated rooftop bar, located on top of the Hanoi La Siesta Central Hotel & Spa. It's eight floors up with a fantastic 270-degree view of the city's skyline as well as a fine vista over the lake.
Legend Beer
Not quite a 'rooftop' bar, Legend Beer occupies the 2nd floor of the Ho Guom Plaza ("Shark Jaws" building) with an open-air terrace overlooking the crazy busy Dong Kinh Nghia Thuc Square and with views over Hoan Kiem Lake too. It's a German-style bar/restaurant but with Thai and western dishes too. They also brew their own beer. But the highlight is observing the madness in the square below, as pedestrians try to negotiate the crisscrossing traffic.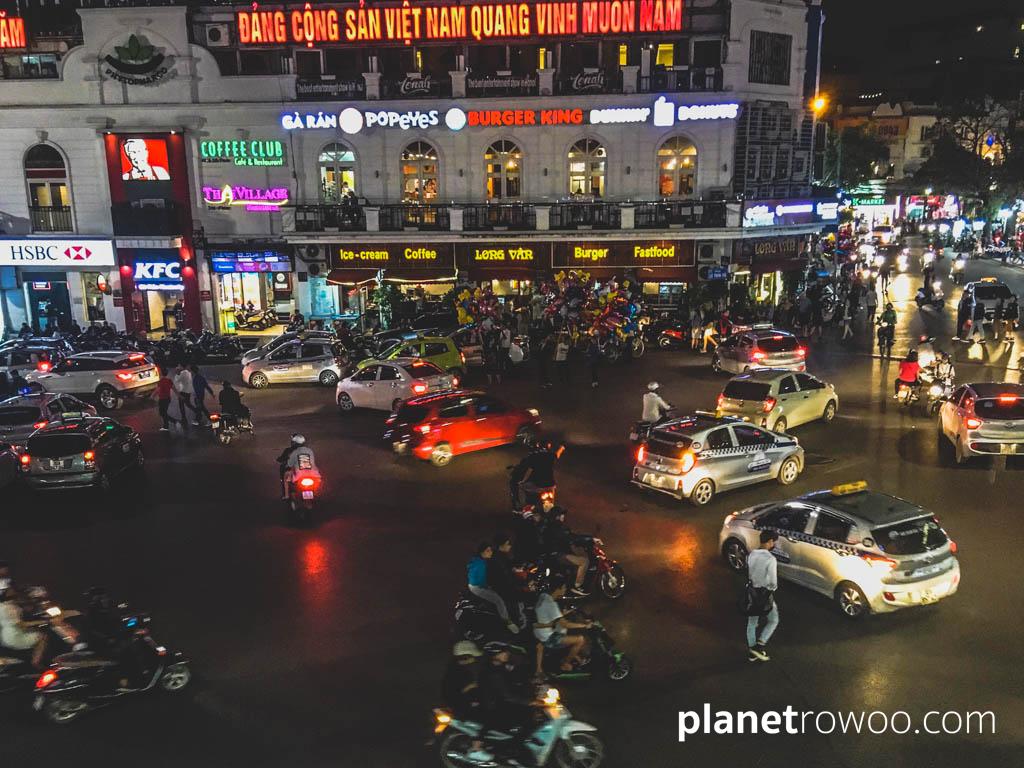 Rooftop Bar & Coffee (JM Marvel Hotel)
Situated right in the heart of the Hanoi Old Quarter, Rooftop Bar & Coffee is on the 9th floor of JM Marvel Hotel & Spa. With fine views over the rooftops of the Old Quarter and the hectic streets below, it's a relaxing spot to end a long day in Hanoi with a cold beer or cocktail in hand.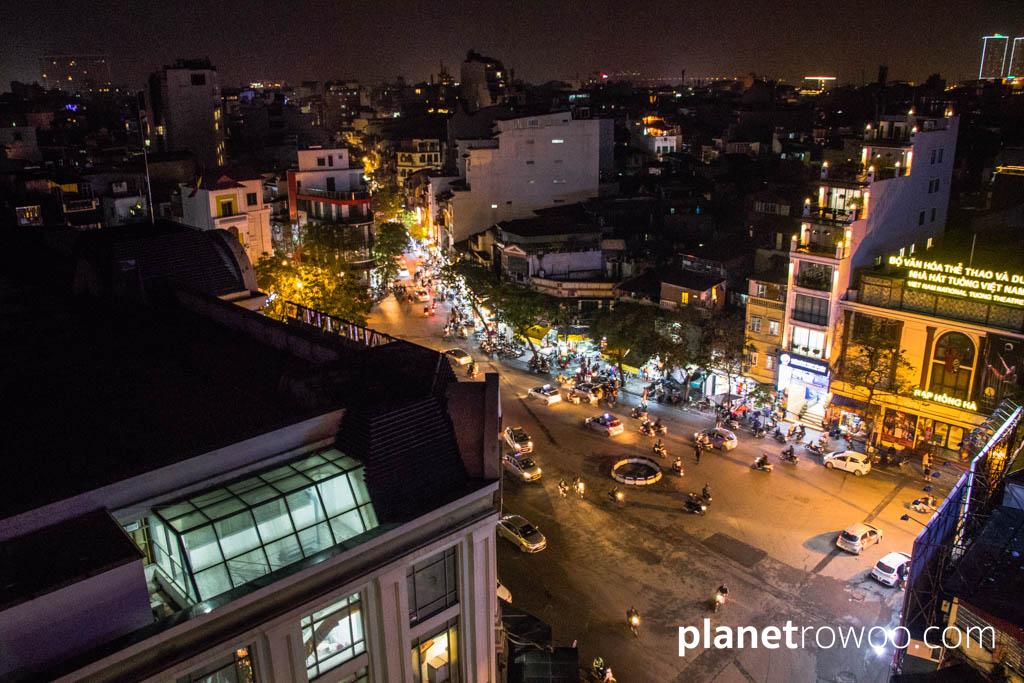 Galleries
[envira-album id="13447″]
My View of Hanoi and the Old Quarter
It had been almost 20 years since I last visited Hanoi. Back then Hanoi was seen as a peaceful retreat – somewhere you'd go to escape the frantic pace of Saigon (Ho Chi Minh City) in the south. Now it's very different. Hanoi today is fast-paced, and full of energy. Stepping out onto the streets of the city for the first time can be a bit of a culture shock. Three million motorcycles weaving in and around pushbikes, pedestrians and other traffic. It's very much how I remembered Saigon to be.
But I still love it. Hanoi today, and particular the Old Quarter, is full of life and character, and has an undeniable flavour of Asia. A city where old meets new and Eastern and Western influences converge. Just be prepared for the craziness.
Something in the Air?
My hope of escaping the Chiang Mai smog for a few days, however, was somewhat short-lived. I arrived to a very hazy (and wet) Hanoi.
Burning season in Chiang Mai, when farmers in northern Thailand burn their fields at the beginning of the year to prepare their land for the following year, means that the air quality suffers in Chiang Mai for a number of months. Many people choose this time to escape the city for a while.
Unfortunately for me, during my 3-day trip, it seems that the air quality in Chiang Mai improved to "Moderate" whereas the air in Hanoi was "Unhealthy"!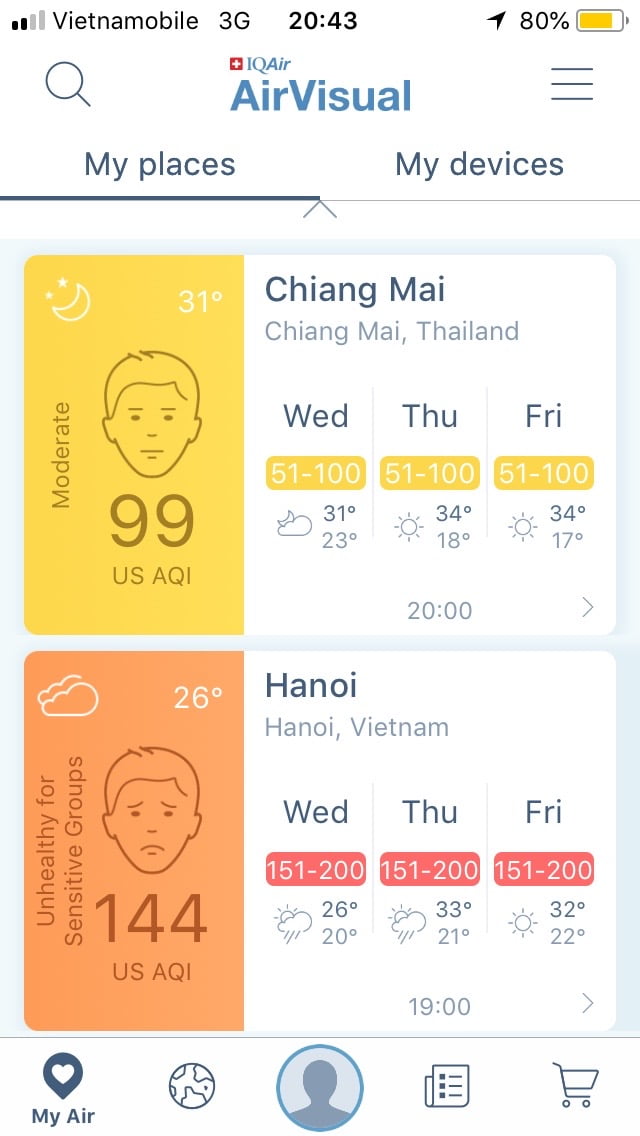 Just bad luck I guess. Or maybe something to do with those 3 million motorcycles!
---
Top image: A typical street in Hanoi Old Quarter