Hanoi Trendy Hotel & Spa
Hanoi Trendy Hotel & Spa is a charming 3-star boutique hotel in the heart of Hanoi's Old Quarter. The hotel is part of the JM Marvel and Marvellous Hotels Group who own a number of hotels in Hanoi.
I stayed here for three nights during a visa-run from Chiang Mai. I hadn't visited Hanoi and Vietnam for more than 15 years and I was looking for an affordable and convenient place to stay that I could use as a base to explore and become reacquainted with the country's capital.
So here's what I thought of the hotel.
Location
Hanoi Trendy Hotel & Spa boasts a great location right in the thick of things in Hoan Kiem District and is just a 30-minute drive from Noi Bai International airport. Step outside its glass-fronted entrance and you're immediately caught up in the hustle and bustle of the Old Quarter. It's a great base from which to explore this popular area. It's also just a 10-minute walk away from peaceful Hoan Kiem lake.
See my blog Things To Do In Hanoi Old Quarter for more on the area, or take a look at What's Around below for some nearby highlights.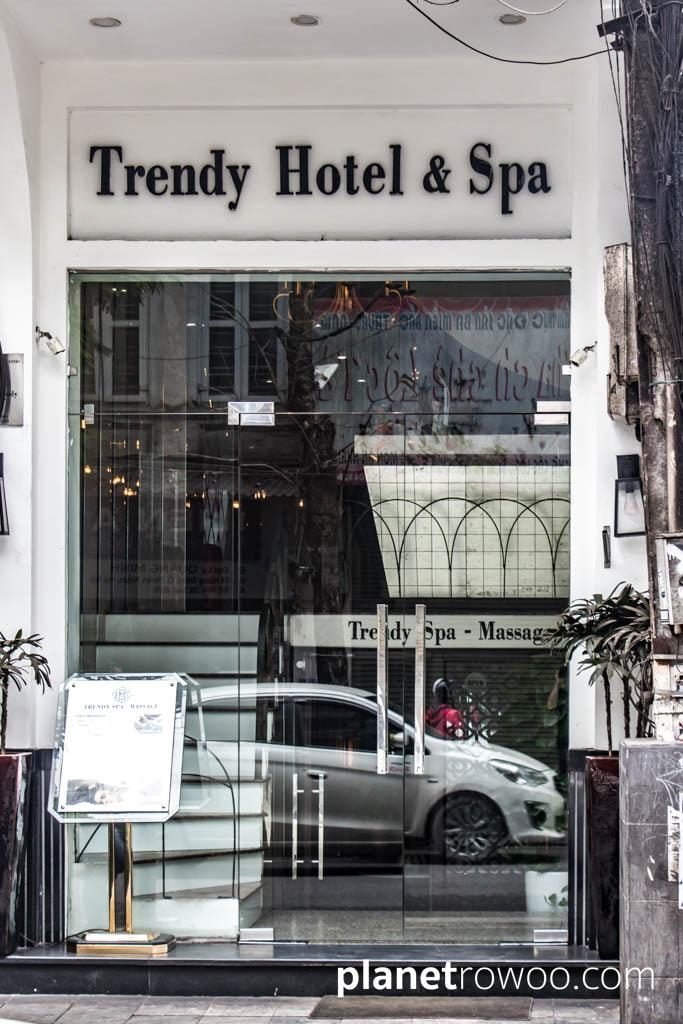 Accommodation
The hotel has a variety of room types available ranging from basic ("Cozy") double or twin-bedded rooms to honeymoon bedrooms and family suites. Some have balconies too. There are 25 rooms in total over 9 floors. The hotel is a great example of the traditional Hanoi tunnel (or tube) houses. Its narrow frontage means you can almost miss the entrance as you walk by. But the property extends a long way back and is almost 10 storeys high.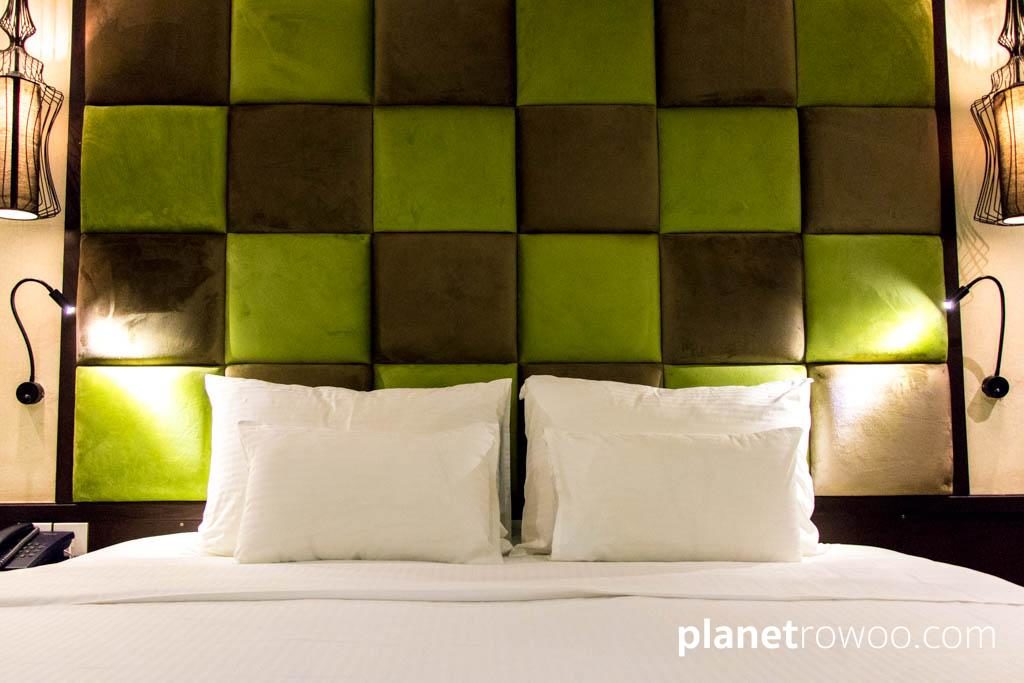 I stayed in a Deluxe Cozy Double Room on the 3rd floor. These are the hotel's cheapest room type and their big downside is they have no windows. This was fine for me though as I wasn't spending much time in my room during my short stay. But if I were staying longer, I would definitely opt for a city view room or one with a balcony.
The rooms are comfortable and tastefully decorated with a small sofa, mini-bar, tea and coffee making facilities and electronic safe. My large queen size bed was extremely comfortable with good quality bedding. There's also a flat-screen TV with a good variety of English language cable channels. The bathroom was small but clean with rain shower and plenty of hot water.
Gallery
[envira-album id="14116″]
Dining at Hanoi Trendy Hotel & Spa
Breakfast is served in a small area just beyond the lobby. There are only a few tables but I never had an issue finding a seat during my stay. The breakfast buffet has a small but good selection with further choices available to order such as eggs how you like them, noodles, french toast and pancakes. A nice touch was having a personalised message written around the edge of your plate each morning. Just a small thing really, but it helps put a smile on your face and gets your day off to a good start!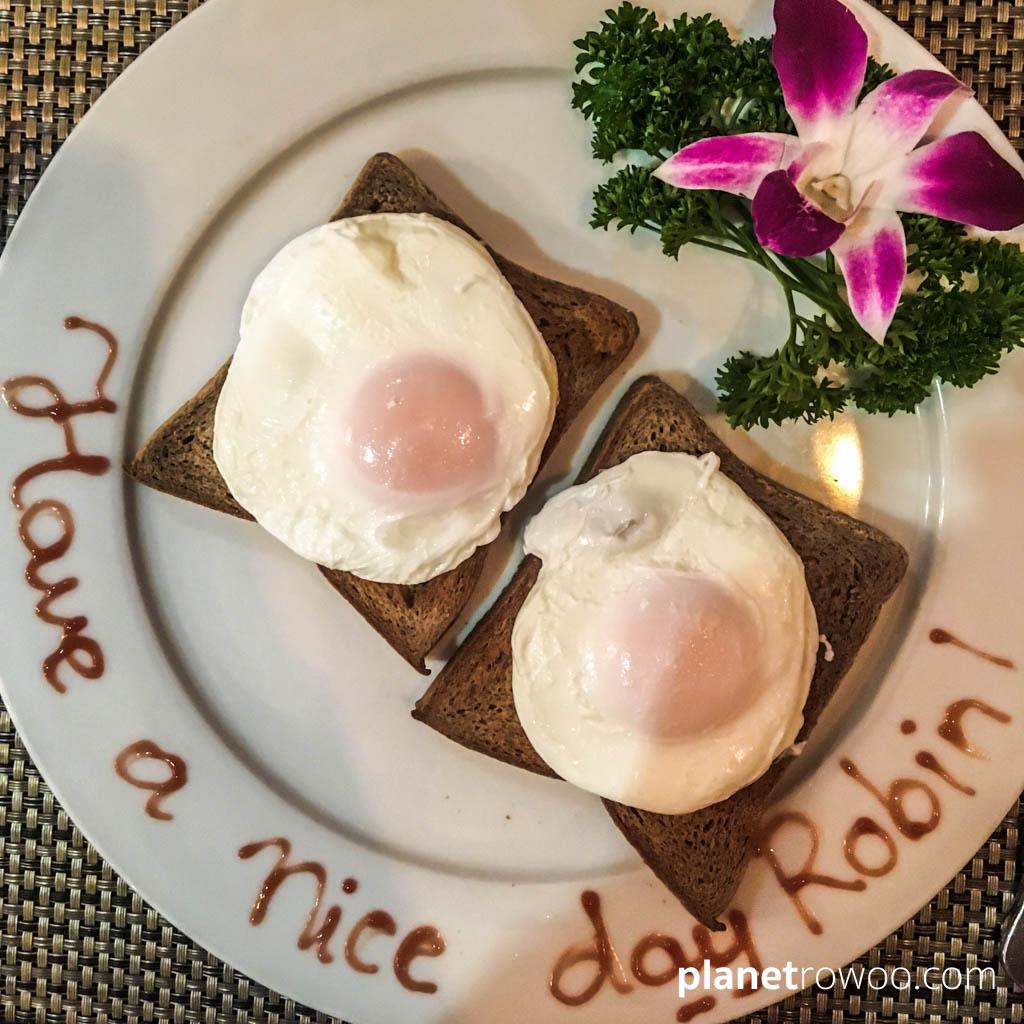 The hotel doesn't have a restaurant as such. So for lunch and dinner they promote the restaurant at their sister hotel. Mâm Cơm Việt Restaurant is on the 8th and 9th floor of the JM Marvel Hotel which is just a 2-minute walk away. There's also a rooftop bar on the 9th floor with a great city view. If you booked your accommodation through the hotel it's likely that you'll get a voucher or discount for a meal at the JM Marvel restaurant and/or drink in the rooftop bar.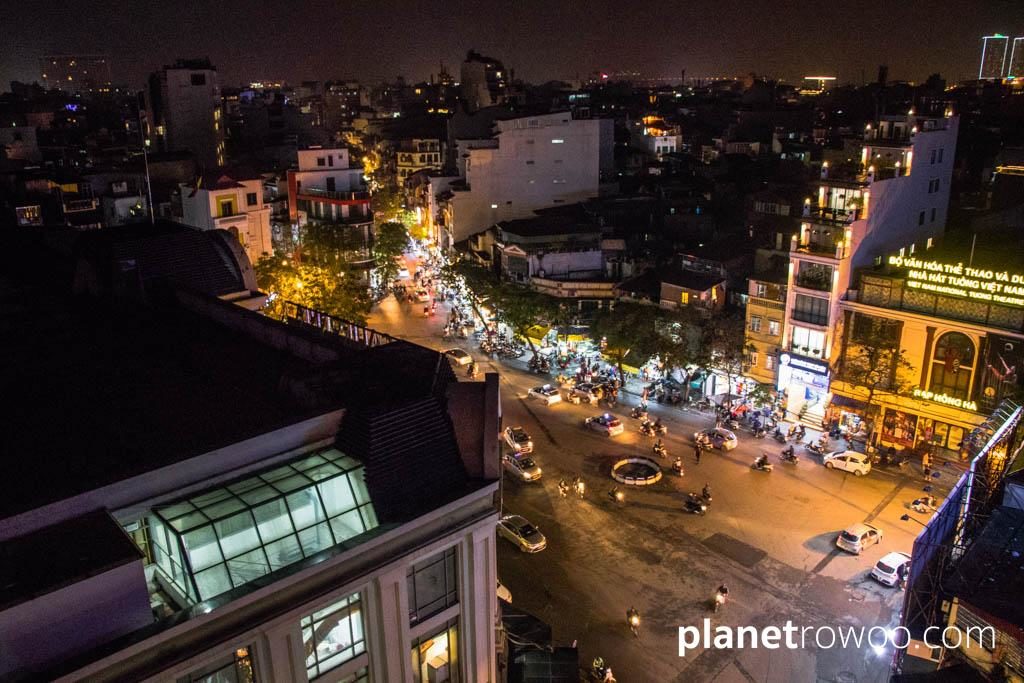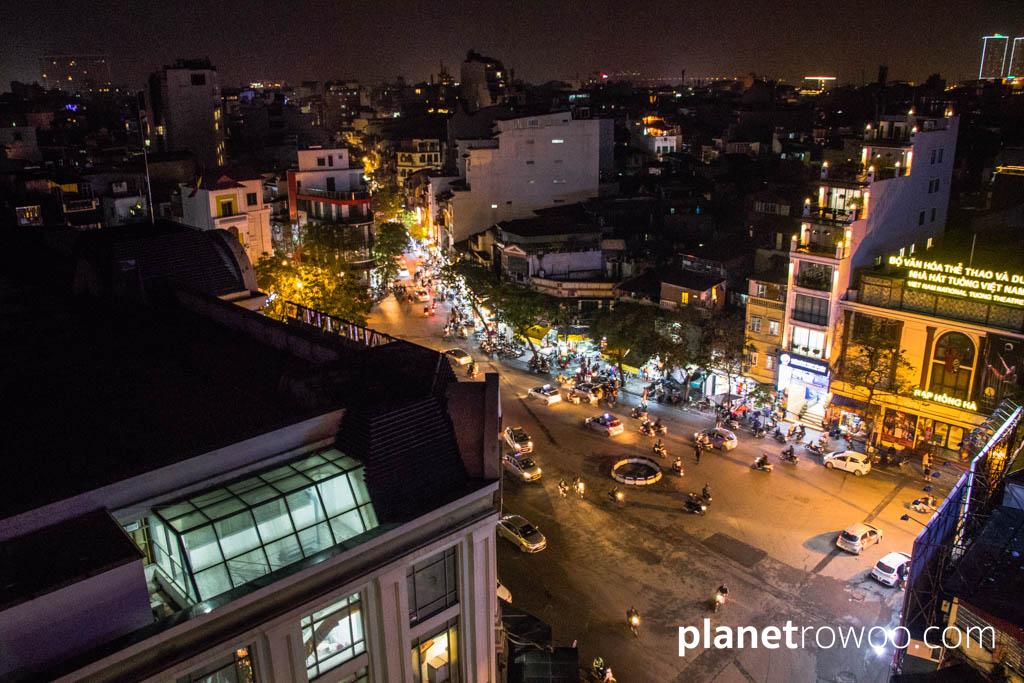 Facilities & Services
The hotel's Trendy Spa is located downstairs beneath the lobby. They provide a range of treatments from foot and body massages to facials, manicures and waxing. I didn't try the spa myself but online reviews indicate it's pretty good. Prices start from 300,000 VND (around 10 GBP). It's open daily from 10:30 to 22:00.
The service at the hotel is exceptional and the friendly staff are very happy to help you with your car, bicycle or motorcycle rental needs, or arrange tours and tickets for concerts etc. One of the most popular tours is a trip to Halong Bay where you can spend a night or more on a luxury cruiser in the emerald waters of this world heritage site while exploring the limestone pillars and islets of the bay. It's something I've always wanted to do but sadly didn't get around to it on this visit. Packages which combine a stay at the hotel with overnight stays on a cruiser at Halong Bay are available to book in advance on the hotel's website.
What's Around?
Hanoi Trendy Hotel & Spa is in a superb location in Hanoi's bustling Old Quarter. There's plenty to see and do and there are some great drinking and dining options nearby too. Here are just a few of the favourite spots I visited, all within walking distance of the hotel…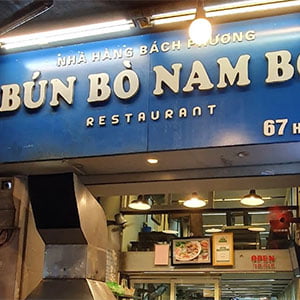 Bun Bo Nam Bo Restaurant
Bun Bo Nam Bo is a simple restaurant, with rows of communal metal tables, literally right next door to the hotel. They specialise in beef noodle salad (Bun Bo Nam Bo translates as 'beef noodles from the south') and is a must-try dish. The noodles are excellent and at only 60,000 VND (around 2 GBP) great value too. And you can wash them down with a local beer for only 20,000 VND (around 0.70 GBP).
---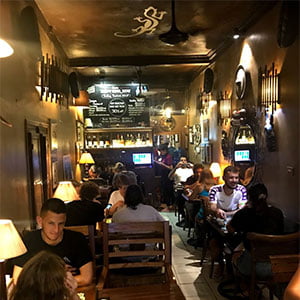 Gecko Restaurant
Gecko Restaurant is just 5-minutes walk north from the hotel on Hang Bo street. Open for breakfast, lunch and dinner they have a great menu of Vietnamese and international options with friendly service. Local beers are 30,000 VND (~ 1 GBP) but you get 2 for 1 on Tiger (35,000 VND) during happy hour (which seems to be all day!).
---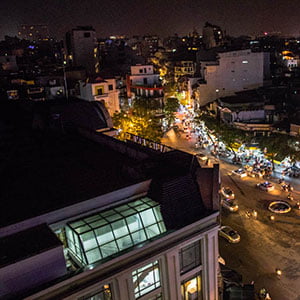 JM Marvel Hotel & Spa – Rooftop Bar & Coffee
JM Marvel Hotel & Spa is one of Hanoi Trendy Hotel's sister properties. It's just a couple of minutes walk away on Hang Da street. On the top floor is Rooftop Bar & Coffee with fine views over the rooftops of the Old Quarter and the hectic streets below. It's a relaxing spot to end a long day in Hanoi with a cold beer or cocktail in hand. Definitely worth a visit, especially if you have a voucher from the hotel.
---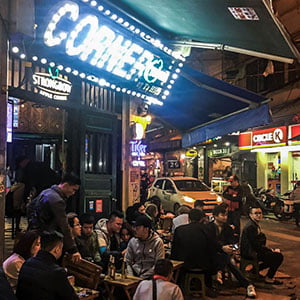 Bia Hoi Junction / Ta Hien Corner
Bia Hoi Junction (or Ta Hien Corner) is a must-visit area for any first-time visitor to Hanoi and widely regarded as the ultimate nightlife spot in the city. It's a bustling area by day or by night where you'll find hoards of locals as well as expats spilling out of the numerous bars onto the pavements. Walk north up lively Ta Hien street and you'll find even more bars, pubs and the odd club open to the early hours. The slightly frenetic atmosphere might not be for everyone though. It's a 10-minute walk north-east from the hotel.
---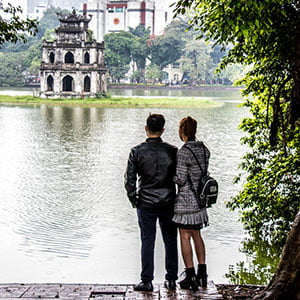 Hoan Kiem Lake
Hoan Kiem Lake is a calm and refreshing contrast to the noisy and frenzied streets of the Old Quarter. Locals take advantage of the lake's serenity, visiting at dawn to practice their yoga and Tai Chi. At dusk, the lake lights up and shimmers into life. But it's a pleasant spot at any time of the day. Offering a peaceful escape amid the trees and shade of the lake's shoreline. It's just a 10-minute walk east from the hotel.
---
My Travel/Stay Details
| | |
| --- | --- |
| Chiang Mai to Hanoi return flight with AirAsia. 90 min flight time | 160 GBP |
| Airport transfer by hotel. Around 30 min drive | 20.8 USD each way with 40% discount on pickup |
| Deluxe Cozy Double Room, Breakfast included (booked direct with hotel) | 3 nights for 141.60 USD |
| | |
My View of Hanoi Trendy Hotel & Spa
Hanoi Trendy Hotel & Spa is a great value mid-range hotel in the heart of the Old Quarter. Its location makes it perfect for exploring this vibrant district with its labyrinth of streets and alleys.
The rooms are comfortable and clean and at less than 50 USD per night the Deluxe Cosy Double/Twin rooms represent great value. If I stayed again though I would definitely choose a room type with an exterior window or balcony.
But what makes this hotel stand out is the staff. I've rarely stayed in a hotel where the staff have been so friendly and accommodating. You'd be hard pushed to find service like this in a 5-star hotel at several times the cost. From my initial booking, to the welcome on arrival, to their assistance with a problem I had with my room safe, their service was faultless. Whatever hospitality training they have – it certainly works; the staff are a credit to the hotel and seem like they genuinely want to make your stay as pleasant as possible. I would absolutely return for their service alone.
---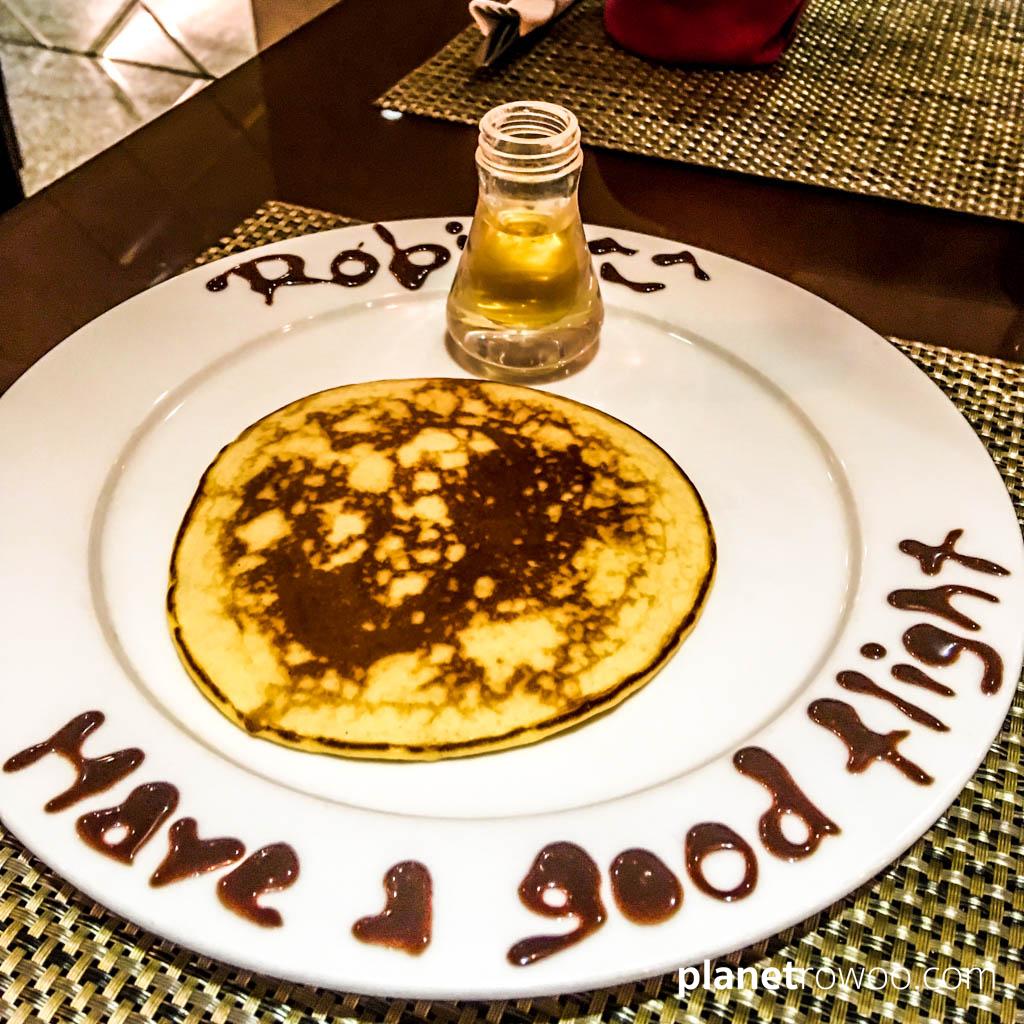 ---
Top image: My Deluxe Cozy Double Room at Hanoi Trendy Hotel & Spa