The Anantara Bophut
Life is a Journey
This was to be my first stay in an Anantara hotel. A luxury hotel chain that started back in 2001 with a single property in Hua Hin in Thailand. Anantara have since expanded their luxury experience throughout the world.
Their adage is Life is a Journey. They believe "Life is filled with opportunities to seek the exceptional, encounter the new and widen our horizons". I was keen to experience their hospitality, and also hoping to 'widen my horizons' on this the next stage of my own journey, at the Anantara Bophut.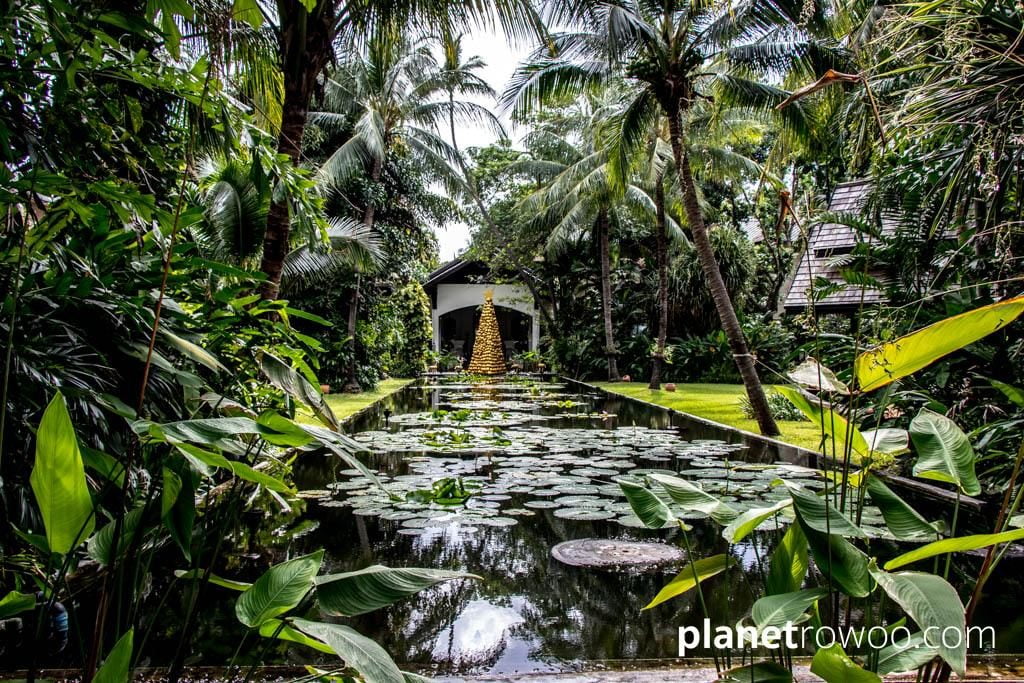 Location
The resort is located right on the beach, at the western end of Bophut, on the northern coast of Koh Samui overlooking Ko Phangan. It's just a 15-minute drive from the island's airport.
Bophut has become a popular holiday destination in Koh Samui but still remains quieter than other resorts on the island like bustling Chaweng and Lamai. Known for its long sandy beach, relaxed atmosphere and huge variety of restaurants and bars. The Anantara Bophut is in an excellent spot, just a few minutes walk from the quaint Fisherman's Village with its night market and walking street.
You can read more about Bophut in my previous post.
Arrival
On arrival at the resort as you step into the luxurious open lobby, you're greeted by the sound of a large drum. It makes for a unique entrance and conjures up an image of bygone days. It makes you feel quite special. The special welcome continues as you're offered a seat in the opulent lobby and presented with a welcome drink and much needed cold towel. It makes for a great first impression of the hotel.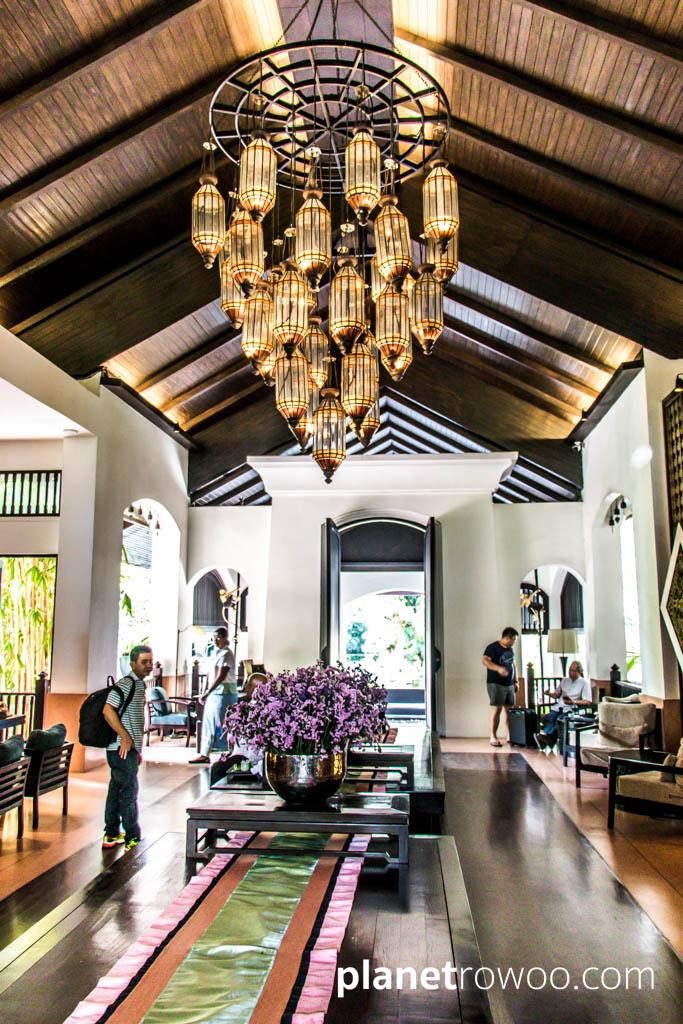 Unfortunately, this first impression was spoilt for me when a hotel representative approached me and started to explain about the Anantara Vacation Club. He asked if I would like to attend a special preview presentation during my stay (lasting up to 2 hours!). I was a little confused at first as I didn't want to commit to anything financially. But there was no obligation I was assured. I wasn't particularly interested in spending 2 hours in a presentation during my holiday, but I felt obliged to say yes. I was then offered a form to complete. But while completing the form it soon became evident that I didn't meet the income requirement for membership. An embarrassing few moments then followed as I tried to explain my situation. Once understood, the representative apologised, and I was finally shown to my room.
Arriving at my room my feathers felt a bit ruffled. I wasn't expecting a sales pitch at the start of my holiday and felt this was a very unnecessary and obtrusive sales technique from the Anantara. A better practice would just be to leave the details in my room amongst the other information leaflets (there were plenty spread on the bed) so I could peruse at my leisure.
Accommodation at the Anantara Bophut
The Anantara has a variety of accommodation available depending on your tastes, family size and budget. At the low end, there are Premier and Deluxe rooms with garden or sea view. Then there are the larger suites, again with garden or sea view, plus the ultimate Beachfront Pool Suite. There's also the One Bed Pool Villas with 150 sqm of floor space, ideal for longer stays, with a fully equipped kitchen and laundry facilities.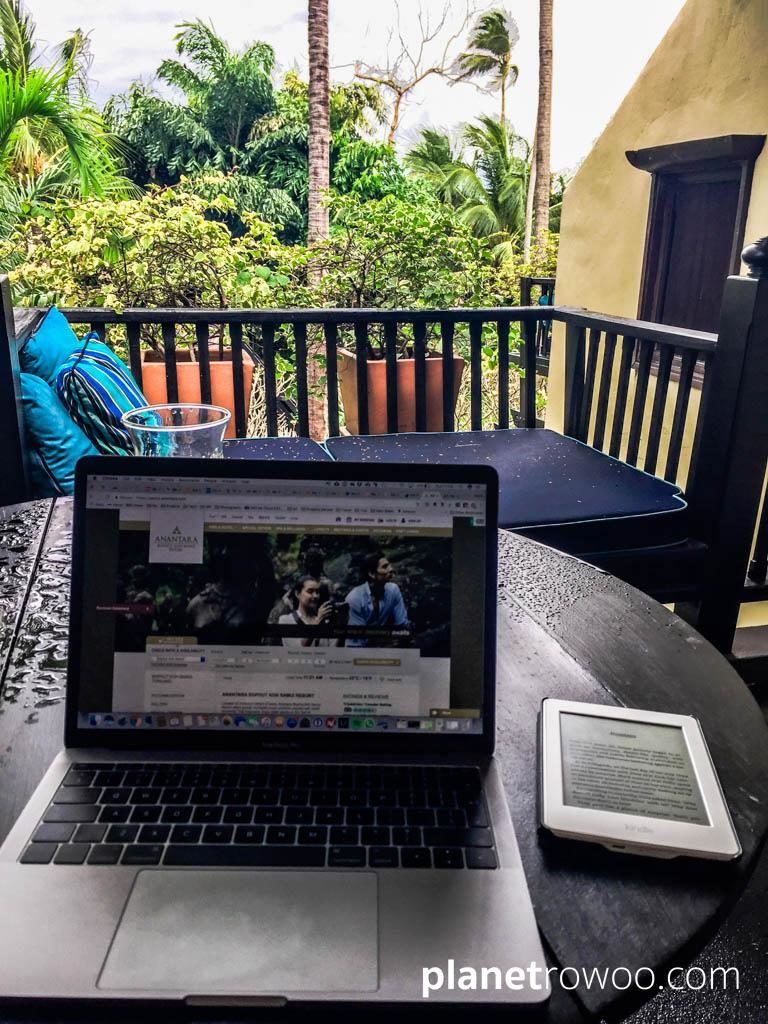 I stayed in a Premier Garden View room on the top floor of the resort. A very pleasant room, solid and stylishly furnished, with 32 sqm of space. Plenty big enough for two people for a few days (in fact I've lived in smaller condos!). The room has a very good-sized balcony with comfy seating and lovely views over the tropical gardens. My balcony felt very secluded and private, and was only overlooked if someone made an effort to peek!
The bathrooms are finished to a modern standard with rain shower and a sliding screen for privacy (but keep it open for a view out to your balcony and the gardens beyond while you shower!).
Unfortunately, a memory card issue meant that I don't have any decent photos of my room at the Anantara. But here's a great 360 Virtual Tour on the hotel's website.
Grounds
Through the centre of the resort are the beautifully landscaped lush tropical gardens of the Anantara. To get to the beach, pool or lobby I had to pass through this jungle-y tropical eden every day. But you don't have to just pass through. There are a number of Salas where you can chill and relax in the sultry surroundings.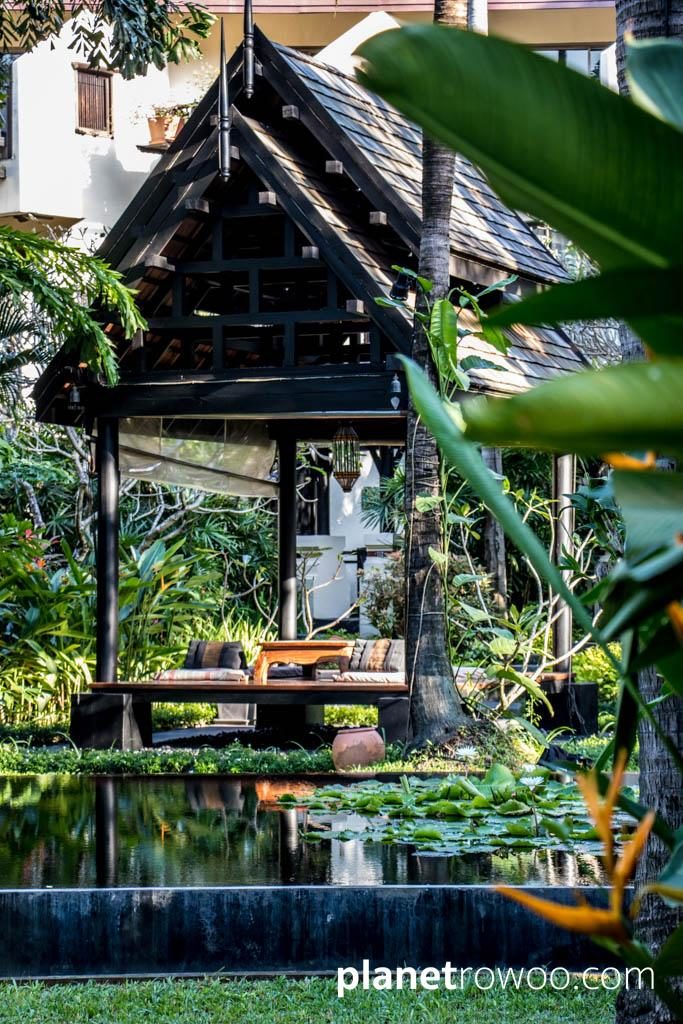 Each evening at sunset, a procession of musicians beating drums and cymbals pass through the gardens as part of a torch lighting ceremony. This is a lovely touch and creates a great ambience in the evening.
At the northern end of the gardens is the gorgeous infinity pool. Surrounded by monkey gargoyles spewing water, the pool overlooks Bophut beach at one end and has a swim-up bar at the other. There are a good number of quite closely grouped sun loungers on either side of the pool.
Beyond the pool is the beach. It's a public beach, but the resort has a private area reserved for guests only directly in front of the property. Here there are more sun loungers, or bean bags if you prefer, but note the bean bags have no umbrellas for shade from the sun. Many guests will occupy both so they can dip in and out of the shade of the lounger and sun of the bean bag.
Getting Festive
During my stay in December, staff at the hotel built a Christmas tree in the grounds from coconut's sprayed with gold paint. A very festive gesture and a nice touch that it was built from natural material. The tree took pride of place at one end of the lily pond that stretches the length of the gardens, near the decorated Elephant Parade statue. I believe the Anantara has a special partnership with Elephant Parade – a social enterprise that aims to raise awareness for the need for elephant conservation. You'll find these decorated elephants all over Thailand, and indeed throughout the world (they're even in the UK!). It's a very worthy cause.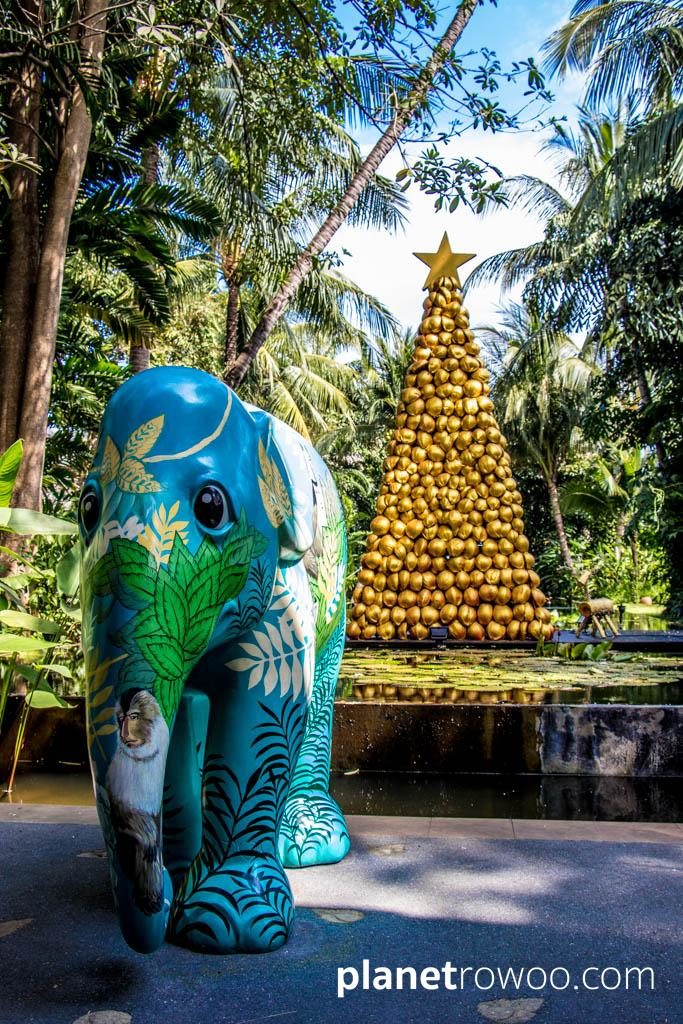 Dining at the Anantara Bophut
There are three main restaurants at the Anantara Bophut. You can also get snacks at the resort's pool/beach bar.
---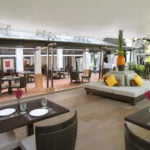 High Tide
Breakfast is served in High Tide, situated right by the lobby. Choose to sit inside in aircon bliss or in the adjacent open-sided conservatory area. There's a great buffet with a huge choice including tropical fruits and freshly baked breads and pastries. And an egg station where you can order eggs any way you like. A range of Asian dishes are also available. The restaurant is also open for dinner in the evening with an a la carte menu.
---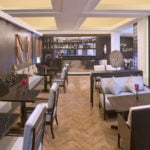 Eclipse Thai Bistro & Bar
The Eclipse Thai Bistro & Bar is open for lunch and dinner. Also by the lobby (opposite High Tide), you can dine on Thai favourites or enjoy a selection of Western dishes in a chic lounge style.
---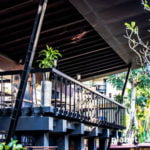 Full Moon
The Full Moon is Anantara Bophut's flagship restaurant. It's in a lovely setting amidst the tropical gardens overlooking the infinity pool and ocean. The restaurant is a two-storey structure perched on stilts above water… I was quite taken with the architecture, as you'll see from my gallery. Beneath are the pool bar and kitchen, while the main dining area is upstairs in the open-sided terrace. At night it's dimly lit and has an intimate feel, where the only sounds that you can hear are those of the cicadas and frogs. It makes for an exotically romantic venue. But the food is the main star and it's a popular destination for food connoisseurs. With locally sourced ingredients prepared with an Asian twist. I ate here once and the food and ambience were both excellent.
---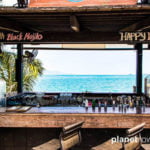 Ocean's Edge
The Ocean's Edge bar is set between the pool and beach. It serves drinks and snacks from around 11am until late. Perch yourself on a bar stool or grab a seat overlooking the beach. It's a great spot to take in the sunset over Ko Phangan during happy hour.
---
Bottled water at the pool & beach: This is something I was quite disappointed with at the Anantara Bophut. High-end hotels of Anantara's standard will often offer complimentary water to guests around their pool and beach areas. Unfortunately the Anantara charge 100 baht (around 2.30 GBP) plus service and taxes for a small bottle (500ml). Most restaurants will charge around 15-20 baht, and you can get a small bottle for just 6 baht in a supermarket. So not only is it not complimentary at the Anantara, it is extortionately priced. What made this worse, was during happy hour bottled water was not included in the 2 for 1, whereas every alcoholic drink was. This is nonsense and just a way to extract money from guests. Poor show Anantara. I hope you can look into improving on this.
---
The Anantara Bophut Spa
The Spa at the Anantara Bophut is one of the most beautifully designed spas I've ever been to. It's a stunningly serene retreat designed by award-winning hotel architect Bill Bensley.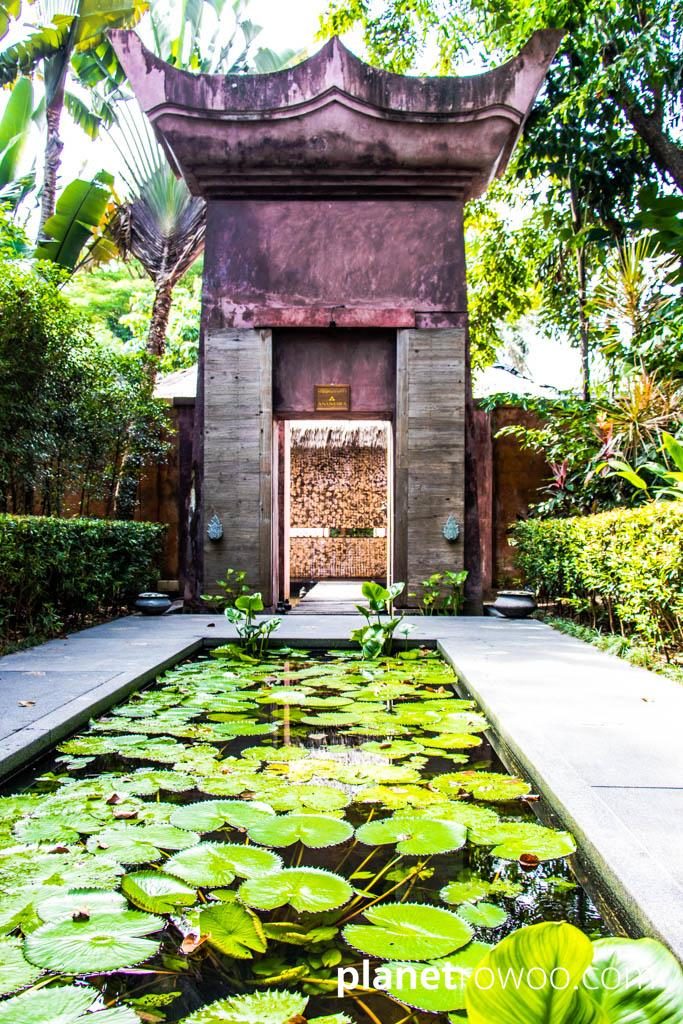 Hidden behind the temple-like towering entrance is a calming reception area surrounded by lotus ponds. It's a tranquil island oasis which immediately relaxes you into a state of peace and calm. Then beyond reception, where your treatment awaits, you'll find six glass-walled treatment pavilions set in a lush tropical courtyard garden. The setting is magical.
The Spa has an extensive menu of treatments to choose from. Prices are commensurate with the standard of hotel and start at around 2,000 baht (around 50 GBP) for a massage.
My massage at the Spa was certainly a highlight of my stay at the Anantara and I would definitely recommend a visit. You won't be disappointed.
Service
The service at Anantara is in line with the resort's high standards – it's excellent. In particular, at breakfast one morning a member of the management team came to talk with me. I mentioned I was feeling a little under the weather, I'd been suffering with a cold for a couple of days, and he kindly arranged to have some complimentary ginger tea sent to my room. He seemed genuinely concerned. It was a very thoughtful and considerate gesture.
Gallery
[envira-album id="5966″]
Travel Details
I stayed for 7 nights in December 2017, paying 106 GBP per night for a Premier Garden View room with Hotels.com
I flew direct from Chiang Mai to Koh Samui with Bangkok Airways
The taxi fare to/from Samui airport was around 400 baht (~ 9.30 GBP) each way
My View of the Anantara Bophut
I'm not sure my horizons were widened, but I had an enjoyable stay at the Anantara Bophut. It's a beautiful hotel, with great service, excellent amenities and occupies a great spot on Bophut beach just a short stroll away from Fisherman's Village. Just a couple of black marks though for the Anantara Vacation Club episode when I arrived, and the extortionate cost of bottled water.
---
Top image: Full Moon Restaurant at the Anantara Bophut
High Tide & Eclipse restaurant images taken from the Anantara Bophut website