Luang Prabang, Laos
Nestled within mountains at the confluence of the Mekong and the Nam Khan rivers, the ancient capital of Luang Prabang in northern Laos is widely regarded as the most charming city in Southeast Asia.
Its incredibly well-preserved fusion of traditional Laos structures and French colonial architecture has led to its designation as a UNESCO World Heritage Site. This delightful blend of traditional Lao wooden houses, royal structures, colonial influence and over 30 Buddhist temples, lend it a sense of timelessness. It's considered by many as the heart of Laotian culture.
I first visited the city in 2002, during my travels around Southeast Asia. I returned in July 2019 to a very wet and rainy Luang Prabang. But it was no less invigorating in the rain, revisiting the ancient temples and stunning architecture of this historic and atmospheric site that lies elegantly on the banks of the mighty Mekong.
The Temples (Wat) of Luang Prabang
The richly decorated temples (or "Wat") of Luang Prabang are among the most sophisticated Buddhist pagodas in Southeast Asia. Their intricate gilding, engravings and paintings reflect the importance to the Laotian people of these sacred structures. You can't help but be affected by their spiritual aura, as you wander these historical sites.
Their architecture is typically Laotian, with ornamental roof elements and huge, multi-tiered roofs flanked with serpent-like Naga images (protecting Buddhists from harm). But there's also a nod towards Thai architecture with their murals and stencilling.
These architectural wonders are not just amazing to look at, they are living, working institutions. The Wat's are home to more than 1,000 novices and monks continuing their ancient Buddhist studies.
With over 30 Wat spread throughout the city, it would take some time to visit them all. So here's a list of just a few of my favourites. All are off the main street within walking distance of each other, and easily visited over an afternoon.
Wat Mai Suwannaphumaham
First stop on my Luang Prabang temple tour is Wat Mai Suwannaphumaham (also simply known as "Wat Mai" or "Wat May"). Wat Mai is located next door to the Royal Palace on Sisavangvong Road where the night market takes place each evening.
A tropical downpour meant that I spent a little longer here than I originally intended. But sheltering beneath the temple veranda allowed me time to truly absorb the atmosphere of this working temple and observe its daily goings-on. Albeit very wet goings-on!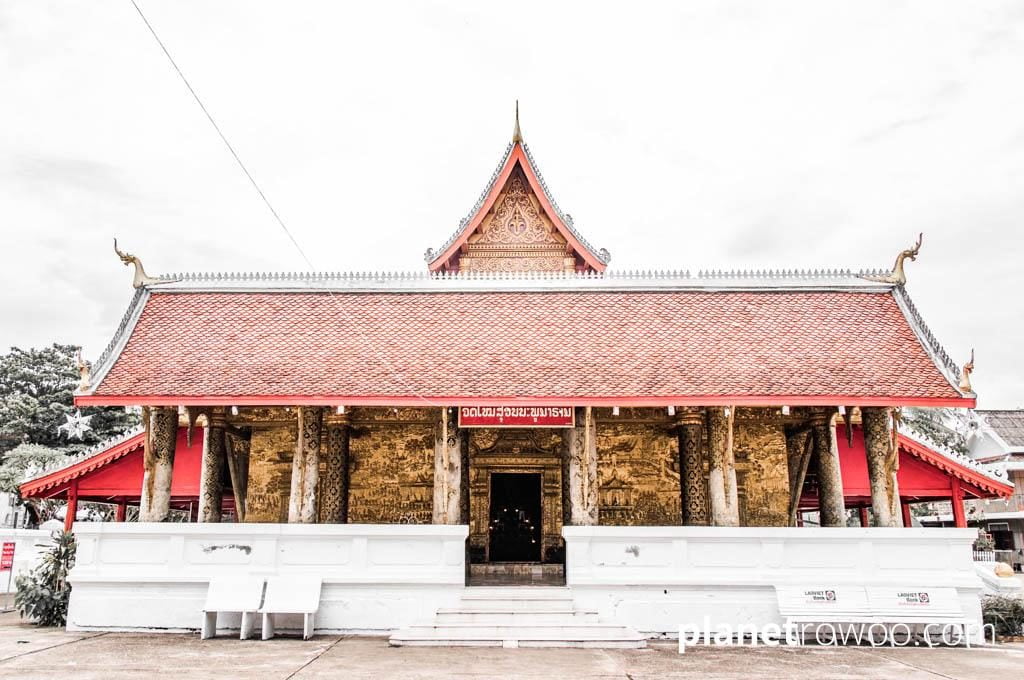 Wat Mai literally means "new temple". It's the largest and most richly decorated of all the temples in Luang Prabang. Built in the 18th century by King Anurat of the Luang Prabang Kingdom, its location right next to the Royal Palace naturally made it the temple frequented by Laos royalty. It is one of the few temples in Luang Prabang that survived the destruction by the invading Black Flag (Chinese) Army in 1887.
The ordination hall or "sim" is Wat Mai's most impressive structure. As you enter the temple grounds from Sisavangvong Road you'll find this on your left. Golden Naga finials adorn its five-tiered roof. And a small but elaborate 3-pronged roof decoration or "Dok so faa" takes centre stage on its highest tier.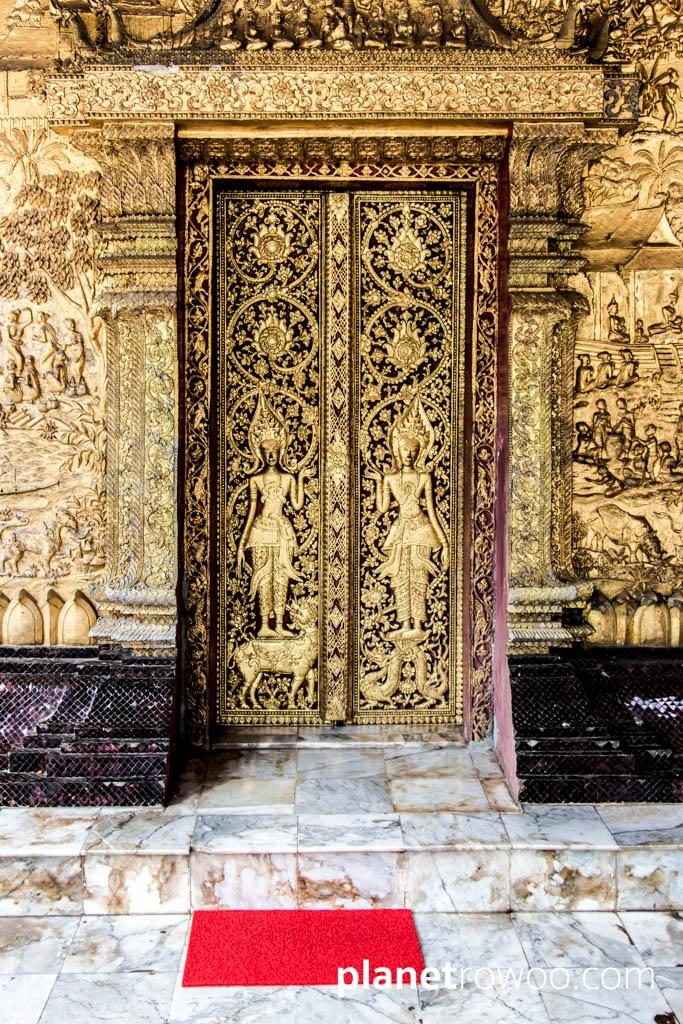 An Impressive Gilded Facade
Within the front veranda, the temple's facade is adorned with beautifully detailed gilded bas reliefs. The reliefs depict scenes from the ancient Ramayana and Jataka religious texts as well as scenes of everyday life in Luang Prabang. The sim's doors are decorated too with intricate gilded carvings of deities and flower motifs. They make for an impressive display and lend the structure a feeling of grandeur.
Inside the sim, within a pillared hall of red, gold and black, a large gilded Buddha image sits in the meditation position. It's surrounded by many smaller Buddha images in various 'mudras'. Amongst the Buddha are also black & white photos of a monk. These are photos of the highest dignitary of Laotian Buddhism, Phra Sangkharat, who resided in the temple at the end of the 19th century.
Various other buildings surround the sim, including a stupa, two small stone chapels and the monk's kuti, or living quarters. There's also the temple library where Buddhist scriptures are kept. I got as much pleasure exploring some of these other structures as I did the main sim, with their red-painted features contrasting against white walls. It was also fascinating to watch the monks go about their daily business. Which on the day I visited largely involved them trying not to get wet in the rain!
WAT MAI SUWANNAPHUMAHAM
Opening hours: 08:00 until 17:00 daily
Entrance fee: 10,000 Kip (~0.90 GBP) per person
Google Maps: https://goo.gl/maps/kmxea9MTJhVRGem99
Wat Chomsi / Phousi Hill
Just a short walk from Wat Mai, opposite the Royal Palace entrance on Sisavangvong Road, are the steps up to the highest point in Luang Prabang. The summit of Phousi Hill (Phou Si means "sacred hill"), or Mount Phousi as it's also known, stands 100 metres high above sea level. Sitting atop the hill is Wat Chomsi, a small golden stupa, and viharn, that dates back to 1804.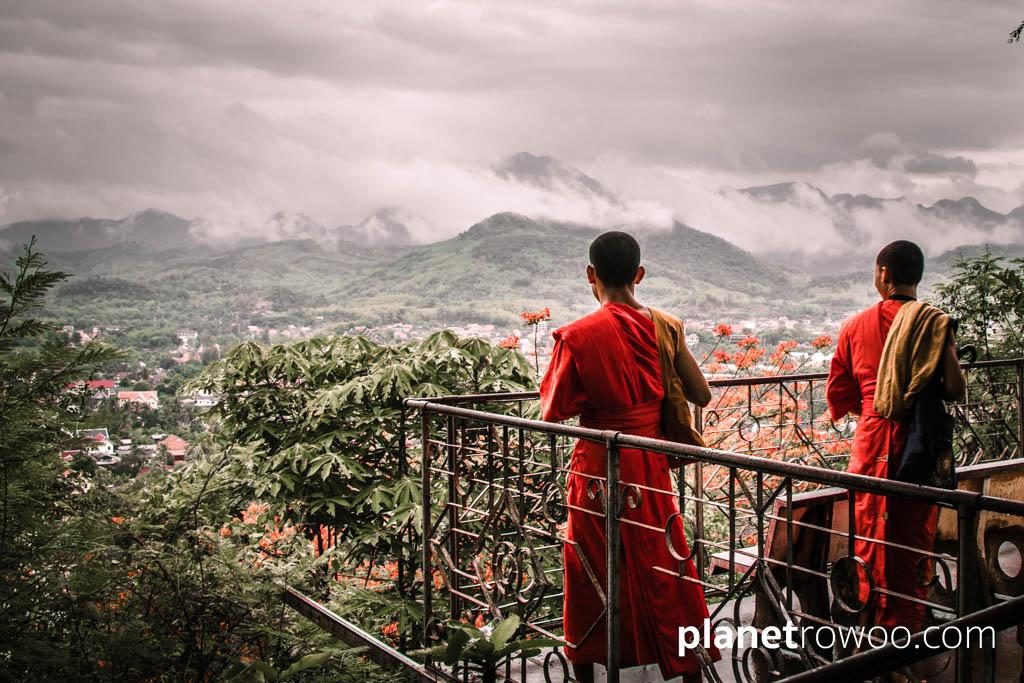 From Sisavangvong Road there are around 320 steps up to the top. It's a gentle climb, with several resting places along the way and a number of viewpoints. A second stairway leads up from Thanon Phousi on the Nam Khan River, with around 350 steps.
It's worth the climb though as the scene afforded from the top is stunning. You're rewarded with a panoramic view across the city, with its many temples, bounded on one side by the Nam Khan River and on the other by the Mekong. Beyond the rivers is a great vista of the Luang Prabang mountain range. It's not surprising it's a popular spot for sunset or sunrise.
When I visited though, there was not much in the way of sunshine. On my way up it was raining. But this eased when I reached the top and I was left with a dramatic view of cloud and mist over the mountains. Shortly afterwards, two novice monks arrived with a digital camera, out to capture their own images of the breathtaking landscape. Their saffron robes lent a dramatic splash of colour against the drabness of the dull day.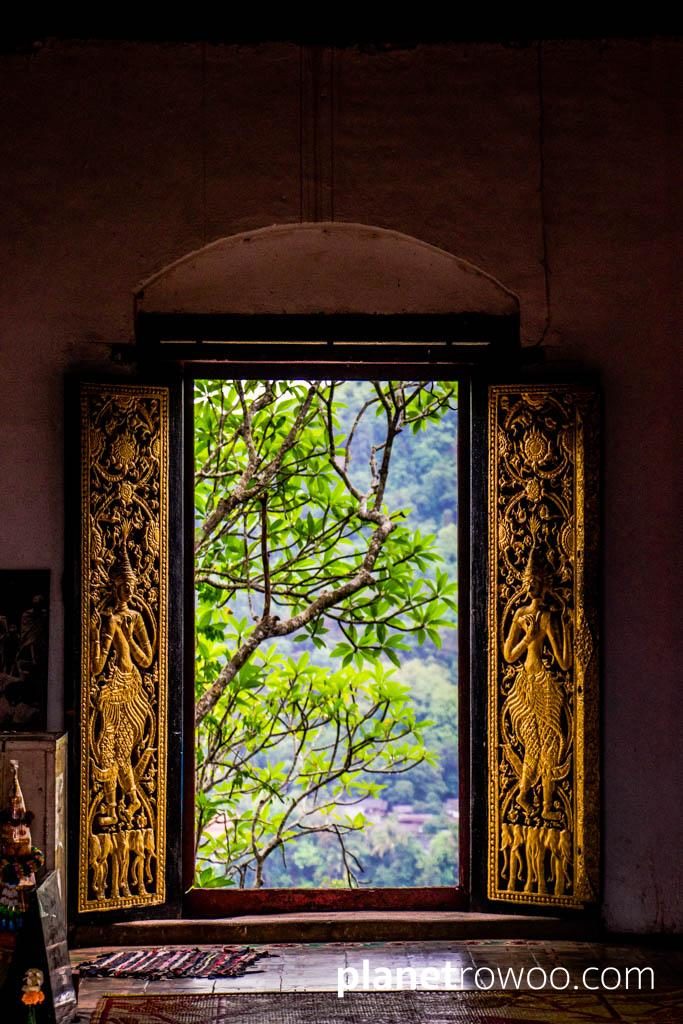 A Golden Glittering Stupa
The Wat Chomsi golden stupa at the summit rests on a three-tiered whitewashed base. It's surrounded and topped by elegant golden parasols. On clear days the stupa can be seen glittering in the sun from much of Luang Prabang. Next to the stupa is a small viharn housing a cluster of seated Buddha images. Phousi Hill is especially sacred to the Lao people. And this hilltop temple plays an important part in active Buddhist life in Luang Prabang.
Along the stairway that leads down to Thanon Phousi, further objects of religious significance can be found. These include a small cave temple called Wat Tham Phousi with a golden Buddha inside. There's also a reclining Buddha, various standing and seated Buddha images, a multi-headed serpent and a footprint of Buddha.
But beyond the sacred significance of the hill and the wonderful views, it's worthwhile pausing for a while on the stairway to admire the beautiful nature. The tamarind trees were in bloom when I visited. Their vivid red blossom forming a wonderful contrast against the dull day. And the fallen blossom, a carpet of red on the steps. Quite beautiful.
WAT CHOMSI / PHOUSI HILL
Opening hours: 06:00 until after sunset daily
Entrance fee: 20,000 Kip (~1.80 GBP) per person
Google Maps: https://goo.gl/maps/MLL3Wivxwg5vLj1x6
Wat Sene Souk Haram
Wat Sene Souk Haram, or simply "Wat Sene", is one of the oldest and most beautiful temples in Luang Prabang. It's just a 10-minute walk away from the Royal Palace, on Sakkaline Road.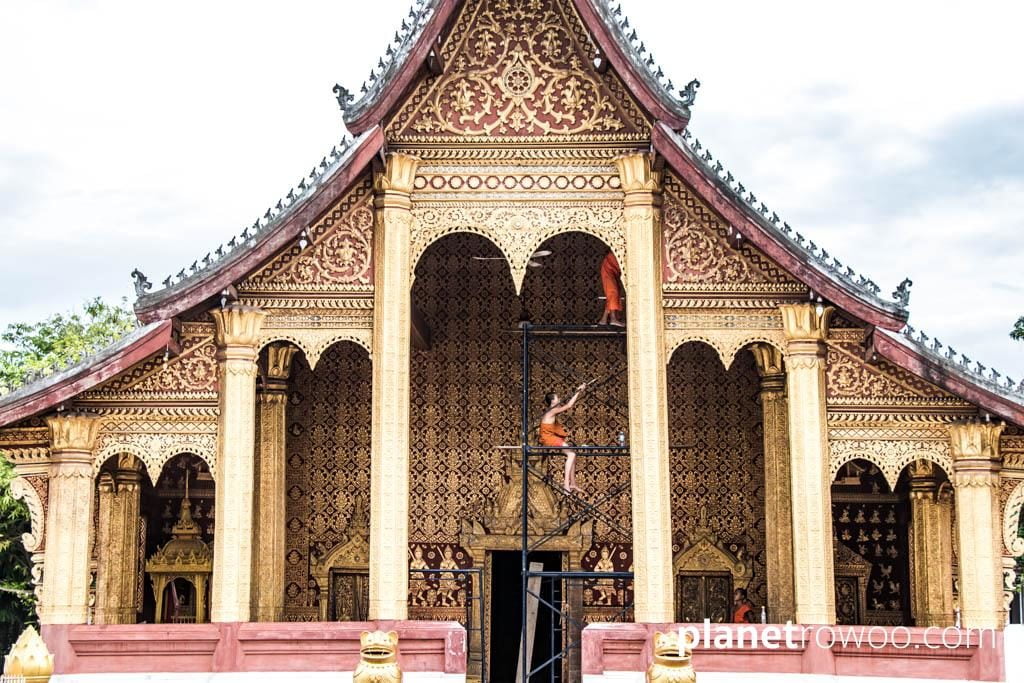 Originally built in 1718 by King Kitsarath from 100,000 stones taken from the Mekong River, Wat Sene Souk Haram literally translates to "Temple of 100,000 Treasures". It is considered a masterpiece of Buddhist architecture and from the front perhaps resembles more a palace than a temple with its three-tiered roof structure and deeply gilded facade, flanked by two gilded guardian tigers.
The temple was restored in the 1930s, then again in 1957 in honour of the 2,500th anniversary of the Buddha's birth. The restored wall paintings are in a rich, deep ochre colour with a glittering sheen of gold. Wat Sene was the first in the district to follow the Thai fashion in having the vihan covered with red and gold tiles. The main building, the drum towers and various subsidiary buildings are also beautifully stencilled in intricate and colourful patterns. There's also a pirogue shelter that houses two beautiful pirogues (traditional long narrow boats), used during the pirogue races in August or September.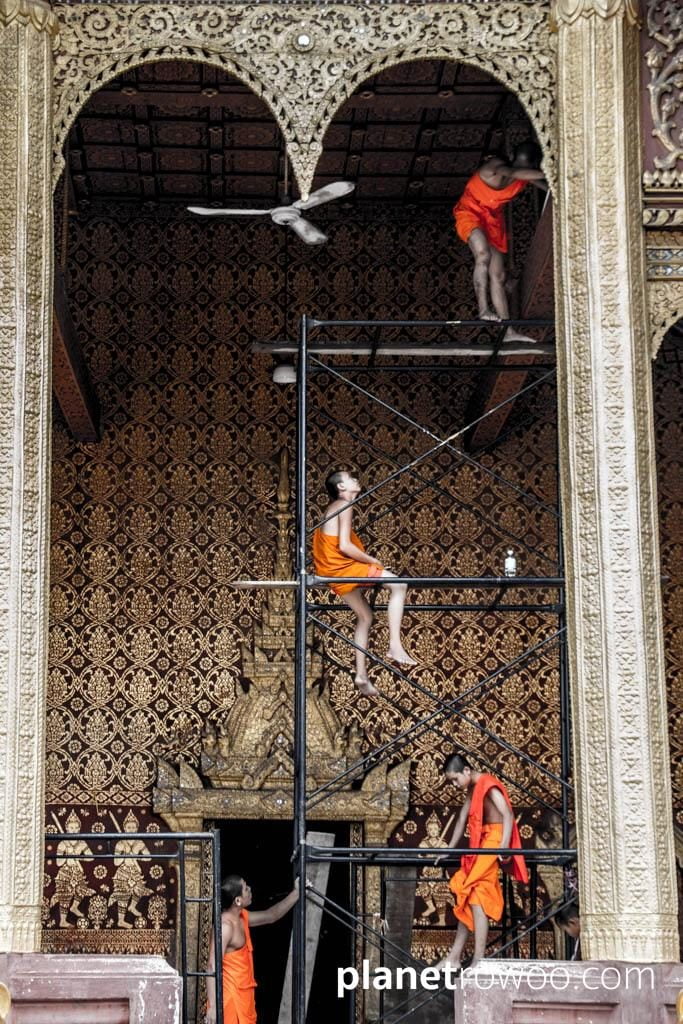 Monk Maintenance
During my visit, I noticed some pretty high scaffolding had been erected in the entranceway of the viharn. I was a little surprised to see novice monks climbing the scaffolding at various levels, with one novice right at the top, performing some kind of maintenance on the temple. It would be more usual to see professional maintenance workers performing this role. But teenage boys in saffron robes and bare feet was a little unexpected. Health and safety standards in Laos are clearly different from my home country. I couldn't quite imagine choir boys scaling 20-foot high scaffolding in St Pauls Cathedral!
WAT SENE SOUK HARAM
Opening hours: 08:00 until 18:00
Entrance fee: No admission fee
Google Maps: https://goo.gl/maps/XbqfixYSd1srVaNE9
Wat Xieng Thong
Wat Xieng Thong resides at the tip of the old town peninsula on the banks of the Mekong. Translated as "Temple of the Golden City", Wat Xieng Thong is the crowning architectural glory of Luang Prabang, and probably its most famous of all temples.
There are two entrances to the temple. One is off Sakkaline Road through a gateway topped with a circular stupa. The second is via a long, broad stairway leading up from the Mekong River. This is the more impressive entrance and was the entry that the King used when he arrived by boat from the Royal Palace.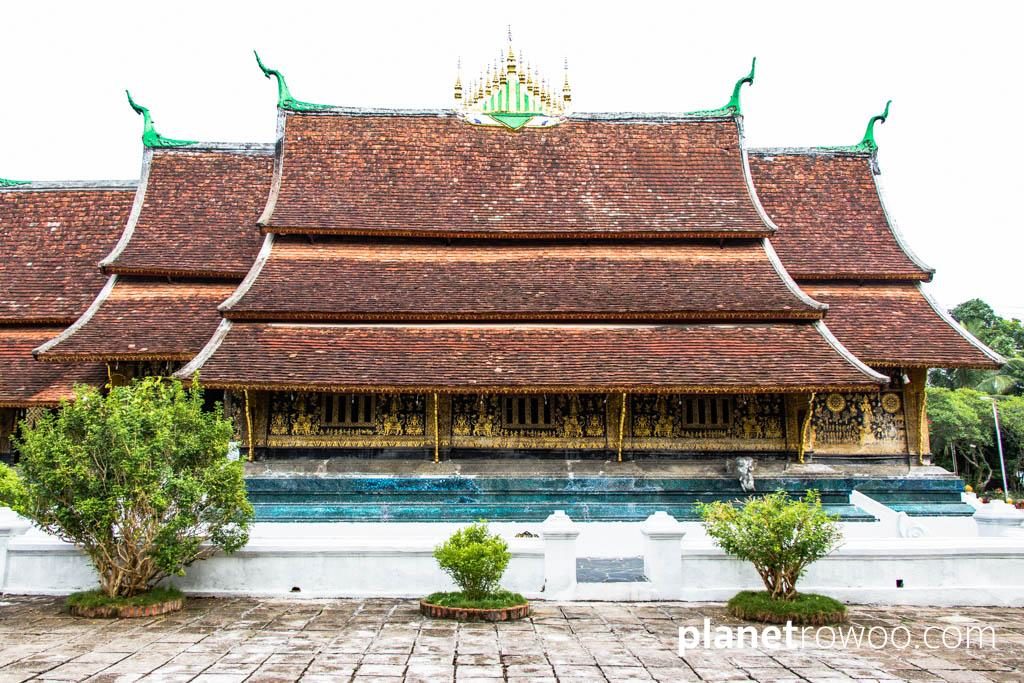 Once the seat of the coronation of Lao Kings, Wat Xieng Thong remains today an important site for significant events and anniversaries in Luang Prabang. Built during the 16th century, and while periodically restored with additional gold leaf gilding and lacquer work, the original structure and much of the original workmanship remains and is a classic example of traditional Laotian architecture. It is another of the few temples that were not destroyed during the Black Flag (Chinese) Army invasion of 1887.
The Striking Ordination Hall (Sim)
Wat Xieng Thong's most striking building is the sim, the temple's ordination hall. The sim, with its elaborate sweeping multi-tiered roof, is one of the largest in Luang Prabang and contains examples of rare Buddhist deities, various wall carvings and ornate mosaics including a gorgeous 'tree of life' montage on the outside rear wall. But the structure's trademark feature is a majestic gilded ornamental roof element, or "Dok so faa", flanked by emerald green Naga.
Around the sim are three smaller chapel halls, including the Red Chapel, or 'Chapelle Rouge'. Its exterior walls are covered in elaborate mosaics on a dusty pink background, created in the 1950s to commemorate Buddha's 2,500th Birthday.
The most recent structure is the Royal Funerary Chariot Hall which was completed in 1962. The hall is close to the main road entrance, on the right as you enter the temple grounds. It contains the funeral carriage of King Sisavang Vong who died in 1959. The gilded, carved wooden funeral carriage, is decorated with large Naga snakes at the front and inside are three elaborate urns that once contained the ashes of the royal family.
The temple grounds also house several stupas, a Tripitaka (Buddhist scripture) library and a drum tower as well as a pirogue shelter that houses an elegantly painted racing pirogue.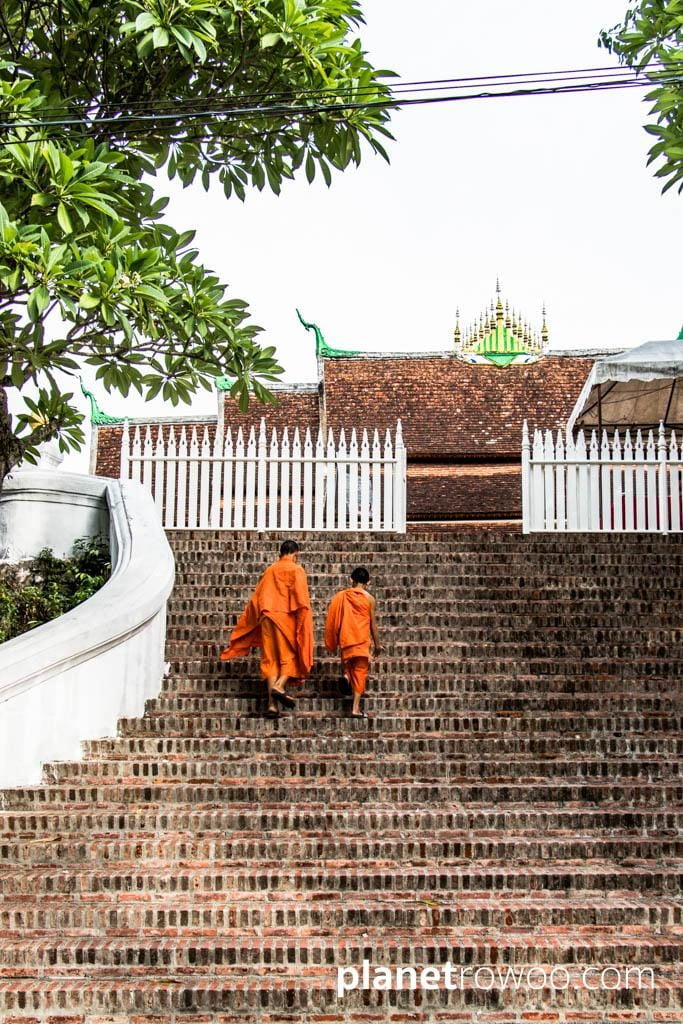 Wat Xieng Thong comprises an ensemble of perhaps the most complex structures of all the temples of Luang Prabang. As such you'll probably want to spend a little extra time here exploring this elaborate historical site.
WAT XIENG THONG
Opening hours: 08:00 until 17:00 daily
Entrance fee: 20,000 Kip (~1.80 GBP) per person
Google Maps: https://goo.gl/maps/CdAKDJR3vAkYHQm98
Other Temples Of Luang Prabang
If you have more than an afternoon there are plenty more temples to see. Other notable Wat include;
Haw Pha Bang; Ornate and relatively new structure (completed in 2006) in the grounds of the Royal Palace on Sisavangvong Road.
Google Maps: https://goo.gl/maps/f1TQDfTeBQipuLA19
Wat Sop Sickharam; One of the quieter temples with fewer tourists and a peaceful spot to observe the daily goings-on of the novice monks. Also a decent place to watch the daily alms ceremony. Centrally located on the main street off Sakkaline Road.
Google Maps: https://goo.gl/maps/Ra8HefpxVxuKvcXu9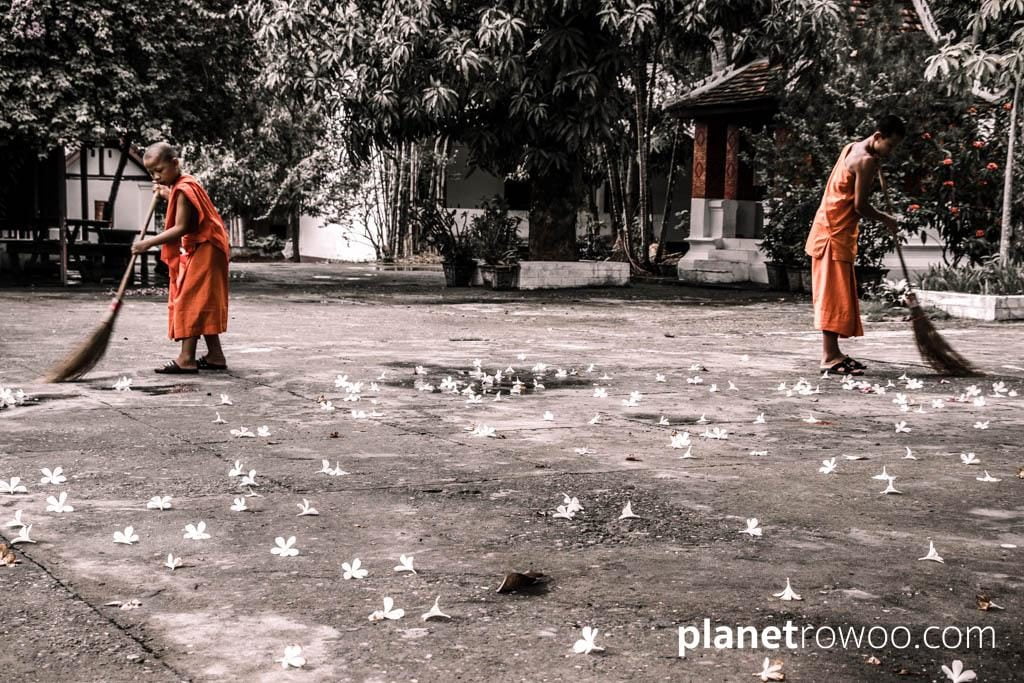 Wat Mahathat; "Temple of the Great Stupa", another very attractive temple, built in 1548, and located near the Mekong river on Chaofa Ngum Road south-west of Mount Phousi.
Google Maps: https://goo.gl/maps/Z9vXjBDgqLxPGYy7A
Wat Wisunalat; Luang Prabang's oldest temple (founded in 1512) with a unique Singhalese style stupa. Located on Thanon Wisunalat, south of Mount Phousi near the Nam Khan River.
Google Maps: https://goo.gl/maps/UU2CrH9dzUnr6hhq8
Streets & Architecture of Luang Prabang
The beauty and charm of Luang Prabang is not just earned from its stunning temples alone. With its exceptionally well-preserved fusion of Lao traditional architecture and European colonial-style buildings also, it's clear to see why Luang Prabang has been designated a UNESCO World Heritage Site.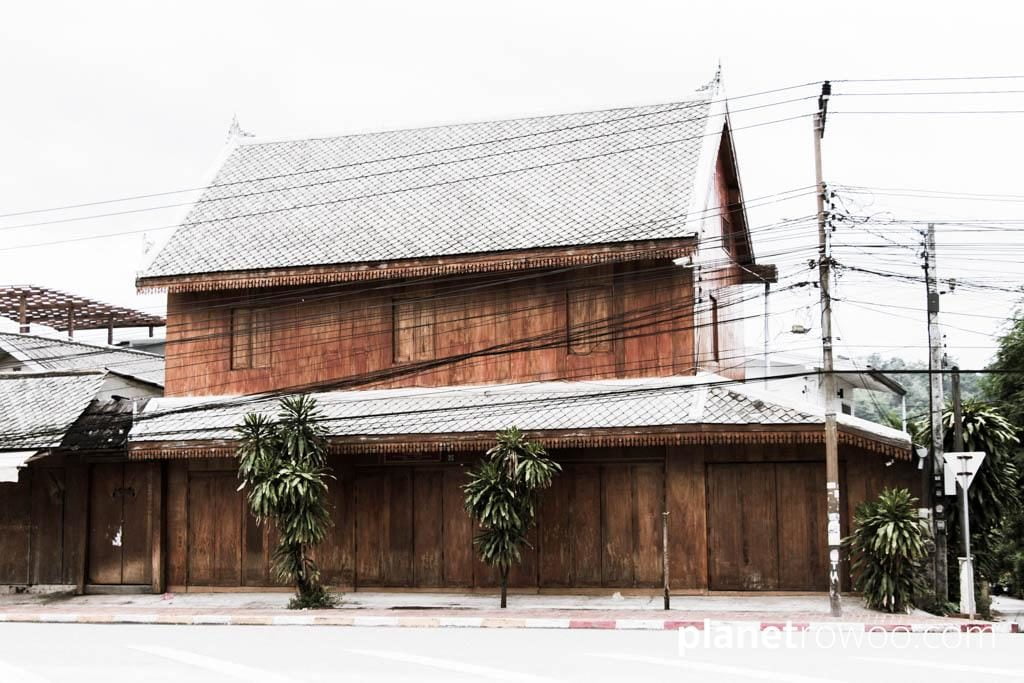 Just take a walk down the main street in the old town towards the end of the peninsula, and then along the banks of the Mekong on Khem Khong Road and you'll witness a wonderful blend of these two distinct cultural traditions. And plenty of reminders of when Laos was part of the French colony of Indochine.
Aside from the many stunning multi-tiered wats you'll pass traditional Lao wooden houses and elegant colonial properties often with teak balconies and shuttered windows. Many of which are now trendy coffee shops, restaurants, hotels, bakeries or boutique shops.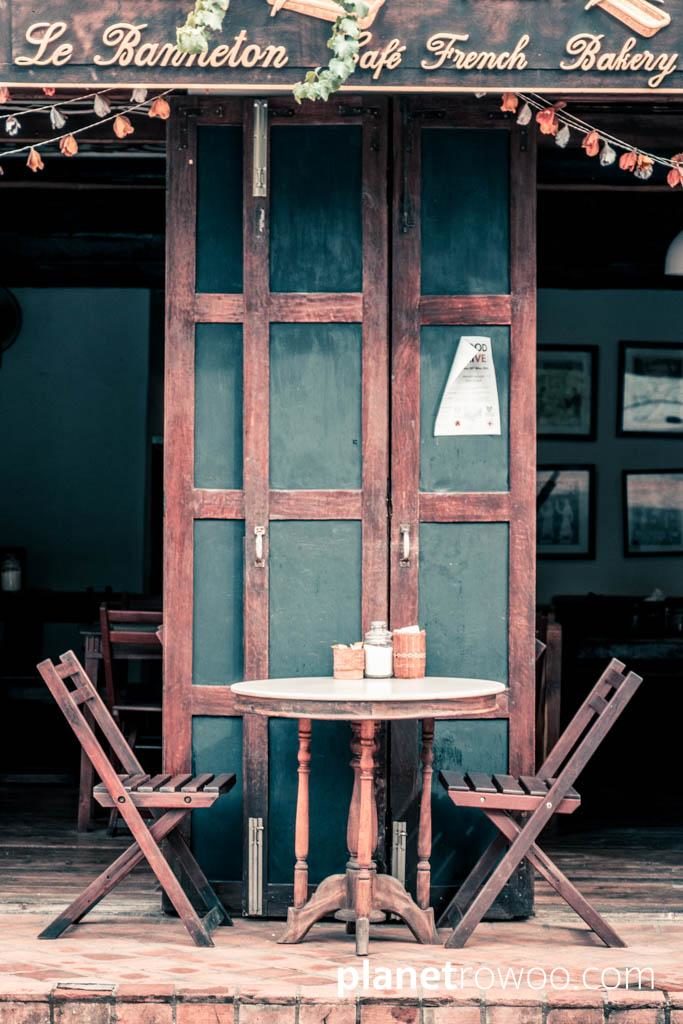 Luang Prabang has a wonderful laid back feel and a great French-inspired cafe culture. You'll find some of the best espresso, baguette's and pastries in the whole of Southeast Asia here. So it's essential to take some time to stop and indulge in some of this fine fare in a traditional or colonial interior and sit back and observe the town's street life and sleepy charm from the comfort of your seat.
The Mighty Mekong
If the wonderful temples, architecture and backdrop of rugged mountains weren't enough, Luang Prabang is also blessed to sit on the banks of the mighty Mekong.
The Mekong River is the lifeline of Laos. From the Tibetan Plateau, the river runs through China, Myanmar, Laos, Thailand, Cambodia, and Vietnam. Its wide muddy waters stretch for around 4,300 kilometres, making it the 12th longest river in the world.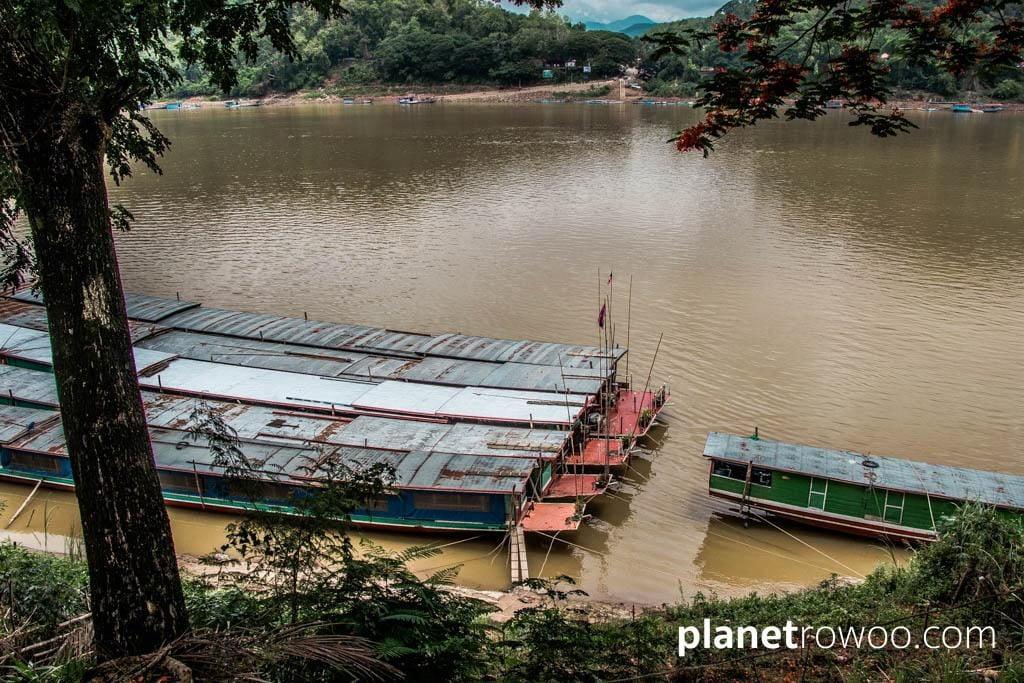 The image of the Mekong is not complete without the sight of the traditional Laos long narrow boats gliding slowly along on its murky waters, or moored in parallel lines along its banks. This is a working river and a major trade route between western China and Southeast Asia. It's also an important transportation link with these long wooden boats playing an essential role. Taking a slow boat down a portion of the river or a river cruise from Luang Prabang to Thailand is a popular activity for travellers. It's also possible to hire a longboat to cross the river to Chomphet, a small village on the opposite bank of the river.
Great River of the Giant Serpent
The river is also of spiritual significance to the Laos people. There are daily offerings to the Naga which, according to folklore are serpent-like creatures, believed by locals to live in the depths of the Mekong river and estuaries. In fact, the earliest name for the Mekong was Nam Nyai Ngu Luang or "Great River of the Giant Serpent". Offerings to the Naga include cooked or uncooked white rice, rice alcohol, cakes, fruit, and leaves. Naga images regularly appear in Laos temple architecture.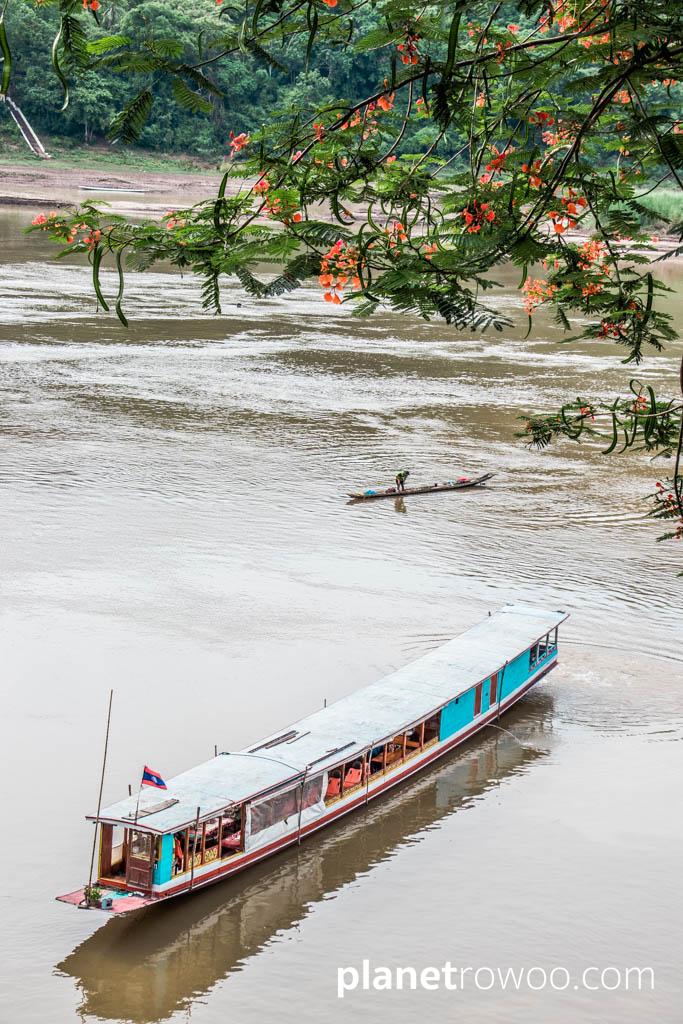 If you prefer to stay on dry land, take a walk or bike ride along Khem Khong Road. It runs parallel with the Mekong for the entire length of the road and affords some great views through the trees that line the riverbank. There are also plenty of places to stop for refreshments. There's no better way to end a day of sightseeing in Luang Prabang, than to sit in a cafe overlooking the river, or on the steps by the water's edge, watching the sun go down over the Mekong. Simply magical.
Galleries
[envira-album id="14863″]
---
Luang Prabang 60 Second Bike Tour
In between tropical downpours, I took a hotel bicycle out on the roads of Luang Prabang old town. A bike with a basket, only one gear, and a semi-flat front tyre… but a lot of fun!
A bicycle is a great way to get around Luang Prabang. The town is small and the roads aren't busy which makes for a very pleasant and leisurely ride between sites. Many hotels will offer bikes for free.
But whether you're on a bike, or on foot, or nipping around the town in the back of a tuk-tuk, there's no escaping the lazy charm and spiritual atmosphere of this world heritage site that has, for good reason, featured in Wanderlust's annual travel awards several times.
---
How To Get There / When To Go
Getting There
By Air: There are direct flights daily into Luang Prabang International Airport from Chiang Mai, Bangkok, Hanoi, and Siem Reap. Visas are available on arrival at the airport. You can also get a domestic flight from the Laos capital, Vientiane. The airport is about 4km from town. You can pre-arrange transport through your hotel (recommended) or negotiate a tuk-tuk at the airport.
By Bus: The overland route to Luang Prabang from Vientiane's Northern bus terminal takes about 10 hours by public bus. Alternatively, you might prefer to rent a minivan.
By Boat: One of the nicest and most popular ways to get to Luang Prabang is to cross the border at Chiang Khong in Thailand and take a boat up the Mekong from Huay Xai. The slow boat takes 2 days, with an overnight stop in the small town of Pakbeng. There are also luxury cruise and speedboat options.
More detailed travel information can be found in this useful guide on the Lonely Planet website.
Best Time To Visit?
The ideal time to visit weather-wise is from November to mid-February during the 'cool' season when it's dry and warm. But it's also peak tourist season. I visited during the rainy season which runs from June to October. It's hot, humid and wet, especially in June & July (as I found out!). Downpours usually last for only short periods though. The advantage is it's quieter and hotel prices are substantially lower.
---
Top image: Novice monks enjoying their photography on Phousi Hill