Maison Dalabua Boutique Hotel, Luang Prabang
Luang Prabang in northern Laos is a UNESCO World Heritage Site with no shortage of boutique hotels. But there can't be many of them that also incorporate a UNESCO protected landscape. Maison Dalabua boutique hotel is a little oasis of peace and tranquillity, just a short walk from the historical centre of Luang Prabang. This 'Garden of Eden' has within its lush tropical gardens, three UNESCO classified lily ponds.
I stayed here for three nights during my trip to Luang Prabang and, I have to say, it's one of the most unique city hotels I've ever stayed in.
Location
Maison Dalabua is in a great location down a side street just off the Phothisalath main road. It's just 5 minutes walk from the Mekong River and less than 10 minutes walk away from the night market. In fact, you can easily reach the Royal Palace and some of Luang Prabang's most beautiful temples by foot from the hotel. The nearest temple is Wat Mahathat, just a 5-minute stroll away.
Arrival
Arriving at Luang Prabang International airport, I was met by a very courteous driver from the hotel and taken to Maison Dalabua by air-conditioned minivan. It's just a short 15-minute drive to the hotel. On the way, passing traditional Lao houses and townsfolk going about their daily business, I tried to recall scenery and landmarks from my last visit almost 20 years ago. Nothing seemed overly familiar, but the place still exhibited a slowly-paced and laid back feel that I remembered.
We soon arrived at the hotel. From the street, it looks like a small but elegantly converted Laotian house. You would never know that an acre of tropical gardens and three UNESCO classified lily ponds lie beyond.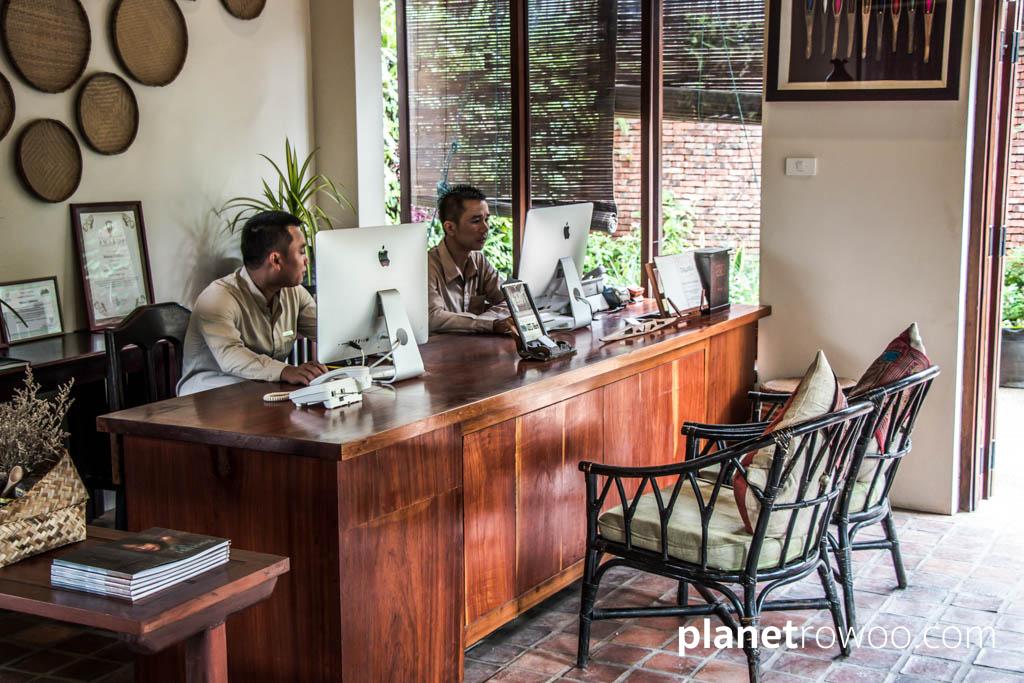 The hotel's reception is right at the front of the property just a few steps down from the street. It's a light and airy space with an interesting mix of terracotta stone floors and beautiful solid wood colonial style furniture with traditional Laos textiles and artwork scattered around. A small selection of textiles and hotel items are also available for sale.
The sleek lines of the two Apple iMacs on the front desk were in contrast to the traditional furniture, but a sign of the image that this hotel wants to convey.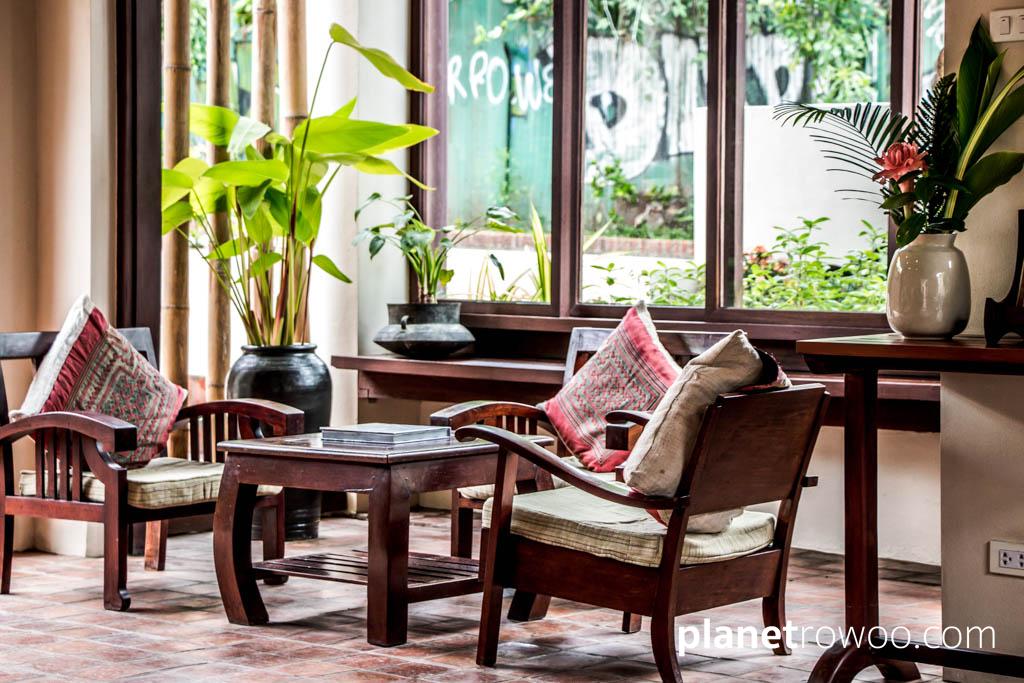 A Free Room Upgrade!
Check-in was efficiently handled by the friendly front desk staff who spoke great English and swiftly managed the passport and hotel information preliminaries. After presenting me with my handy pocket size 'Maison Dalabua' branded map of the area, and highlighting some local attractions, I was then told my room was ready. And, I was being given a free room upgrade!
Maison Dalabua Accommodation
My Grand Deluxe room was on the ground floor, just behind reception. The Grand Deluxe rooms are a nice size, around 35 sqm (larger than my condo in Chiang Mai!), with a small patio area or balcony. They're furnished in a blend of Lao contemporary design and modern minimalist style, with a concrete floor, wooden writing desk, two bedside tables, a gorgeous large bed, and a chic colonial-style floor standing tripod lamp. There's a wall-mounted LED TV aswell. Mine also had some traditional Lao textile art on the wall, which lent a nice splash of colour to the muted tones of the room.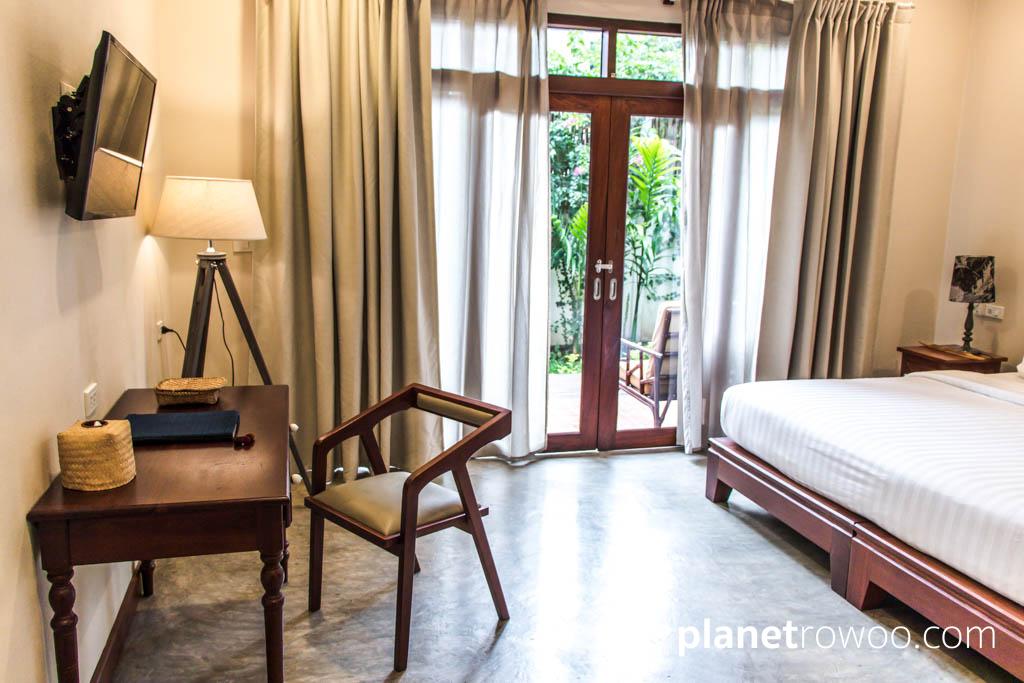 A minimalist theme
The sleek concrete floor design theme continues into the bathroom. But here the walls are concrete too. And the double sink tops aswell. It's an unexpected aesthetic for this kind of property. But I like it. The clean lines continue the minimal theme and the rich tones of the wooden door, shelving, and wooden accessories provide a nice contrast.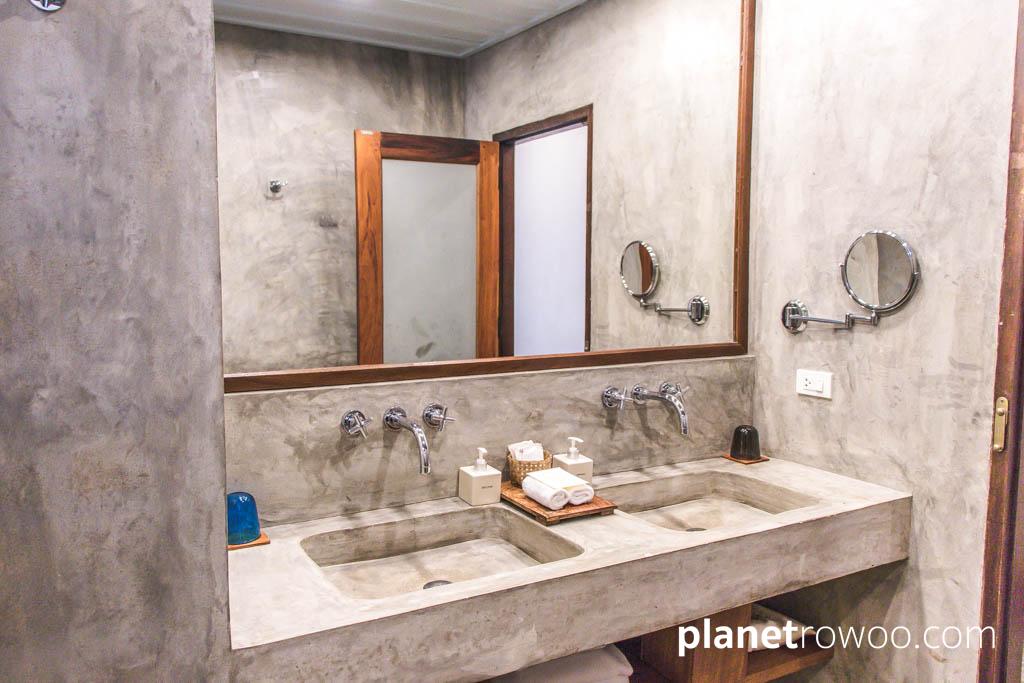 A trendy rain shower completes the bathroom theme, with the hotel's great smelling toiletries in stylish dispensers in a wall recess and on the sink top too.
My room had a small sheltered patio area off the bedroom (first floor rooms have a balcony) with two bamboo bound cushioned chairs. Beyond the patio was a narrow walled garden that extended to my neighbours. The space was a bit confined, and it was a shame there was no view of the main gardens, but it was a pleasant enough space to spend some time reading, with a coffee or beer in hand, listening to the sound of rain falling on the tropical greenery.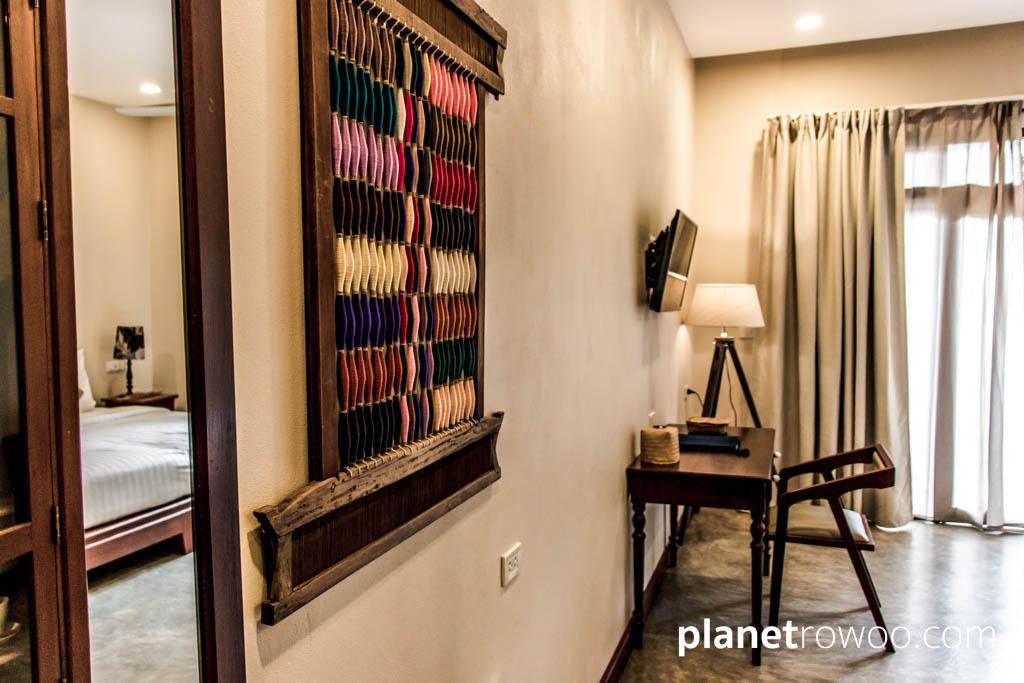 The Ultimate Accommodation
There are 40 rooms scattered around the property. Ranging from the smallest Classic rooms (my original booking) with no patio or balcony, to the larger Deluxe, Grand Deluxe (my room type) and Grand Deluxe Heritage rooms all with balcony or terrace. The latter featuring 40 sqm of room space and a bathtub. The most luxurious and spacious rooms, however, are the Overwater Bungalows. With 43 sqm of floor space, beautifully decorated, and with wide balconies directly overlooking one of the UNESCO lily ponds, these are the ultimate accommodation for this resort.
Dining at Maison Dalabua
Breakfast
Breakfast is served between 7am and 10am in a beautiful setting by one of the lily ponds. The wooden decked open-sided restaurant is a wonderfully peaceful and serene spot to enjoy your buffet breakfast and get your day off to a great start.
Try and get a table by the water's edge where you can pass the time, in between sups of your morning coffee, watching the fish surface between the lily pads. Or on a wet day, the raindrops dancing on the water.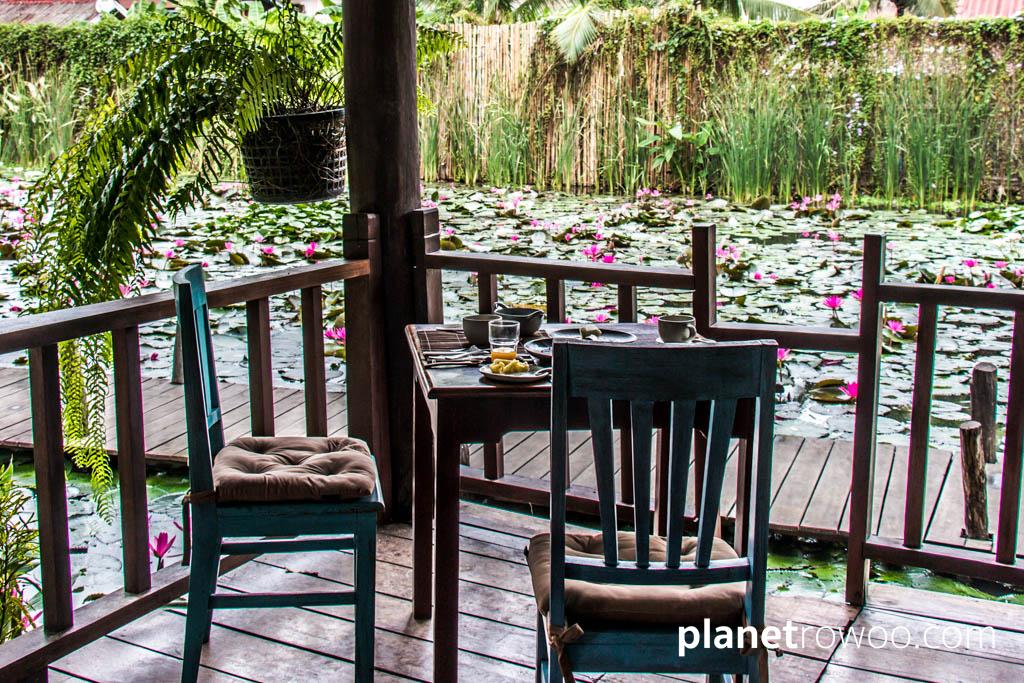 The breakfast buffet has a nice selection of local and international food, with a French slant. Homemade breads, jams, cakes and pastries complement the usual fair of fresh fruit, meats and eggs, as well as some local delicacies. There's also a good selection of vegetarian options.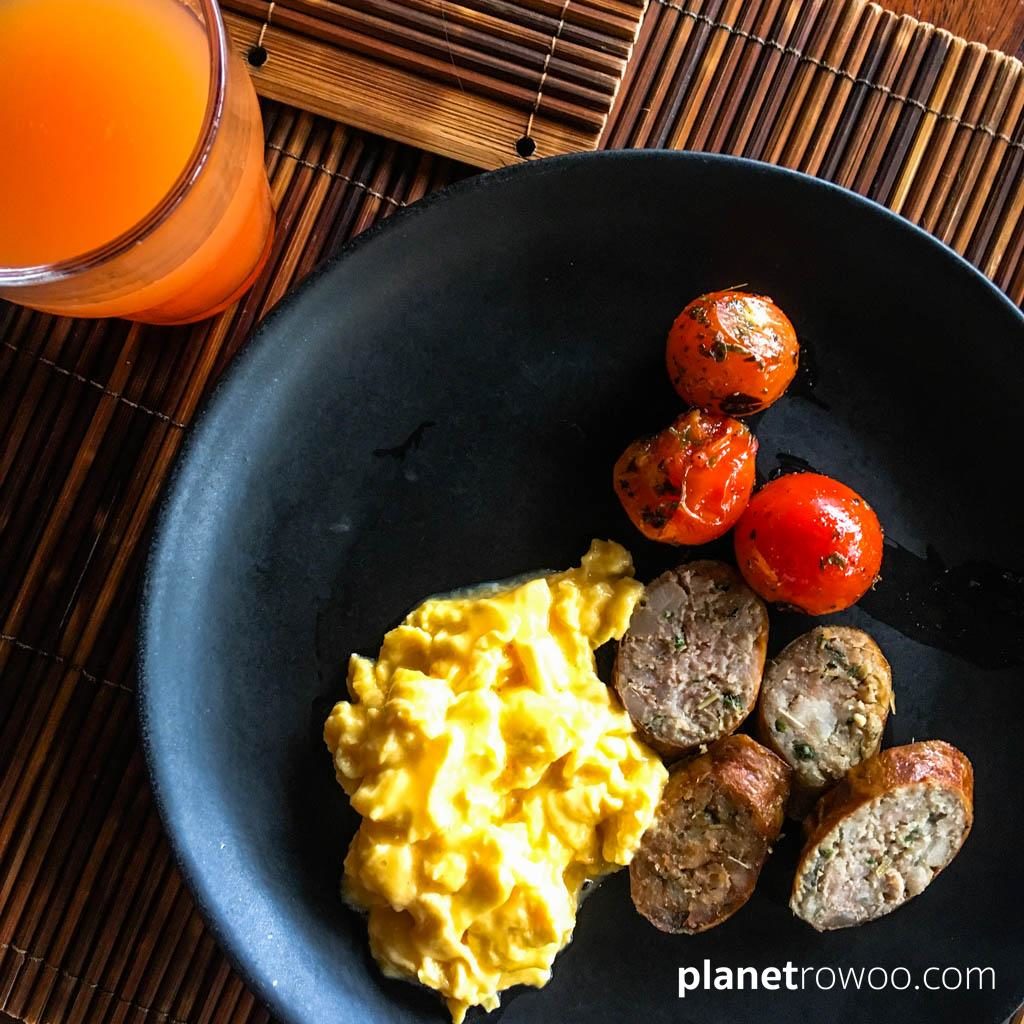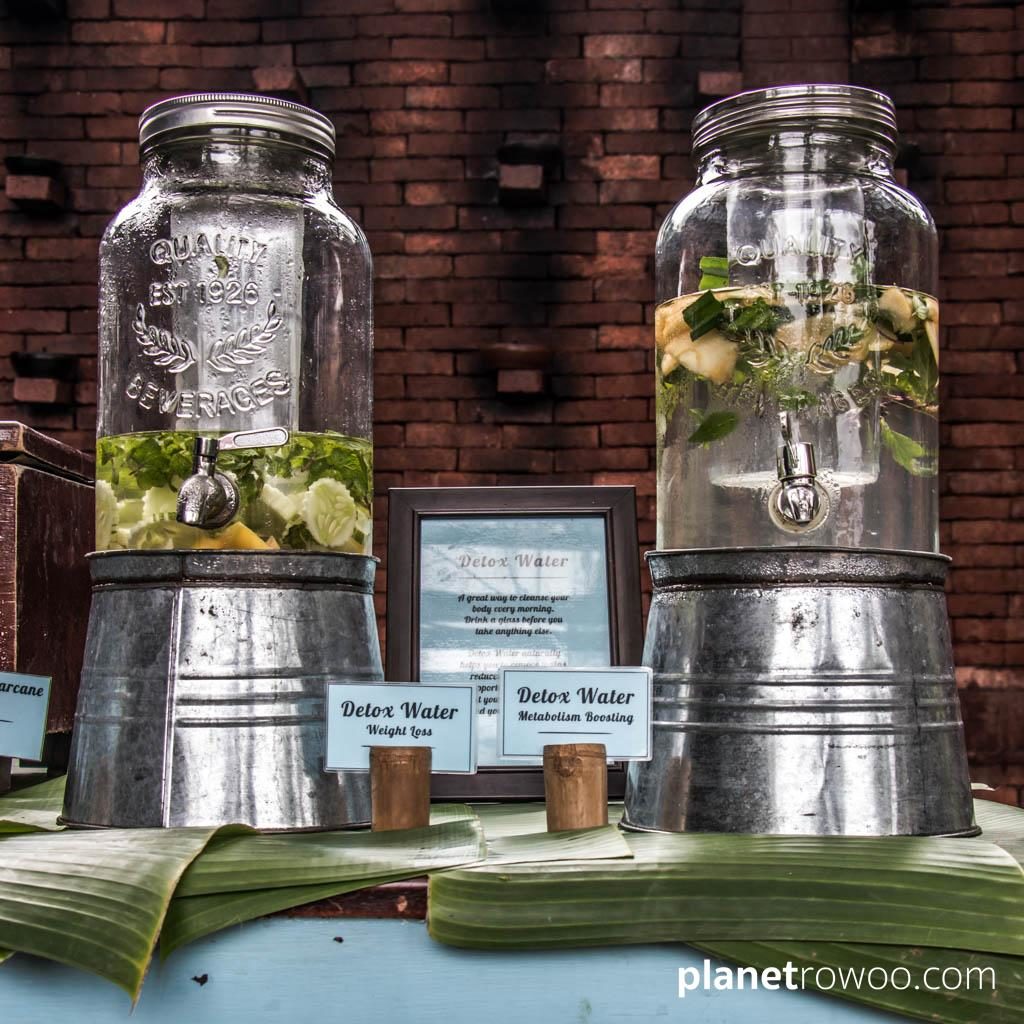 And don't miss the opportunity to cleanse your body at the start of the day with their weight loss or metabolism-boosting 'detox water'! Your body will thank you for it.
The restaurant is open in the mornings for breakfast only.
A rainy breakfast by a UNESCO classified lily pond
Fairytale Dining at Manda de Laos
Lunch and dinner are served at Manda de Laos.
Manda de Laos is Maison Dalabua's sister restaurant, located just beyond the breakfast area at the back of the hotel. It's accessible via a wooden boardwalk that winds its way through the water lilies. It also has its own entrance on Norrasan Road which runs parallel to the road from which you access the hotel's reception.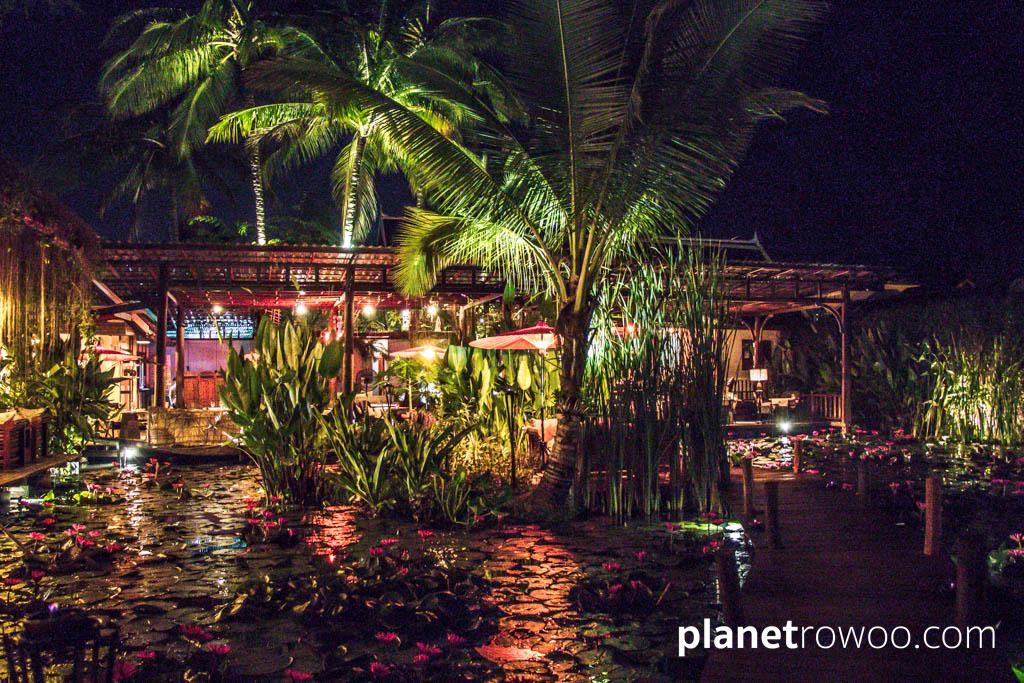 The restaurant sits in an enchanting setting around one of the hotel's UNESCO classified lily ponds. Sunset is a popular time as the lilies catch the falling sun and there's a beautiful light on the water. But dining under the stars is just as magical when candles line the boardwalk.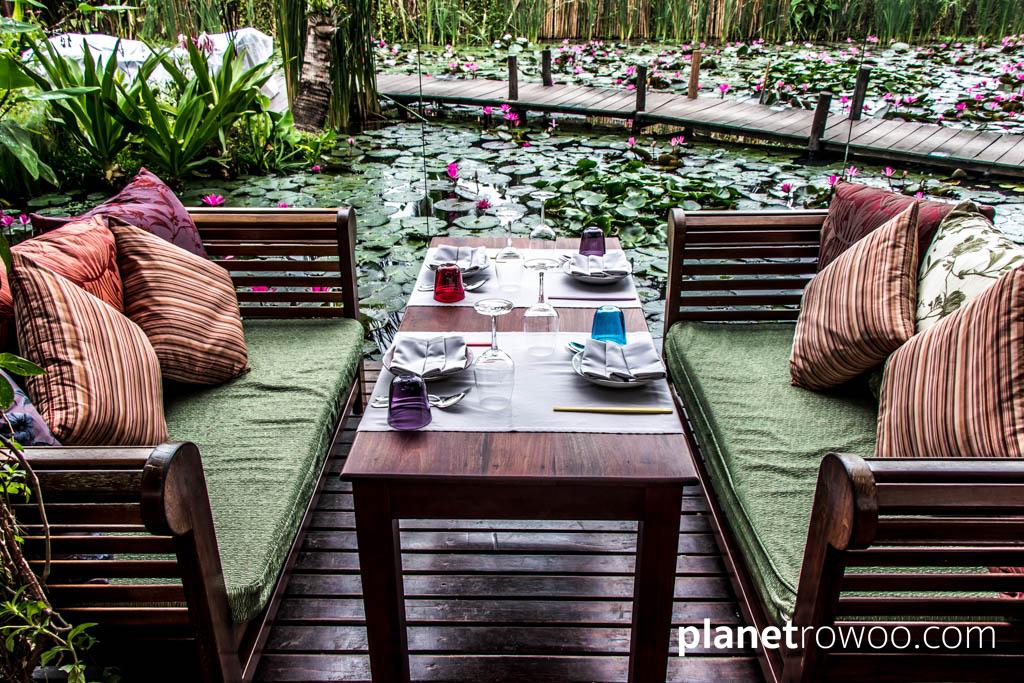 To one side, sofa tables offer a comfortable and stylish setting for a lazy lunch or dinner. While at the back of the restaurant there's more formal seating, but still in a charming environment. The tables right by the water's edge are understandably the most popular.
Laotian Family Cuisine
The restaurant specialises in Laotian family cuisine from regions across Laos. Dishes include Laap Moo (Laap is the Laos national dish, a meat salad flavoured with mint, chilli, fresh herbs, fish sauce, and lime juice), Ping Dook Moo (grilled and marinated pork) and Koi Pa (a Lao-style fish salad). I tried the Oua Si Khai Kai (deep-fried chicken, Lao herbs and garlic with lemongrass) which was wonderful.
Manda de Laos is pricey by Laos standards, but the food is excellent, and you can't beat the tropical ambience. It surely has one of the most scenic settings of any restaurant in Luang Prabang.
Next to the restaurant is the bar where you can relax at the end of the day with a beer, cocktail or glass of wine and enjoy its romantic setting. It has a colonial yet eclectic feel. With floor standing lamps amid the tropical setting that you might more expect to find in a seventies-style living room.
Although Manda de Laos shares the grounds with the hotel, the restaurant is externally-operated, so you'll need to settle your bill here separately.
Maison Dalabua Facilities & Gardens
Swimming Pool
Amid the tropical gardens, surrounded on two sides by guest accommodation, is the hotel swimming pool. At 15 metres long it's not a bad size at all for a boutique hotel. And perfect for a refreshing dip after a day exploring the city. It's an elegantly designed area with wooden decking and jacuzzi at one end of the pool. The extremely comfortable lounger beds also make it a great spot for lazing around and topping up your tan.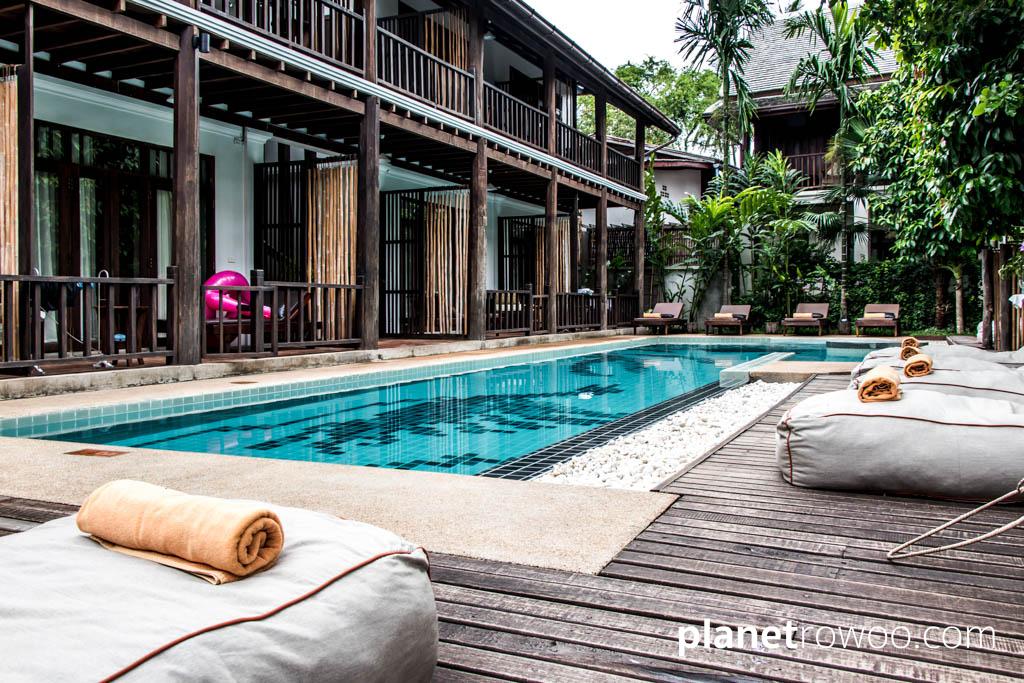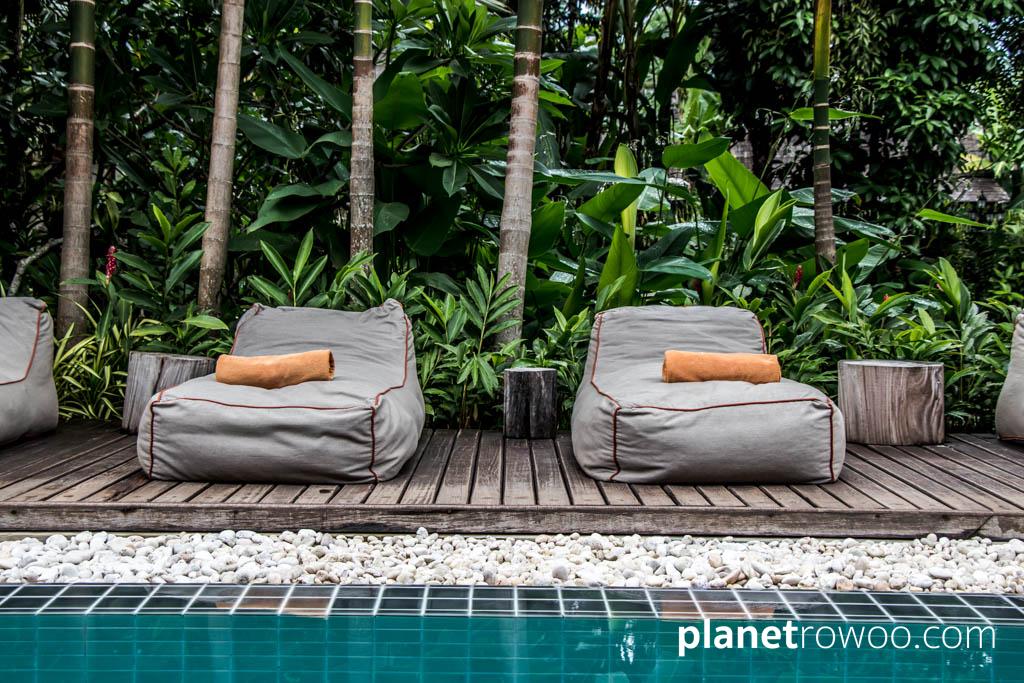 The Maison Dalabua Spa
Maison Dalabua's spa is located within two renovated Laotian wooden houses. The spa offers traditional Lao massage and a range of body and aromatherapy treatments starting from a very reasonable 25 USD for a 1-hour massage. I had a 1-hour foot massage on the upper veranda of the spa as the sun was going down to the sound of cicadas and rain falling on the tropical leaves. A wonderfully relaxing massage that felt like it was over way too soon.
Gardens
The pool and spa are nestled gracefully within Maison Dalabua's acre of lush tropical gardens. To reach anywhere within the hotel you have to pass through this miniature jungle.
As you stroll beneath palms and under hanging vines, passing the lily ponds alive with fish and animal life, it's easy to forget you're staying in a city hotel.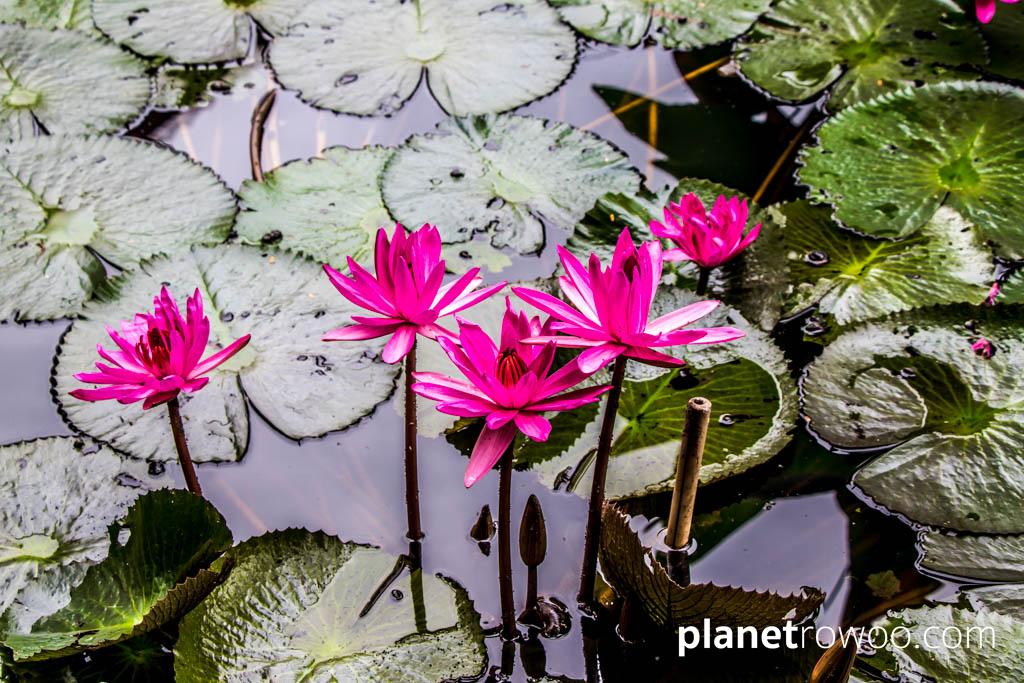 A stroll around the lily ponds and restaurants at Maison Dalabua
Trips & Bikes…
If you're ready to leave for a while the peace and tranquillity of the hotel, the helpful staff on the front desk are always happy to assist with your itinerary and travel needs. They can advise on local attractions and also organise for you in an air-conditioned minivan. But be aware it's likely to be more expensive than if you booked your own tuk-tuk or through a local tour company.
There are also several complimentary bicycles chained up outside the hotel for guest's use. Best to do your own quick safety check on the bike they supply though as the one I took had a semi-flat front tyre and the brakes were none too good! I get the impression they're not maintained very often.
You can view a 60-second highlight of my trip around Luang Prabang on one of the hotel's bikes in the video album below.
---
Galleries & Video
[envira-album id="15497″]
---
What's Around Maison Dalabua?
The World Heritage Site of Luang Prabang has plenty of cultural and architectural wonders. Many of which are nearby the hotel. You can find out more about some of these in my Luang Prabang Temples Galore blog.
But the town also has a great cafe and bar culture with many fine options for eating and drinking. Here are just a few of my favourites…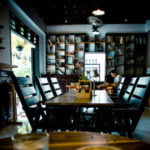 Mekong Coffee Lounge
Mekong Coffee Lounge is a stylishly converted colonial style cafe on the road that lines the Mekong River. I came a across it while exploring the river area. Their outside seating is a great place to sit and enjoy the river view while watching the world go by. While inside is cosy and comfortable. Their excellent coffee is brewed with locally sourced Lao coffee beans. There's also a nice range of snacks and breakfast options. Along one wall is a large bookshelf and you're free to enjoy its many interesting titles, which include subjects on Buddhism and Lao culture.

It's a perfect place to rest your feet and relax inbetween sightseeing. And just a 10 minute walk from Maison Dalabua.
---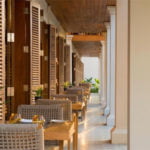 Main Street Bar&Grill
Main Street Bar&Grill is part of the Avani+ Luang Prabang Hotel. Open all day for breakfast, lunch and dinner, they draw on the best of French and Laos cuisine. With excellent service, and beautiful wooden architectural features, the upstairs veranda is a cool and sophisticated spot to watch the local Luang Prabang life go by. As it's part of a 5-star hotel, prices are naturally higher.

It's just 5 minutes walk from the hotel towards the night market.
---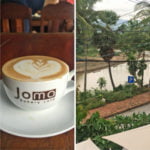 Joma Bakery Cafe
With beautiful views across the Nam Khan river and bamboo bridge, Joma Bakery Cafe is a popular resting spot for those exploring the peninsular. Joma's coffee is organically grown in southern Laos by a community cooperative of farmers. They offer as they say "a little slice of North American cafe culture transplanted into Southeast Asia". As well as the excellent coffee they have a great salad, sandwich and cake selection too. Outdoor seating on the balcony is most popular but there's also some cosy indoor seating in the wooden interior. There's another Joma Bakery on the main street just a few minutes from the hotel.

Joma gives 10% of their profits to charitable organizations in the communities around their cafes.
---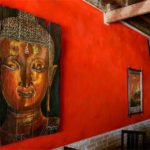 Tangor Restaurant Bar & Lounge
The French owned Tangor Restaurant Bar & Lounge is a cool spot to relax and watch the world go by in the heart of Luang Prabang main street. Its quirky Indochine colonial interior design and chilled music lend it a cool and cosy vibe (the eclectic range of wall art continues into the toilets where you can enjoy some classic comic strip posters on Corto Maltese, the 20th century literary legend!).

The tasty menu of largely western cuisine is complemented with some typical Asian dishes. With beer on tap, a wide selection of wine, and a great cocktail list it's a great spot for drinks before or after dinner and throughout the day.

Tangor is just 15 minutes walk from the hotel.
---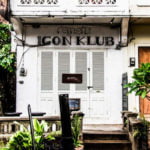 Icon Klub
I didn't quite make it along here. But I wish I had. Hidden down a side street the Icon Klub is regarded by many as the best bar in Luang Prabang. A place for travellers and locals alike to congregate, this hidden gem has an out of time feel with a spirit of the 1920's. Run by friendly owner Lisa, who makes and serves all the drinks, it's a small and cosy place to socialise and meet new people. As the sign says on the door… "There are no strangers here, only friends who haven't yet met (W.B. Yeats)."

Icon Klub isn't open all year round so best to check online or call (+856 71 254 905) before you go.

It's around 15 minutes walk from Maison Dalabua.
---
My Travel/Stay Details
I travelled from my home in Chiang Mai, Thailand to Luang Prabang in July 2019, during their rainy (low) season. Although you can fly direct, I travelled via Bangkok for the reason below.
See my previous post for the best time to visit.
Transport / Accommodation
Approx Cost
Chiang Mai to Bangkok (Thai Lion Air)
75 min flight time
13 GBP (Trip.com)
Bangkok to Luang Prabang (Air Asia flexible flight)
90 min flight time
90 GBP (AirAsia.com)
Luang Prabang to Chiang Mai (Lao Airlines)
70 min flight time
72 GBP (Trip.com)
Airport transfer by hotel
Around 15 min drive
7 USD each way
Classic Room, Breakfast included. Free upgrade to Grand Deluxe room on arrival
46 GBP per night (Hotels.com)
For reasons related to my Thai visa, I booked a flexible flight with Air Asia out of Thailand from Bangkok to Luang Prabang prior to finalising dates of my trip. This was to meet an immigration requirement for when I last entered Thailand (you need to show proof of onward travel). I added the remaining Chiang Mai flights once I'd confirmed my travel dates. It would have been easier and cheaper to simply book a return flight from Chiang Mai to Luang Prabang. But Air Asia were the only airline who offered a flexible flight option where I could change my dates, and they don't fly direct from CNX to LPQ.
My View of Maison Dalabua
Maison Dalabua is a World Luxury Hotel Awards award-winning hotel, and for good reason. This little oasis of calm, with a contemporary twist, offers a perfect sanctuary within the World Heritage Site of Luang Prabang. Its ideal location means you're never more than a few minutes walk away from a historical or cultural site or reminder of Laos' colonial past. And never far from a great spot to enjoy the town's French-inspired cafe culture and culinary fare.
The name Dalabua means "Lotus Princess". Which is very apt, as the hotel truly is royalty among boutique properties in Luang Prabang. Sitting proudly amid three UNESCO classified lily ponds, its serene and romantic setting offers a heavenly escape you'll find difficult to find elsewhere.
I was very happy with my free room upgrade from a Classic to a Grand Deluxe room. Thank you Maison Dalabua. But passing the beautiful setting of the Overwater Bungalows every day, I was seriously tempted to upgrade further. But I guess I'll save that for next time.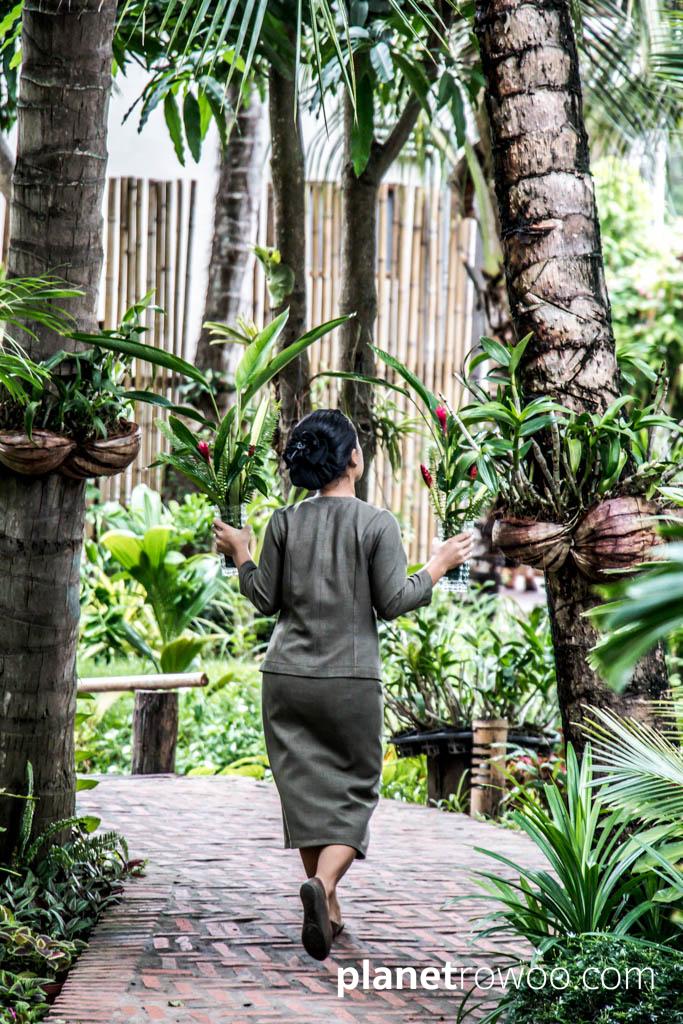 ---
Please Note: This post was not sponsored, all views expressed are my own.
---
Pack for a Purpose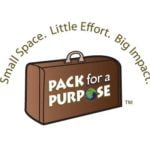 Maison Dalabua supports Pack for a Purpose. I wasn't aware of this charitable organisation before I visited the hotel, but it's a great concept. The idea is to use a small amount of space in your luggage to pack supplies needed by community projects around the world.
You can find out more on the Maison Dalabua website.
---
Top image: One of three UNESCO classified lily ponds at Maison Dalabua