The Nimmana Condo, Chiang Mai
The Nimmana Condo is right in the middle of things in the trendy Nimman area of Chiang Mai, just steps away from Nimman's popular and stylish restaurants, bars, coffee shops, and boutique stores. But does the Nimmana accommodation live up to its location? After a few months of living here, here's my verdict…
Could this be the best condo in Nimman?
Discovering The Nimmana
I first noticed the Nimmana condo while living at the BLISS. I would often pass it on my way into the centre of Nimman. This stylish new condo, with a separate plush sales office next door, I always thought would be above my budget. But one day, while I was condo hunting in January 2019, my curiosity overcame me and I decided to take a look. As I stepped into the vast and immaculate sales office, where I'd had to swap my flip-flops for slippers outside its heavy wooden door, I was even more convinced it would be way above my price bracket.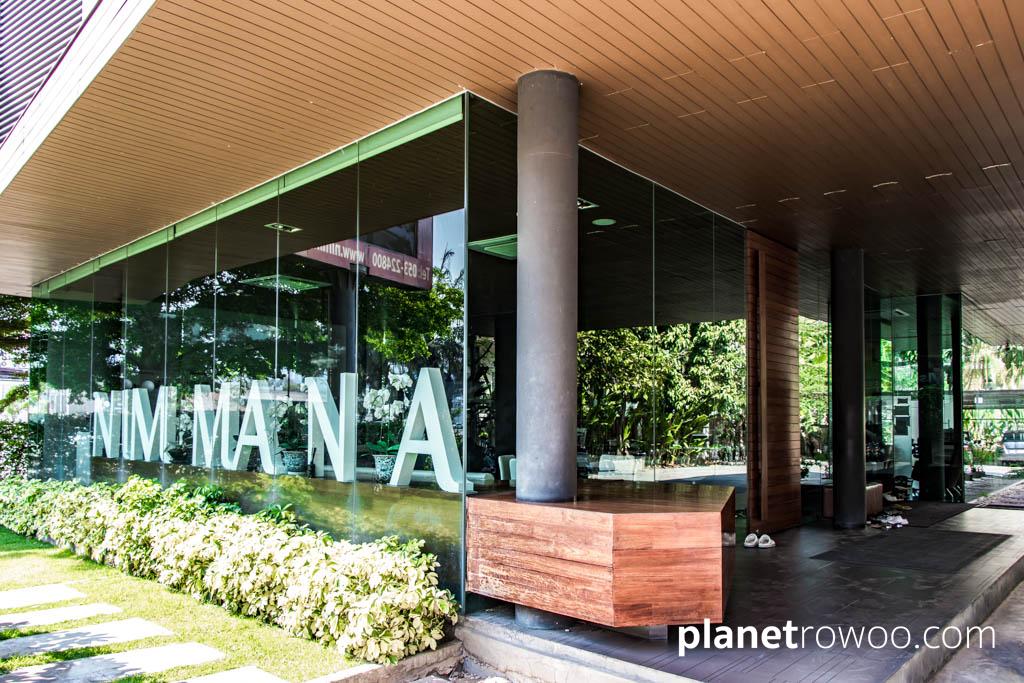 The sales assistant first showed me a one-bedroom room. At 25,000 baht per month, yes I was right, this place was going to be too expensive for me. But then she showed me a studio room… at 16,000 baht per month. I was surprised and excited. This was the top end of my budget, but affordable. And I actually preferred the feel of the studio to the one-bedroom room. Unfortunately, this particular studio wasn't going to be available on my preferred move-in date. But after registering my details with the sales office, and also searching the web for availability, I eventually found a room available in March 2019. Perfect.
Nimmana Condo, The Details
The Nimmana is a luxury condo development in a great location right in the heart of Nimman on Soi 6, just off the main drag of Nimmanhaemin Road. Completed just a few years ago in 2015, it's a relative newcomer to the Nimman condo scene.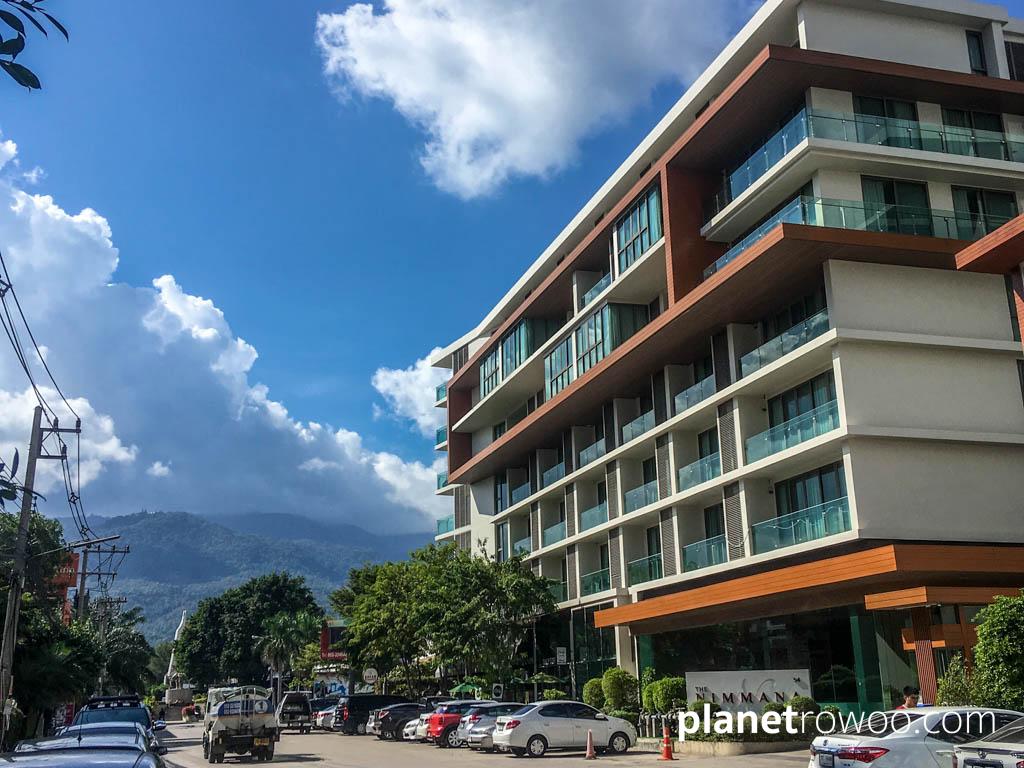 Built in a modern and contemporary style, with external glass and wood detailing, the Nimmana is a good looking development. It houses around 350 stylish units across three 8-storey buildings. Those on its western aspect have the bonus of unobscured views of the revered Doi Suthep mountain.
The Nimmana condo is on Soi 6 just off Nimmanhaemin Road
The development has a good range of accommodation with a variety of room types and sizes available;
| Room Type | Size Range (sq metres) |
| --- | --- |
| Studios* | 34 to 38 |
| One-Bedroom units | 44 to 75 |
| Two-Bedroom units | 62 to 116 |
| Three-Bedroom 'Premium Suites' | 120 to 143 |
*Studio units are available in building C only, on the east side of the development
First Impressions – A Resort-style Lobby
The Nimmana has two main lobby areas. The largest is at the front of the property on the left as you enter. It's a huge resort-style space which opens up on one side onto the gardens. It makes a great first impression.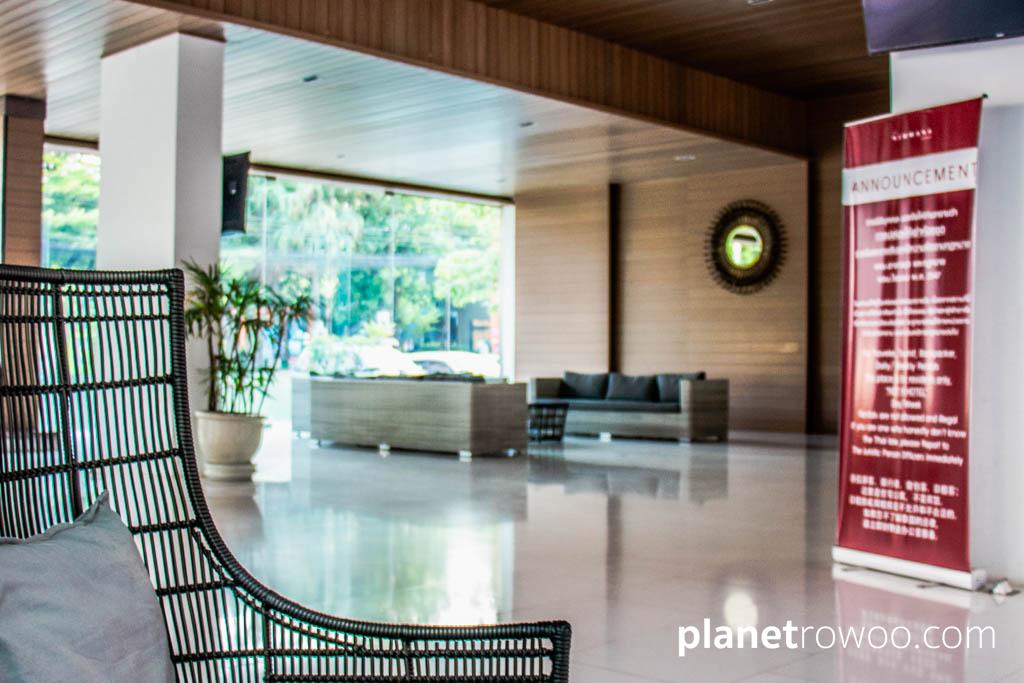 Scattered across its sleek ceramic floors is a minimalistic gathering of comfortable sofas, coffee tables, and an assortment of other seating options. Offering a posh hotel vibe it's a really pleasant space to spend some time with a drink and your laptop while enjoying the free WiFi. Or if you're just waiting for a taxi or friends. The second smaller lobby sits at the base of building C (on the right as you enter the complex), where you'll also find the Juristic Office.
My Room at the Nimmana Condo
I chose a studio room on the 6th floor of Building C. Although smaller, I much prefer the open layout of the studio rooms to the one-bedrooms. And with them being substantially cheaper too, that's a real bonus. With around 34 sqm of space, it's a similar size to my one-bedroom room at PLAY condo.
All rooms have floor to ceiling windows which give them a lovely natural light during the day. My room faces into the development with a nice view of the pool and gardens. On a clear day, I can also catch a glimpse of Doi Suthep mountain between the other buildings!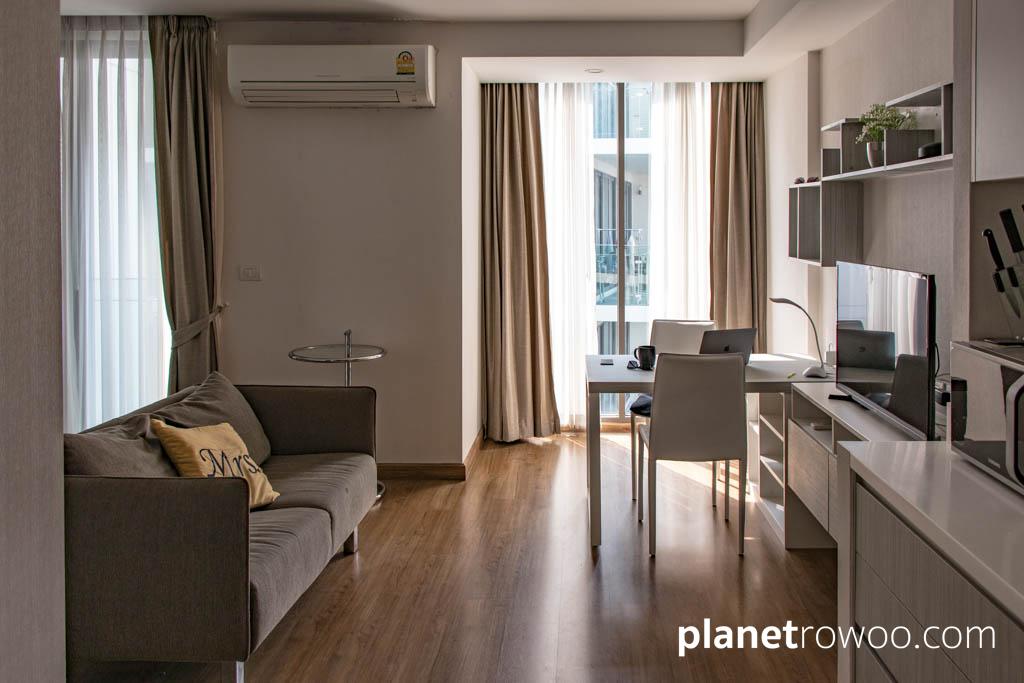 My room is simply yet stylishly finished in neutral shades, with wood veneer flooring, and white and light veneer wall mounted shelving. A table and chairs by the window makes a great spot for working or dining in the natural light from the full height windows. A comfortable 2-seater sofa with adjustable height glass coffee table provides a relaxing spot to kick back of an evening in front of the TV.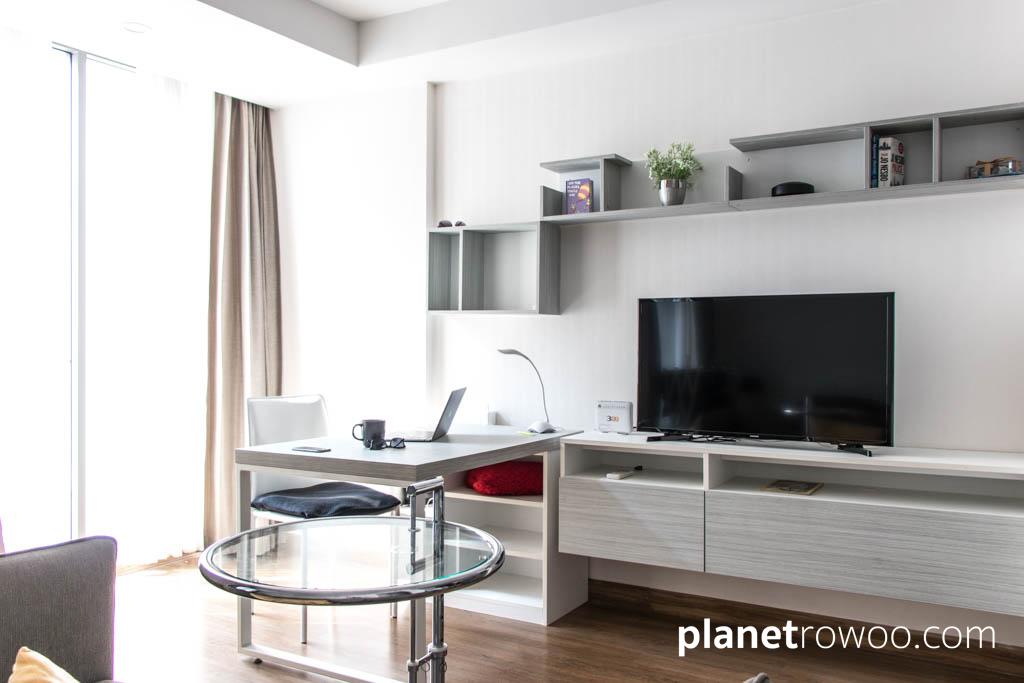 There's ample built-in wardrobe space along one side of the bedroom area. On the other side, sliding windows open onto a small glass-fronted balcony with a lovely view down to the swimming pool and gardens that fill the centre of the complex. There's also an insect screen that you can pull across so you can have the patio door open all day (this was lacking from my previous condo).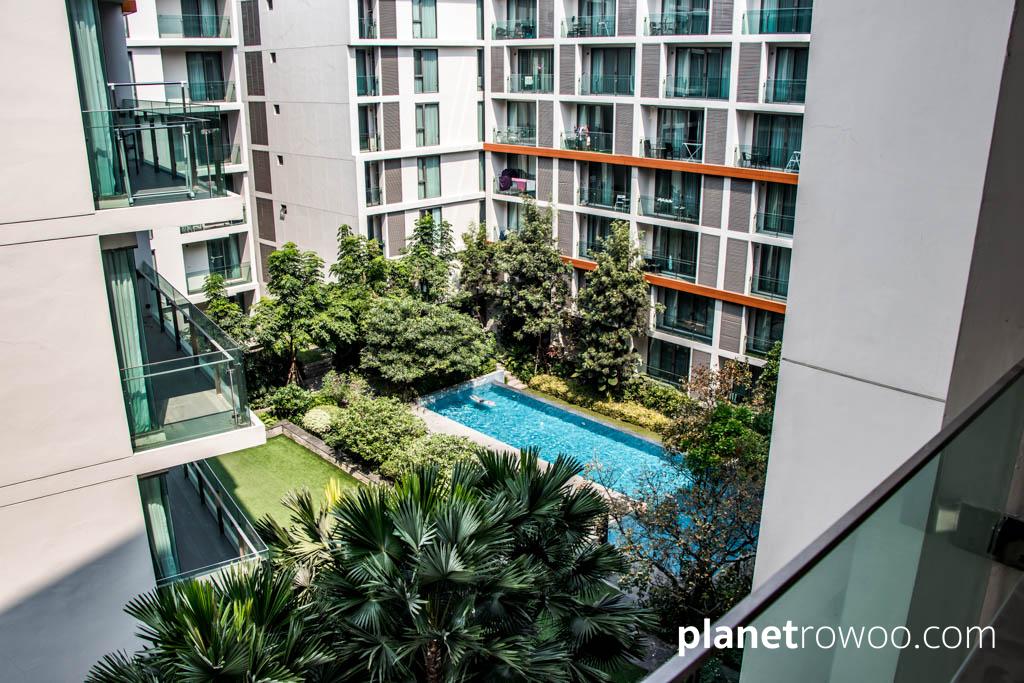 A Sophisticated Theme
In the bathroom, there's a stylish black tiled walk-in glass-panelled shower, but no bath. And that's fine for me. I much prefer a shower. There's also a chunky yet elegant off-white basin sink with wall mounted taps and backlit mirror. The shiny gloss white wall tiles are a stark contrast to the black-walled shower and continue the sophisticated theme of the condo.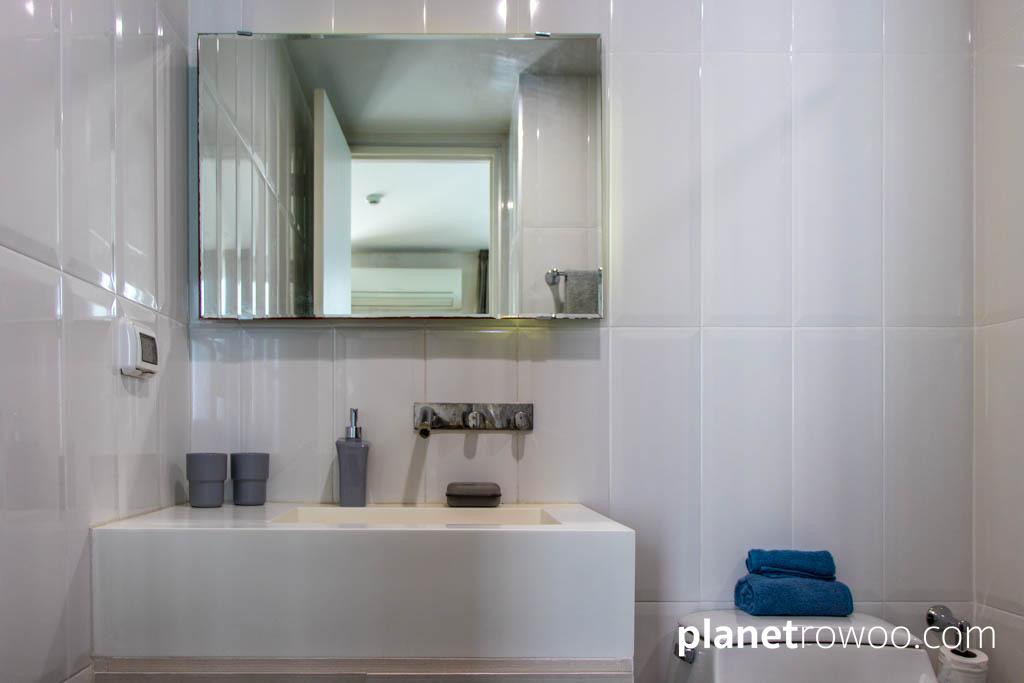 The kitchen area has a free-standing fridge/freezer, microwave, and a small gloss white worktop. In my opinion, the sink is far too big for the worktop – a smaller sink would have allowed more worktop space. There's also a free-standing washing machine on the opposite wall. It looks a little out of place standing there and is a bit of an eyesore as you enter the room. I'm not quite sure why this wasn't built-in (it looks like it should have been on the plans). But these two minor points are probably my only criticism of the room! There's no built-in cooker or hob but a portable single electric hob is provided. Again, that's fine by me, I eat out a lot, but not so good if you like to cook often.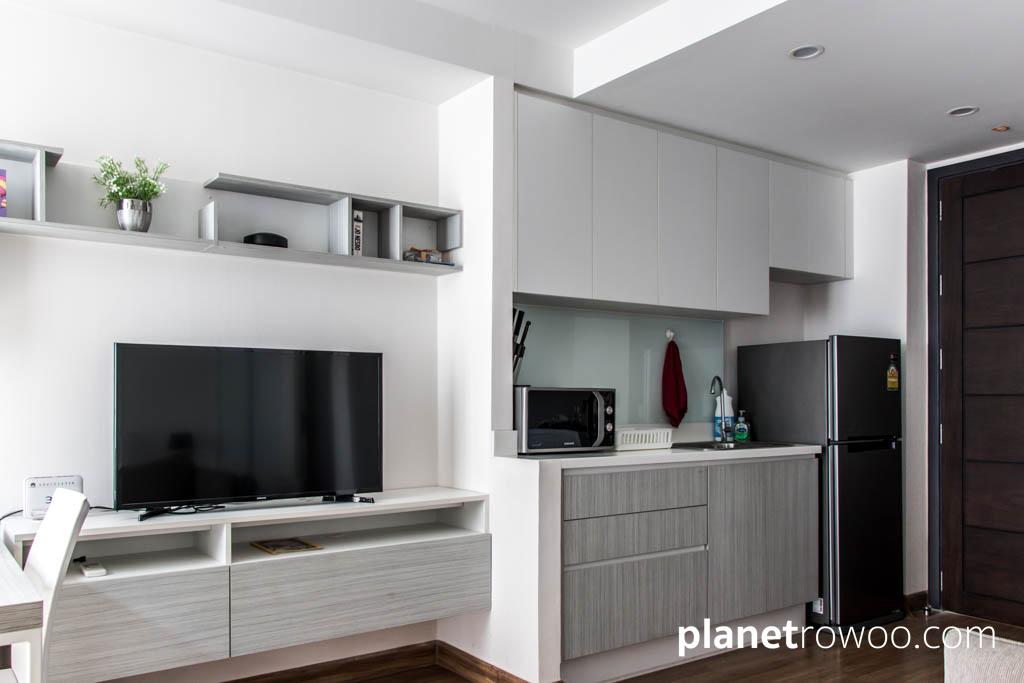 ---
Nimmana Condo Room & Site Plans
Here's a layout of my studio room and the Nimmana grounds.
You can view all room type plans on the Nimmana condo website; http://www.nimmana.com/en/project-plan-studio.php
---
Grounds & Facilities
The Nimmana offers some state-of-the-art on-site amenities and leisure facilities within its tranquil grounds.
Gardens
At the centre of the development, connecting the three buildings of the Nimmana condo, is a beautifully maintained garden. This lush green area lends a touch of the tropics to the condo's urban setting. It's a great place for reading or relaxing. A large artificial lawn provides a great spot also for yoga or exercises, or maybe even to practise your Muay Thai skills.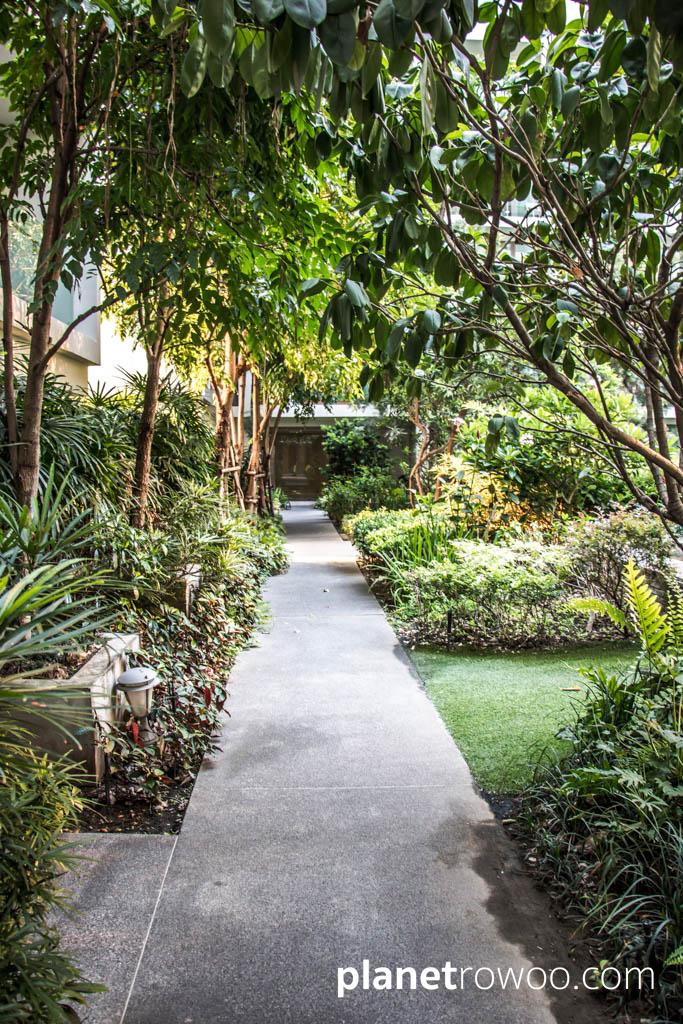 Infinity Pool
Within the landscaped greenery lies the Nimmana's outdoor saltwater infinity swimming pool. It's a good-sized pool for a Nimman condo, with the main swimming area being over 15 metres long. It also has a jacuzzi and a shallow area at one end with water fountains. You can enjoy the sun on one of several sun longers on the adjacent sun deck, but remember the pool is surrounded by three buildings so is shaded for much of the day. There's also a nice small spot with loungers on the opposite side of the pool which has an air of exclusivity.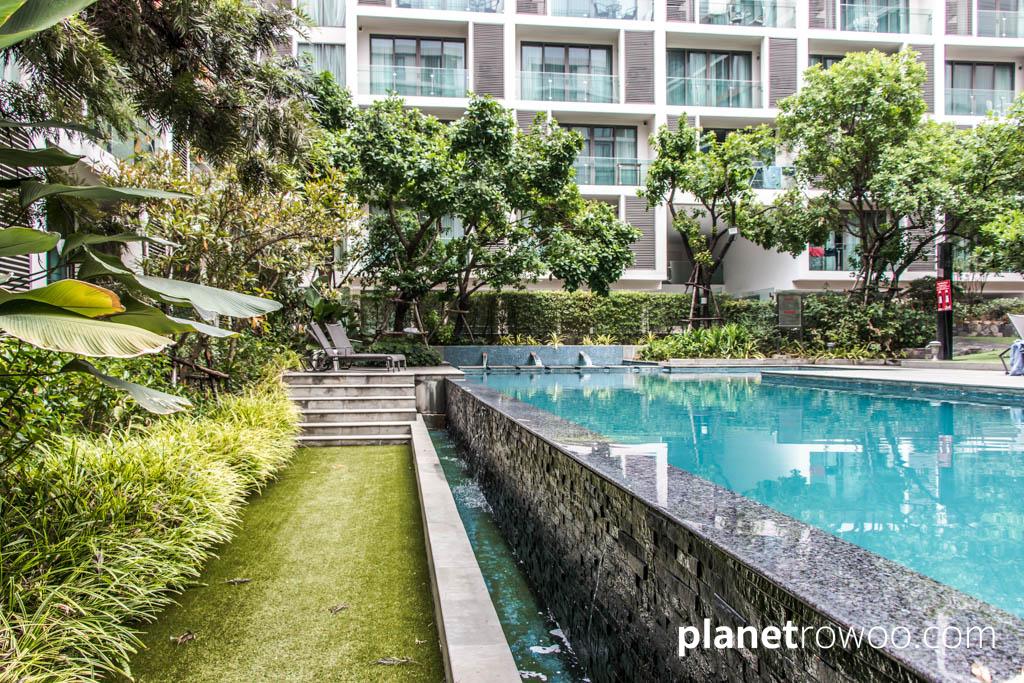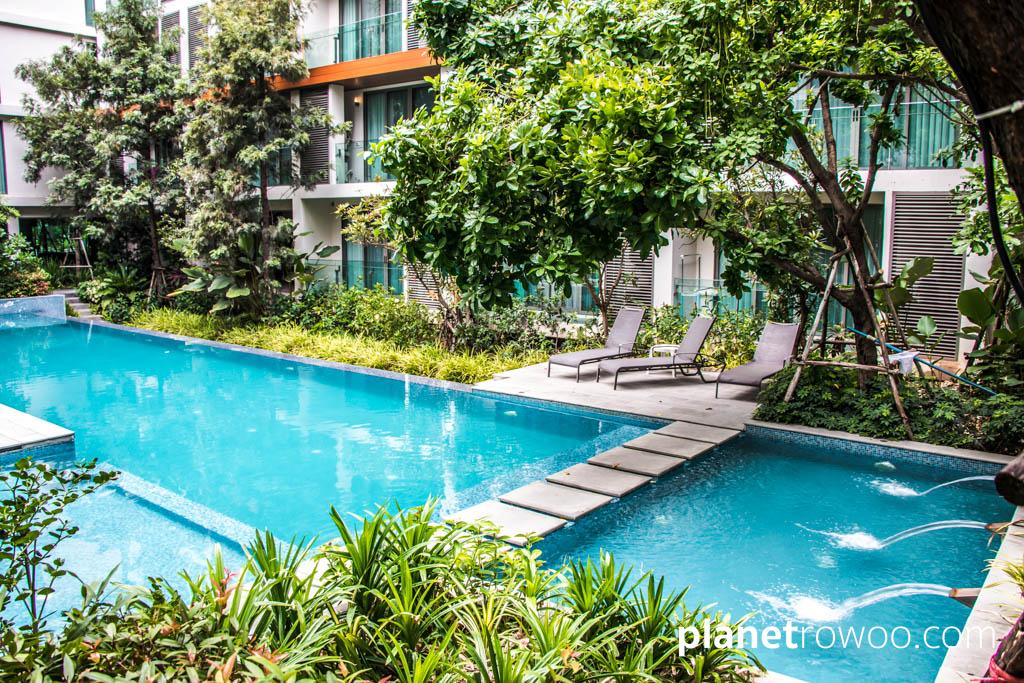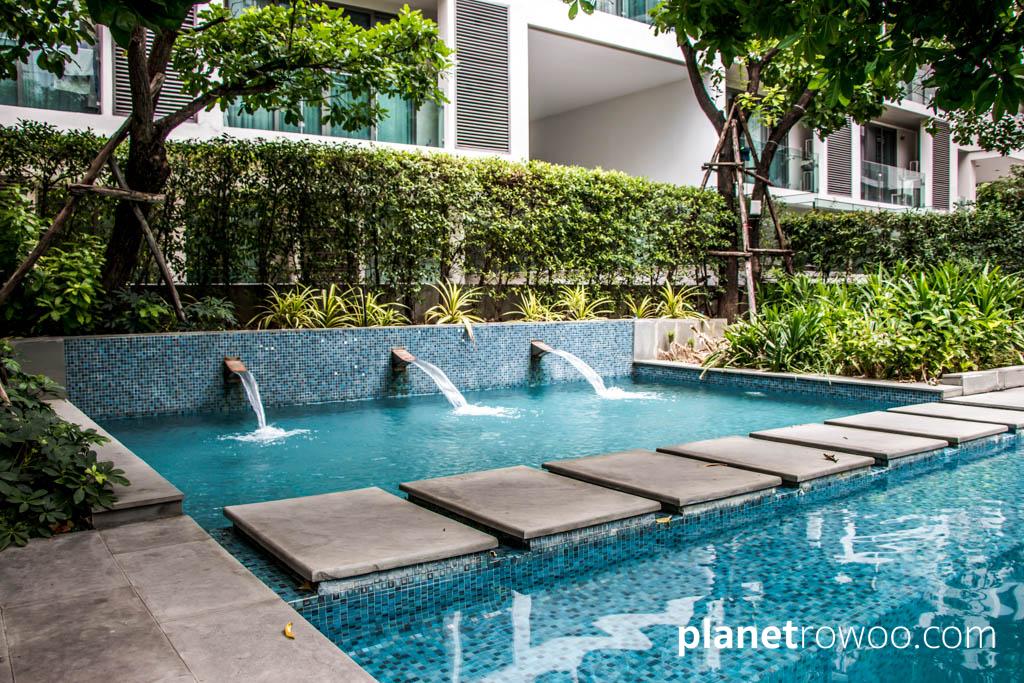 Gym & Sauna
At the foot of the pool is a well-equipped gym, with a nice outlook towards the pool and gardens. With treadmills, exercise bikes, and elliptical trainers as well as a bench press machine and dumbells, you'll always find something available. The gym requires your room keycard for access.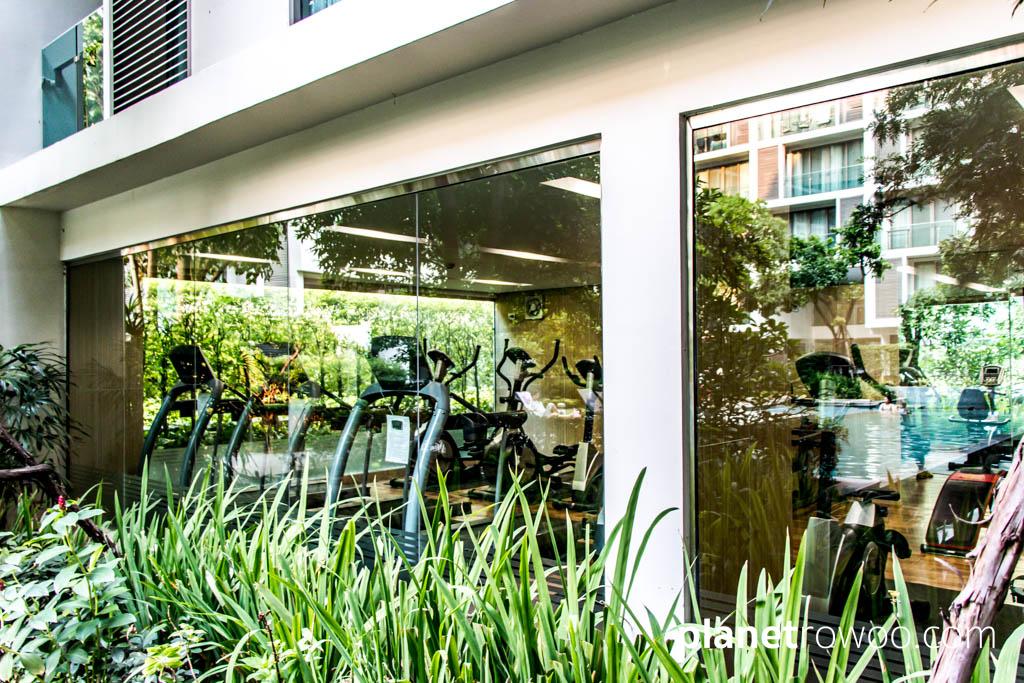 Behind the main lobby area in building A are separate male and female sauna/locker rooms. These are large rooms with a sauna, WC's, showers, washbasins, lockers and changing space. It's unusual to find such a large amenity like this within a Nimman condo. Again, keycard access is required.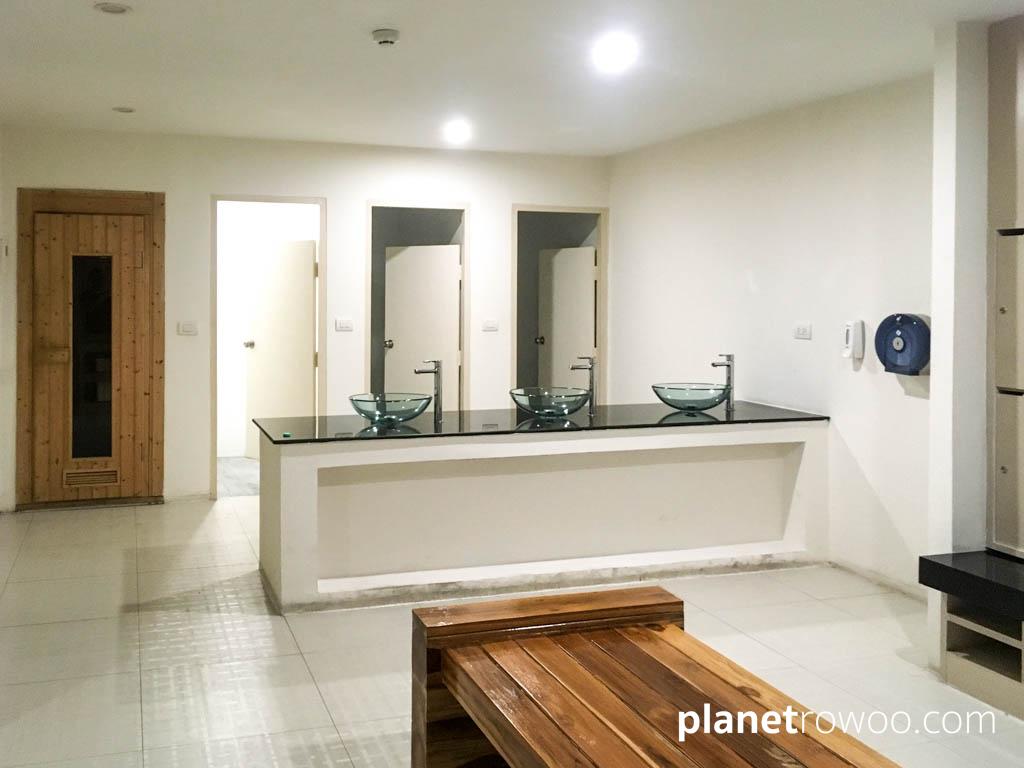 Security
The Nimmana has video surveillance cameras in all common areas. Your room keycard is required to access the lift areas, and to operate the lifts, as well as gain access to the gym and sauna. What is unusual, and a bit of an inconvenience, is that your keycard is required to exit the building as well (i.e. there's no push-button to exit as in many condos, so you always have to escort guests when they leave).
The uniformed security guards at the barriered main entrance are the friendliest I've encountered in any condo so far. They always greet you with an enthusiastic "sawadee krup", often clicking their heels and saluting too! A complete contrast to the miserable security at some places I've stayed at! They not only lend you that sense of security, but put a smile on your face every day as well!
Juristic Office
The Juristic Office is located in the lobby area of building C (on the right as you enter the development). It's staffed between 9am and 6pm every day with a team of 3 or 4 staff who speak good English. There's also a night worker on duty most nights.
Here you can get general assistance with your room, book housekeeping, pay your water bill and also collect your large items of mail. You can also contact them via their LINE id from which they also provide useful bulletins.
Free Wifi
Free WiFi is available in the lobby areas. Great for if you don't want to pay extra for broadband in your room. Passwords are available from the Juristic Office.
Car Park
Beneath the Nimmana complex, there's a large underground parking lot, providing parking for over 200 cars. There's also space allocated for scooters and bicycles. Parking in Nimman can be difficult so this large car parking space is a definite bonus.
Commercial Units
At the front of the Nimmana on the ground floor is a row of commercial units. These include a bakery and coffee shops. Very convenient for a coffee or pastry fix! (see below).
---
Galleries
[envira-album id="16115″]
Nimmana Condo Rental Costs (Studio Room)
Here are the costs for my studio room on the 6th floor of the Nimmana (Building C).
Expense
Amount
Notes
Monthly Rent¹
16000 baht/mth (3-month rental)
15000 baht/mth (6-month rental)
Paid direct to landlord
Water²
30 baht/unit
+ 20 baht/mth service fee
Pay monthly at Juristic Office
Electricity³
Provincial Electricity Authority (PEA) rate (<4 baht/unit)
Pay monthly online or at 7-Eleven
In-Room Internet⁴
Not included
630 baht/mth with 3BB
(no contract)
Various providers available
Housekeeping⁵
300 baht per clean
Organise and pay at Juristic Office
Cleaning on checkout
500 baht room cleaning fee
+ 350 baht per set of bedsheets
One-off payment
¹ I initially rented for 3 months, and then renewed for 6 at the cheaper rate. Rooms at the Nimmana are individually owned so the monthly rent can vary by landlord, as well as rental period and room type. I've seen studio rooms available for as cheap as 12,000 baht/mth for a long term (12 mth) rental.
² Water at 30 baht/unit is pretty standard but the 20 baht/mth service fee I hadn't come across before.
³ Paying direct to the PEA means you're getting electricity at the cheapest rate and not paying any overhead to the condo.
⁴ In-room internet is extra but there's free internet in the lobby areas.
⁵ These aren't serviced apartments, so housekeeping is extra
What's Around the Nimmana Condo?
Nimman is well known for its fantastic selection of cool coffee shops and eateries. It's impossible to mention them all, so here is just a small selection of my regular haunts, all just a short walk from the Nimmana.
Wawee Coffee / Bread Brasserie
A few steps away from the Nimmana entrance is a branch of the Wawee Coffee chain and Bread Brasserie bakery. They share a large commercial unit on the ground floor of the Nimmana complex. The bakery serves some great bread, cakes and pastries (all reduced after 6pm) as well as tasty brunch options. All of which you can wash down with a coffee or iced drink from Wawee.
---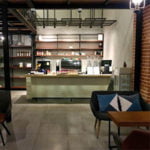 Only Coffee
Also in one of the Nimmana's commercial units, next door to Wawee (above), is Only Coffee. This sophisticated independent coffee shop has a lovely vibe and offers some contemporary yet comfy seating options over two levels. They roast their own beans in-house so the coffee is always excellent. Served with a homemade cookie and a glass of fresh water. Very friendly service and reasonable prices too. Great to have on your doorstep.
---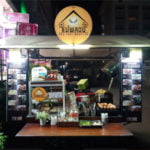 PadThai Maeploy
Essential street food from the lady with the teddy bear hat. Ploy serves some of the best street food in Chiang Mai from her small food stall nearly every night from around 7:30pm until late. She parks up on Soi 6 just down the road from the Nimmana. You can eat at her stall on a couple of plastic stools, or take away. Dishes start from just 40 baht.
---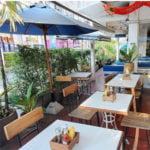 Smoothie Blues
A two-minute walk from the Nimmana on the corner of Soi 6 and the main Nimmanhaemin Road is Smoothie Blues. A long-established eatery in Chiang Mai (there's one at Tha Phae too) with a comprehensive Western menu and particularly good breakfast/brunch options. They also serve Thai food. Great healthy, heart warming food with fresh ingredients. Enjoy the aircon inside or sit outside and watch the world go by on Nimman's main drag. Oh, and they do great smoothies too!
---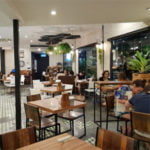 Salad Concept
One of the healthiest places to eat in Nimman. Create your own salad from a huge selection of toppings or eat a la carte. Their dressings are homemade daily from healthy ingredients with no preservatives, no colouring agents and no MSG. But Salad Concept don't just do salad, there's also wholewheat burgers, wraps, omelettes and pasta, all with a healthy twist. In fact, their menu is so varied I could easily eat here every day. It's a big place and very reasonably priced too. Just a few minutes walk from the Nimmana on the main road.
---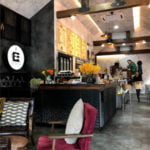 Ember
All day great tasting brunch food, nicely presented with some healthy options. All served by friendly staff in a chilled atmosphere with some comfy seating and some chilled indie pop music. It's easy to lose a few hours here (and I often do). Ember is situated in a nice spot on the corner of the Nimman Promenade (Soi 4) and main road, and just a short walk from the Nimmana.
---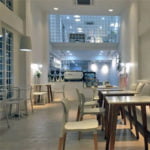 Barisotel
The Barisotel Hotel & Cafe is a branch of The Baristro coffee shop (there are a few in Chiang Mai). The coffee shop on the ground floor of the hotel is open to all. It's a chic, minimalist place with a cool white design theme. In fact, it's very very white. And as at all Baristro's the coffee is excellent. It's just a few minutes walk away from the Nimmana on Lane 9 (straight over the Nimmanhaemin road, past Starbucks). Oh, did I mention it was white?
---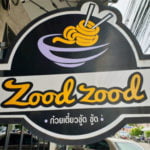 Zood Zood
Zood Zood is small and basic but does great Thai food and is very reasonably priced. It's open from around 10am until very late (2am) which is unusual for the Nimman area. Inside is some basic stool seating, with a nice wall mural on one wall and a montage of photos and post-its from visitors on the other. There are also a couple of tables outside. On Lane 9 just past the Barisotel (above).
---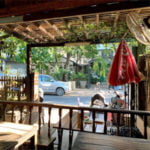 Cherng Doi Roast Chicken
Famous for its roast chicken with crispy skin, Cherng Doi has even featured in the Michelin Guide! Their delicious north-eastern Thai (Isan) chicken dish, or kai yang, is served with a tasty sour-candy flavour tamarind dipping sauce. They also have a great menu with a wide range of other Isan dishes too (just make your selection on the provided order form). All in a cosy jungle garden setting, unusual to find in the hip Nimman area. Just one street up from the Nimmana on Suk Kasame road.
---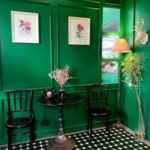 The Verde
With a beautiful garden and interior and great menu of western and Thai options The Verde is a lovely spot to spend some time over a meal or just a coffee. Inside its rich green (verde) interior is an eclectic mix of furniture complemented with tropical greenery and floral displays. It has a real homely feel. And that homely feel extends into the romantic garden setting too. There's nowhere else quite like it in Nimman. It's opposite Cherng Doi (above), one street up from the Nimmana.
---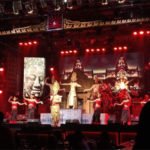 Tawandang Mahason
Not quite a regular haunt of mine (I've been twice) but included here because this Chiang Mai institution is just 200 metres from the Nimmana. Tawandang is a traditional Thai art & cultural nightclub offering free nightly performances ranging from Thai traditional dance, to Thai country music, traditional folk and Western music. It's hugely popular with Thai locals. Each evening ends with a thumping DJ set. You can dine here also. A must visit, at least once, when you're in Chiang Mai.
---
My View of the Nimmana Condo
The Nimmana is my fourth condo rental in Chiang Mai. I've also viewed several others while condo hunting. Overall it's absolutely my favourite so far. I think you'd be hard pushed to find a more stylish development, with this set of quality on-site facilities, and an entry point of only 12,000 baht per month (for select Studio rooms). Especially in the Nimman area.
The resort-style lobby space and gardens, in my opinion, are what makes the Nimmana truly stand out amongst other condos in Nimman. The large and airy main lobby is a credit to the architects/designers. They could have crammed in a few more units here (as is the way in Nimman), but instead chose to create this open space, which I believe is unique in Nimman.
Given the above, and its absolute prime location in Nimman, with so much on your doorstep, it has to be one of the best condos, not just in Nimman, but in Chiang Mai too.
Noise
But being in the thick of things has its advantages and disadvantages.
The Nimman area is under the flight path of Chiang Mai airport so as with most condos in the area you will experience some aircraft noise. But the room sound insulation at the Nimmana is very good and if you keep your balcony doors closed you shouldn't be bothered by this.
The Nimmana is very close to two nightclubs, Tawandang and Infinity, the latter being less than 200m away. There's also Kat Choeng Doi Market, an events space with a band stage at one end, very close by. Regular live music events are held here. Hence late-night music (the nightclubs are open until 2 or 3am) can be heard from these venues most evenings. If you're a light sleeper this might bother you.
The Nimmana: Pros & Cons
Nimman bars/restaurants/shops on your doorstep
Modern & stylish design
Excellent Pool & Gym
Large lobby and gardens
Friendly Security guards
Friendly English Speaking Juristic Office
Free WiFi in lobby areas
24-hr Security/CCTV/Digital door locks
Aircraft noise
Nightclub noise
Not serviced
Room internet extra
Keycard required to exit
The Nimmana Condo: 60-second video tour
---
Perfect Homes
Many thanks to Perfect Homes, in particular Mo, who helped me find my room at the Nimmana. Perfect Homes are a really friendly English speaking real estate agency in Chiang Mai offering properties for both rent and for sale. They offer a great after-sales service too and have helped me with a number of things since I've moved in. I'd highly recommend them.
---
Top image: A view from the gardens through the Nimmana main lobby