Lisu Lodge
A Hill Tribe Eco Lodge in Mae Taeng
One of the many great things about living in Chiang Mai is that it's surrounded by stunning mountains and tropical jungle. These mountains and jungle are home to many ethnic hill tribe villages. Communities with unique histories and cultures, where they lead a simpler way of life.
The Lisu are just one of these hill tribe people. They're a Tibeto-Burman highland tribe, originating from Tibet and Yunnan Province in China. It's believed they migrated into Thailand in the early 1900s. Today they inhabit several regions in the north.
I first stayed at the Lisu Lodge in Mae Taeng back in 2000. It was my first visit to the hills and mountains in Northern Thailand and I was captivated. It was a unique experience, and one of the things that has led me back here, to Chiang Mai.
Mae Taeng
Mae Taeng is a district of Chiang Mai Province about 50km north of Chiang Mai city. It's a mountainous area where 70% of the land is covered in tropical forest. Three rivers run through it, including the Taeng River, making it a popular travel destination for recreational activities such as whitewater rafting and canoeing.
It's also home to several hill tribe communities. As well as the Lisu, there are Karen, Akha, Lahu and Hmong ethnic groups settled here.
Lisu Lodge
An Award-Winning Eco-Business
Lisu Lodge is the brainchild of Chananya Phataraprasit, CEO of Asian Oasis. She grew up with tourism in her blood (her father was the owner of a large tour operator). In 1995 she built Lisu Lodge with the aim of connecting local tribe villagers with travellers.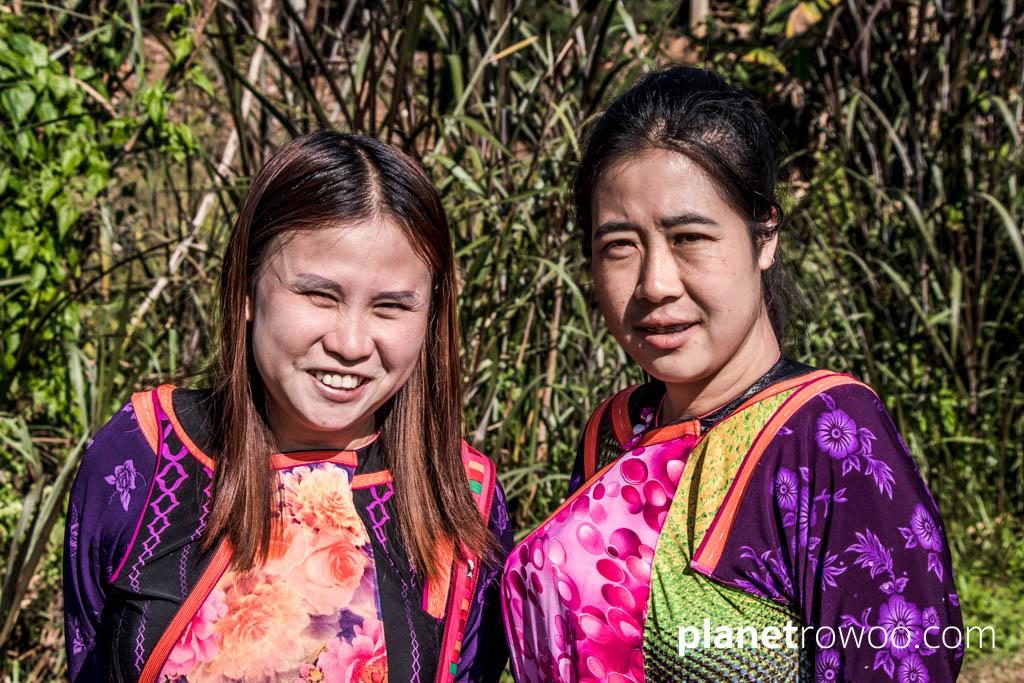 Her vision was to create a place where visitors could learn about the local culture directly from their hosts, the hill tribe villagers. She also wanted the village to earn income directly from tourism. At Lisu Lodge, all profits go back to supporting the Lisu village, improving the quality of life of hundreds of villagers.
Today, Lisu Lodge is an award-winning eco-business entirely staffed by Lisu people. All buildings have an eco-friendly architecture, made from natural materials and require minimum use of energy. Eco hot water heaters operate on solar panels and provide clean and safe water, as environmentally friendly as possible. There is no air conditioning at the lodges. Each house is built on stilts with a high roof, allowing air to flow freely throughout the day. A minimal amount of waste is produced and recycled when appropriate… leftover food is consumed by the village pigs!
Accommodation
When I first stayed at Lisu Lodge there was just one guest lodge with half a dozen rooms. Now, almost two decades later, there has been some expansion and there are now four lodges with around 24 rooms. But the place still remains quiet and peaceful. The lodges are built harmoniously into the lush grounds and spaced far enough apart so as not to impact on each other. In fact, outside of mealtimes, I hardly saw another guest the whole time I was there.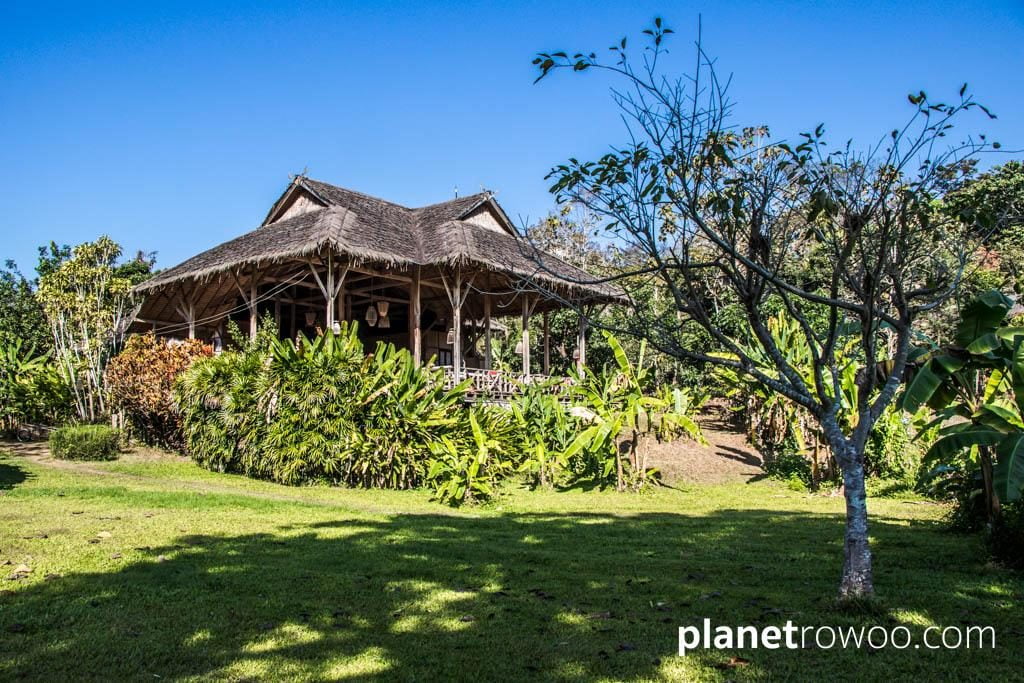 The lodges are set in a beautiful, lush and green valley. Built in the traditional Lisu style, they're 'wallpapered' with bamboo – with woven bamboo walls and ceilings. The rooms are simple but comfortable. The beds are set on a raised platform with a mosquito net which the Lisu staff prepare for you at night. All rooms have an en-suite bathroom with shower. There's also an electric fan, but no aircon, for the eco reasons already mentioned.
Being made of bamboo the walls are thin. I stayed during January and the temperature dropped quite drastically at night. To just a few degrees centigrade… It was cold! I wasn't quite prepared for that. So if visiting during the cooler months I would advise taking some warmer clothing… to wear in bed!!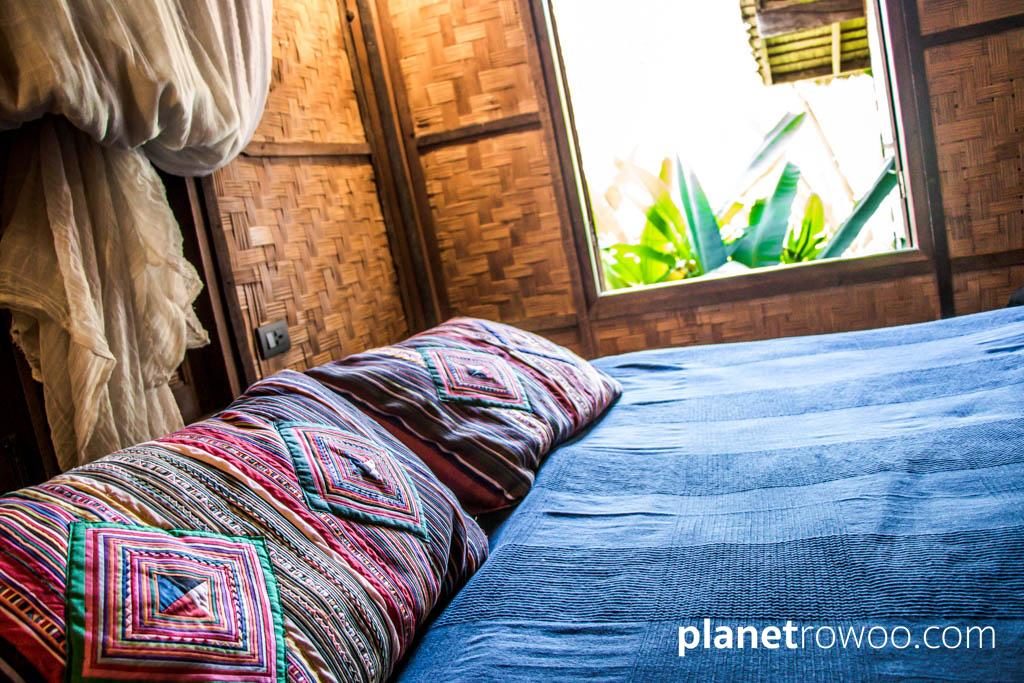 Each lodge shares a large communal veranda where you dine and relax with other guests. At the edge of the veranda, the dining furniture (also made of bamboo) offers stunning views across the gardens and lush fields and hills of the surrounding valley. The communal area also has traditional Lisu cushion seating around low wooden tables where you can chill with a book or a beer (or both).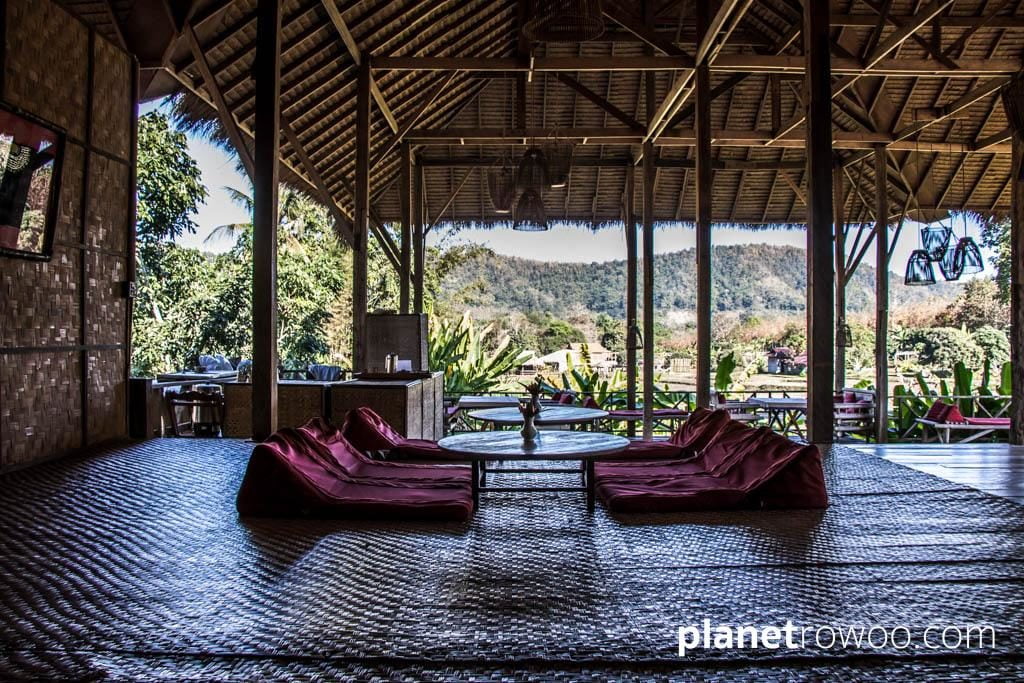 Dining
Breakfast and dinner are included in the price of your accommodation. All meals are served on the communal veranda of your lodge. The food is excellent with many of the ingredients locally grown. Portions are good too. In fact, at dinner, there was far too much for me, perhaps because I was staying alone but paying for two people!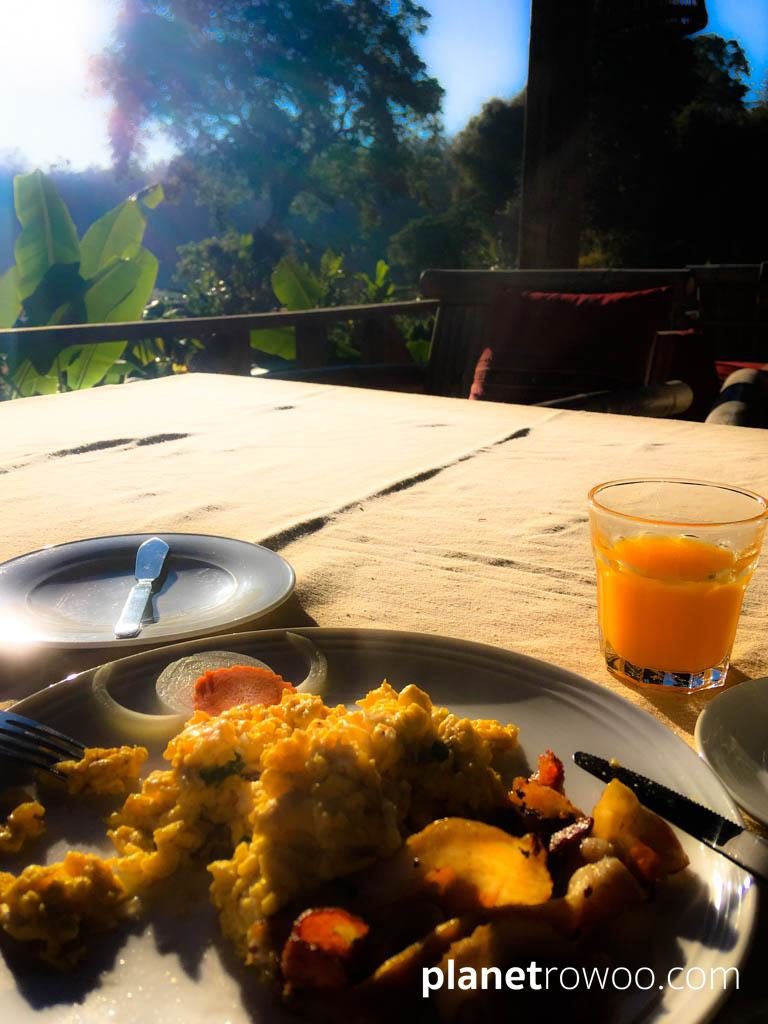 The views across the surrounding fields and hills from the veranda while you eat are beautiful. Breakfast time was particularly special, as the sun was rising over the valley. It's a lovely spot for your morning meal. This time of day was definitely a highlight of my stay at Lisu Lodge.
Lisu Lodge Activities
The Lisu Lodge provide a range of activities for you to learn about the local culture, as well as pursuits for the more adventurous. From a Thai cooking class, to a local village tour, a tea plantation tour, trekking, mountain biking and white water rafting. There's something for everyone.
Baan Ton Lung Village Tour
A tour of the neighbouring Lisu village is included in the price of your stay. Baan Ton Lung village has grown from only four households to 300 in just 30 years. The tour provides you with a fascinating opportunity to see the Lisu villagers going about their daily lives. Leading much simpler lives than most of us. An interesting contrast between past and present. Simple wooden houses with no running water, but with the odd satellite dish. Some villagers in traditional garb, others in football shirts and shorts. And of course the obligatory mobile phone.
Village Shaman
The tour also includes a visit to the village Shaman. The Lisu are animists. They believe that all things are embodied with a spirit. Important spirits are those of ancestors, water, mountains and villages.
In traditional Lisu spirituality, a Shaman is a healing practitioner who acts as an intermediary between the spirit and the material world. A Shaman's treatment for sickness might include herbal remedies or sacrifices of spirit money or domestic animals. In case of serious illness, the Shaman enters a trance and travels through the spirit world to discern the cause and remedy of the problem.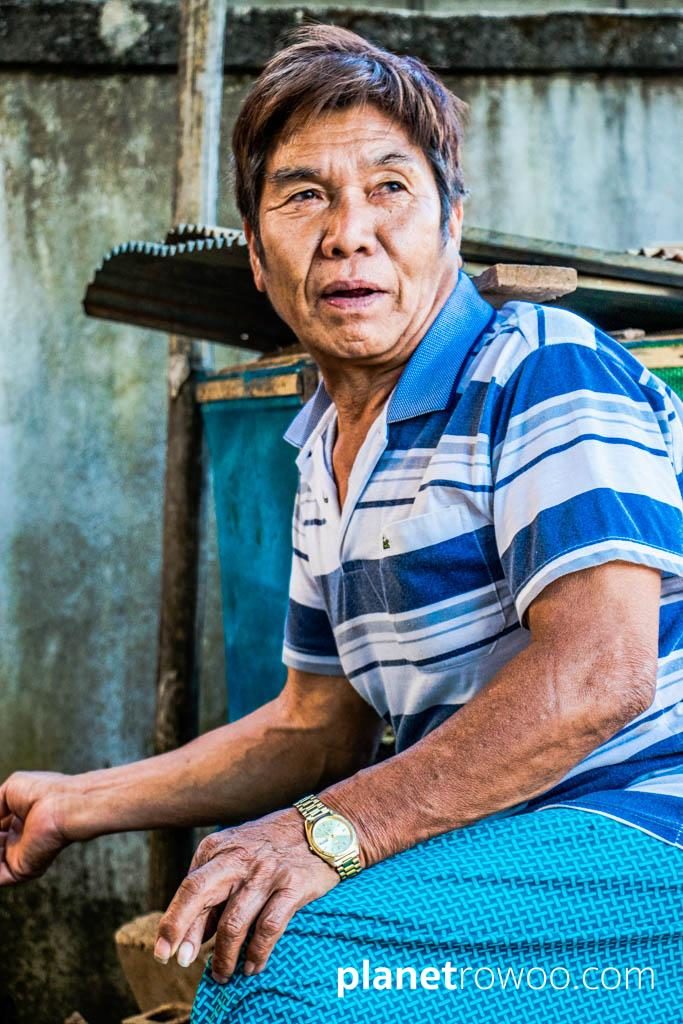 When I visited, the Shaman was 'off duty' and so wasn't in his traditional garb. But he allowed me into his home where we chatted for a short while. He explained how Shamanism ran in his family, and he inherited the position from his father. Also, he's not allowed to eat garlic!
Araksa Tea Plantation
One of the highlights of my stay was a visit to the nearby Araksa tea plantation. Araksa is one of the oldest tea gardens in Thailand, and specialises in producing high-quality handcrafted Assam tea.
The tour begins in the shade of an outdoor Sala where you learn about the history of tea and about growing and plucking the tea leaves. Charlie, the main guide, is a real character. He was joined by the charming Boey, and Yong the tea roaster. Lovely people with a real chemistry between them. They gave such an entertaining talk, with lots of laughs. I never knew tea could be so interesting!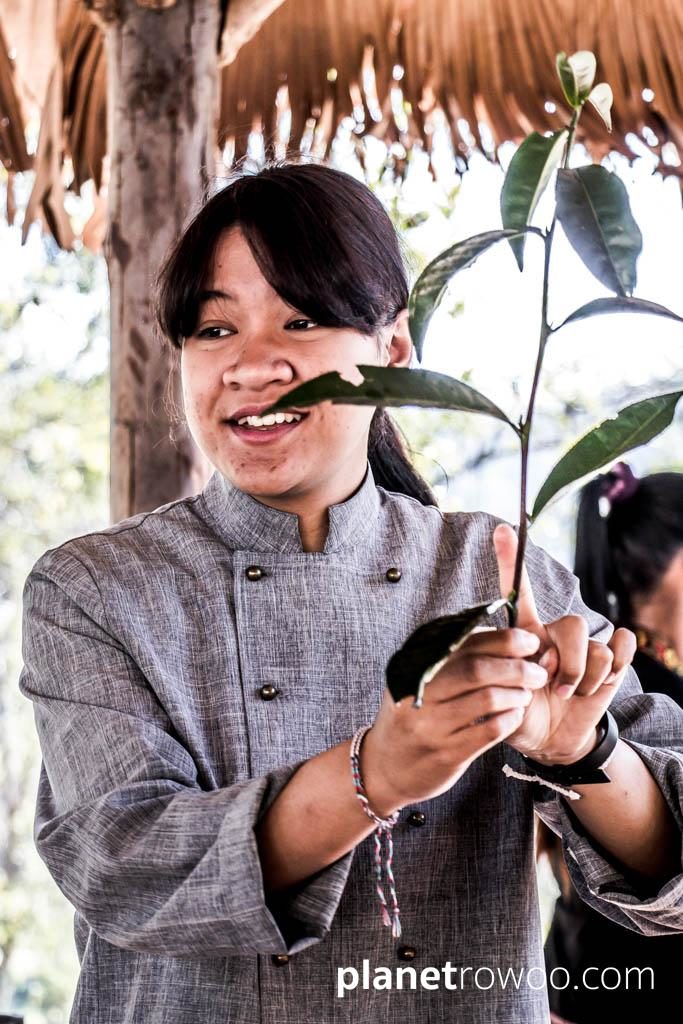 After the talk, you strap a bamboo basket to your back and you're led to the tea bushes where you get a chance to do some tea plucking yourself. It was a beautiful cool sunny morning and I surprised myself at how relaxed I felt just plucking tea leaves and popping them into the basket on my back. Such a simple but satisfying activity.
Then, back in the Sala, at the roasting station, you learn the art of making tea by hand from kneading to roasting tea leaves. And when the roasting is done, you're led to the gorgeous Araksa warehouse where you get to enjoy a cup of tea made from your freshly plucked tea leaves.
An Unexpected Delight
I can't recommend the Araksa tour enough. I wasn't expecting learning about tea to be quite so enjoyable. It was a really personal experience, led by Charlie and the lovely Boey, who made the effort to learn your name and speak to you personally.
To get to Araksa from Lisu Lodge, Lisu staff will take you by local truck or mountain bike. I chose the mountain bike option. It takes around 20 minutes from the lodge and is pretty easy cycling. After a morning visit to Araksa, I was up for some more mountain biking in the afternoon…
Interesting fact: the late King Bhumibol Adulyadej of Thailand encouraged the import of tea to the region over 50 years ago to help counter the opium trade in the area.
Mountain Biking in Mae Taeng
I love cycling. Particularly mountain biking. Back in the UK, I used to ride every week along the river Adur where I lived. I hadn't been on a bike for a while though, not since Nyaung Shwe in Myanmar, so I was particularly keen on getting back on a bike in Mae Taeng!
After a short trip to the Araksa Tea Plantation in the morning, I booked an afternoon tour around the surrounding countryside of Lisu Lodge. My Lisu guide was Fam, a young student from the local area who was getting some tourism work experience at Lisu Lodge. A really nice guy and a real charmer!
Together we hit the hills and trails of Mae Taeng. Fam seemed to be a little unsure of the route at times, and on one of our breaks, he announced… "Khun Robin, I have a confession to make"… "this is the first time that I take this tour!". But that didn't detract from the experience in the slightest. We had a great time. Those hills nearly killed me though. But it was good to know I could still give a 20-year-old a run for his money!
Good Friends
We completed the trail quicker than expected. And since we had some time to kill Fam took us by a roadside food vendor where he bought some grilled meat skewers for the both of us. We then headed off back to Lisu Lodge. On the way, we stopped by a small pond where we chatted and ate our food as the sun went down. At one point he held out one of the skewers of meat and prompted me to do the same while he took a photo of the two skewers side by side. "Good friends" he said. I felt a little choked.
Traditional Dance
Each night after dinner there's a Lisu dance performance on the veranda of your lodge. Villagers from the local Lisu village come in traditional dress. The men play traditional instruments while the women and children perform the dancing, which you're encouraged to join in with! It's a nice touch to end the evening.
More about the Lisu
There are some fascinating facts about the Lisu in a booklet in each room. Here are just a few snippets…
The Lisu earned their name as a tribe that is alive with colors. In fact, the Lisu are considered to use the greatest variety of colors of all the hill tribes, especially with their traditional costumes.
The word "Li" comes from the word "eelee," which means custom, tradition, or culture; "su" means "person." The combined meaning is: a group of people who share a deep pride in their customs, traditions, and culture.
Just prior to the Lisu New Year, the Lisu start to produce whiskey for the New Year. It is believed that the taste of the whiskey could be affected if outsiders visit the home during the whiskey production. Thus, visitors are not allowed into Lisu homes at this time.
The Lisu Shaman will not eat garlic or dog meat, and cannot visit a house during a post natal recovery period. Moreover, he can never go under clothes lines.
---
Galleries
[envira-album id="6933″]
Travel Details
I stayed for 2 nights at end of January 2018. The cost was 74 GBP per night with Hotels.com. The price included breakfast, dinner and a village tour.
I booked the transport from my condo in Chiang Mai with Asian Oasis (Lisu Lodge tour operator). The cost was 1,850 baht (around 40 GBP) each way. Journey time was around 1 hour.
My View of Lisu Lodge
My second time at Lisu Lodge and even though there were almost 20 years in between, it felt strangely familiar. I think I may even have stayed in the same room! I love the Lisu Lodge concept of sustainable tourism, feeding back into and conserving the heritage of the Lisu people.
There are other experiences available where you get to stay overnight in hill tribe villagers homes. But that is not what this is. And it doesn't pretend to be. It's more for people who want to experience the culture of the Lisu people, but who still enjoy their western comforts.
Dining on the veranda at dawn as the sun rose, as well as at night during the January 31st "supermoon" total lunar eclipse, provided some magical moments for me. I also had the best time mountain biking with Fam, and learning about tea from the lovely hosts at the Araksa tea gardens.
Maybe one day I'll return for a third time. But before then, I would certainly like to experience Asian Oasis's other Northern Thailand lodge, Lanjia Lodge in Chiang Rai. Another eco-friendly community-based lodge where you get the chance to meet and learn about the Hmong and Lahu hill tribe people.