PLAY Condominium
PLAY Condo, my second condo rental in Chiang Mai and my home for the next 3 months. How would it compare to The BLISS?
Condo Hunting in Chiang Mai
After 6 months of staying at The BLISS, I was ready to find somewhere new. The BLISS had been perfectly comfortable, but it had very much been chosen for me. I was looking forward to finding somewhere that met my tastes and requirements better.
Once you're on the ground in Chiang Mai it's very easy to find accommodation. Particularly in the Nimman area where I'd decided to remain for a while. In fact, you practically can't throw a stone in Nimman without hitting a condo! There are some good internet resources for condo searching (see below), but I already had my eye on a couple of places not so far from The BLISS.
I narrowed it down to two options; The Prestige Chiang Mai and Play Condo. The Prestige is a little further from the action in Nimman, but closer to Doi Suthep mountain. It has large loft-style rooms in a very urban style. I'd owned a loft apartment in London before, so it was tempting. The concrete wall finish is an acquired taste though. Play Condo is more central, very close to the MAYA Shopping Mall. It's a newer complex, with smaller rooms (for the price) and very modern and stylishly finished. It also has a stunning rooftop pool with a view of the mountain.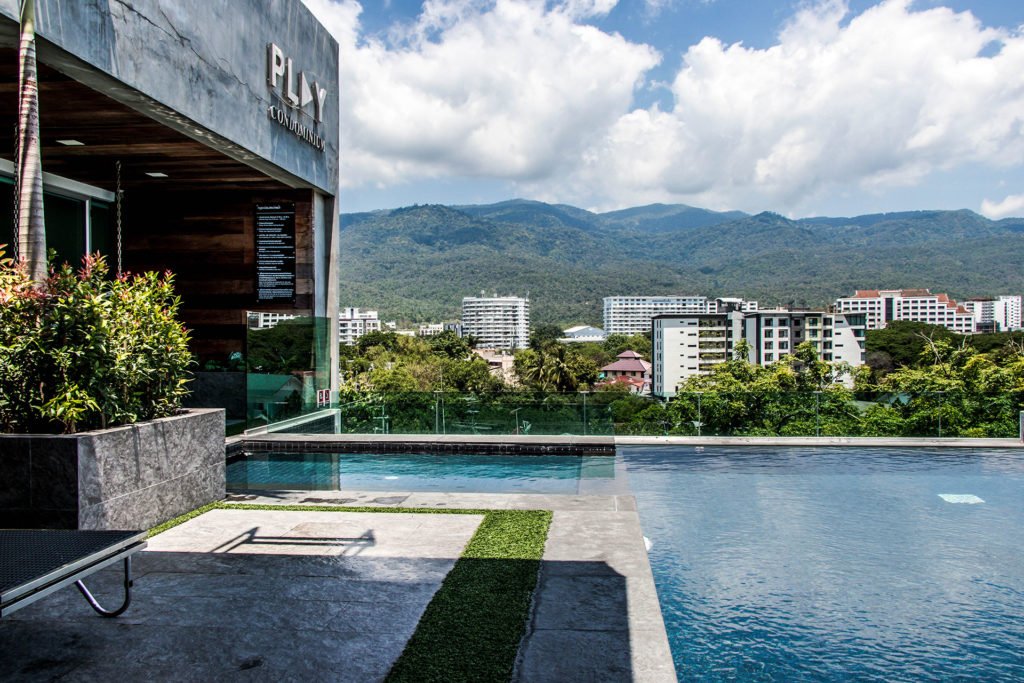 I finally decided, as the title of this article suggests, on PLAY Condo. I would be paying more money for a smaller room, but I felt like a little luxury for a while.
PLAY Condo, The Details
PLAY Condo is a new, modern style condominium completed in 2016. It's located on the northern edge of the trendy Nimman area in Chiang Mai, set back from the busy Huay Kaew Road, and just a few minutes walk from the main drag of Nimmanhaemin Road.
There are around 60 units across 7 floors. A mix of one and two-bedroom apartments (no studios) with 6 different room layouts. I chose a one-bedroom room on the top floor, with a great view of Doi Suthep mountain from the balcony (if you lean out and crane your head to the left!).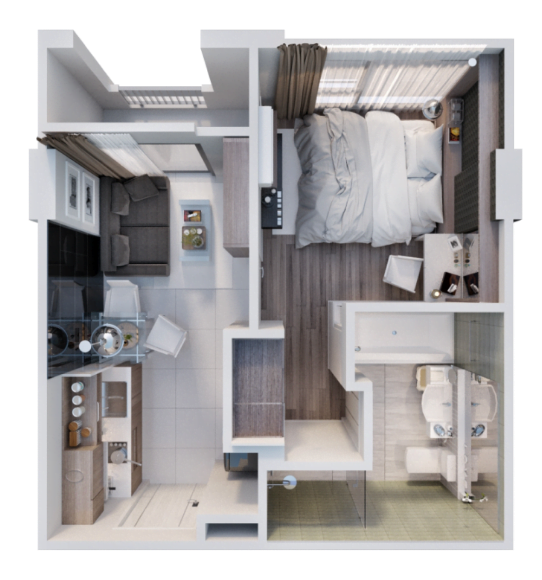 My room is one of the smaller units at around 30m². Stylishly furnished with en-suite bathroom with separate shower, a well-equipped kitchen, two TV's and a washing machine (on the balcony). I love the bathroom design with a large window through to the bedroom, which allows you to watch the bedroom TV while in the bath! A nice design feature. There is, of course, a blind which you can close for privacy.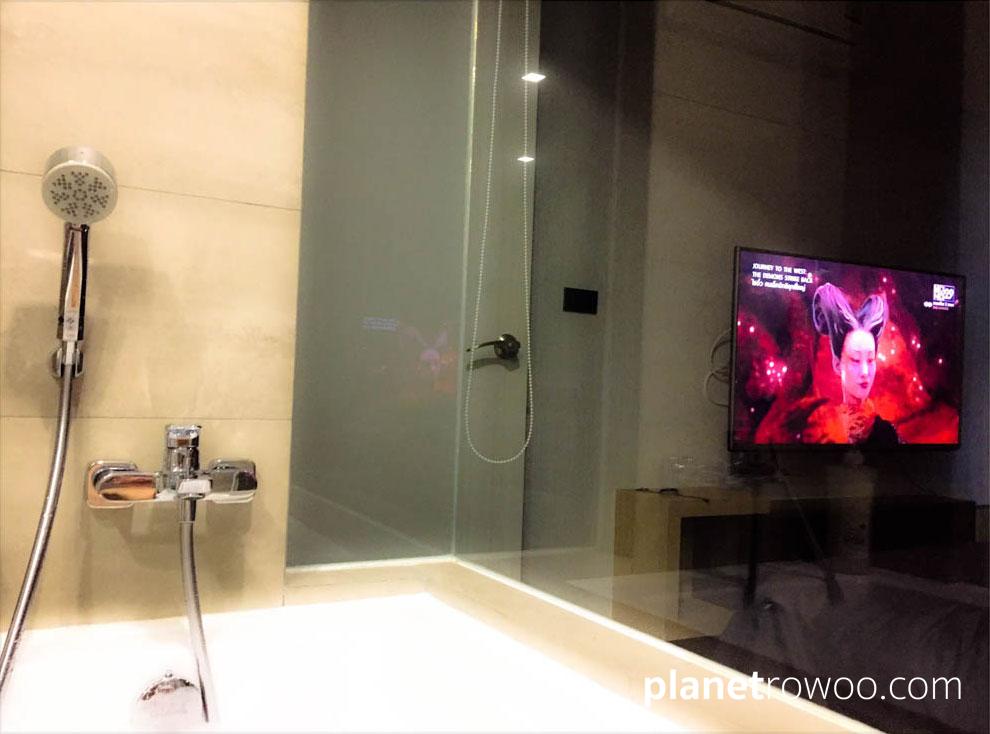 The main living area is a little small, and I had reservations about it at first, but it's surprising how quickly you get used to the small space.
For 3-months rental, my rate is 19,000 baht per month (around 440 GBP). A longer-term rental would reduce the price (as is the norm in most Chiang Mai condo rentals).
A Stunning Rooftop Terrace
The pièce de résistance of PLAY Condo is the rooftop terrace. In particular, the rooftop pool. And my room being on the top floor, it's literally a 30-second walk away.
Also on the stylish rooftop are a gym, sauna, and a large library/workspace. The latter is a spacious air-conditioned room with desk space, a sofa and some casual seating. It's a great place to chill or work where you can tap into the condo communal Wi-Fi.
Around the pool are a couple of loungers and some funky sixties style acrylic hanging bubble chairs. There's also a high stool seating area along the back looking south over Nimman. It would be a great area to chill with a beer but unfortunately, no food or drink is allowed on the rooftop.
Services at PLAY Condo
The rooms at PLAY Condo are not serviced apartments as such, so housekeeping is not included in the rent (unlike at The BLISS). Housekeeping is provided on request at a cost of 300 baht (for my room size). Also, only one towel and one set of bedding were included with my room and these are not changed or laundered by the housekeepers. As a result, I've had to make my first household purchases since living in Thailand; a set of bedding and some towels! I've also invested in a fan as one wasn't provided in the room. There are two aircon units but I've learned from experience that running aircon ramps up your electricity bill considerably!
The condo management are very friendly and always happy to help. Particularly Nuy, who speaks great English. They man the management desk in the reception area from around 9:00am to 5:30pm and are also available via email. I had a problem with the Wi-Fi in my room and they helped resolve it quickly and efficiently (they liaised with the owner and organised the installation of a repeater/booster in my room at no extra cost).
Wi-Fi is also provided in the communal areas. Passwords are available from the management team on the ground floor and change regularly.
Rental Costs
Here are the costs for my One-Bedroom room on the top floor of PLAY Condo.
| | | |
| --- | --- | --- |
| Deposit | One month | |
| Monthly Rent* | 19000 baht / mth | (3-month rental) |
| Water | 30 baht/unit | |
| Electricity | 5 baht/unit | |
| Internet* | Included in rent | |
| Housekeeping | 300 baht per clean | |
| Deep clean on checkout | 1500 baht | (one-off) |
| | | |
*Rooms at PLAY Condo are individually owned so the monthly rent can vary by owner as well as room type. The rent varies by season too. Also, internet may not be provided by all owners.
Water was included in the rent at The BLISS, but the 30 baht/unit charge at PLAY is standard for many condos. Electricity at 5 baht/unit is cheaper than The BLISS and more the norm for Chiang Mai, unless you're billed directly by the Provincial Electricity Authority (PEA) which works out a little cheaper.
PLAY Condo Room Tour
A quick 30-second tour of my room at PLAY Condo.
Wandering what the significance is of the Dr Seuss book at the end of the video?… It was given to me by some very dear friends when I left the UK. I've carried it with me ever since… "Oh, the Places You'll Go!"
Gallery
[envira-album id="11054″]
What's Around?
There are so many shops, eateries and drinking options in Nimman I can't include them all here. So instead, below are just a few places literally within stumbling distance of PLAY Condo.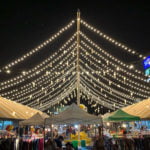 Kad Rincome Night Market
Directly across the road from PLAY Condo is Kad Rincome Night Market. The market offers a mix of clothes, jewellery, electronic goods, plus plenty of cheap food options. It's very much a locals market, and in particular has lots of young adult fashion. Not the best market in Chiang Mai, but convenient to have on your doorstep.
---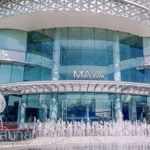 MAYA Shopping Mall
MAYA 'Lifestyle Shopping Center' is Chiang Mai's newest shopping mall – with western stores, food halls, banks, a supermarket, fitness centres and a multi-screen cinema, across five floors. It's easy to lose a few hours here. This shiny iconic structure is air-conditioned bliss and hard to resist on a hot day. It's just across the road from PLAY Condo, right next door to the Rincome Night Market (above).
---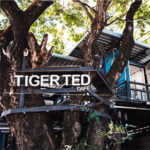 Tiger TED's Cafe
Throw a couple of shipping containers into a tree and fill them with child-size reclaimed wood furniture and you have Tiger TED's Cafe. This quirky little cafe is sandwiched between MAYA and the Rincome Night Market and is a favourite for cyclists and coffee aficionados alike. Dwarfed by the MAYA shopping mall beside it, this mini Grand Designs project could easily be mistaken for a construction site office… but it's a cool hangout – and is the best place for coffee and western breakfast close to PLAY Condo.
---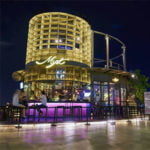 Nimman Hill, MAYA
Nimman Hill is the rooftop area of MAYA Shopping Mall. By day you get sweeping views across the city and towards Doi Suthep mountain. By night it's a popular nightlife spot, with live music and DJs across six bar/restaurants, each competing with each other for the loudest music that goes on well into the night. Myst bar offers the best views on its upper terrace and some creative cocktails.
---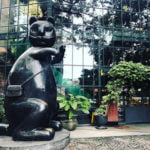 Think Park
Think Park is a chic shopping and dining area on the corner of the MAYA intersection. With a small maze of boutique shops and an evening craft market it's a pleasant spot for a daytime or evening wander. There's just a handful of bars and restaurants, and a 24-hour Tom N Toms coffee shop for your late night coffee fix. It's just a 5-minute stroll from PLAY Condo along Huay Kaew Road.
---
My View of PLAY Condo
PLAY Condo is a smart, well designed and finished condo in a great location. It's perfect for you if like me you don't have your own transport. Everything you need (in abundance) is within walking distance… with the above resources on your doorstep, and the rest of Nimman a little more than 5-minutes walk away. If you do have your own transport you may find the busy MAYA junction a little frustrating as more often than not you'll go through it to reach other parts of the city. It can be a long wait too for a taxi when they get stuck for a lengthy time at the lights (there's just something very wrong about the traffic light timing!).
As with my previous condo, being on the west side of Nimman, PLAY is right under the flight path of Chiang Mai airport, so the area does suffer from aircraft noise throughout the day (from around 6am to midnight). However, the rooms are well sound insulated and with your balcony doors and windows closed you shouldn't find it a problem. Personally I've found it's just something you get used to – I have my balcony doors open most days and I rarely notice it any more.
The hotel-style rooms have a luxury feel, and the bathroom window through to the bedroom is a particularly nice design feature. The smallest rooms are very small though, and on the pricey side for Chiang Mai.
The highlight, of course, is the rooftop terrace. It's a unique space with the stylish library and gorgeous pool with a stunning view over Doi Suthep. Some may find the gym and pool a little small however.
PLAY Condo: Pros & Cons
Modern & stylish design
Rooftop pool / terrace with views of Doi Suthep
Rooftop library
In-room internet included in rent
Communal Wi-Fi
24-hr Security/CCTV/Digital door locks
Nimman bars/restaurants/shops within easy walking distance
Helpful & friendly management
Small rooms
On the pricier side
Pool and gym are a little small
Housekeeping is extra
Aircraft noise
Traffic congestion at busy MAYA intersection can cause transport delays
An Elevator Story
Stuck in the lift!: Power cuts are quite frequent in Chiang Mai, especially during rainstorms. As I was returning to my room in the lift during a downpour one day, the power died and the lift came to a sudden halt. I'd never felt claustrophobic in a lift before but when it came to that unexpected standstill I suddenly did. I guess it was the thought of not knowing how long I was going to be stuck alone in that small space! A minor panic began to set in. Thankfully, after a few minutes, the backup generator kicked-in and the lift began ascending very slowly to my floor. It was a great sense of relief as the doors opened and I was able to step out onto solid ground again.

So… should this happen to you, you can be rest assured the PLAY Condo lift will start moving after a short while!
Condo Rental Resources
Perfect Homes
Real estate agency (sales & rentals) based in Chiang Mai with helpful and friendly staff
https://perfecthomes.co.th
RentHub
Thailand nationwide rentals website with large database of accommodation
https://www.renthub.in.th/en/apartment/chiang-mai
Nomad Rental
A great resource for digital nomads looking for accommodation in some of the world's best remote working hubs
https://nomadrental.com/cities/chiang-mai-th/articles/chiang-mai-condos-monthly-rental