Mae Ngat Dam Floating Houses
The Mae Ngat Dam is just an hours drive north from Chiang Mai. Its floating houses offer a tranquil and picturesque escape from the hustle and bustle of the city. I didn't know it existed until one lazy weekend afternoon…
An Unexpected Trip
Sitting having a late lunch with my Thai friend on a Saturday afternoon in Chiang Mai old city, at around 4 pm in the afternoon…
"Let's go away to the lake", she said.
I had no idea where 'the lake' was but I replied: "Ok, great… when?"
"Today… Tonight… Now" she said.
Now anyone who knows me knows that I like to plan things ahead. I never do anything last minute… so this panicked me a little.
"But…" I replied, desperately trying to think of an excuse not to go.
But then I thought, I've left my home in the UK for an 'adventure' on the other side of the world… so I think I should be able to manage one night away at short notice. I needed to lighten up! Time to change I thought…
"Ok… let's do it!", I said.
So while she phoned ahead to try and arrange some accommodation for the night (she assured me some would be available) I headed back to my room and threw some things in a bag (I'd never 'thrown' stuff in a bag for an overnight trip in my life!).
About Mae Ngat Dam
Mae Ngat Dam is located in Mae Taeng district on the western side of the Si Lanna National Park in Chiang Mai Province. It was built in the 1980s to provide irrigation for agriculture in the surrounding Mae Ngud basin. Ever resourceful, Thai locals took advantage of the dam and built several floating houses/restaurants on the newly formed reservoir. This man-made lake has since become a peaceful sanctuary for Chiang Mai locals and travellers alike.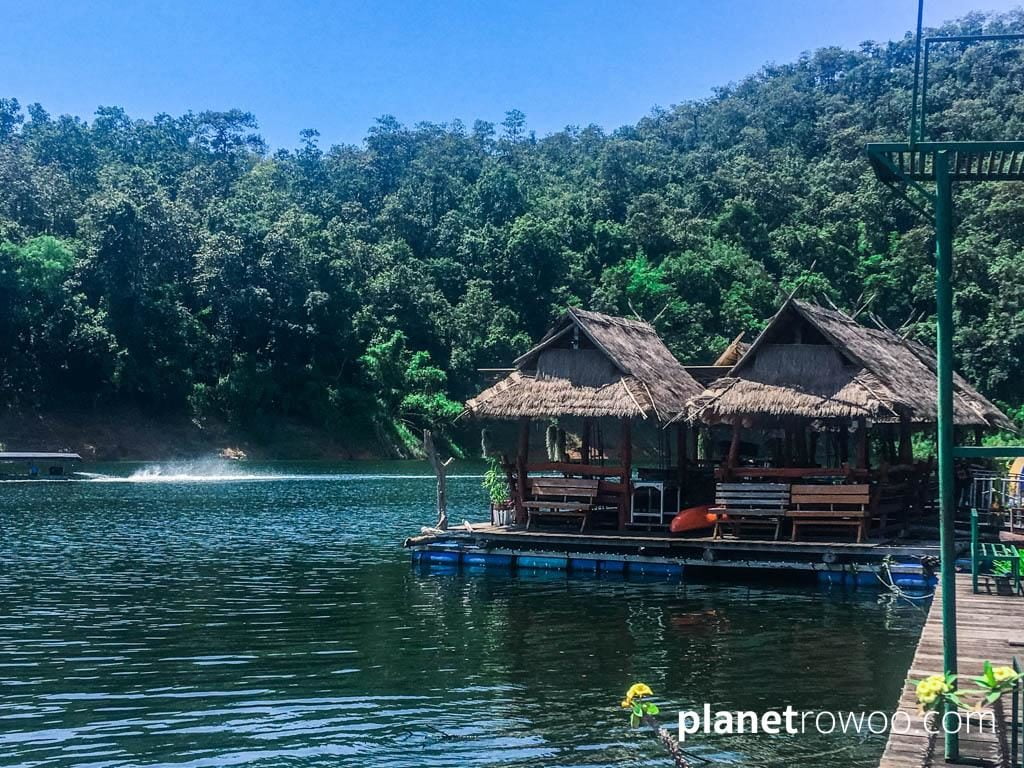 Getting There
The Mae Ngat Dam floating houses are around 55km north of Chiang Mai city. The dam is easiest to reach by car or bike, but you can also take a songthaew (passenger pickup truck). I decided I didn't fancy the one hour ride on the back of my friend's bike, so we called Grab (for those who don't know, Grab is Thailand's equivalent of Uber… in fact Grab acquired Uber in South East Asia in April 2018).
The Grab driver said he'd only take us if we paid cash. He wanted to go 'offline' so he didn't lose his commission to Grab. It was a long journey for him he said and he might not get a fare back. I normally pay by credit card via the app. But it was getting late and we needed to get a boat to our floating house at 6 pm! So cash it was! The journey there cost 600 baht (14 GBP).
A Boat Ride at Dusk
We arrived at the lakeside a little after 6 pm. A row of longtail boats lined the shore. It was getting dark, and eerily quiet with just the sound of cicadas and the water lapping on the shore. There was no one around. Perhaps we were too late. I had visions of us having to spend the night on one of those rickety boats bobbing on the shoreline.
My friend made some calls. It seems that the original company (several operate on the lake) had forgotten us, or just couldn't wait. Luckily another company had availability, and they were on their way!
20 minutes later, we were in a longtail boat heading for our floating accommodation. It was dark by now so the boat driver was using a flashlight attached to the boat to see ahead. Just the three of us, skimming over moonlight lit water, with the sound of the wind and the water splashing against the side of the boat… and the hum of the longtail boat engine. It was an oddly serene experience.
Apologies for the low light/poor quality video… it was dark! But you get the idea, I hope.
It's around a 15-minute ride to the floating houses and costs 300 baht (7 GBP) each way.
Sainatee Floating House
As the boat pulled up to the Sainatee Floating House, our home for the night, a sweet little Thai lady met us and showed us to our room. There are just a handful of rooms at Sainatee, built within a simple structure and fronted by a wide decking area. The rooms are very basic, with woven bamboo walls. Ours had two double mattresses on a raised wooden platform in a room just large enough for the beds and some floor space at the end. At the back, there was a small bathroom with western style toilet and shower.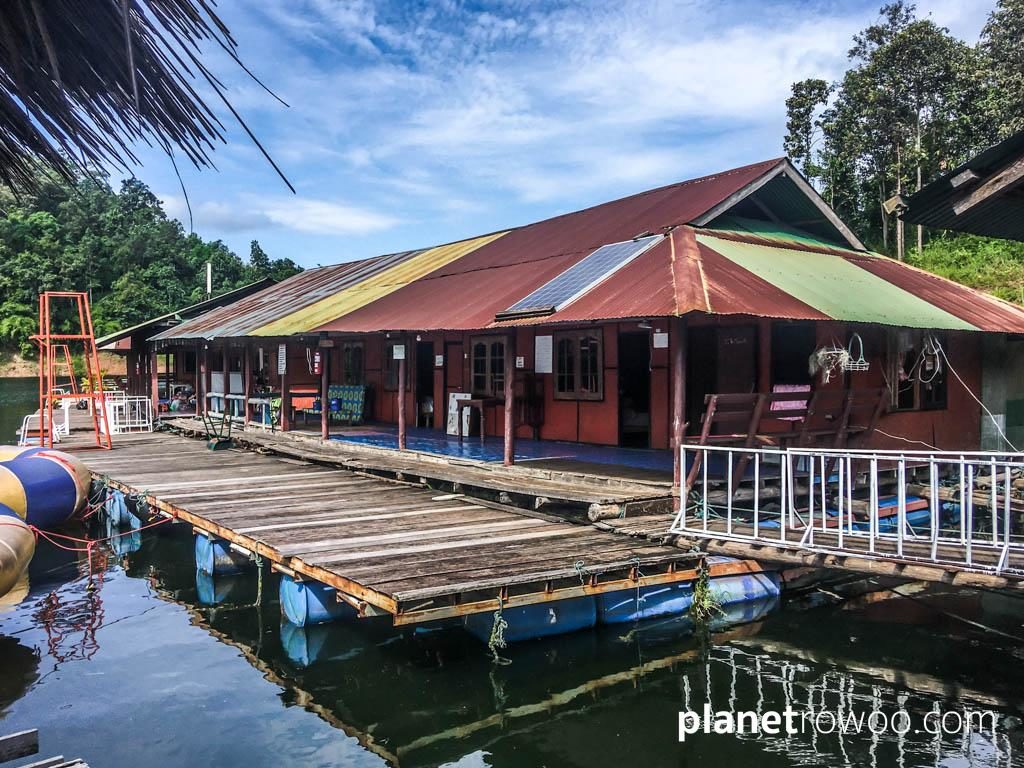 The floating houses are actually huge rafts. With a large timber-decked base and barrels strapped beneath to keep the structure afloat. On top, there are separate areas for sleeping, dining and recreation.
The whole place was very quiet, it seemed like we might be the only guests for the evening.
Dinner at Sainatee
Travelling makes you hungry. It wasn't that long since we'd had our late lunch, but it felt like we'd been on a grand journey since! It was time for a beer and some food.
Dinner is served in thatched-roofed Thai-style salas on a projecting decking area, surrounded by water on three sides, at the front of the floating house. The menu has a good selection of Thai food including chicken, pork, and vegetable stir-fries and soups as well as whole fish dishes. The prices are slightly inflated, but that's to be expected for a captive market. There's nowhere else to eat!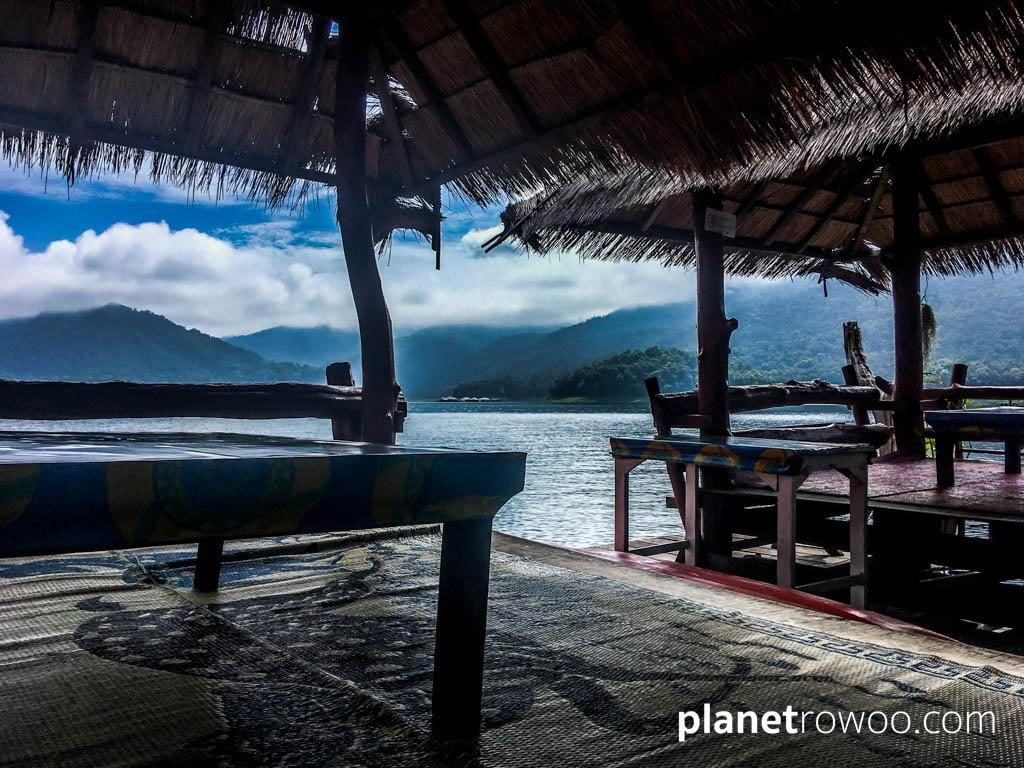 The lady who showed us to our room is also the cook. In fact, she was the only staff member there and appears to run the show. Once she served us our food she sat and chatted in Thai with my friend for a while. Then she started talking to me… also in Thai. Now I don't speak a word of Thai (except hello and thank you!), but that didn't deter her, she was determined to have a conversation with me!
After she left, I asked my friend what she was talking about.
"She think you my boyfriend", she laughed.
"She say we are good together. We are the same, she say".
I thought my friend was laughing a little too hard at this. But I was also thinking, that perhaps this sweet innocent-looking little lady at Sainatee, was actually pretty perceptive.
Chilling on the Floating Deck
After dinner, we retired to the decking area in front of our room with some beers. It's a simple space where you can sit on matting around a low table with the water's edge a few feet away.
By now we had some neighbours. A group of young Thai students who were chilling outside their rooms at the end of the row. The lady who ran the show disappeared around 9 pm and unfortunately, our supply of beer disappeared soon after. After a failed raid on the kitchen to replenish our supplies we realised our only hope of more alcohol was to befriend our neighbours. So after a brief chat with the extremely polite and well-behaved students, we negotiated 200 baht for half a bottle of Thai whiskey. We proceeded to consume it back outside our room into the night, while quietly listening to music on our phones, interspersed with the sound of the students playing guitar… and the odd splash from a fish breaking water.
Morning on the Lake
A morning mist across the lake quickly dispersed and left us with a beautiful crisp and clear sunny Sunday morning. I hadn't seen skies like this or felt air so clean for some time. Having a morning coffee and some breakfast amid the natural surroundings of the lake and mountains of Si Lanna National Park certainly makes you feel at peace with the world.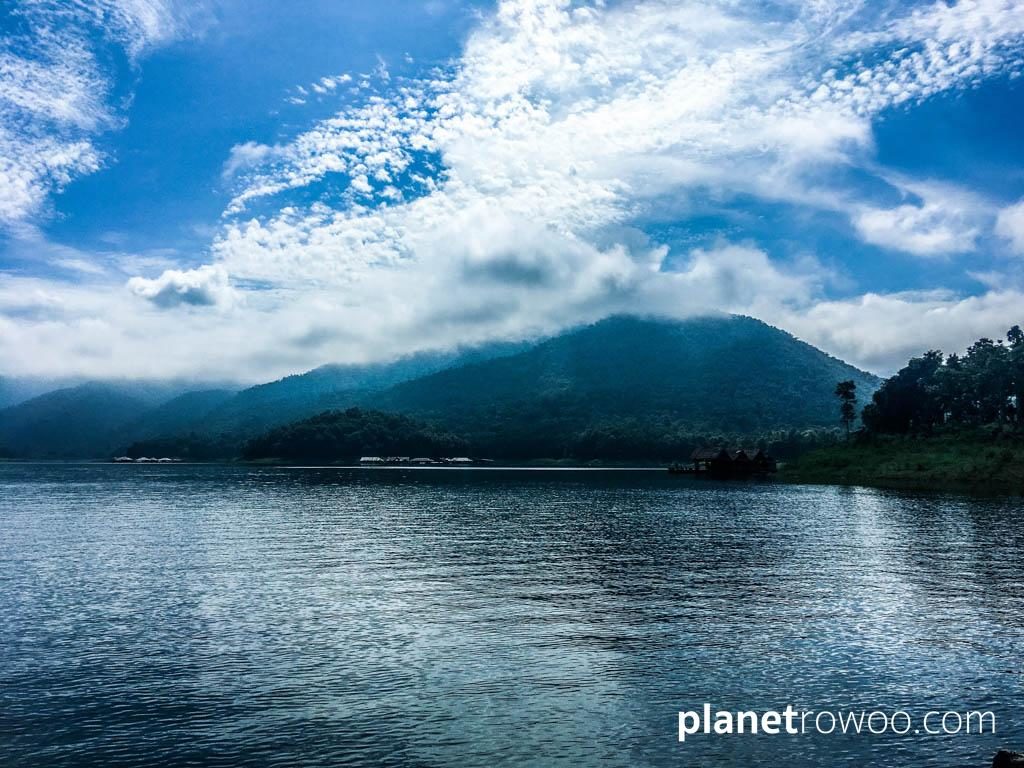 Activities on Mae Ngat Dam
Being surrounded by water there are of course plenty of water-based activities available on Mae Ngat Dam. Each floating house offers a range of fun water equipment; from floats, slides and giant inner-tubes to kayaks and fishing gear. Or you can simply jump straight in off the decking for a refreshing swim, or dive in from a greater height from the diving platform.
Scattered around the decking there are several tables and chairs, and even a rope swing. There's plenty of space for just relaxing and soaking up the sun too. So you can choose to have some fun in the water or just do not very much at all.
A Massage with Lunch Sir?
By now our neighbours had left and we had the place to ourselves again. After chilling for the whole morning, taking advantage of the peace and quiet of our deserted floating house, we decided to have some lunch before we left.
Lunch was cooked and served once again by our lovely Thai host. This time the sweet little lady proceeded to give me a shoulder massage with my food. Apparently she was a masseuse when she was younger. So instead of chatting to me in Thai, this time I received a very pleasant complimentary massage with some giggles. It was a very fitting end to a relaxing stay on Sainatee Floating House.
Gallery
[envira-album id="11269″]
Return to Chiang Mai
After lunch, we took the longtail boat back to the shore where Sainatee had organised a pickup truck to take us to the songthaew stop for Chiang Mai city. The songthaew was surprisingly busy for a Sunday afternoon. A number of passengers were forced to stand outside on the back rail for a long stretch of the journey. Not the most comfortable of rides but a lot cheaper than Grab!
Travel Details & Costs
| | |
| --- | --- |
| Grab from Chiang Mai city to Mae Ngat Dam | 600 baht (~14 GBP) |
| Boat ride to the floating houses (round trip) | 600 baht (~14 GBP) |
| Room for one night at Sainatee Floating House | 1,000 baht (~24 GBP) |
| Sainatee restaurant bill (dinner, lunch + a few beers) | Around 1,200 baht (~28 GBP) |
| Truck to Songthaew stop in Mae Taeng | 300 baht (~7 GBP) |
| Songthaew back to Chiang Mai city | 40 baht each (~1 GBP) |
My View of the Mae Ngat Dam Floating Houses
Mae Ngat Dam is a wonderful off the beaten path destination and a great escape from the city. Quite simply I wish I'd stayed longer. The floating houses offer a super chilled getaway set in stunning natural surroundings. It would have been great to have spent the whole weekend there. The rooms are very basic, but fancy accommodation is not what this experience is about.
You truly can disconnect from the world here. Especially because mobile phone coverage is patchy, and electricity is limited to the evening hours only!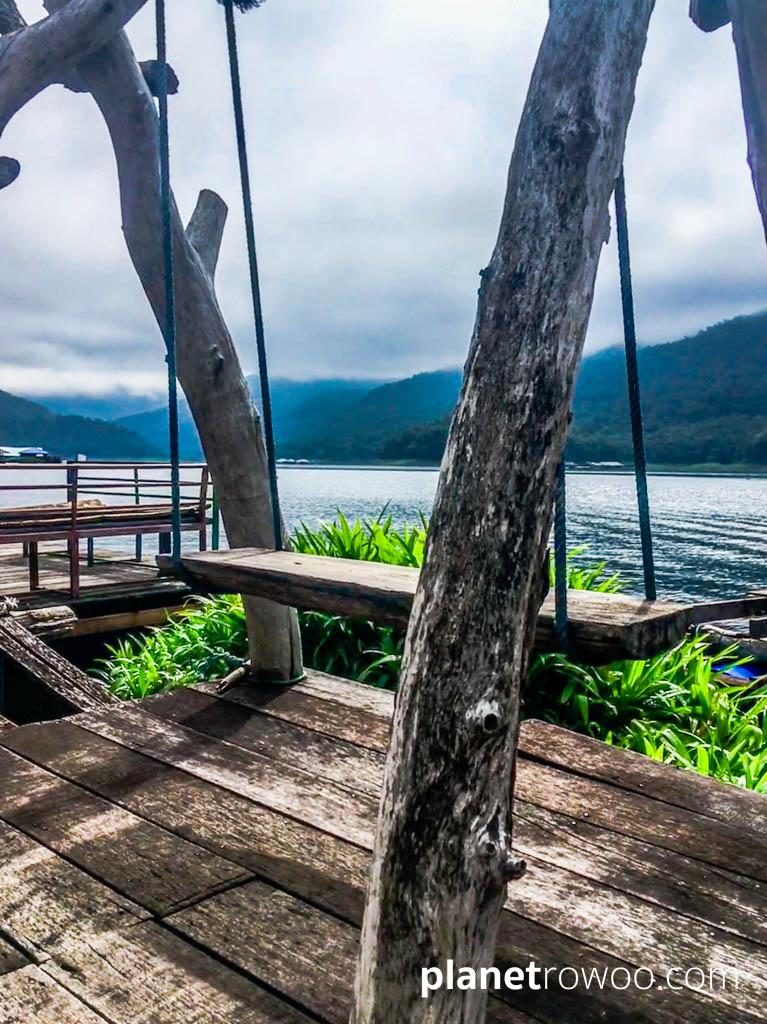 At a little over one hours drive from Chiang Mai city, the Mae Ngat Dam represents a great day away from town. But to fully appreciate it, I'd recommend a one or two-night stay.
Contact Information
Sainatee Floating House is just one of several companies operating on the lake. Their contact details are as follows;
Phone: 081 960-5357 or 086 396-9453
Email: cmfloatinghouse@gmail.com
Web: cmfloatinghouse.com
For a more upmarket experience, you might want to try the newer Mountain Float houseboat;
Phone: 093 615-6365
Email: infomountainfloat@gmail.com
Web: www.mountainfloat.net