Chiang Mai – The Return
Arriving into Chiang Mai late evening I was filled with apprehension as I rode in the taxi from the airport to The BLISS, my first apartment/condo rental in Thailand. I'd been away in Myanmar for three weeks and now I was returning to my new 'home'. It felt strange.
It was around 10pm when I finally arrived at the condo. The girl on reception was expecting me and had my contract prepared. Perfect. Except it was a contract for 6 months. And I'd explained 3 weeks ago that I only wanted to stay for a week first just to make sure I was happy with the place. A phone call to the manager hastily ensued. "Ok… you can stay for a week but you'll have to pay more"… what?, no, that's not what I agreed. "No, sorry, not going to pay more" I replied. Another phone call… a new contract was swiftly drawn up. The girl was a little stressed, bless her, not her fault. I'm not quite sure what I signed in the end – I was tired. But I was shown to my room and I crashed out. I'd worry about the fallout later.
Over the next few days the manager and I exchanged several emails. It was Chiang Mai Buddy's fault she said. Things weren't communicated to her… I'd only been in my new condo for 5 minutes and I'd already alienated the manager. Not a good start to my Thailand adventure.
But luckily, a few days was all I needed to make up my mind. I would stay. I signed the 6 months contract. All was good, and I was back on the right side of the manager again. Phew.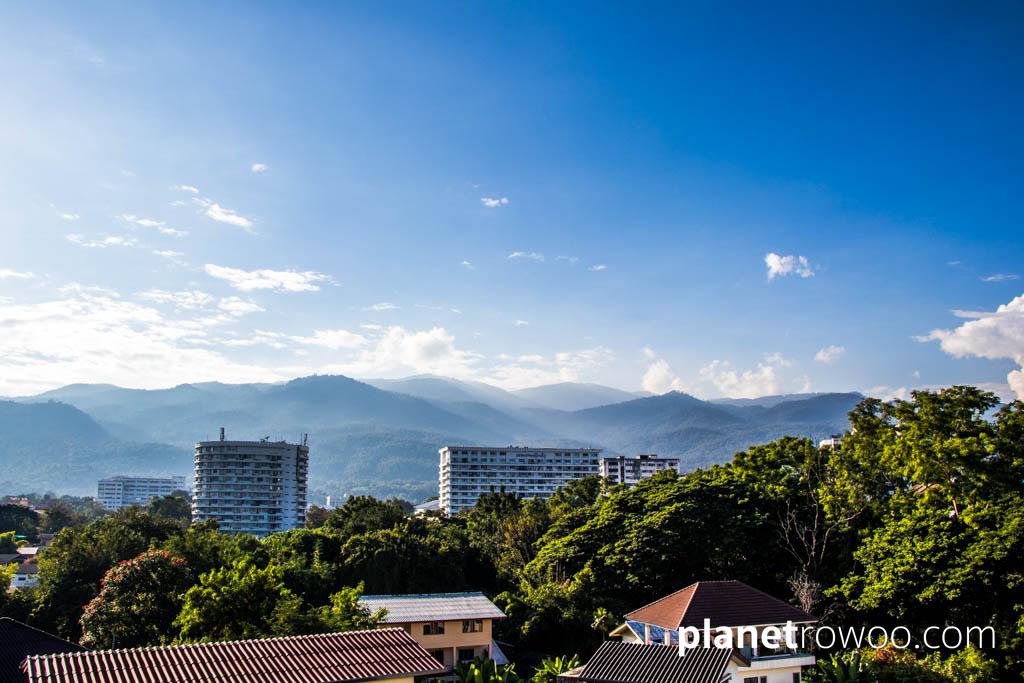 The BLISS Condo
The BLISS is located on the edge of the hip Nimmanhaemin (Nimman) neighbourhood of Chiang Mai. It offers serviced apartments with short and long-term stay options, but you can also stay for just a night or two. The longer you stay, the cheaper the rate. I chose a Grand Deluxe studio room, with 45m² of space on the 6th floor with a view over the revered Doi Suthep mountain. I preferred the open space of the studio rooms to those with separate bedroom.
There are also Superior studio rooms (32-36m²), Executive Suites (48m²) with separate bedroom and living areas and Family Suites (80m²) with 2 bedrooms and 2 bathrooms.
Reasonably well furnished with dark wood furniture the rooms have a king size (or twin) bed, wardrobe, sofa, TV, a small working area, a kitchen area with full-size fridge, en-suite bathroom and a private balcony.
My room costs…
Monthly rent: 15,000 baht (around 350 GBP)
Electricity: 8 baht per unit (around 20p)
Water: Included in rent
Housekeeping (weekly): Included in rent
Towels & Bedding (changed weekly): Included in rent
Internet: Included in rent
The rent is quite expensive by general Chiang Mai standards (you can get a small room for as low as 4,000 baht per month on the other side of town, maybe even less). But for 45m² of space in the expensive uber trendy Nimman area, and a mountain view, it's not a bad price. It's great that the water/housekeeping/internet are included (you'd expect to add 1,000 baht plus per month for these). But electricity at 8 baht/unit is a little on the high side (the norm is 5 baht/unit, or less if your room is billed directly by the Provincial Electricity Authority).
Chiang Mai Airport
One of the reasons I wanted to take a few days before committing to 6 months is because the BLISS is on the flight path of Chiang Mai Airport. And I'd read from reviews that it gets noisy.
Does it get noisy?… Yes it does. Several times a day from early morning to late at night you will hear planes overhead taking off from the airport… and they are LOUD. Was it a problem for me? No, not really. Things like that I can learn to blank out. But I can understand how it would be a problem for many people.
So this was going to be my home for the next 6 months. Clean, a little tired looking perhaps (there are plenty of newer places available in Nimman). But I felt safe, and comfortable.
What's Around?
Room sorted, it was time to find out more about where I'd landed myself. I'll probably delve into the Nimman area in more detail in a future blog, but for now just a little of what's in the immediate vicinity of the BLISS.
Laundry… Doing Business Thai Style
As you step outside the BLISS you immediately come across the Pim (Pana) Laundry. Keen to sort out the practical side of life this was one of my first stops. Having had my clothes laundered in numerous hotels I asked the guy if he had an itemised price list that I could fill-in with my items of laundry. He just stared at me blankly. He then proceeded to point at items of his clothing and quote prices… "t-shirt – 5 baht, shorts – 3 baht" (I forget the actual prices). He didn't need to go any further though, I understood… it was cheap!
So I returned the next day with my bag of washing. "How much?" I asked. He unloaded my washing on the floor and started counting. He gave me a price. Ok, great "can I have a receipt?". Another blank stare. But then he somewhat reluctantly obliged and filled in a piece of paper and handed it to me.
From then on I understood the drill… I just gave my bag of washing to him each time… he'd look at the clock and say 'tomorrow'. Then give me a smile, but no receipt. I'd then turn up the next day, he'd remember my face and low and behold he'd pass me a bag of my laundered clothing, neatly pressed and folded. All items present and correct. No receipt required.
I was liking this casual/relaxed way of business, involving just a friendly smile… and trust.
Eating & Drinking
Cafe de JJ… #LifeIsBeautiful
A few steps further up the road and you arrive at Cafe de JJ. Actually, it's pretty easy to miss, with its entrance nestled within a row of bushes. But inside you'll find a chilled cafe/bar/restaurant with a beach vibe serving great western style breakfasts and lunches. And with 70's soul music playing from YouTube on the counter screen, it quickly became my favourite brunch spot. It's run by an ex-marine from Philadelphia and his Thai partner who does all the cooking. They're lovely hosts. Sitting here with a freshly brewed drip coffee and pancake breakfast, with the sun twinkling through the restaurant foliage, their slogan #lifeisbeautiful makes perfect sense.
UPDATE [March 2019]: It seems Cafe de JJ has sadly closed down. But the great food may live on… @thescottsofcnxfoodpage
---
Tiger TED's Cafe
Throw a couple of shipping containers into a tree and fill them with child size reclaimed wood furniture and you have Tiger TED's Cafe. This quirky little cafe just 5 minutes walk from the BLISS on Huay Kaew road is a favourite for cyclists and coffee aficionados alike. Dwarfed by the MAYA shopping mall beside it, this mini Grand Designs project could easily be mistaken for a construction site office… but it's a cool hangout – and serves one of the cheapest coffees in Nimman.
---
Shopping… Everything You Need, and More
7-Eleven's are everywhere in Thailand. And there's one conveniently located at the top of the road just 2 minutes walk from the BLISS. They do everything. From snacks, to ready-meals, alcohol and toiletries. You can even pay bills and book transport. It's only a small store but very handy to have on your doorstep.
Then across the busy Huay Kaew Road just 5 minutes walk away is the MAYA Lifestyle Shopping Center. MAYA is Chiang Mai's newest shopping mall – with western stores, food halls, banks, a supermarket, fitness centres and a multi-screen cinema, across five floors, it's easy to lose a few hours here.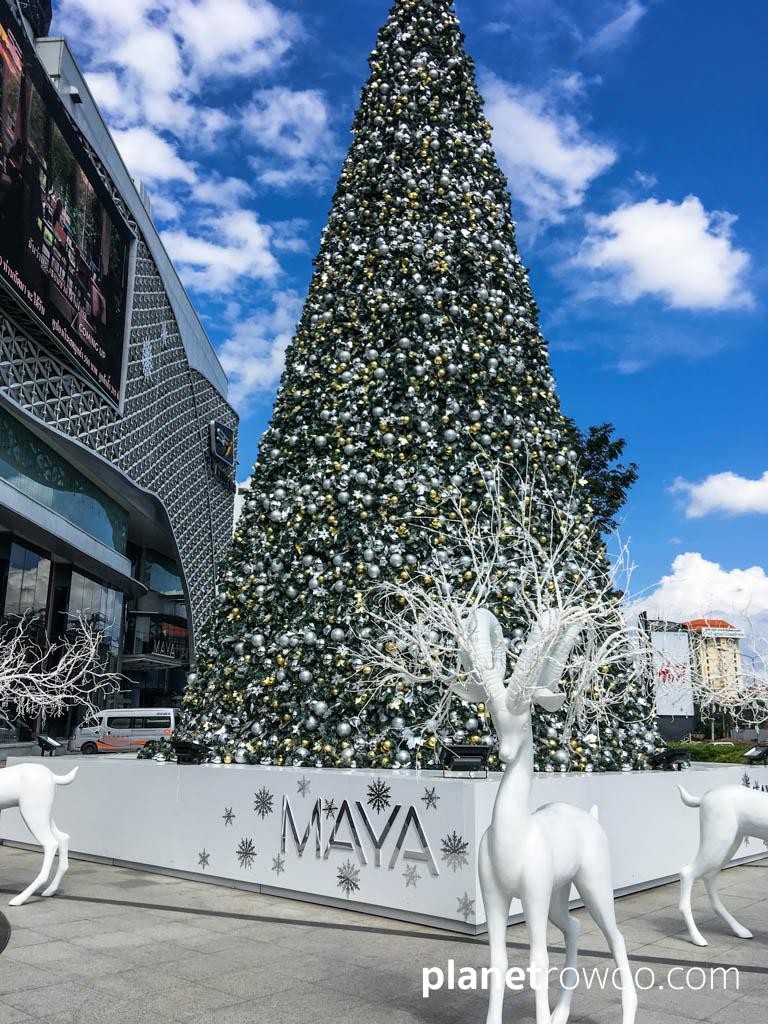 Arriving back into Chiang Mai in November I think the weirdest thing was the Christmas paraphernalia. Something I really wasn't expecting. With a huge Christmas tree outside MAYA, and Christmas songs being played everywhere you went, it was a little surreal in the 30-degree heat.
Not what I remembered
So it looked like I had everything I needed, all within a stone's throw of my new room. But this was really just scratching the surface of what's available in Nimman. An area that's known for its cool coffee shops and fashionable restaurants and bars. I was looking forward to exploring further and getting to know the place more.
Staying in Nimman, the trendiest part of town, this wasn't the Chiang Mai I remembered or imagined. But that didn't matter. I liked it. My initial anticipation over living in a new country for 6 months or more was allayed. Everything was going to be ok.
Ageing Traveller Wisdom 🙂
Living this new life in my apartment room in Chiang Mai has led me to re-evaluate what's important in life. We are always striving for more – a bigger house, a more expensive car, bigger TV, designer furniture. I've owned a large house. Apartments in London. A beautiful flat overlooking the river. Now I just rent a basic room. With very few belongings. And I'm probably as happy now as I've ever been.
Life is about living… not material things.
---
Top image: Bicycles parked up against a traditional red brick wall in downtown Chiang Mai