Nyaung Shwe
Nyaung Shwe, the 'Venice of Myanmar' and the gateway village to Inle Lake. Located in Southern Shan State it was once the capital of the Shan kingdom. Today, similar to Kalaw, it has a bit of a backpacker feel about it, having become a bustling tourist hub for visiting the lake.
The dusty main street, Yone Gyi Road, is lined with low-priced restaurants, shops and internet cafes, as well as a number of stupas and the Mingalar Market. Near the end of this road, a bridge crosses the river channel where numerous long-boats are lined up waiting to carry you to Inle Lake just a few kilometres south.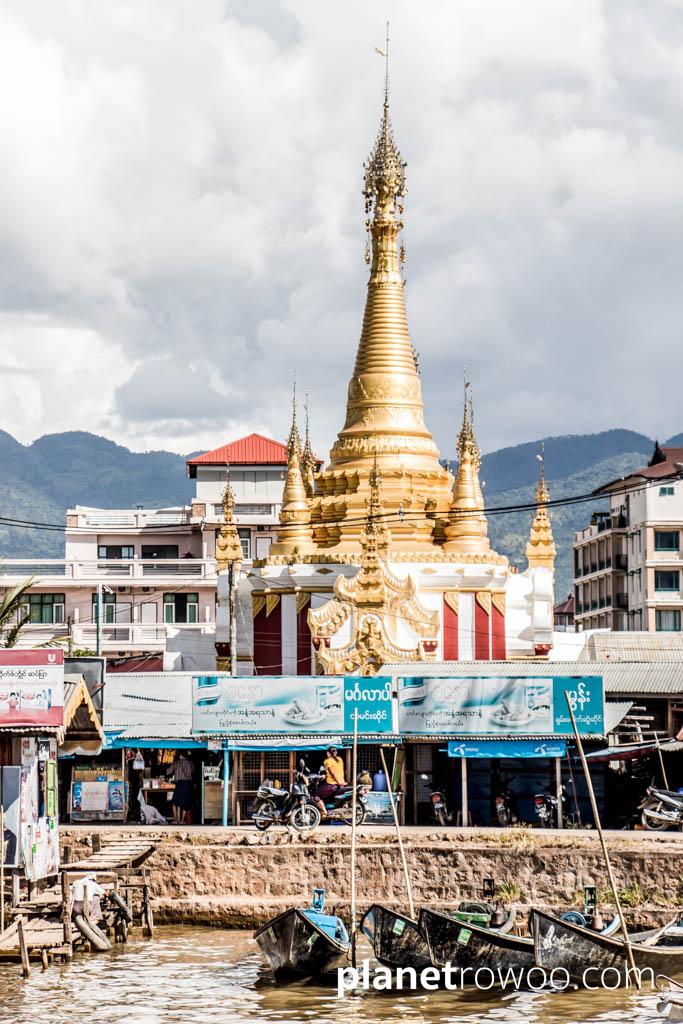 I was coming to the end of my Myanmar journey. With three days at leisure to explore Nyaung Shwe and to reflect on what had been an amazing trip.
Shwe Yan Pyay Monastery
Around 2.4 km north of Nyaung Shwe is the Shwe Yan Pyay Monastery. A beautiful red teak building standing on stilts and dating back to the 19th century. A unique feature of the ordination hall (Thein) is its unusually large oval windows. A characteristic that makes it the most visited monastery in Nyaung Shwe.
The shrine next to the monastery contains hundreds of Buddha statues in red robes placed in niches along the walls of the corridors, donated by pilgrims from around the world. The walls are decorated with beautiful coloured glass mosaics. When lit with numerous candles, the shrine offers a holy atmosphere for the monks' meditation.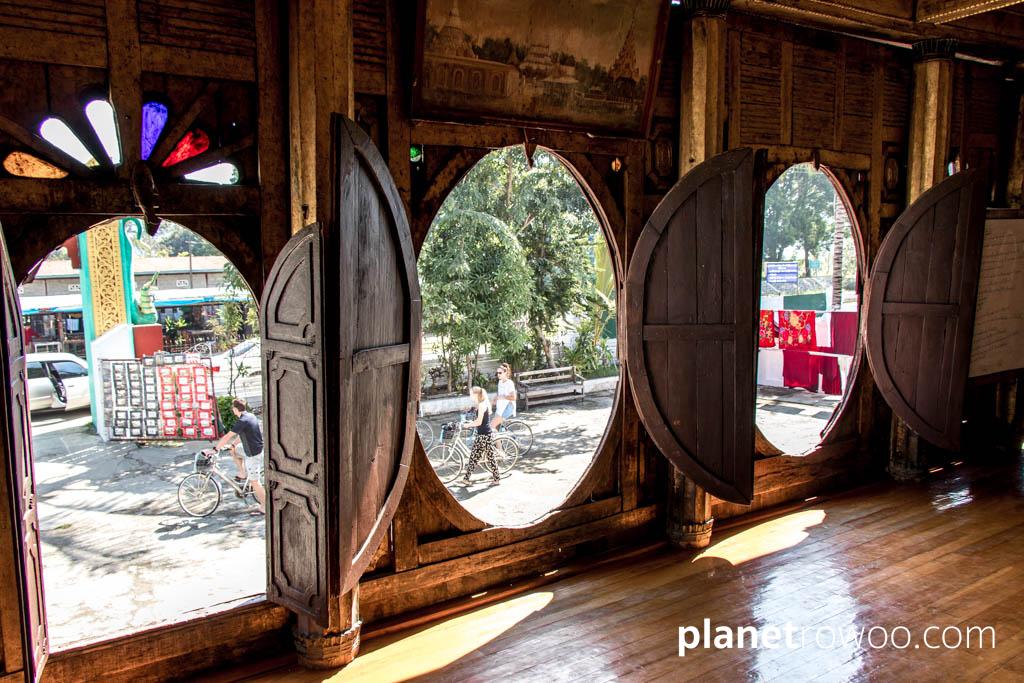 Nyaung Shwe Nuns (Thilashin)
You'll often see Buddhist monks on your travels around South-East Asia, but you're less likely to come across a large group of Buddhist nuns (there are around half a million monks versus 75,000 nuns in Myanmar). The nuns are known as 'Thilashin' which means "possessor of morality". They can be recognized by their pink robes, shaven head, and orange or brown sash.
In the centre of Nyaung Shwe there's a nunnery. Although I didn't visit it, I was fortunate enough to pass a group of nuns wandering down the street one afternoon with their umbrellas and metal alms bowls. On another occasion, I got to witness a large group of them piling out of a couple of trucks by the river and climbing into longboats for a trip to Inle Lake. A blaze of colour against the dirty brown of the river. Take away the religious element, and they were just a group of excitable girls on an outing!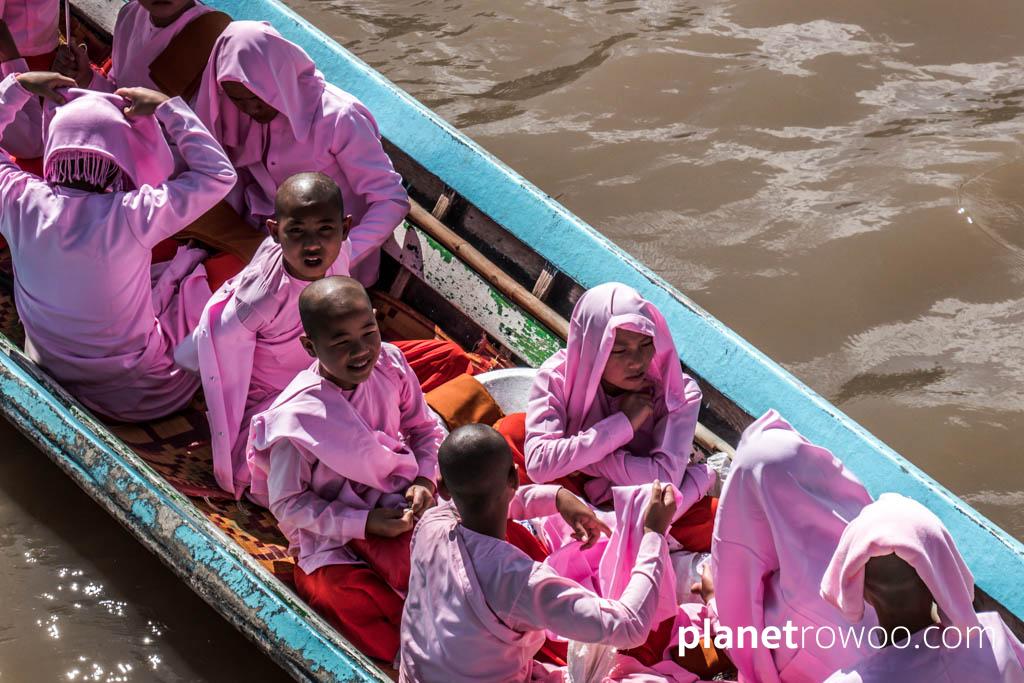 Mingalar Market
I know I've said this before, but if you ever want to get to the heart of a place, head for the local market. Nyaung Shwe's bustling Mingalar market is a great way to experience how the ordinary Burmese live. A colourful affair where the traders sit amongst their fresh local produce… just watch your step!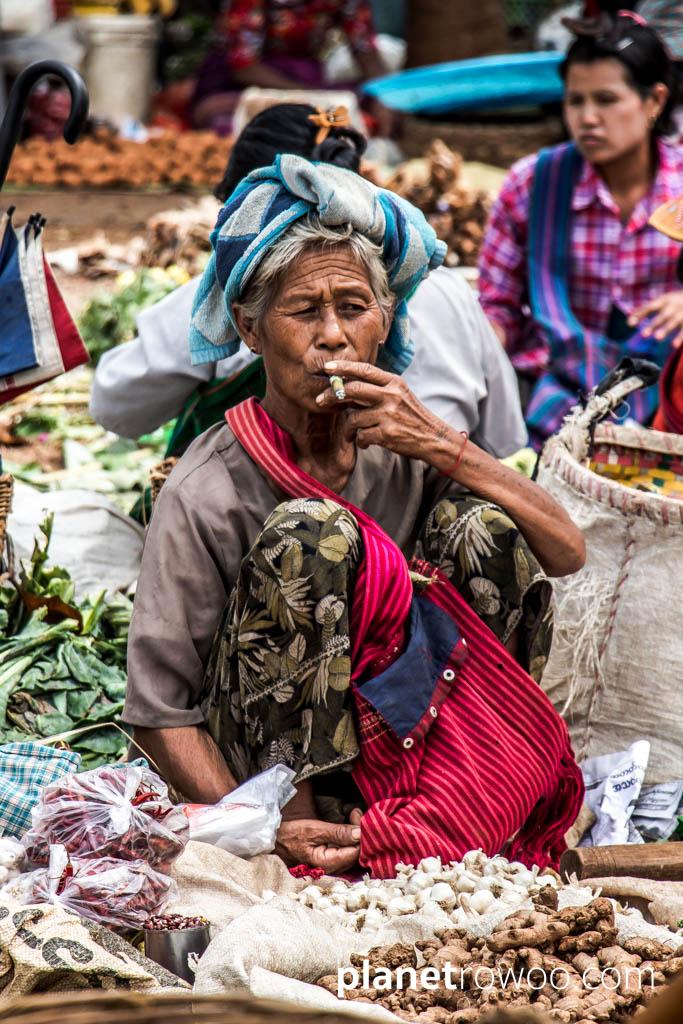 A stroll through the interior of Mingalar market one afternoon…
Nyaung Shwe By bike
Apart from taking the boat to Inle Lake, probably the best way to get around is by bicycle. Cycling is a great way to experience life around the lake shore and the villages that dot the countryside. And it's pretty easy going due to the mostly flat roads. Just don't forget your hat and water… and a raincoat!
Some hotels provide bikes free for their guests. But if not, you can hire a bike for just a few thousand kyats at one of the many bike rental shops in Nyaung Shwe. Chose from multi-geared mountain bikes to your more traditional upright bikes with baskets!… whatever's your style!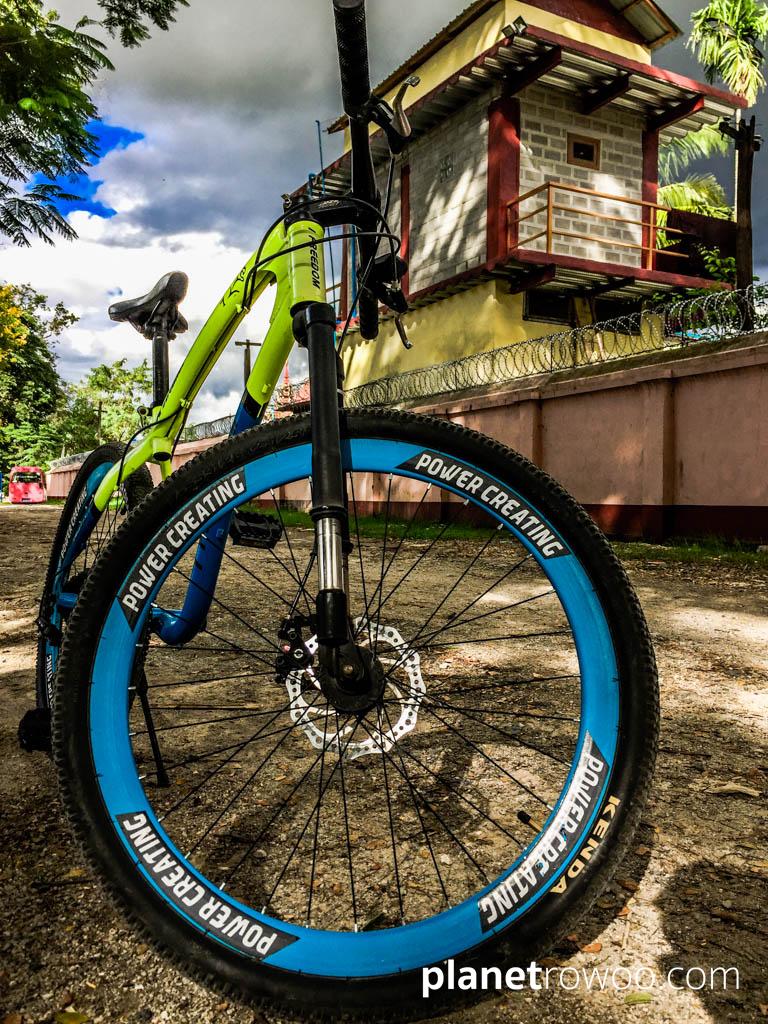 I took a trip out to the Red Mountain Estate Vineyards & Winery. Not for the wine funny enough but for the views (unfortunately my budget for this trip didn't extend to wine tasting). The estate is around a 25-minute ride south-east of Nyaung Shwe centre. Easy cycling for most of the way, apart from when you reach the turn-off to the winery, which develops into quite a steep track. But there's a place to park your bikes and you can walk up the rest of the way.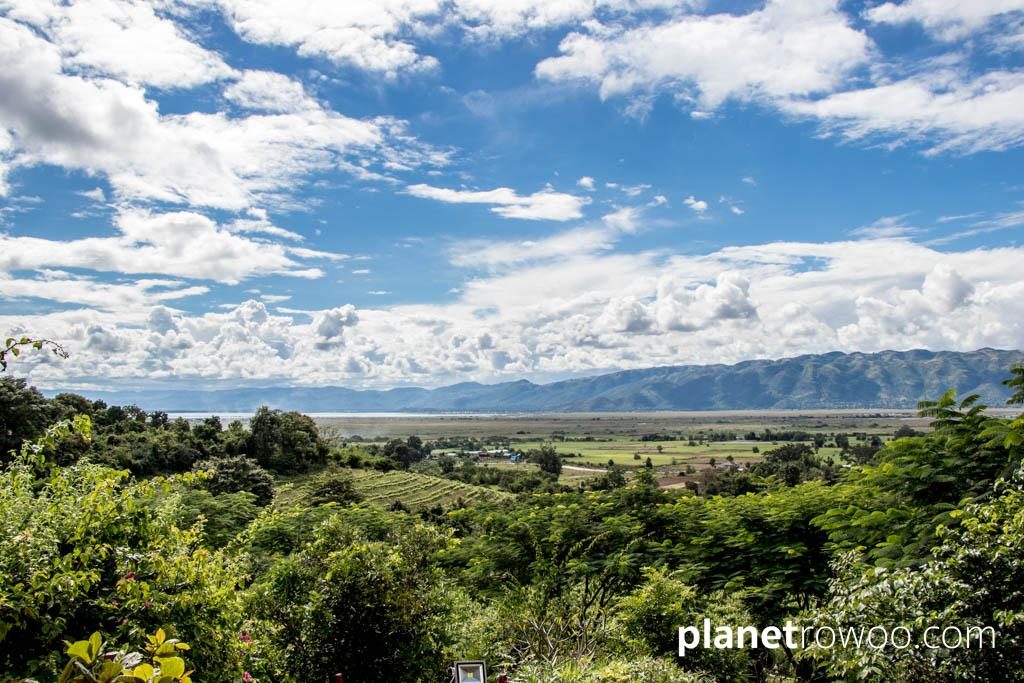 I also headed out on the Inle Lake West Corridor road to the Khaung Daing Nature Hot Spring, around 9km south-west of the centre of Nyaung Shwe. You can bathe at these hot springs in the public pools or your own private bath. Again, I didn't go for the hot springs, but just for the ride and the scenery en-route. I did however enjoy a coffee in their cafe overlooking the grounds, before heading back to Nyaung Shwe and getting caught in a tropical downpour!
Eating & Sleeping
Where to eat or drink?
There are many places in Nyaung Shwe that do good reasonably priced food. Here are a few that I frequented;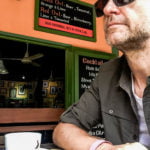 One Owl Grill
Situated on Nyaung Shwe's main Yone Gyi Street, One Owl Grill's terracotta and green exterior is hard to miss. Being directly opposite my hotel I visited here quite frequently. Offering tapas-style, Mediterranean-influenced dishes, as well as other popular European and local fare, its varied menu will appeal to many. It also has an extensive drinks menu, with cool cocktails and very reasonably priced wine. Sit inside in the cosy interior or kick back and chill with a beer or coffee in the outdoor seating and watch the world go by.
---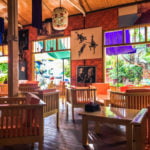 The French Touch
The French Touch is a restaurant and bakery located on Kyaung Taw Shayt Street just off the main Yone Gyi Street. It's a cosy little restaurant with good food that's a bit of a twist on French and Burmese cuisine. The interior design too is a mix of western and eastern styles, with some very cool art and photography on the walls. Getting the waiter's attention is a bit of a novelty… you summon them via a carved wooden frog that croaks!
---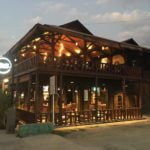 Ginki Nyaung Shwe
Ginki Nyaung Shwe on Kyaung Daw Anauk Street is one of four sister restaurants in cities around the country. I didn't eat here, but the western menu is popular with those who feel like a change from the local cuisine. It's also well known for its excellent locally grown coffee. There's seating upstairs and downstairs, with an outside patio on the lower level. The open-air setting, funky wooden furniture and regular acoustic band performances make Ginki a great choice for unwinding in Nyaung Shwe. It's open 'til late (11pm… that's late for Nyaung Shwe!). My favourite spot was upstairs in the comfy seating overlooking the street… the perfect place to chill of an evening with a beer or cocktail.
---
Where did I stay?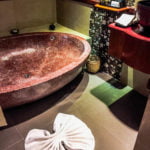 Hotel Amazing
Hotel Amazing… a great name for a hotel. Is it amazing? I wouldn't go that far, but it's very pleasant. Located in the heart of Nyaung Shwe just off Yone Gyi Street it's in a great spot. My Deluxe room on the ground floor was very clean and comfortable. The massive bed and huge stone bath added an element of luxury. The Mai Li restaurant was in a very pleasant setting – built partly over the stream that runs alongside the hotel. The buffet breakfast served there each morning was good, and the staff very attentive (mind you I was often the only one at breakfast!). The reception staff were also really friendly and extremely helpful when I needed to contact my guide one day. I'd certainly recommend it for a few nights in Nyaung Shwe.
---
Galleries
[envira-album id="4680″]
Other Stuff
How did I get here?
I travelled by road from Kalaw to Nyaung Shwe in a private car with my guide and driver. The journey time was around 1-hour.
Farewell Burma
I was now at the end of my three-week tour of Myanmar. A country that I had never visited before, but I had fallen in love with. From those cautious first days in Yangon when I was still finding my feet; to the chance Shinbyu festival on the road to the sacred Golden Rock; the monks lunchtime ritual at a Mandalay monastery; seeing the Irrawaddy River and U-Bein Bridge from my favourite novel; cycling the plains of Bagan; walking the hills and villages of Kalaw; having lunch with the Pein Ne Pin villagers; drinks with the locals in Kalaw town; discovering another world on Inle Lake; staying in a boat-shaped villa; chilling in Nyaung Shwe… it had been an amazing few weeks.
Great Memories
In a really sweet letter that my guide William wrote to me on my last day, he said; "You created valuable time, and great memories… I'm so sad to say goodbye"…

Yes William, I certainly did… and I was too.
Thanks to Holiday Architects for helping create such a memorable trip.
---
Top Image: Nyaung Shwe nuns on a trip to Inle Lake