This is Burma
This is Burma… It will be quite unlike any land you know about

Rudyard Kipling
I'd never been to Burma before. I'd visited most parts of South East Asia, but never Burma. It had been on my travel wishlist for a long time though – ever since reading The Glass Palace by Amitav Ghosh back in 2001, which conjured up images for me of a magical and mystical land.
Yangon
Arriving in downtown Yangon however, on a hot and sticky Monday afternoon in October, the words 'magical' and 'mystical' didn't immediately spring to mind. As I ventured out from my hotel onto the streets of Chinatown for the first time (those first steps as a solo traveller are always a bit daunting when you've arrived somewhere new) I was a little overcome by the sheer volume of people, the constant blaring of car horns, the pungent smells, and an overwhelming feeling of being stared at (I was the only westerner in sight). As I tried to make my way through the crowds of locals on the street, my flip-flopped feet were almost crushed under a lorry wheel when I inadvertently stepped off the pavement… I needed to be more careful.
Yangon (formerly known by its colonial name of Rangoon) is the cultural and commercial heart of Myanmar and its previous capital city. It's also the largest city in Myanmar, with a population of over 6 million people. And it felt a little like the entire population had descended onto the streets around my hotel on that Monday afternoon.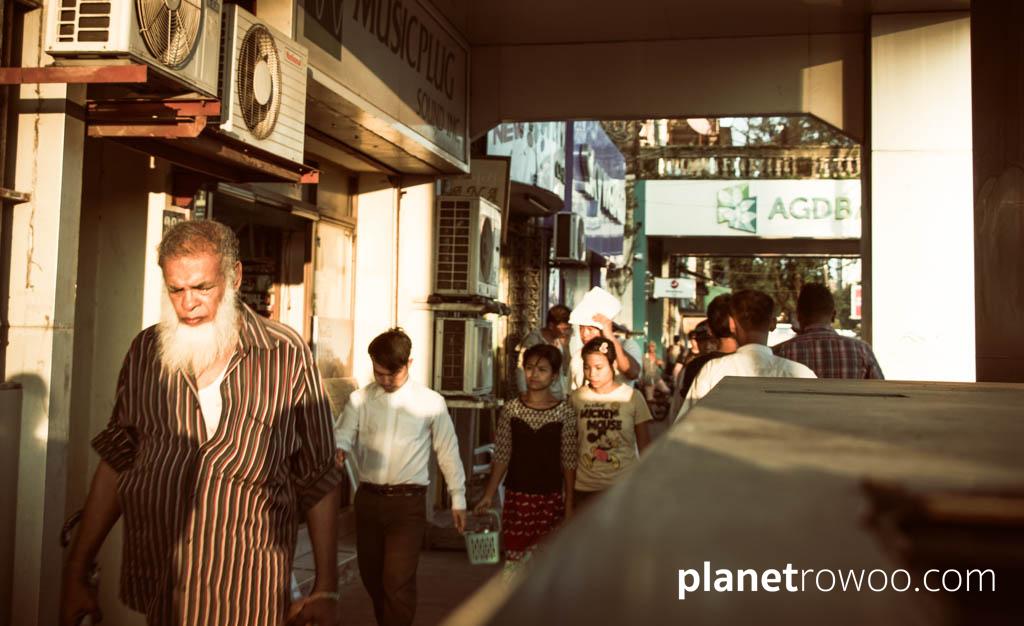 Burma or Myanmar?… I unashamedly use both names interchangeably. For an interesting insight into the country's dual identity, take a look at theculturetrip.com's; Burma v Myanmar: Why the Country is Known by Two Names
Not in Thailand Anymore
First stop was a mobile phone shop to pick up a local SIM card. Luckily there was one nearby, a small Ooredoo, one of Myanmar's main telecoms providers. But after a few minutes of trying to choose a package from the multitude of options available, all displayed in Burmese, and with a young shop assistant who spoke little English, I quickly realised that this wasn't Thailand. Now that's not a bad thing. It's just that getting by in Thailand, where English is widely spoken in the major cities, is easy for the lazy farang like me who usually learns little more than "Hello" and "Thank you" in the local language. It was clear I was going to have to make more of an effort.
So after much pointing and gesturing, I came away with my shiny new SIM with 2Gb of data. But no call plan… that was a stretch too far. Never mind, who was I going to call in Burma anyway? But those essential mobile tools for the modern traveller were now at my fingertips… TripAdvisor and Google Maps. I was ready to explore Yangon.
Discovering Yangon
Whenever I visit somewhere for the first time, if time allows, I find the best way to get to know the place is to hire a local guide, as well as explore on my own. So with my exceptionally knowledgeable guide and our driver, I was taken on an educational tour around the temples and cultural icons of Yangon, and in my free time I took to the streets on my own. You can find out more in my next post.
Eating & Sleeping
Where to eat?
I have to admit I was a little cautious about where I chose to eat in my first few days in Burma. There didn't appear to be that many recommendations on TripAdvisor/Google of good local food places close to where I was staying (walking distance). And I wasn't that comfortable yet about wandering into a place off the street. Largely due to the language barrier and the lack of westerners. Yes, I know – not very adventurous for an avid traveller. But sometimes anxiety (and the desire not to get an upset stomach!) gets the better of you when you're travelling alone. So, exercising a little culinary caution, I ate at the following popular and well-established eateries…
---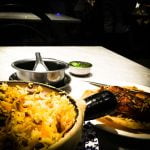 Rangoon Tea House
The Rangoon Tea House is a stylish tea house and restaurant located a short walk south-east of the Sule Pagoda on Pansodan Street. Serving trendy cocktails, traditional Burmese cuisine, as well as curries and biryanis, the food is expensive by Yangon standards, but tasty and refined. Their biryani was one of the best I've tasted. Although modern, the interior design is reminiscent of the grand tea houses you would have found in Rangoon during the British colonial heyday. There's seating on two floors – for a more cosy, intimate atmosphere, choose a table upstairs.
---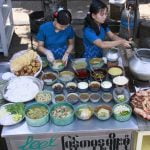 Feel Myanmar Food
Feel Myanmar Food, on Pyidaungzu Yeikthar Street just west of the Shwedagon Pagoda is one of the most well-known restaurants for local Burmese food in all of Yangon. I was taken there by my guide for lunch on my first day of sightseeing. Serving traditional Burmese cuisine, you choose your food from the vast counters of freshly prepared food (curries, salads and more) available at the back of the restaurant. Take a seat and they bring it to you. It's a popular place, full of locals, with a great bustling atmosphere and the food is good too. A great introduction to Burmese cuisine.
---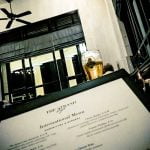 The Strand Cafe
Set in a British Colonial building dating back to 1901 the iconic Strand Hotel is just a minutes walk away from the Yangon River, and close to the Pansodan and Nan Thida ferry terminals. I'm always drawn to colonial architecture and given the history of the hotel I felt I had to pay a visit. The Strand Cafe is a little more relaxed than the more formal main restaurant but it still has the feel of an upmarket establishment and although just a 'cafe' it's probably more opulent than most restaurants you'll come across in Yangon! And the menu offers restaurant quality food too. With Myanmar and International menus to choose from, as well as High Tea.

The service also was second to none. When I arrived the cafe was extremely busy and it looked like I might not get a table. But as the maître d' ran his finger down the list of reservations he came across a booking who were 15-minutes late… and crossed them off!… "If you snooze you lose" he said as he showed me to (what was) their table. A really nice guy who I enjoyed having a chat with over dinner. Excellent food but with prices that reflect the quality and standing of the establishment.
---
Where did I stay?
Hotel Grand United
I stayed at the Hotel Grand United (Chinatown), a budget hotel in downtown Yangon. It's right in the heart of things. A 10-minute walk to the Sule Pagoda, a few minutes away from the Strand Road that runs along the Yangon River, and around 10-minutes walk from the glitzy Junction City shopping mall. Being right in the centre of things has its drawbacks though; situated right on the corner of the busy Maha Bandula road. If you're not comfortable with the constant blaring of car horns (from the early hours) you won't like this hotel.
On the plus side, the staff are really friendly and couldn't be more helpful… I locked myself out of my safe on the first night (I'm sure it was a safe malfunction and not me!). The young lad who helped me had to run across to their sister hotel in the middle of the night to get the master key!… and he didn't even expect a tip!
Hotel 'Penthouse'
The 'penthouse' restaurant at the top of the hotel has great views across the city. The restaurant serves a reasonable breakfast and you can also dine here for lunch and dinner. The food is ok but the service hit and miss. The beer I ordered with dinner never did arrive, even after asking four times!
I stayed in a Deluxe City View Room which was clean and perfectly comfortable with a separate seating area and private bathroom/shower room. Furnished in what appeared to be a seventies style, I felt like I was in a movie from the period set in some exotic locale like 'The Year of Living Dangerously'. My only gripe was the smell. What I initially thought to be fumes from the road turned out to be the aircon. The hotel staff did show me another room, but that was just the same! So I had the choice of sweltering in the unbearable heat each night, or being intoxicated by aircon fumes. I chose the latter.
Other Stuff
How did I get here?
I flew Bangkok Airways on a direct flight from Chiang Mai. Journey time was around 1 hour 30 minutes.
Ageing Traveller Wisdom 🙂
It's often the situations that take you out of your comfort zone that make you appreciate things more. They make you open your eyes to what's around you, heighten the senses, make you feel more. All these things that I was experiencing in my first few moments and days in Myanmar would contribute to making this a country that I was soon to fall in love with.
Staying in budget accommodation takes you closer to street-life (even if you're on the 7th floor!)
---
Top Image: Monks at the Shwedagon Pagoda