Inle Lake
Inle Lake was one of the destinations I was most looking forward to visiting on my Myanmar journey. So I was filled with anticipation as my guide and I were driven on the one-hour scenic route through the Shan hills from Kalaw on our way to Myanmar's second largest lake, with its villages on stilts and legendary Intha fishermen.
Nyaung Shwe, at the northern end of Inle Lake, is the main access point to the lake. Arriving at the boat jetty, it was easy to see why many describe Nyaung Shwe as the 'Venice of Myanmar'. With rows of long canoe-like boats lined up on the edge of the waterway, with wooden upright chairs spaced along each boat, I could see the resemblance. But in place of the handsome Italian gondolier with his oar, was a greasy long-tail motor at the rear.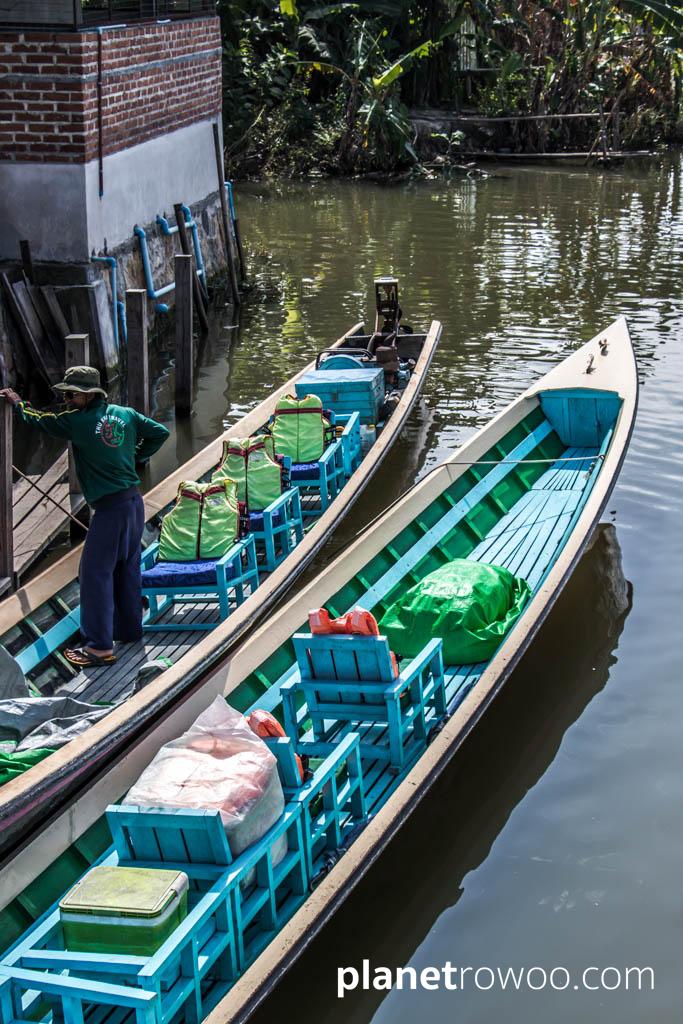 As soon as we arrived my luggage was taken from me and carried onto one of the boats. I wasn't sure how I felt about all my belongings being loaded onto one of these rickety looking motorboats, knowing that for the next few hours the contents (including my laptop) and me were going to be ferried around the floating villages of Inle Lake. I'd kind of assumed my luggage would remain safely on dry land with our driver, or maybe taken on to my next hotel. But I put my faith in my tour guide, it would be fine.
Intha Fishermen
The people living on the lake call themselves Intha, or "children of the lake". Members of a Tibeto-Burman ethnic group, the Intha live in four towns and a series of tiny villages scattered along the lake and shore.
The males in this region begin fishing when they are 13 years old and continue until around 75 years of age. They've developed a unique technique of rowing the boat with one leg while using both hands to fish. The practice is believed to date back to the 12th century. The skilled technique means the fishermen can stand and look out for reeds in the water and keep both hands free to handle their bulky fishing nets.
Heading south down the main channel leading from Nyaung Shwe to Inle Lake, on a noisy motorboat, I was about to witness for myself the iconic images of this fascinating local culture.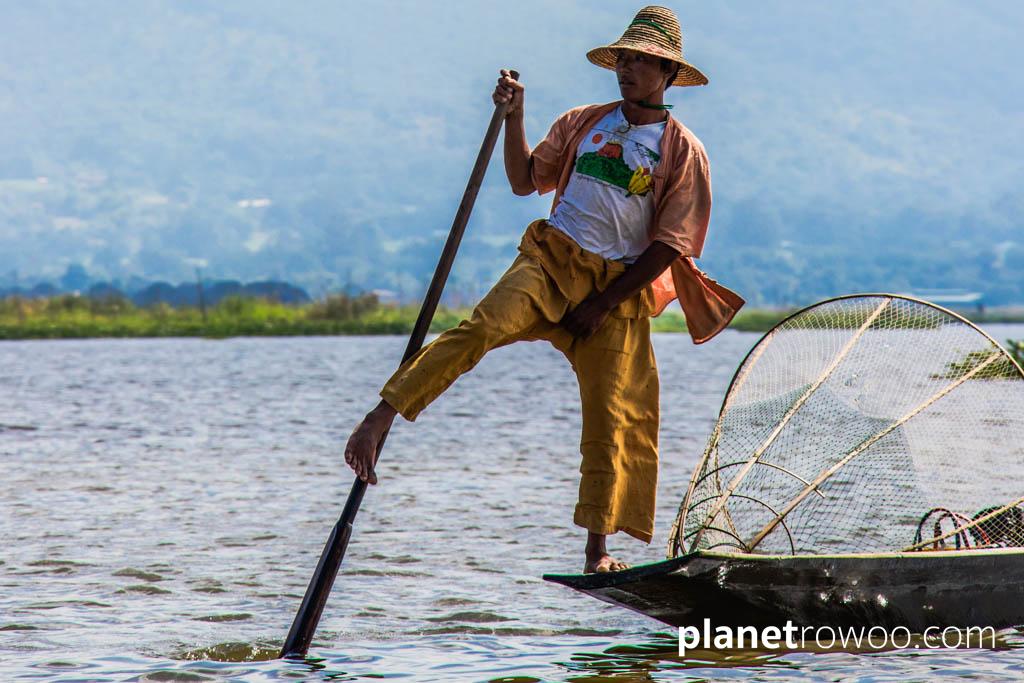 Floating Villages
Located in the heart of Shan State, Inle Lake is Myanmar's second largest waterway. With the beautiful Shan hills dominating the horizon, the lake is in a stunningly beautiful and serene setting. Worth visiting for this reason alone. But this is no ordinary lake. It's a magical world of floating gardens, one-legged fishermen and villages built on stilts. And inhabited by the local Intha people leading a unique aquatic way of life.
It is a truly fascinating world. Taking a motorboat around this watery landscape allows you a glimpse into their everyday lives. Lives that are normal to them, but so alien to us. Schools, post offices, workplaces… all familiar establishments, except these are built on stilts over the water. Taking the school run by boat is just an everyday occurrence for the Intha children who live here.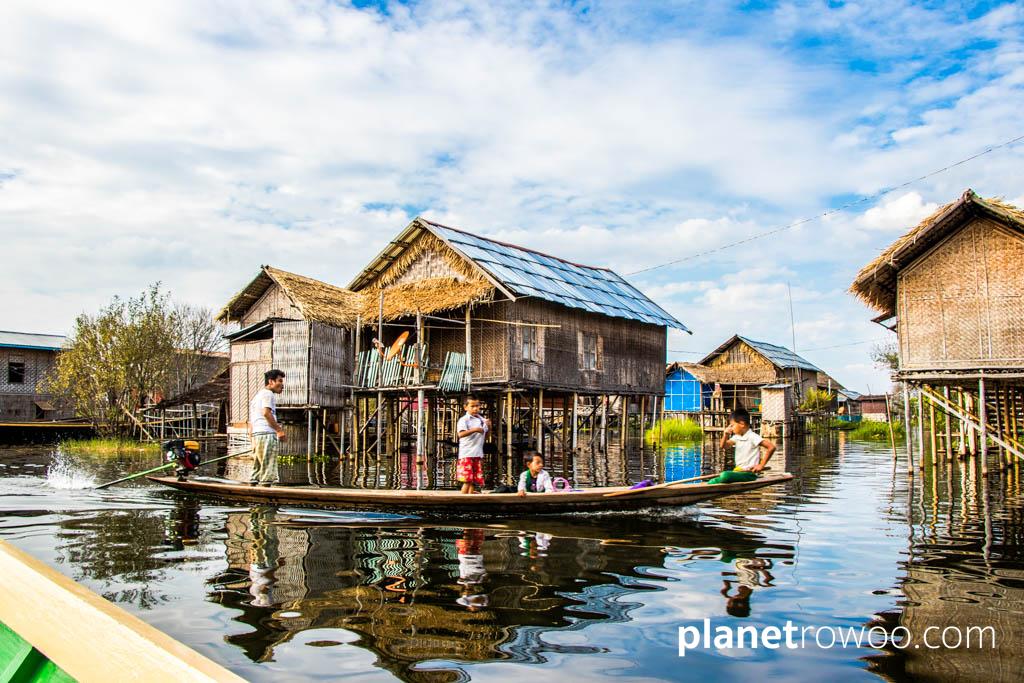 Local Crafts
Beyond the fishermen and the fruit and vegetable farming on the floating gardens, other traditional industry continues on the lake.
The weaving village of Inpawkhone is a community of highly skilled textile artisans. They produce one of the rarest fabrics in the world – silk made from the lotus flower that grows in the lake. Lotus weaving began nearly a century ago and the tradition has been passed down through the generations. Lotus root strands are woven together to make cloth, used in traditional clothing, such as the longyi or monks robes. It's an extremely labour intensive process.
The workforce consists of mostly women, who sit on the floor or at benches and ply their trade in a manufacturing process that hasn't changed in a hundred years. It's fascinating to watch these women take the raw material and weave it on ancient machines. From rickety spinning wheels which utilise a bicycle wheel, to intricate weaving looms.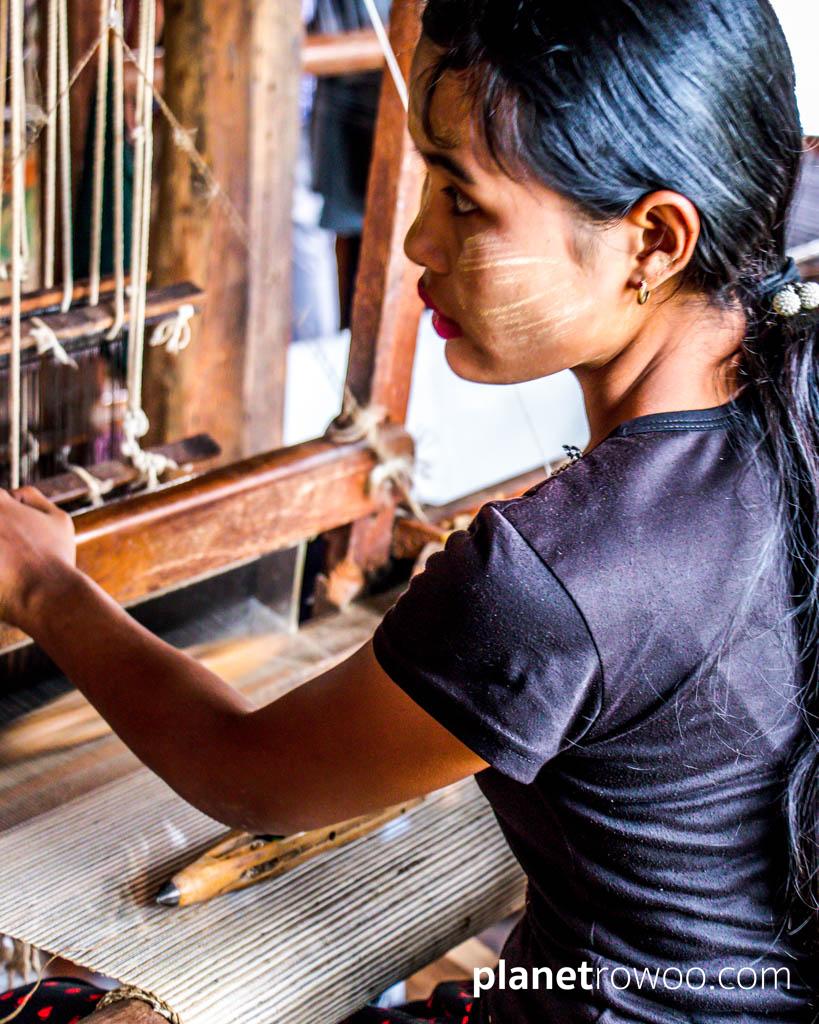 A short boat ride away is a cheroot factory, where these typical Burmese cigars are made by hand. The cheroot is like a cigar but open at both ends. Inle Lake is known for its flavoured cheroots. Rolled inside the leaf is a blend of tobacco, dried banana, star anise (for sweet cheroots), brown sugar, tamarind, honey, and rice wine, amongst other ingredients. The Burmese believe that cheroots are less harmful than cigars because their tobacco content is lower.
The women in the factory sit cross-legged on the floor, filling, rolling, tightening, and cutting the cheroots. Each one made by an expert hand, perfectly and quickly. Not such a complicated or elaborate process as the weaving, but nonetheless skilled and captivating to watch.
Galleries
[envira-album id="4069″]
Inle Lake Boat Ride
Just a short extract of my boat ride from Nyaung Shwe to the villages of Inle Lake culminating with some footage of fishermen beating the water to drive fish into their nets.
An Overnight Stay
The reason for my luggage accompanying me around the lake for the whole day finally became clear. As the sun was going down, my private boat chugged slowly and peacefully along a narrow waterway. It came to a gentle stop alongside a small jetty where I was greeted by the porters of the Pristine Lotus Resort. My home for the next two nights.
Ageing Traveller Wisdom 🙂
What is normal? Living a life over water may seem strange to us landlubbers, but to the Intha it's a normal way of life. Living on land would most likely seem strange to them. For a while at least. We adapt to our surroundings. Eventually, even the strangest environment can feel like home.
---
Top Image: Village house on Inle Lake