Mandalay City
Mandalay, the former capital of British Burma, is the country's second-largest city. Located around 450 miles north of Yangon, in central Myanmar, it has a population of around 1.25 million people.
For many, the name 'Mandalay' conjures up a romantic image, largely due to Rudyard Kipling's poem of the same name. But Mandalay city today is not much to look at. Sadly much of it was destroyed in Japanese air raids during World War II. And the reconstruction that has taken place since has, on the whole, not paid much attention to aesthetics. So for many people, Mandalay's appeal lies outside of the city in the surrounding historical and religious sites.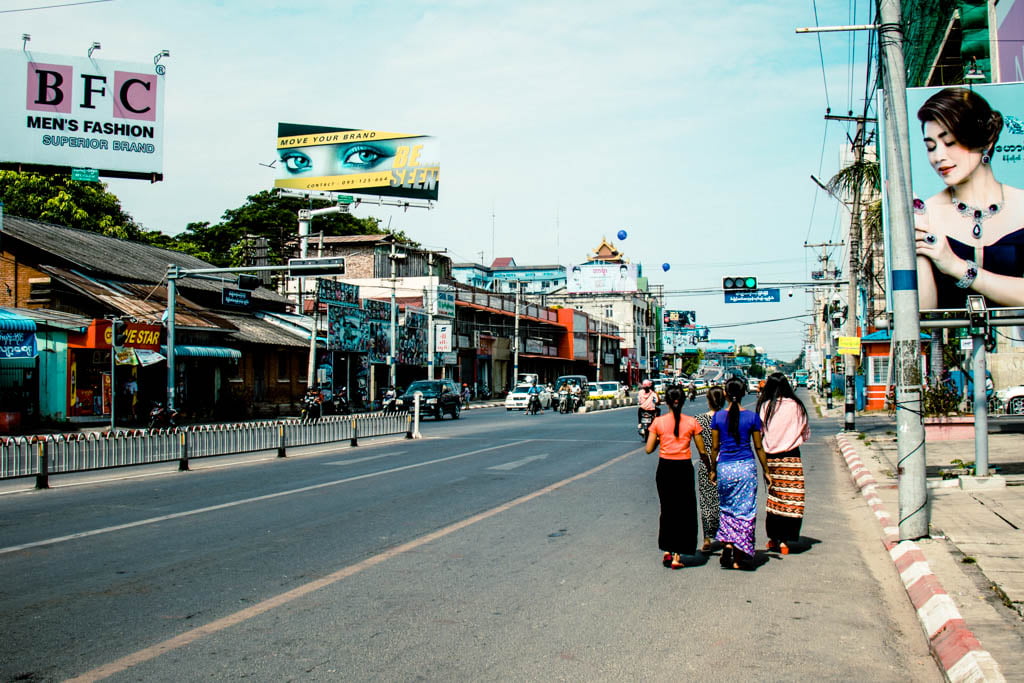 But it's not all about looks – the people are welcoming and the city is the country's cultural centre. There's much to discover. It also feels a little less mad, and more organised than Yangon. Walking the streets of Mandalay, I felt a little more relaxed than in Yangon.
Mandalay Central Railway Station (Trainspotting 2)
Having enjoyed my visit to Yangon Central Station I thought I'd do the same in Mandalay and explore upper Myanmar's gateway to the 5,000 km national rail network.
Mandalay Central Railway Station, located in downtown Mandalay, is one of the largest rail stations in Myanmar. The station is easy to find. Located on the junction of 78th and 30th street (Mandalay streets are on a grid system, a left-over from British rule) it was just a 15-minute walk from my hotel.
The station is located inside a seven-story complex, with a hotel above. Apparently this is the new station (the old station is located further south) but it still manages to exhibit a sense of faded glory. Again I was struck at how sleepy the place was, a far cry from the busy UK mainline stations that I've been used to. With trains seemingly passing through infrequently, travellers tend to 'make camp' – they know they'll be there a while! A place where journeys begin or end… most seemed to be beginning!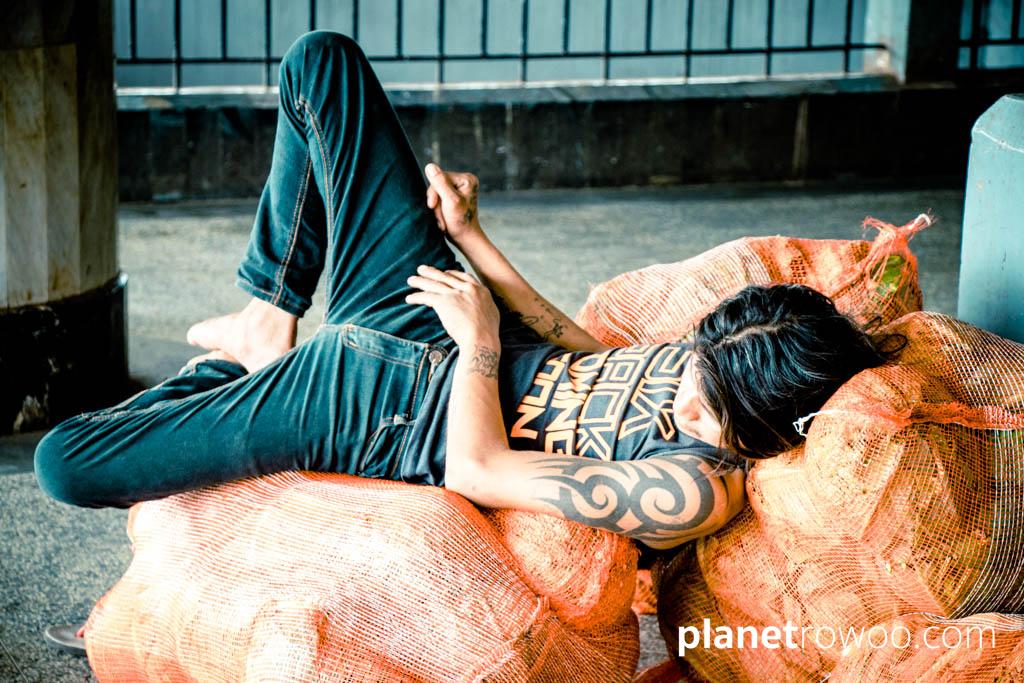 The Royal Palace
One of Mandalay's main attractions, the Royal Palace is located between 12th and 26th street, in the heart of Mandalay city. This walled citadel, surrounded by a large moat, is the last royal palace of the last Burmese monarchy. It ceased to be a royal residence in 1885 during the third Anglo-Burmese War when British troops entered the palace and captured the royal family. The then King and Queen were subsequently exiled to India.
This was another site I was eager to see having read The Glass Palace 20 years ago. The title of the book refers to the King's living quarters inside the main palace. The story is woven around the fall of this last monarchy in its opening chapters.
I decided against going inside the palace. Much of the palace compound was destroyed during World War II by allied bombing and a replica was built in the 1990's with some modern materials. Perhaps I didn't want to shatter my image of the place – or perhaps because the entrance was a bit of a walk away (the entrance for tourists is on the east side, I was on the west). I'm not sure. But in hindsight, I wish I had made the effort.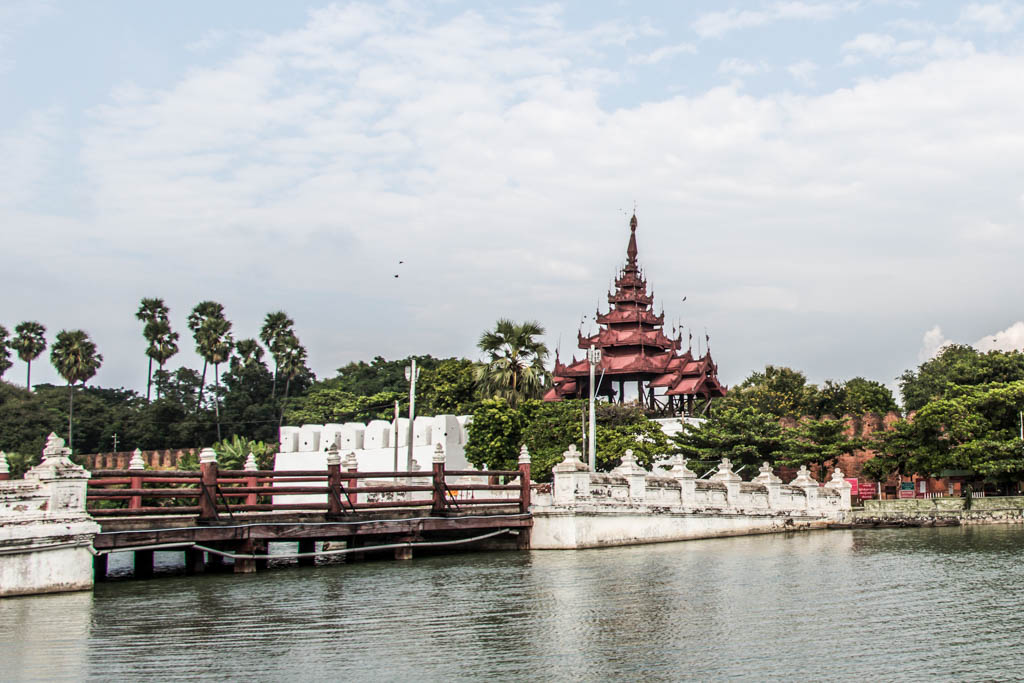 So instead, I took a walk along the south-west corner of the palace and viewed it from across the moat. I did actually venture across the bridge on the western side but was told in no uncertain terms to go back (this side of the palace is occupied by the military). I had read the big red warning signs but just wanted to get a closer look :).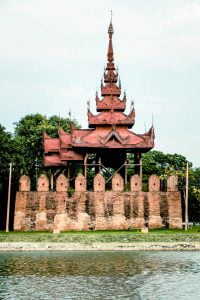 Outer Wall
A 2km long outer wall encloses each side of the palace, forming a perfect square. At regular intervals there are bastions, 48 in total, with gold tipped 'pyatthats' or spires. The palace walls are surrounded by a 64-metre wide, 4.5-metre deep moat. The walls themselves, built with brick, are around 8-metres high. But all this fortification, unfortunately, didn't prevent the palace from falling into British hands at the end of the 19th century!
Burmese Culture
Mandalay is considered the centre of Burmese culture. I had fully intended to explore more and experience what I could of the city's culture. But feeling a little under the weather meant I didn't get to see as much as I'd hoped.
Mandalay Hill, the Gold Leaf workshops (most of the countries gold leaf that worshippers apply to Buddha images comes from Mandalay), and the Jade Market (one of Myanmar's largest exports) will have to wait for another visit. Most disappointingly though, I didn't get to see the Moustache Brothers, the classic A Nnyeint comedy troupe who became world famous in the nineties when their jokes against the government led to prison sentences and house arrest. They perform regularly on 39th street.
Eating & Sleeping
Where to eat?
Feeling unwell meant that I didn't get to experience much of what Mandalay had to offer in the way of food. But before I was confined to my hotel, I found this little restaurant while I was out walking on the west side of the palace;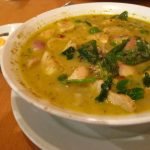 Ko's Kitchen
Ko's Kitchen is a Thai restaurant on the corner of 19th and 80th street (ok, so it's not Burmese, but there was nothing else around and I was hungry!). It's a busy little place, housed in a pleasant Art Deco style building with a simple but cosy peach decor interior. I had a Green Curry, which I really enjoyed, and the service was good too. Not cheap by Burmese standards, but worth it if you want a good Thai in Mandalay.
Where did I stay?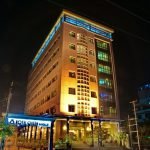 Hotel Queen Mandalay
Located in downtown Mandalay on 81st street between 32nd and 33rd this friendly medium-sized hotel has 68 rooms over 6 floors. The rooms are clean and spacious with everything you need including toiletries and complimentary drinking water. Breakfast is served every morning in the spacious 'Queen's Sky View Bar & Restaurant' on the 7th floor – offering a wide selection of Asian and western buffet options. I ate here for dinner on a couple of nights also and they do a great burger! The room service options were very good too.

Hospitality was excellent, the staff were really welcoming and although their English wasn't perfect they made up for it with friendly smiles and attentiveness. The only downside to my stay was the view from my room was of a construction site next door, which got a little noisy during the day!
Other Stuff
How did I get here?
I flew Air KBZ into Mandalay International Airport on a direct flight from Yangon. Journey time was 1hr 25mins.
---
Top Image: Walled section of the Royal Palace