The Golden Rock Pagoda
A Sacred Site
The Golden Rock at Mount Kyaiktiyo in Mon State is one of the three most sacred religious sites in Myanmar, along with the Shwedagon Pagoda and the Mahamuni Temple. Also known as the Kyaiktiyo Pagoda, pilgrims come here from far and wide to pay homage. Indeed, on the day I visited, the same group of Cambodians that were at the Shwedagon Pagoda the day before were also visiting as part of their Myanmar pilgrimage.
Arrive in style
Arriving here after our 5-hour journey by road, there was just a short walk past street vendors and through the ticket checkpoint before reaching our final destination. If you're feeling a little lazy though, or you've avoided the truck ride and are feeling tired after your trek up the mountain, you can hire a sedan chair and be carried aloft by four porters!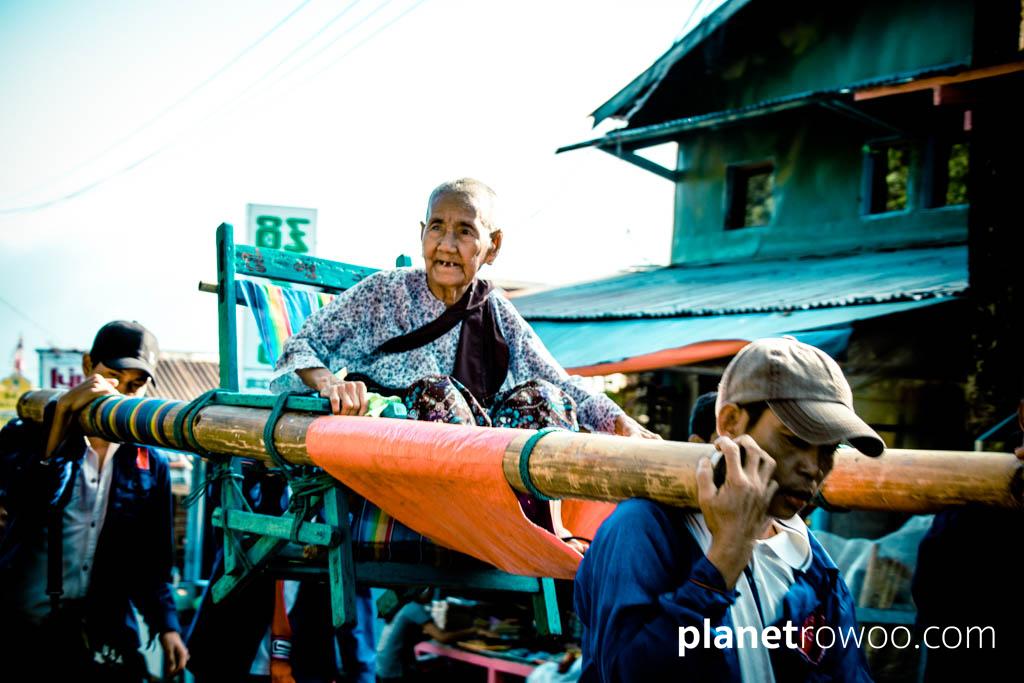 Defying Gravity
The Golden Rock balances precariously over a cliff edge 1,100 metres above sea level. It appears to defy all laws of gravity. When you see it for the first time you are indeed filled with a sense of disbelief. How on earth can it not fall? According to legend, the rock is balanced on a single strand of the Buddha's hair which prevents it from toppling over (geologists however explain the phenomenon as a volcanic accident). There is a common saying in Burma that even a glimpse of this gravity-defying rock is enough to persuade any man to convert to Buddhism. I think I was close. But to the local people and the thousands of pilgrims who journey here every year, it is a miracle of Buddha himself that keeps the rock up.
Gold Leaf
The rock is 5.5 metres high with a small pagoda or zedi on top. It gets its gold appearance from layers of gold leaf, pasted on by male pilgrims over the years as a sign of their devotion. A small footbridge leads to the rock table on which the boulder rests. From here visiting pilgrims can stand or sit and apply their gold leaf. I'm still not sure however how they reach the top or far side!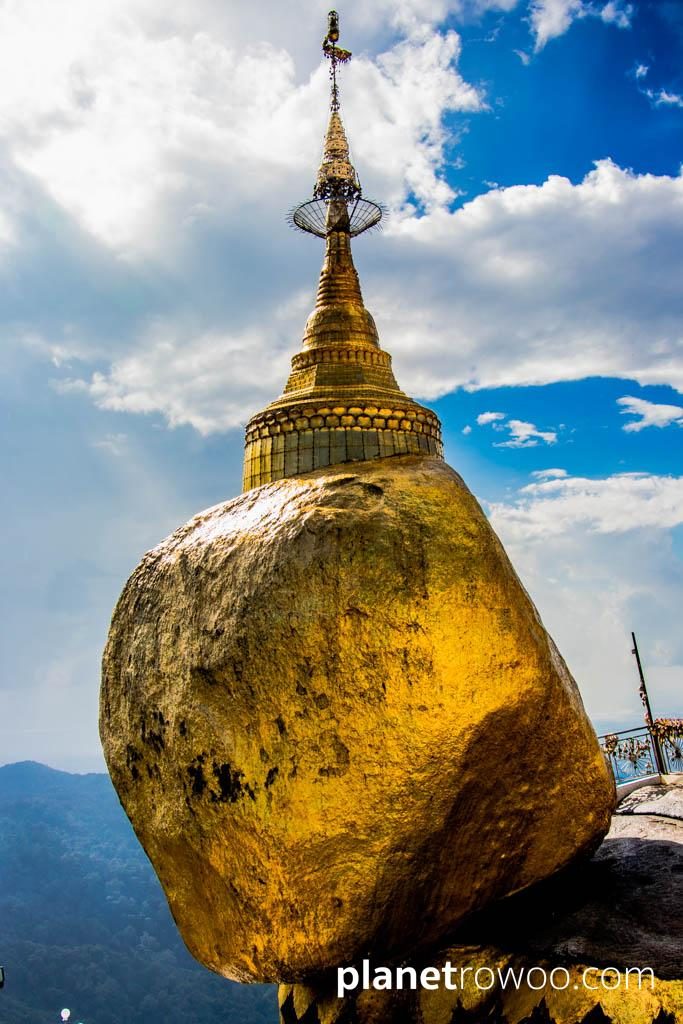 Women can't touch!
Disappointingly for women, especially western women who've travelled long distances and are not aware of the rule, women are not allowed to touch the rock nor permitted to cross the bridge onto the rock table. According to Wikipedia; "The belief stems from the practice of women forbidden to make physical contact with male monks, who are vowed under chastity as the rock itself represents of the Buddhist monk resembling its head". So it seems that the rule in Buddhism, whereby women are not allowed to touch male monks, has been extended to the relic itself.
When to visit
The best time to visit is at sunrise or sunset, when the Golden Rock reveals its full mystical charm. I visited during mid-afternoon. The weather was overcast when I arrived but then the heavens opened, and a downpour ensued. As the rain came to an end however, the sun broke through the clouds and the rock was bathed in a beautiful light. So I may have missed the sunrise/sunset, but I was happy to be blessed with those few moments of gorgeous sunlight.
The white man photo
During the downpour, as we were sheltering from the rain, a local lady on her pilgrimage kept looking over and smiling at me. A little odd to be flirting with me at this sacred site I thought. Then she spoke to my guide. My guide explained that the woman wanted to have her photo taken with 'the white man'. I was happy to oblige. Evidently this happens a lot. Westerners are often asked to be in photos with visiting pilgrims. For some reason, they believe it will bring them good luck!
Eating & Sleeping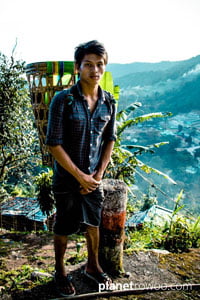 The long journey from Yangon meant we would be staying overnight in Kyaiktiyo. We stayed at the Golden Rock Hotel which was pre-booked for me by Holiday Architects. The hotel is around a 30-40 minute walk from the Golden Rock. A walk that entails a short downhill trek along a windy path that runs through the mountain and passes remote village houses and lush tropical foliage. The slight remoteness of the hotel meant we would be eating there also.
My guide hired a porter for us to carry our overnight bags, something I admit I wasn't immediately comfortable with. My bag was only small and I could have easily carried it myself. But this was his livelihood and it's tourists like myself that help pay his way. So a handsome but slightly sad looking young porter carried our bags in a basket on his back and accompanied us down the mountain to our hotel. It was nice to see his face light up though when I handed him his tip at the end of our journey.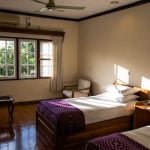 The Golden Rock Hotel
The Golden Rock Hotel is an eco-friendly hotel set in the mountains. There's a mini-dam built especially on the premises for collecting natural mountain spring water for the hotel's exclusive use. Accommodation is simple, but clean and comfortable, in individual chalets spread out over three acres of wooded terrain. The pointy roofs of each building apparently resemble the shape of a hermit's hat!

Apart from the setting, the stand out feature for me was the service. The staff are wonderfully friendly. From arrival, to the service at dinner, to check out, I could not fault it. I felt like I was in a much higher class of hotel. A great place to stay if you're visiting the Golden Rock.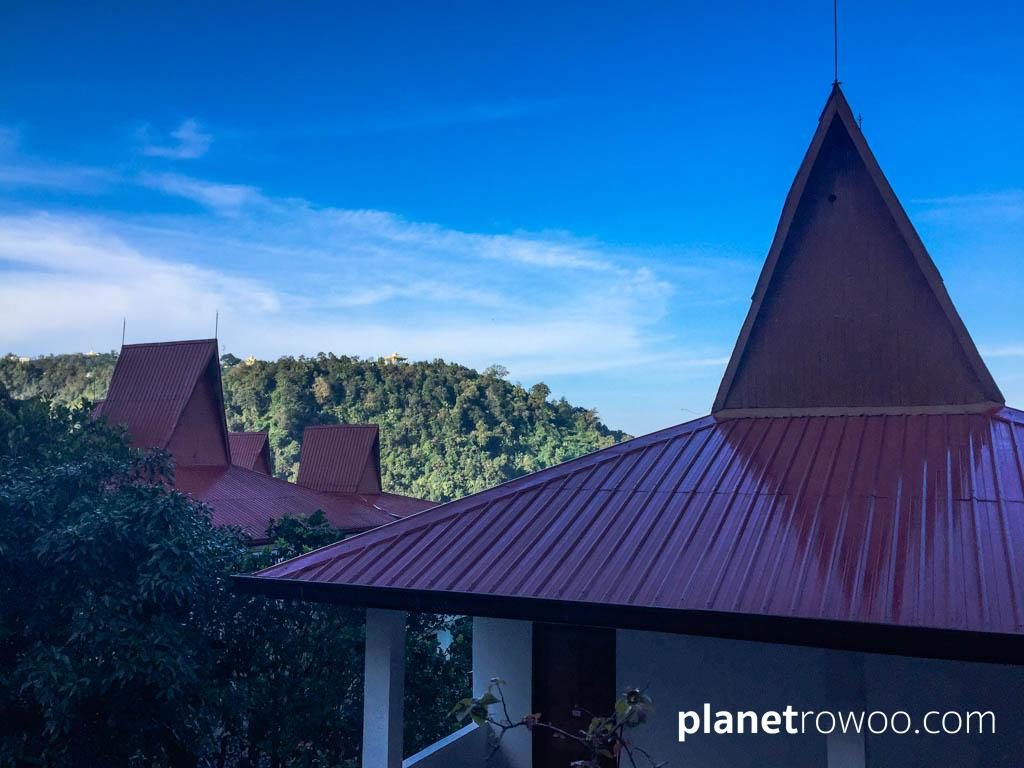 ---
Top Image: A young man looks out over the Kyaiktiyo mountain range with the Golden Rock in the background