Exploring Bagan
The Bagan Archeological Zone is spread across three towns… Nyaung U to the northeast is the gateway to the region. Old Bagan to the northwest lies on the bend of the Irrawaddy and is where the majority of temples can be found. New Bagan to the southwest has fewer temples and is where most of the midrange accommodation is located.
You can view my Bagan temple highlights in my previous post. But there's more to Bagan than just temples. The bustling Nyaung U Market gives you a great taste of local life, while a visit to a lacquerware workshop is a must to observe this traditional and thriving Myanmar industry. Hiring a bicycle is a great way to explore the area, allowing you to cover a lot of ground at your own pace; cycle to the banks of the great Irrawaddy river, through dusty villages, and visit some of the quieter, lesser visited monuments.
Nyaung U Market
Local markets are always a good way to discover somewhere new. A place where villagers come together to buy and sell their produce. In an environment that has often remained the same for hundreds of years. The colourful Nyaung U Market is no exception, offering a glimpse of the history, the way of life, and culture of the region.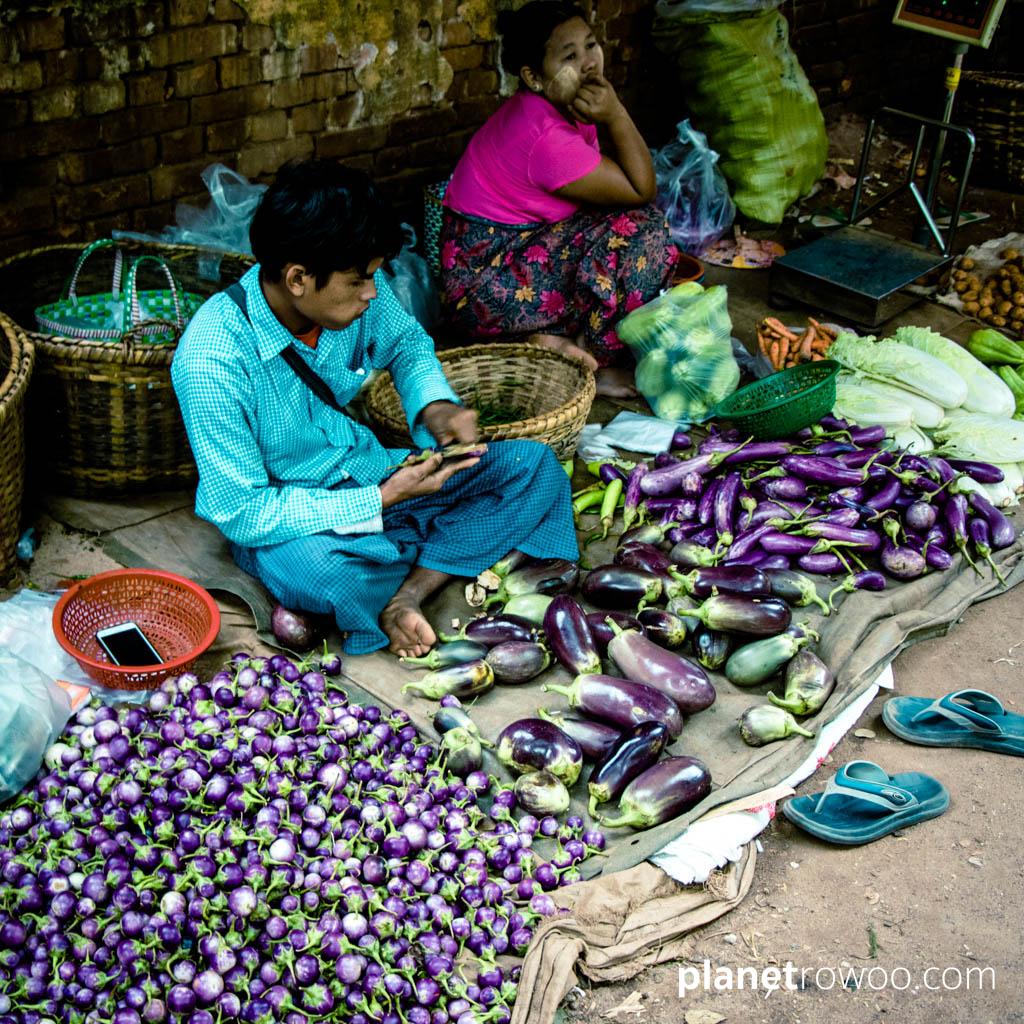 Lacquerware workshop
Bagan is the centre of Myanmar's thriving lacquerware industry. So a visit to a traditional lacquerware workshop where you can observe the production of one of Myanmar's best-known handicrafts is a great break from the temples.
Myinkaba village (or Myin Ka Bar), between Old and New Bagan, has been home to family-run lacquerware workshops for centuries. Here you can observe the skilled craftsmen and women as they go about their daily business and work on the various stages of the six-month process.
From the initial creation of pieces with bamboo to the application of lacquer and then the carving of the intricate designs by knife, the whole process is both fascinating and educational.
Bagan by Bike
Exploring the Bagan landscape by bicycle is like pedalling back through the centuries. Cycle through villages seemingly untouched by the hands of time, along the banks of the ancient Irrawaddy river, and down dirt roads that'll take you to deserted temples. It makes for easy cycling as the landscape is pretty flat with just a couple of small uphills. Most hotels rent out bikes and there are plenty of bike rental stands about too – I hired mine for just one dollar a day through my hotel.
And don't worry about having to carry a bike lock – it's quite liberating to park up outside a restaurant and leave your bike unlocked for an hour or so… knowing it will still be there where you left it when you get back!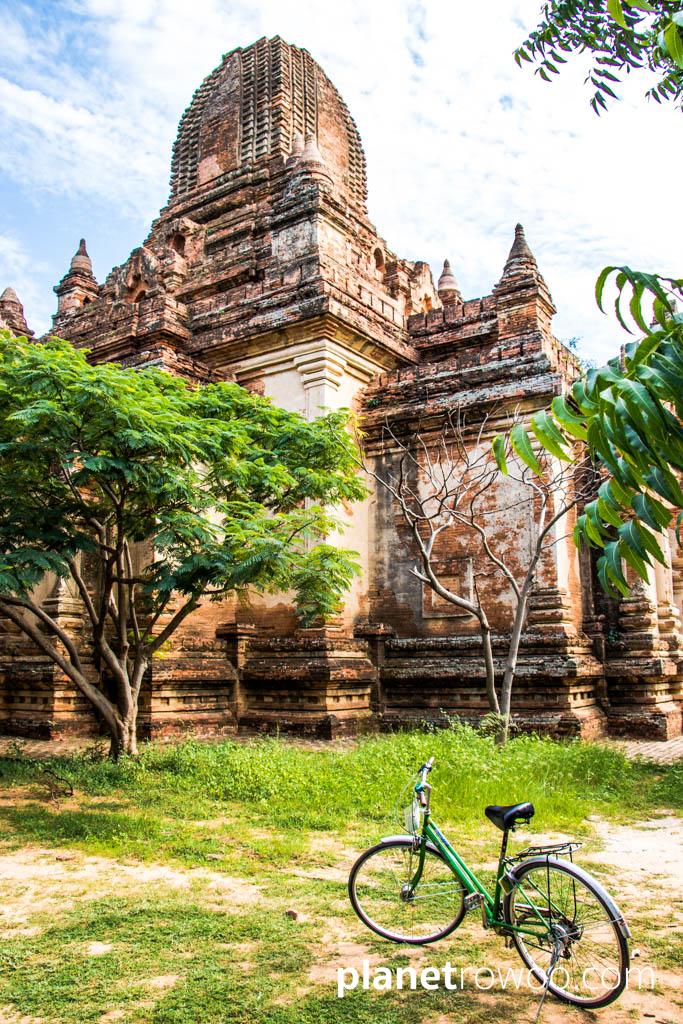 Hiring a bike was one of the highlights of my Bagan visit. Cycling gives you a great sense of freedom. Most of the bikes available to hire are your traditional upright bikes, comfortable to ride but not exactly your high tech mountain bike. But I think that adds to the experience!
Eating & Sleeping
Where to eat?
There weren't too many restaurants near where I was staying in New Bagan, but of those I visited I would recommend the following…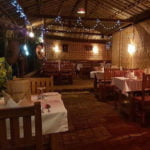 Star Beam Restaurant
A family run restaurant, Star Beam is a little hidden away off the main street (I was the only customer when I visited at lunchtime). It's in a very simple setting, but with very attentive service and a nice selection of local and western dishes. Slightly on the higher price, but worth it for the service and quality.
---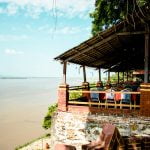 Si Thu Restaurant
The Si Thu Restaurant enjoys a great location in New Bagan overlooking the Irrawaddy river. Serving traditional rice and curry dishes it's a great place to sit and chill whilst enjoying the river views below. It's also the perfect spot for a sunset drink.

I visited twice. Once for lunch and once for dinner (after which I enjoyed a wobbly bicycle ride back to my hotel following one too many beers :).
---
Where did I stay?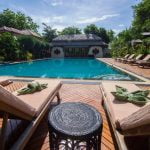 Bawga Theiddhi Hotel
I stayed at the Bawga Theiddhi Hotel in New Bagan. A good base for exploring the area, with simple but good size rooms. I stayed in a Deluxe room, one of the bungalow style rooms adjacent to the main building. There are also Serene Deluxe rooms available around the pool and smaller Superior rooms in the main building.

There's a pleasant pool in the gardens, perfect for cooling off in after a long hot day exploring the temples. The restaurant does a decent buffet breakfast and you can choose to dine inside or out in the gardens. At night, there's often a traditional Burmese puppet show in the romantic garden setting. The hotel also does bicycle rental.

Note: The 'Sky Bar Lounge' advertised on the website was pretty non-existent when I visited… it was just an empty, dusty roof. But it's still a good spot for some sunset photos.
---
Galleries
[envira-album id="8917″]
Other Stuff
How did I get here?
I flew Air KBZ into Nyaung U Airport on a direct flight from Mandalay. Journey time was just 30 minutes.
---
Top Image: Vegetable array at Nyaung U Market