A Kalaw Trek
Kalaw is Myanmar's trekking capital. After journeying on planes, bikes and automobiles for almost two weeks, it was good to know that I was finally going to get a good walk in by taking a half-day trek into the mountains. So after arriving into Heho airport and meeting with my guide William, a sweet and gentle guy from nearby Nyaung Shwe, we loaded up with provisions from a local market and headed off on our Kalaw trek. Lunch apparently was going to be in a villager's house!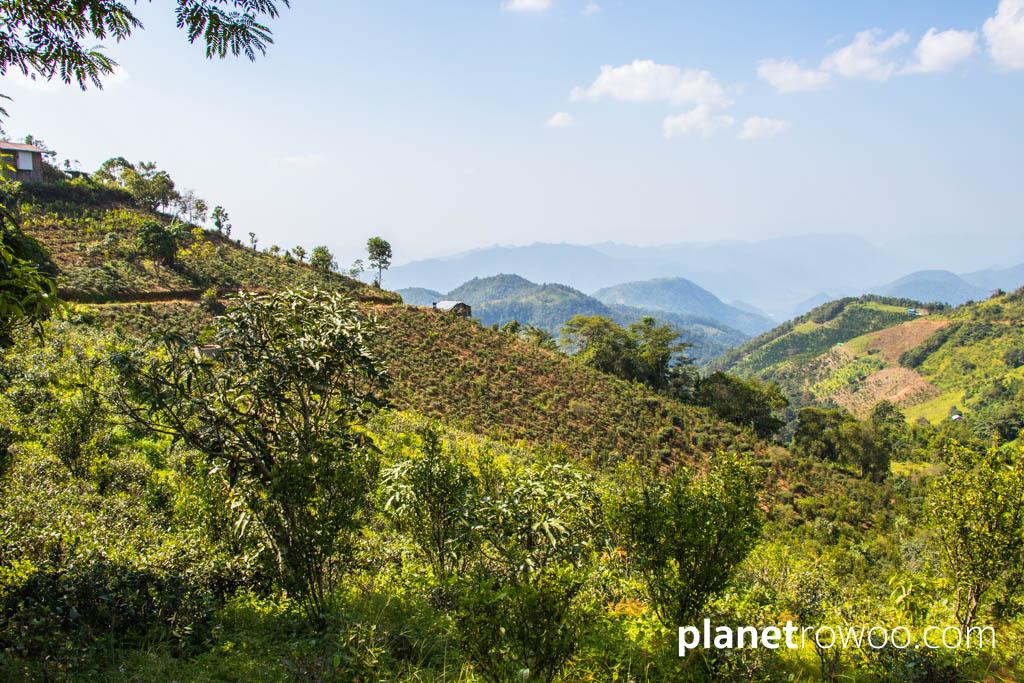 The Kalaw Hills
At 1,320 meters above sea level, Kalaw was popular with the British in colonial times where they fled to escape the hot plains of Burma. But by mid-morning on this beautiful November day, the sun was already feeling pretty hot. Fortunately, my guide had prepared me for the weather – and so donning my absurdly wide wide-brimmed sun hat that William encouraged me to buy from the market (I wasn't quite rocking the Indiana Jones look) I was ready for the midday sun.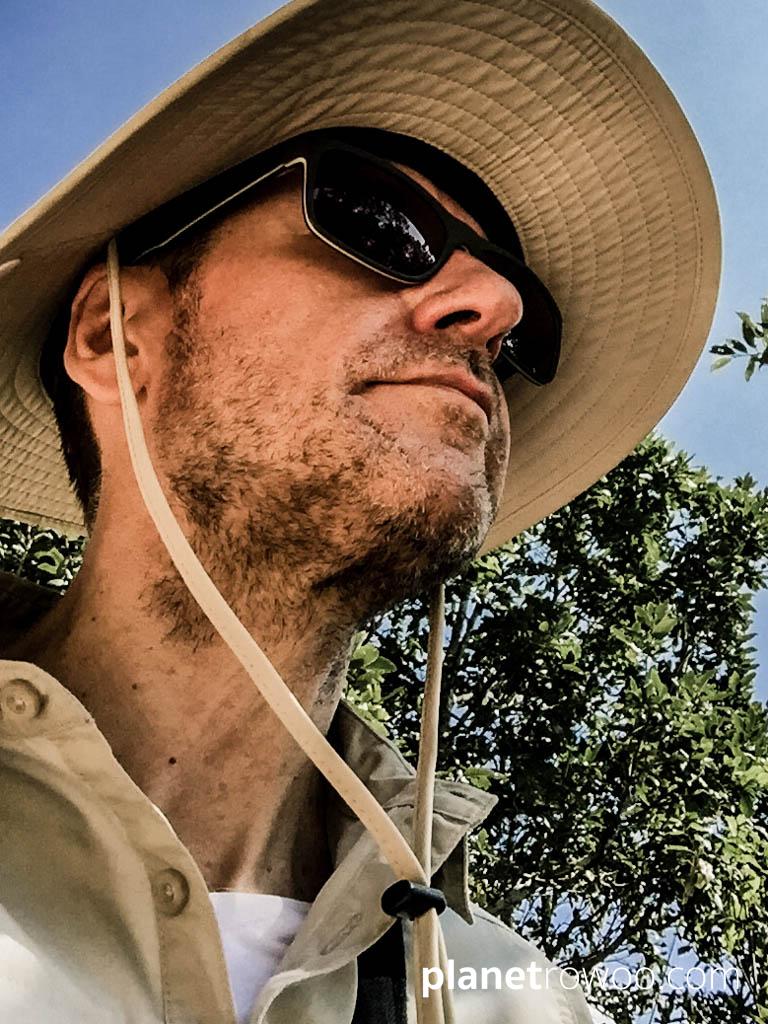 It's a peaceful walk through tea plantations and green hillsides of the Kalaw hills. The area is home to the Danu, Palaung, Pa-Oh and Shan ethnic hill tribes. They grow primarily tea and oranges for sale in the local markets and further afield, as well as seasonal crops. They traditionally grew opium but had to change to other crops when it was outlawed in the 1960's.
As we slowly ascended the mountain road on our gentle amble through the hills, we passed workers in the fields, villagers on the road carrying their wares, and water buffalo grazing by ancient pagodas. It was a pleasant change to experience the peace and quiet of the countryside, with just the sounds of nature around. Broken only occasionally by the rattle and hum of a truck, transporting crates of oranges or tea, trundling by.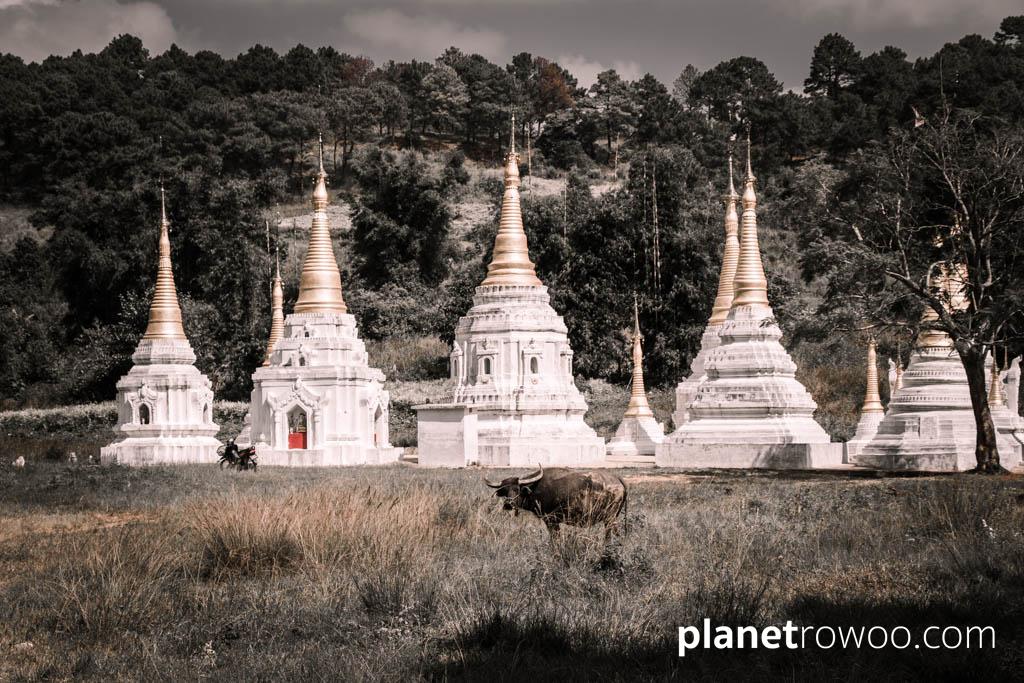 Pein Ne Bin Village
After walking for around two hours we rounded a bend in the road. The multi-coloured houses of Pein Ne Bin village appeared before us. The village is home to the Palaung ethnic hill tribe people. Nestled in the side of the mountain and surrounded by the greenery of the forest, it looked a little like a toy town. Puffs of smoke billowed from some of the buildings… it was lunchtime.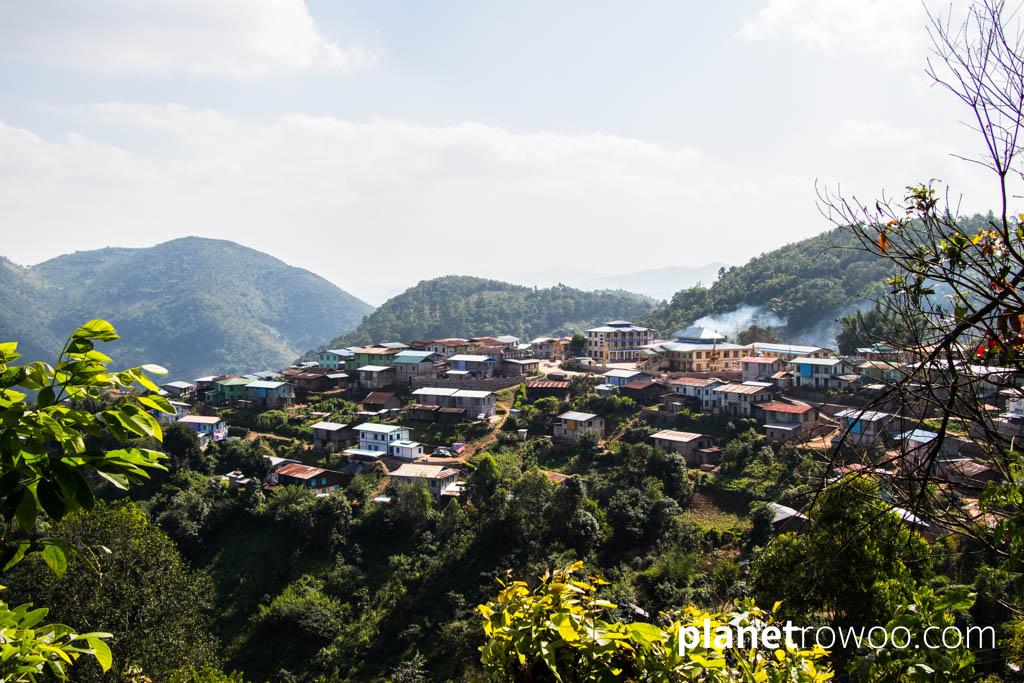 Entering Pein Ne Bin village I began to realise how Kalaw was unlike anywhere else in Myanmar that I'd visited. The air was clearer, the light crisp and the temperature had dropped a little now. There was a calm and peaceful feel to the place, reflecting the slower pace of village life.
The village has a curious architecture. From basic wooden huts with corrugated roofs, to traditional Burmese houses, and to me what looked like Swiss-style chalets. Some homes with drab faded exteriors and others with brightly coloured panels.
A Palaung Village Home
I'm fascinated by ways of life that have remained unchanged for hundreds of years. Ok, so nowhere is completely untouched by modern life these days. You'll find satellite dishes and mobile phones in the remotest of places. But wandering through Pein Ne Bin village I felt a little like I'd been transported back in time. With Palaung villagers in traditional dress going about their daily business, men crouched together in groups smoking and chatting. So it was most definitely a highlight of my trip when I was invited into a village house with my guide for lunch.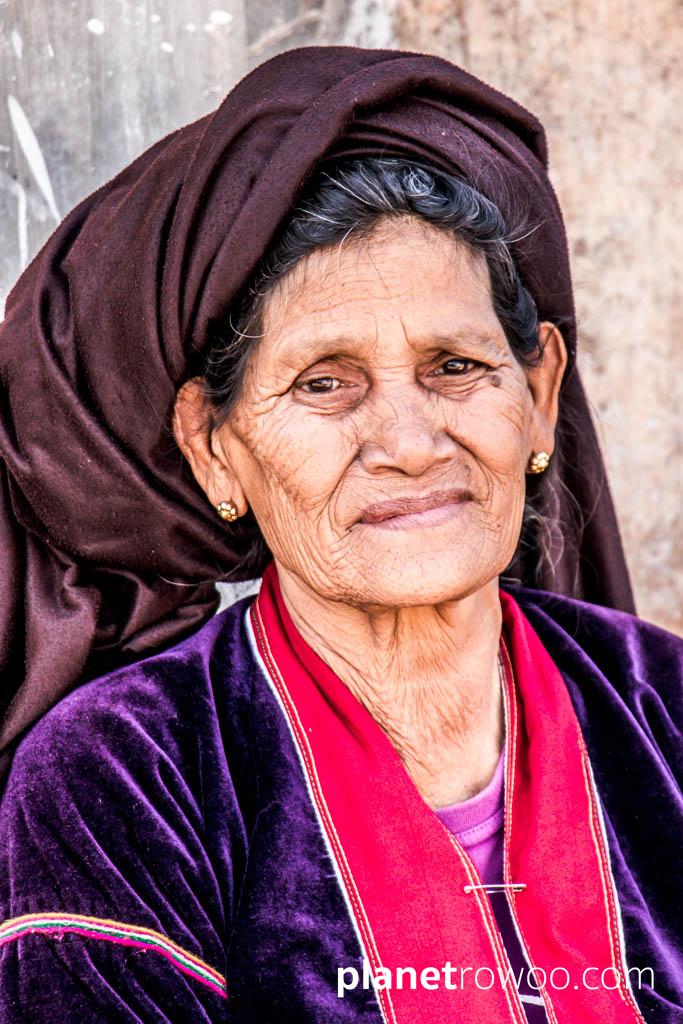 Inside we were greeted by the mother of the house, and a couple of excitable but wary children. The kids seemed very uncertain at first about the strange looking westerner in their house with a camera around his neck. But after giving them some treats we'd bought earlier at the market, and letting them become familiar with the camera by seeing their images captured on the screen, they became more relaxed and animated. They were later joined by their elder brother, a Buddhist novitiate in his novice monk robes, who was even more camera shy! It was a lot of fun capturing these kids images… but getting them to keep still was a challenge!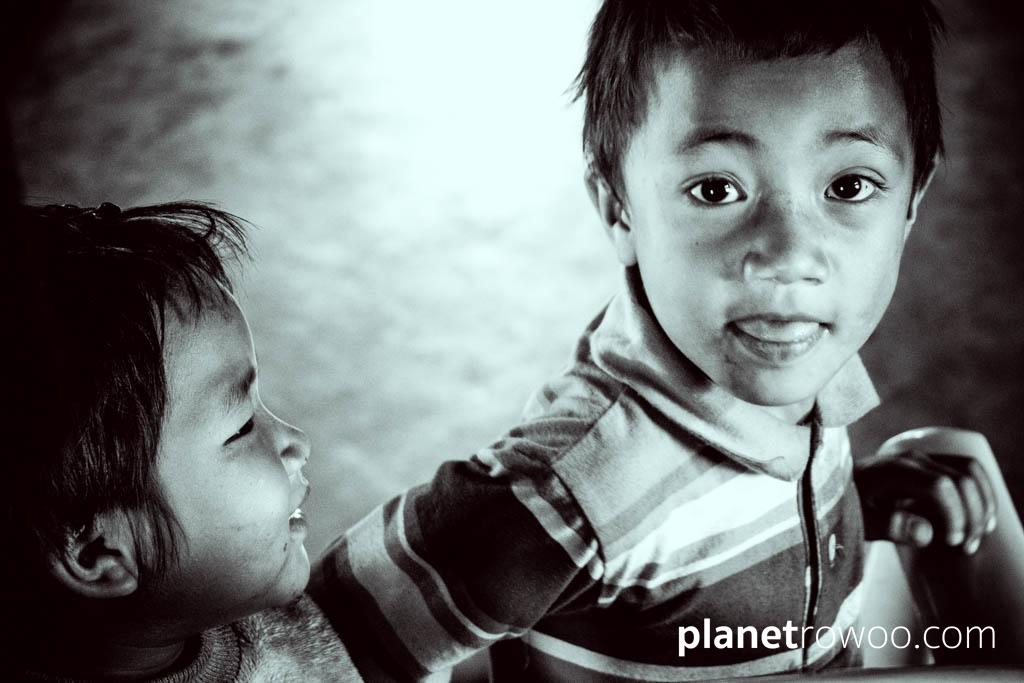 We ate in their main living area. A large but simple room with wooden furniture, and a motorbike parked in the corner! Just off of this room was a small kitchen with some basic utensils and cooking stoves on the floor. The mother served us tea to go with the rice lunches that we'd bought from the market. But she did not eat with us.
Palaung Traditions
After lunch, the mother asked if I would like to see her Palaung traditional headdress. Of course, I said, expecting her to go and fetch a hat from nearby. Instead, she sat down in front of a mirror and slowly and carefully began to wrap colourful bands of cotton and beads around her head. The whole process took around 10 or 15 minutes maybe. It was fascinating. When she had finished she proudly stood to show me the finished creation. I felt quite humbled.
Afterwards, she was keen to show me her traditional handloom. The Palaung still weave their own costumes. Again it was a lengthy process to prepare the loom. But it was such a joy to see her enthusiasm and her face beaming with pride as she demonstrated to me how it worked.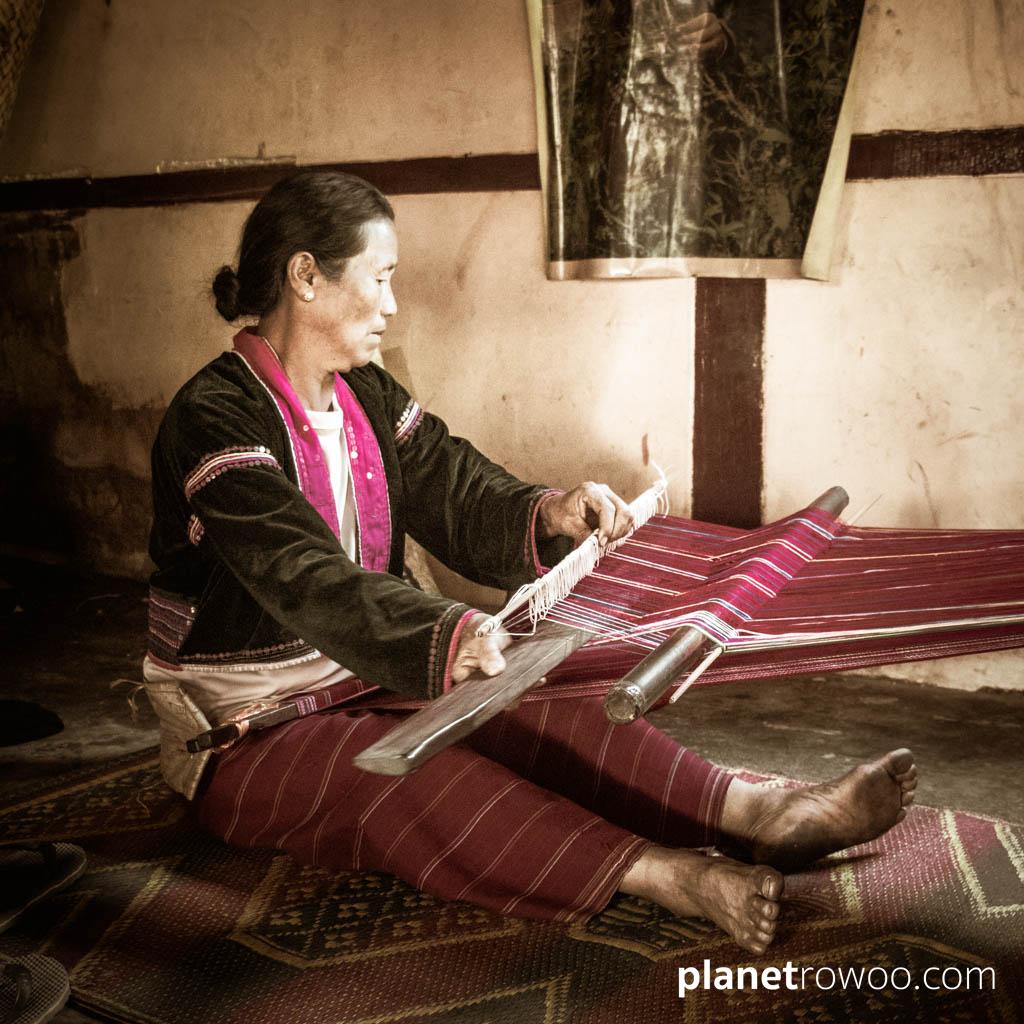 It was an honour and a privilege to be invited inside this Palaung village house during our half-day Kalaw trek. I'm not sure what arrangement there is between the tour company and the villagers. But that doesn't matter. I was made to feel very welcome. It was a great experience to witness a little of the life of this remote village people. A life that is in stark contrast to my own.
Galleries
---
[envira-album id="8921″]
---
Top Image: Children in the Pein Ne Bin village home where I ate lunch