Kalaw Town
Kalaw town, high in western Shan State, is an old hill station established by the British during colonial rule. Its elevation of 1300 metres above sea level makes it a cool retreat from the higher temperatures of the rest of the country.
Today, Kalaw is the centre of the country's trekking industry. From short treks into the surrounding mountains, or the very popular three-day trek to Inle Lake (50km), it's the reason most tourists come here. But with its laid-back atmosphere and cool fresh mountain air, it's a great place to chill for a few nights and recuperate after days of traipsing around Myanmar's temples in the sweltering heat.
Kalaw Market
At the heart of Kalaw is its market. A place where villagers and hill tribes from the surrounding hills come to buy and sell their produce. It's always worth slowing down and taking some time to appreciate these colourful gatherings. To absorb the sights, sounds and smells of local life.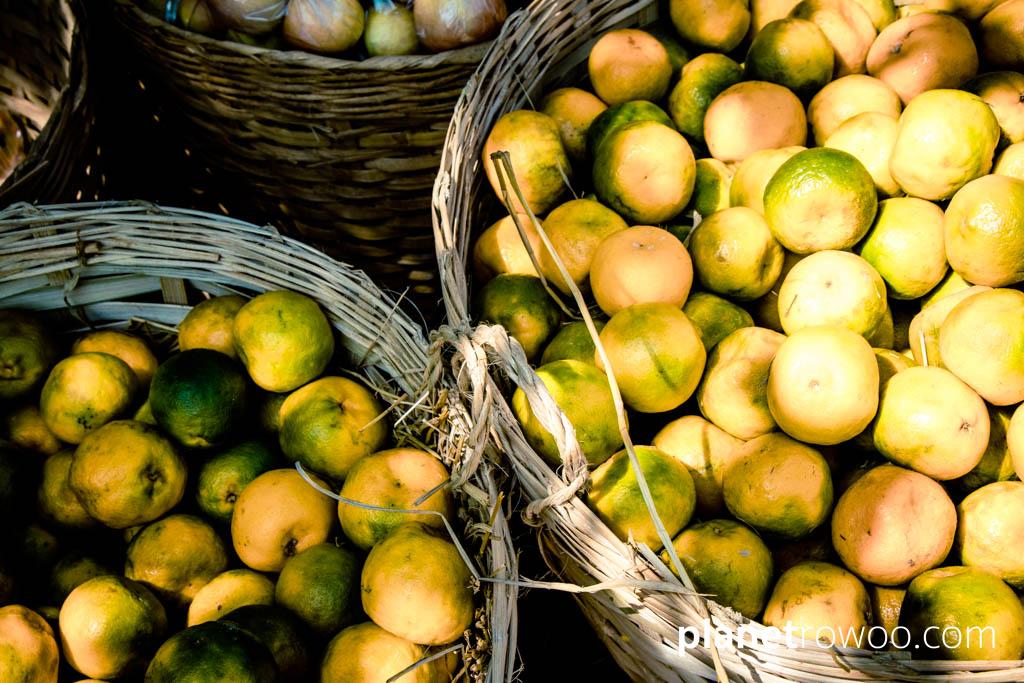 Kalaw is a peaceful little town (except during festival time!). It's not a huge place but it's easy to lose a few hours wandering the streets with their mix of local and colonial-era houses, and stopping now and again at the odd cafe or restaurant. Which is exactly what I did. In fact, I lost a couple of days!
Kalaw Temples
But I did take some time to visit some temples… and one of the three churches in Kalaw. The Aung Chan Tha Pagoda is at the centre of Kalaw, next to the market. Its shiny exterior glitters with silver and gold-coloured glass mosaics. 30-minutes walk south-west of the main town is the Shwe Oo Min Phaya (Temple Cave). Built inside a limestone cave it is filled with golden Buddhas. And en-route to Shwe Oo Min Phaya on University Road is Saint Catherine's Church. A curious looking red-walled cottage-like building with Tudor style black framework – and a green corrugated roof. At the time of my visit, it was deserted apart from a few cute puppies!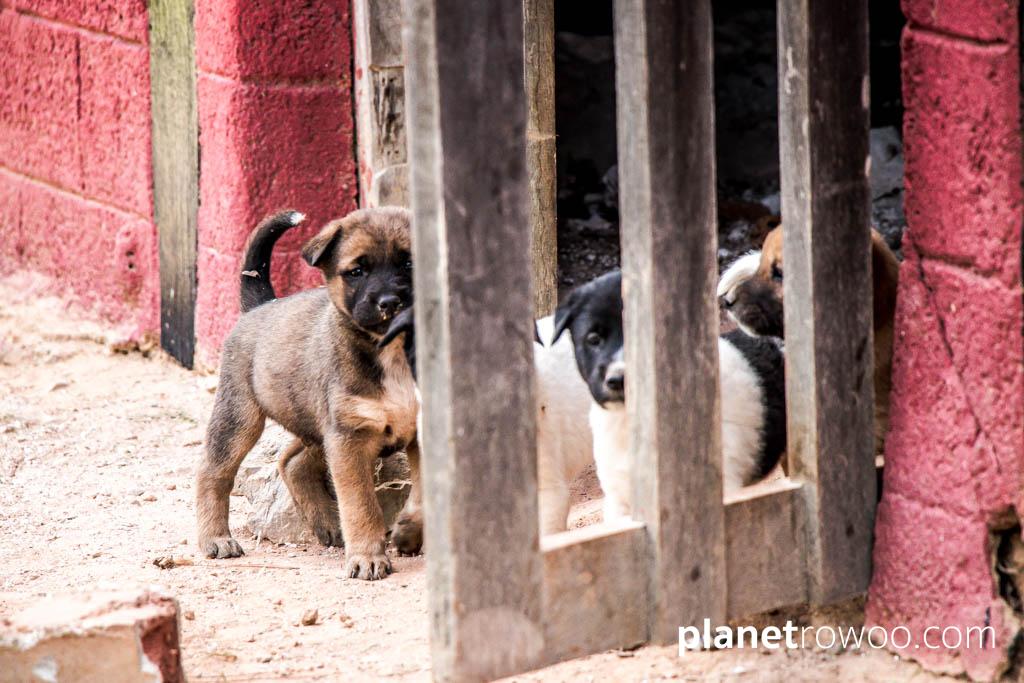 Stray Dogs
The author Jan-Philipp Sendker has an interesting theory of why there are so many stray dogs in town;
"There is a military academy in town, and the headmaster raises dogs. Three hundred officers attend this academy each year, and it is strongly recommended that they each buy a dog from him. The price tag is hefty: one thousand dollars per dog. You do the math.
But what shall the officers do with the dogs? They have no use for them and let them go. That is why there are so many stray dogs in town."
Source: Burma Diary – Part 5
Festival of Lights
The Tazaungman Full Moon Festival (also known as the festival of lights) takes place in late October or early November, and features street parades, music and fireworks. This year I was lucky enough for it to be coinciding with my stay in early November.
The information on the festival was a bit vague though. The hotel staff told me something (a parade I think) was going to happen 'somewhere' around 8pm (ish). So I left my hotel around 7:45 in the vague hope of finding this 'something' 'somewhere' in town.
As I wandered down the road leading from my hotel there was a definite feeling of excitement in the air. Families and groups of youths were gathering in the streets, chatting and laughing. There was the smell of sulphur in the air. But what I saw next was a little disturbing.
Health & Safety… what's that??
The health & safety paranoia of the west hasn't quite reached Myanmar and other parts of Southeast Asia. Quite the opposite in fact. Sometimes I find this refreshing. However, as I rounded the corner after leaving my hotel, I was a little shocked by what I saw. A teenager was lighting a firecracker in the middle of the road, while a young child sat clapping and laughing literally just a couple of feet away as it burned and spewed flames. The parents looked on from the side of the road, laughing. I myself was a safe distance but I have to say my stomach churned as I looked on. I had visions of that little kid going up in smoke.
As I neared the centre of town I began hearing the banging of gongs and chanting. So I followed my ears and eventually came upon the procession on Min Street, passing the Red House Bar & Restaurant. A procession of all ages, with groups of men carrying flashing religious deities, others dancing and playing gongs, drums and cymbals. Young children followed with lotus-shaped lanterns.
Then a group of youths appeared in the procession, shouting and chanting, some carrying burning flares. I have to admit I didn't have a clue what was going on. It was a strange combination of a party atmosphere with a slightly aggressive undertone. And with fireworks being tossed around I felt a little on edge (some of the guys were carrying baskets full of the things while waving around their lighted flares!). But nonetheless, it was fascinating to witness.
A Trip Highlight
If you haven't had its trademark rum sour, you haven't been to Kalaw

Lonely Planet Guide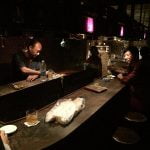 Hi Snack & Drink Bar
I'd read that there wasn't much in the way of nightlife/drinking bars in Kalaw so I'd resigned myself to an early night each night in my hotel. But on the way back to my hotel on my second night, my attention was drawn to the chatting and laughter of a small crowd that had gathered outside a doorway on Kone Thae Street. They were drinking… my cue to investigate further.

Inside Hi Snack & Drink Bar I found a dimly lit tiny bar… the size of a large cupboard! Sometimes when you enter a local bar like this alone, the occupants turn and stare and you can feel a little awkward. It was quite the opposite here. As I walked up to the bar, the guys sitting there shuffled up and made a bar stool available for me. I was made to feel very welcome.

Rum Sour

As I took my place at the bar I began to realise that this must be the bar mentioned in the Lonely Planet guide. I remembered it said there was no beer but had a speciality drink… although I couldn't remember what it was. "What would you like?" asked the bartender – an intellectual looking guy with glasses. "What would you recommend?", I asked… My 'rum sour' was served swiftly and placed on the bar with a bowl of peanuts. It was good. And so were the ones that followed.

I went there two nights during my stay. On the first night the bartender introduced me to a guy at the bar interested in travel and wanted to go to London. We had a good chat. On the second night I was welcomed like a local and got chatting to more of the regulars. Some from Kalaw and some from neighbouring Nyuang Shwe. We sat at the bar while they shared their food and tales with me. These guys might live in the mountains in a place far removed from the west. But they were no different to any characters you might meet in your local pub. They were interested in the world, in life, in me. One was in trouble with his girlfriend – she wanted to go – but he wanted to join me for another drink. The same story plays out the world over.

It's true what the Lonely Planet says about this place. But I'll expand on it further… If you haven't met the characters in this bar… you haven't been to Kalaw.
Eating & Sleeping
Where to eat?
A few of my favourite eating places during my three day stay in Kalaw;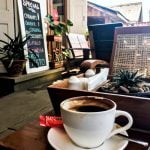 Red House Italian
The Red House Bar & Restaurant on Minn Street is a stylish Italian restaurant set in a charming colonial-era red-painted building. The friendly Italian owner offers homemade pasta and wood-fired pizzas, as well as some local food. Set over two floors, with a rooftop terrace, it's certainly a very sophisticated establishment for Kalaw. A great place for a morning or afternoon coffee as well as lunch and dinner. The front terrace is the perfect spot for watching life go by on Minn Street.
---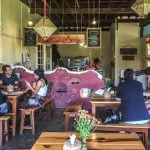 Sprouting Seeds Cafe
A vegetarian/vegan cafe & restaurant with its own bakery, Sprouting Seeds Café, Bakery & Eco Shop is set in a traditional old Kalaw house. It has a rustic, lazy Sunday afternoon feel about it and is a great place to chill for an hour or two. Everything here is homemade. A portion of the profits goes toward local community projects and in training youths in a variety of skills aimed towards health, wellness and sustainability; www.whisperingseed.org. Located on Thidar St, across the road from the Kayin Baptist Church.
---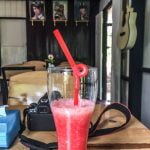 New Simple Life
A little further afield, around 20-minutes walk south-west of Kalaw centre, this is another great place for European food. New Simple Life is run by a Yangon native who studied French cuisine in Malaysia and then moved to Kalaw to open a restaurant and practice her passion. She makes a real effort to keep the prices down so locals can afford it too. All food is homemade with fresh local ingredients and widely regarded as some of the best in Kalaw. Sit inside and enjoy the rustic wooden interior or out on the wooden deck. This is a great place to stop on your way to or from the Shwe Oo Min Pagoda.
---
Also, for Nepalese, Burmese and local Shan fare I'd highly recommend these two spots; Thirigayha 7 Sisters Restaurant, Everest Nepali Food Center
Where did I stay?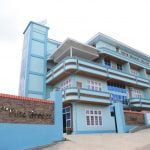 Pine Breeze Hotel
Located up a hill around 5-minutes walk from the centre of town, Pine Breeze is a basic but reasonably comfortable hotel. I stayed in a Superior room. The pine interior is an acquired taste, and it certainly wasn't the cleanest room I've ever stayed in. I'm not sure the bath mat had ever been washed… I avoided stepping on it in my bare feet for fear of catching something! And I'm not sure who would want to wear the fluffy slippers provided in the room, worn by numerous previous guests! The breakfast isn't much to speak of but the views across the mountain from the rooftop restaurant make up for it. Not the best hotel I've ever stayed in but ok for a short stay.
---
Galleries
[envira-album id="8925″]
Other Stuff
What to read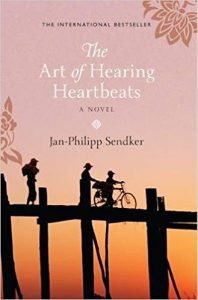 The Art of Hearing Heartbeats
Set in Kalaw, The Art of Hearing Heartbeats by Jan-Philipp Sendker is a touching and heartwarming story about love, death, happiness and the senses. Beautifully written, it's essentially a fairy tale, but with traditional Burmese values and beliefs included.

A relaxing read for when you have some downtime in Kalaw.
---
How did I get here?
I flew Air KBZ on a direct flight from Nyaung U to Heho. Journey time was around 40 minutes. I was then picked up by my guide for about an hours drive from Heho airport to Kalaw.
---
Top Image: Kalaw market trader amoungst her produce