Pristine Lotus Resort on Inle Lake
There are not many places in the world where you can arrive on water right up to a hotel's entrance. There's the obvious Venice analogy, and islands of the Indian Ocean and the Caribbean etc. But wherever you are in the world, it's a special experience… very special. The Pristine Lotus Resort was no exception. Having passed the boat-shaped accommodation on my private motorboat on the way to the hotel jetty, as the sun was going down, I was already in love with this place. And I hadn't even been shown to my room yet.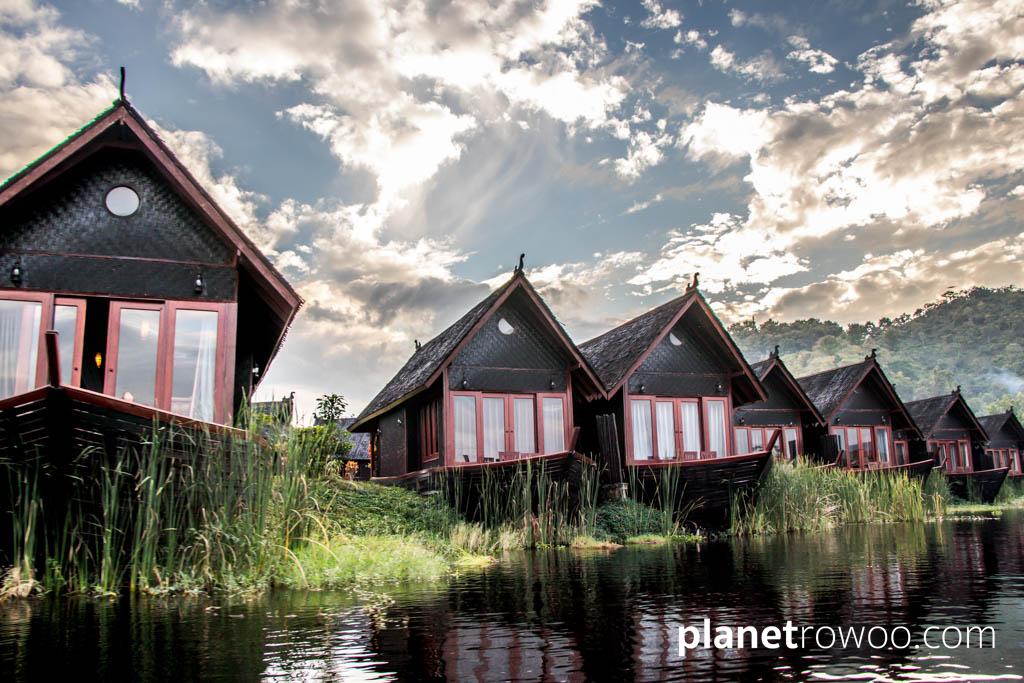 The Pristine Lotus Resort & Spa is a beautifully designed 4-star resort located at the north end of Inle Lake. You can arrive in style by boat at the hotel jetty as I did, via a narrow waterway leading from Inle Lake. But it's also accessible by car via the Inle Lake West Corridor road.
The canopied lobby and reception is just a short walk from the jetty. It's a tranquil space, set on an island amid teak-wood bridges and landscaped gardens. The friendly staff greet you with a welcome drink and swiftly and efficiently take you through the check-in preliminaries before showing you to your room.
Rooms at Pristine Lotus
The resort's 120 rooms are split between 50 villas built on a landscaped hillside, and 70 boat-shaped "floating" cottages right on the water. My room was one of the latter.
As I was led to my accommodation at dusk down the path which led through pristine landscaped gardens with the Shan hills just visible now against the late evening sky, I was feeling very much at peace. After a long day of sightseeing and being ferried around Inle Lake it was good to arrive somewhere so calm and peaceful.
A Boat-shaped Bath
Then arriving at my cottage things just got better. My room oozed style and quality with its waxed dark wood floors and stylish designer bamboo and rattan interior. I felt immediately relaxed and at home. With 50 sq metres of floor space, it's a very comfortable place to spend a few or even several nights. And then there was the bath… a beautiful low profile wooden encased boat-shaped bath in the living area with views out through the french doors to the bow of the "boat". A boat-shaped bath in my boat-shaped villa – I felt like I was living in some kind of nautical fantasy.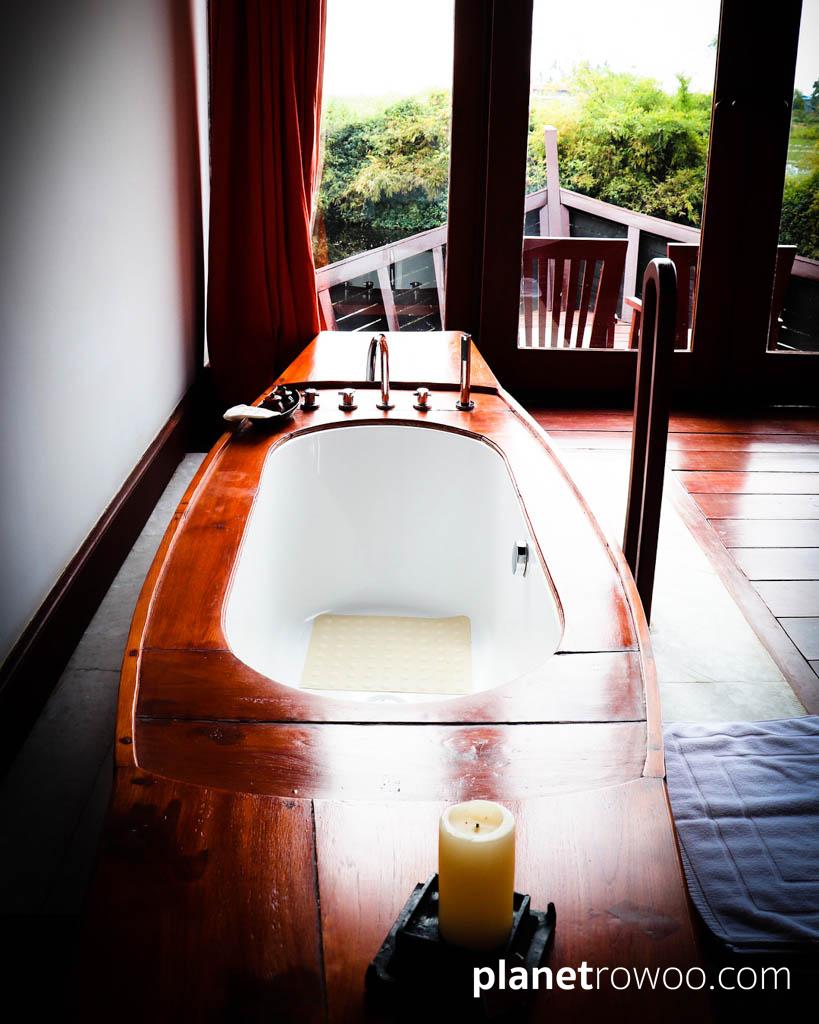 The luxury theme continues into the shower room/dressing area. Separated from the bedroom by a chunky bamboo screen a designer sink sits on a wooden counter surrounded by quality toiletries and amenities. There's also an open wooden closet here with hanging space for your clothes and hotel bathrobes, and a safe for your valuables. Overall it's a beautifully designed room with everything you need for a comfortable stay.
Inland behind the boat-shaped cottages, across a quiet road on a gently sloping hillside is the other half of the hotel where the more conventional villas are located. The Inle Lotus Villas and Suites are much larger starting from around 100 sq metres. I didn't get to view any of these during my stay but I believe they are finished to a similar quality and standard.
Facilities
The resort has two restaurants. The Kumudra restaurant on the hillside and the Floating Duplex restaurant overlooking the water. The latter is where an extensive buffet breakfast is served each morning. They also serve western and local food throughout the day. It's a large restaurant with seating both indoors and outdoors overlooking the pool and water. I enjoyed the food on each of the occasions I ate here. On my last night, the restaurant staff brought out a lighted birthday cake to a customer sitting alone, and sang him Happy Birthday. He then proceeded to share his cake with everyone in the restaurant! A nice moment.
There's a good size swimming pool in a lovely setting on a little island across a teak wooden bridge just off of the breakfast restaurant. There's also the Padonma Lotus Spa on the hillside, offering traditional massage techniques, as well as natural hot water springs jacuzzis, sauna & steam facilities in a scenic setting behind the spa. I didn't try any of these services. But given the standard of the rest of the resort, I imagine they wouldn't disappoint.
Gallery
[envira-album id="8928″]
A Unique Nautical-themed Resort
The Pristine Lotus Resort was by far the nicest accommodation I'd stayed in on my Myanmar trip. And one of the most unique places I'd ever stayed in. The luxury of this resort was in stark contrast to the homes I'd witnessed on my tour of Inle Lake. I felt privileged and lucky to be able to stay here.
I spent two nights at the resort, one full day. But I have to admit I didn't do much. I sat up front on the deck of my 'boat' in the serene and relaxing setting drinking coffee for most of the day. Reflecting on my three week Myanmar trip which was sadly coming to an end very soon. I had just three more nights left in the country, at my next stop, Nyaung Shwe.
Did I have a bath?… of course I did. All that was missing was my captain's hat.